Archives for October 2012
I made this Halloween pillow for a friend. I love how it turned out. I love making pillows with lots of different fabrics. I cut random strips of coordinating Halloween fabric and sewed them together. Next I trimmed the finished piece to measure 17″ (to fit a 16″ pillow form). I quilted the pillow front in vertical seams 1″ apart. I added a black jersey ruffle (from an old T-shirt) and sewed a gathered flower! I could make 100 of these!!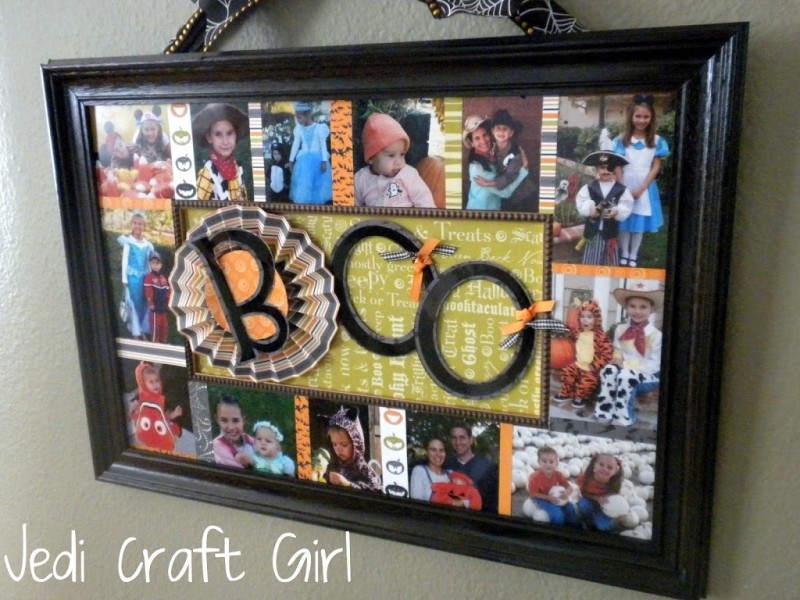 I have so many Halloween photos through the years – it's hard to display them all! I came up with this idea to use photos to create the mat. I bought this frame at a garage sale and the decorative mat was already in the frame. I tossed the glass, painted the frame and then glued my favorite Halloween photos to the mat. I also love the paper rosette – I can't get enough of them!!
This is my favorite tote bag. Of course I didn't invent the quilted tote 🙂 Here is my tutorial for how I made this one. Hope you love it!
Supplies:
1/3 yard main outer fabric
1/3 yard bottom contrast outer
3/4 yard muslin or other light weight for the back of the quilting
3/4 yard bag lining
1/4 yard handles
quilt batting
911 feather weight interfacing (optional)
1/3 yard contrasting fabric for pocket (optional)
Instructions
Cut your main outer fabric (top piece) 2 pieces 10.5″ x 20″
Cut your bottom contrast fabric 2 pieces 9.5″ x 20″
Sew these two pieces together and press.
I pin basted my two outer bag pieces and straight lined quilted every 1 inch. You can quilt how you want it. I actually used an old sheet for the back of this part – you will never see it – it just adds stability to the quilting.
Quilt both pieces
Cut your lining (2 pieces) 19.5″x20″. (I had to cut 1/4 inch off the 19.5″ piece because the outer bag shrunk from the quilting. So mine measured 19.25″ x 20″) Iron the fuseable Pelon to the wrong side of your bag lining fabric – this is optional. Once I finished mine, I thought this step really wasn't necessary.
Next, prepare your pocket. Cut 2 strips 6.5″ x 20″. Sew the two pocket pieces right sides together.
Sew 1/4 inch along the top and bottom – leaving edges open.
Turn and press. Top stitch along just the top of the pocket piece.
Pin the pocket band where you want the pocket to hit. I pinned mine 7 inches from the top of the bag.
Now sew along the sides and the bottom using a narrow 1/8 inch seam allowance. Then sew lines going down the pocket piece to form the pockets. I just eyeballed mine. Some are narrow for pencils, others are wider.
Prepare the handles. Cut 2 strips 28″ x 4″. If your fabric is thin, iron fusable interfacing to handle pieces before sewing. This fabric was kind of canvas-like. Fold longways and sew along the side leaving the ends open to turn.
Turn and press both handles. Top stitch both sides of handles.
Now, pin your outer bag right sides together, matching the side seams. Also, pin your lining together right sides together. Sew around both pieces leaving the top open. I used about a 1/2 inch seam. Make sure your seam allowance is exactly the same for both bags or they won't match up!
Place your handles as desired. Use this point to shorten the handles if you want. Baste the handles on to the outer bag using a 1/8 inch seam.
Push out the bottom of the bag – while it is wrong side out. Flatten and measure 3 1/2″ from the point and draw a straight line. Do this to both ends of the outer bag and the lining.
Pin in place and sew along your line – back-stitching to start and stop.
Trim along your seam about 1/4 inch.
You are almost done! Now the fun part! Leaving the outer bag wrong side out, put the lining (right side out) inside the quilted bag. Match the side seams and pin all the way around the bag. It should line up perfectly.
Sew a 1/4 inch seam all around the entire bag.
Unstitch a little place on the side lining of the bag to turn the bag right side out.
Turn bag right side out and top stitch the opening closed using matching thread.
Press the lining down so the top of the bag is flat (it will want to puff out the top).
Top stitch using 1/8″ seam all around the bag.
You are done!!!!
I sewed these two pillows for my friend's birthday gift. I LOVE the print and they look really cute in her grey & blue family room! Don't new throw pillows just make you feel happy!!!
I have been reading about ways to renew or refresh tile grout. After reading several tutorials and seeing successful results, I decided to try it for myself. I have a 1989 kitchen with 1989 tile – I don't need to go into any more detail – you get the picture! I bought this "Grout Refresh" at Lowes. It is grout colorant and sealer. I read the directions 3 times and started it. You put a little bead of the stuff on the grout & rub it in with a toothbrush.
This part was very successful!
( This is the old grout pictured below)
After painting the stuff on
The next step is to let it sit for 30 to 60 minutes. Then spray it with water and clean off the tiles. Here lies the disaster! When I started cleaning off the tile, it pealed the color sealer right out of the grout! DISASTER!!! There was no options left other than scraping it ALL OFF!!! YIKES!!!!! Here is the garbage can with much of the stuff scraped out.
On to plan B (which I never knew I even had!) Scrape out the existing grout & re-grout. My lesson learned is to just do this process first – it is not really that bad.
It's now 9:30 at night and I have enlisted the help of Handy Hubby!! We got all the grout scraped out.
We re-grouted all the counters. Now I just have to seal them. So, my 1 hour project turned into a 2-day project. I should really know better!!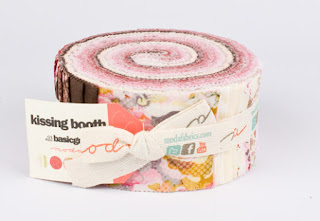 I love the Family Ever After blog. Today she is giving away this darling Moda "Kissing Booth" jelly roll. Click Here to go to her blog and enter!!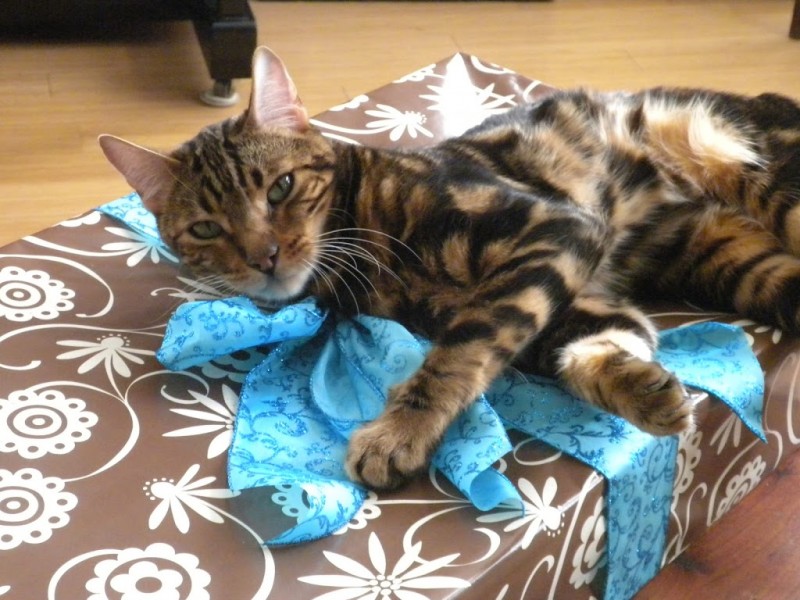 Just thought I would post a new photo of Marbles. I don't know about you – but things get a little crazy this time of year! I have been pinning so many cute fall ideas – but haven't had a minute to get to any of them. I haven't sewn in over a week – that's gotta be a record. Maybe this next week will prove to be more crafty!! Hugs!!