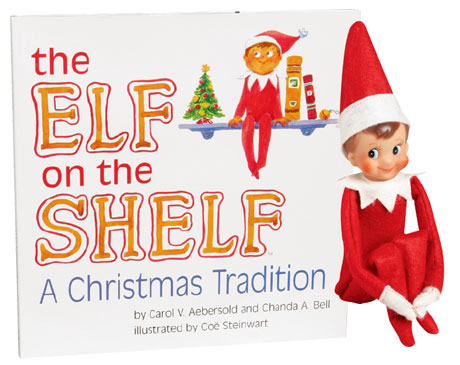 Thanksgiving night we heard a knock at the door. When the children opened the door they found a mysterious gift on the porch. They opened it and found it was an ELF!!! Yes, the Elf on the shelf has arrived at our house! We carefully unwrapped it, read the book, and gave him a name: Richard but we call him Richie for short. My 4 year old was so into this. She couldn't stop talking about Richie and Santa and looking at him and talking about Christmas and asking so many questions – it was the cutest thing ever.
If you don't know about the Elf, you can go to the official Elf on the Shelf website HERE. You can't touch your elf because he is magical. Everynight he flies to Santa using his magic and reports on what he's seen all day. In the morning the children have to find the Elf as he is always some where new and mischivious.
This morning Richie was found hanging in the Christmas tree holding an empty tube of toilet paper. The Christmas tree was covered in TP. Sally thought this was hilarious!! Everyday I hope to post the antics of our silly Elf!!