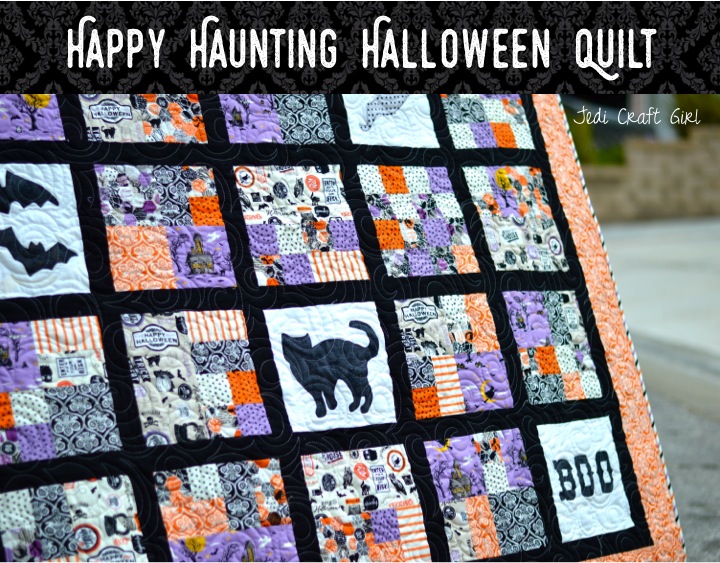 Isn't Halloween the best time of year for quilting?  I get so excited over orange and black and cats and bats!  I can't have enough quilts!  I am so in love with this line from Deena Rutter called Happy Haunting by Riley Blake Designs.  It is everything Halloween should be!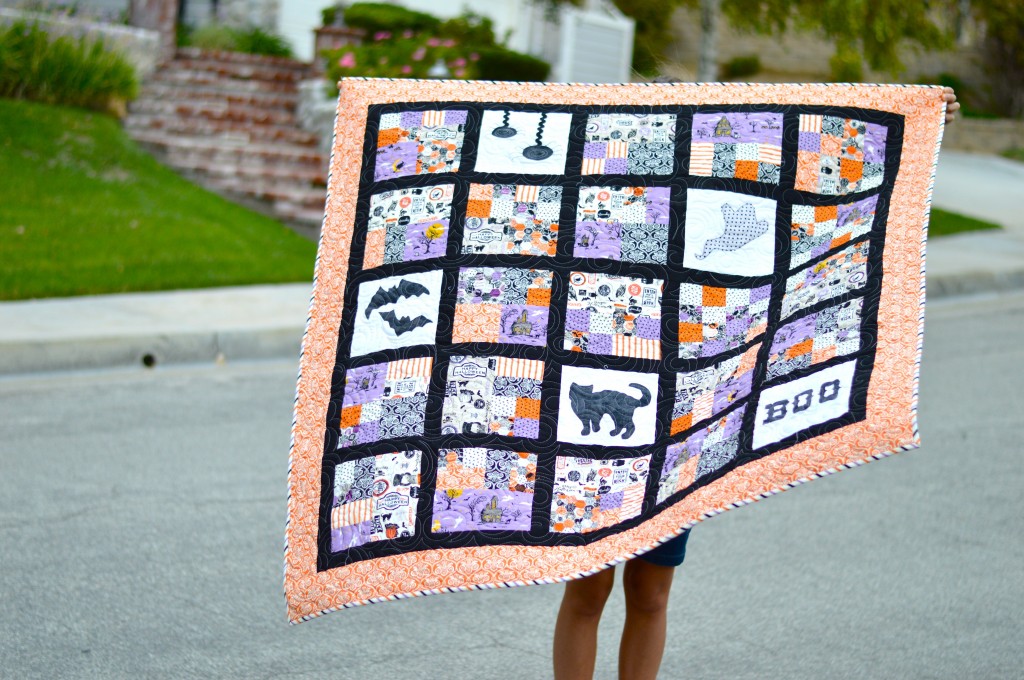 This quilt sews together fast and YOU get to pick the layout of each block.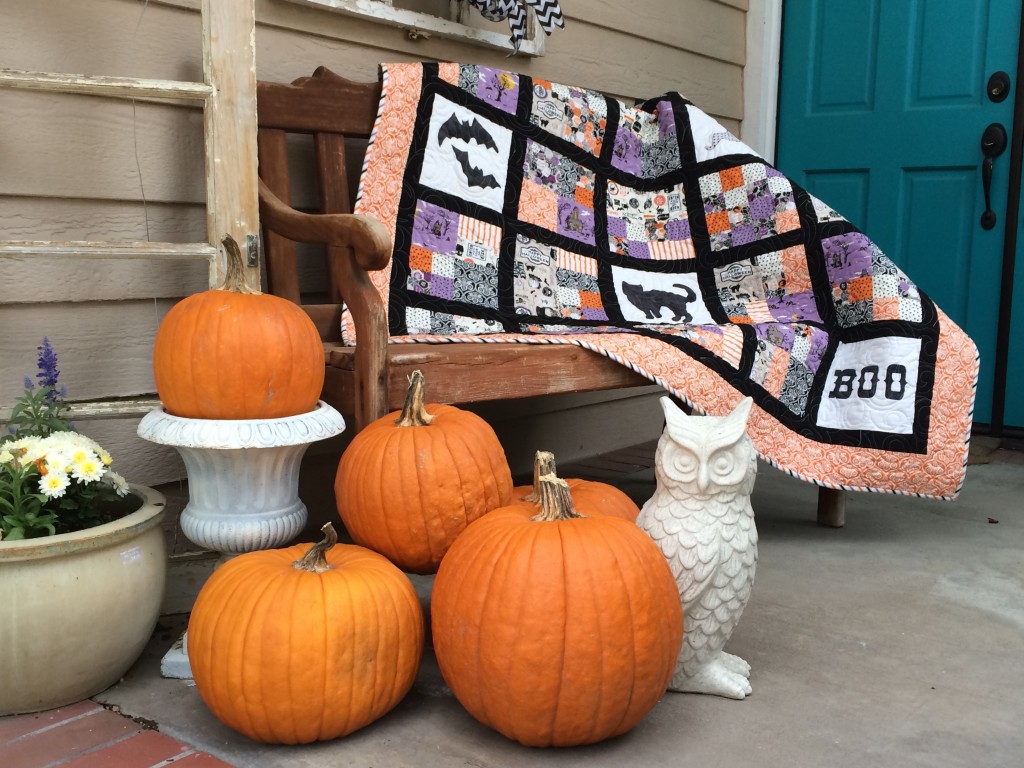 This quilt is also best put together with a friend.  Tina from @emilyannskloset and I got together this summer for a Coast to Coast Kitty Quilter Retreat where we sewed about 15 hours each day for 4 days!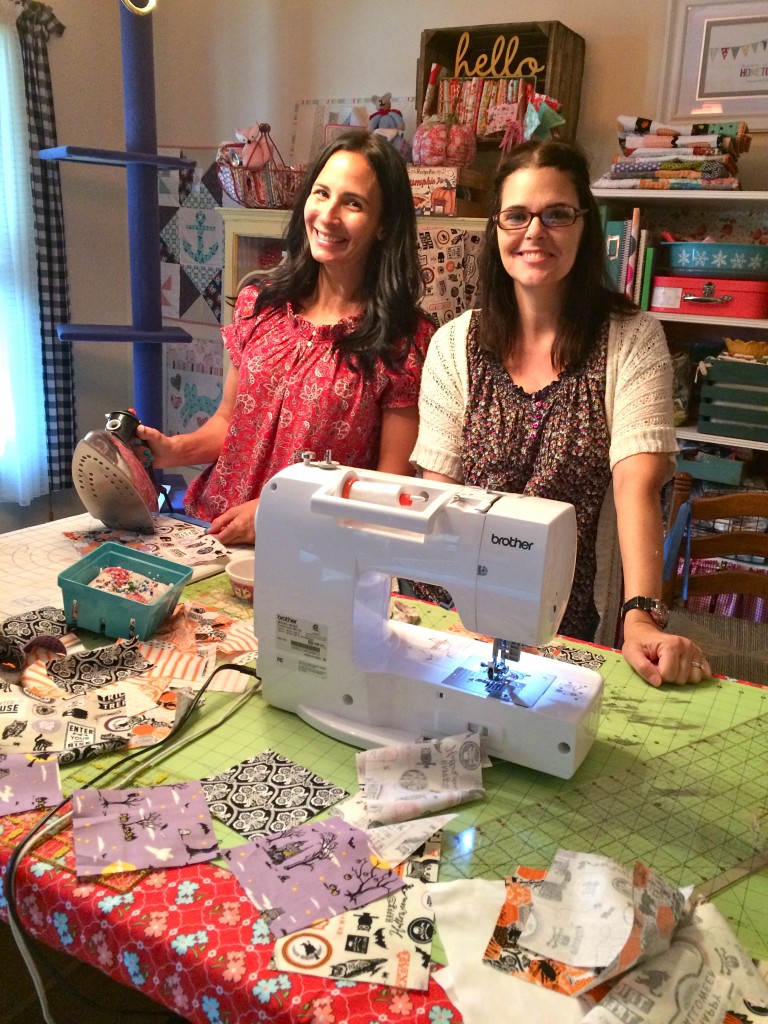 Let's get started!
Finished Quilt 55″ x 55″
Supplies:
fat quarters or quarter yard cuts of Halloween prints
1 yard sashing
3/4 yard outer boarder
fat quarters for applique
1/3 yard for background blocks for applique
Heat n Bond Lite or Heat n Bond Lite EZ Print Sheets
Applique pattern, click HERE
1/2 yard binding
3 yards backing
FOR THE BLOCKS
Begin by cutting the fabric into the following categories:
2.5″ squares
2.5″ x 4.5″ rectangles
4.5″ squares
4.5″ x 8.5″ rectangles
just keep cutting from a variety of fabrics until you have a sizable amount.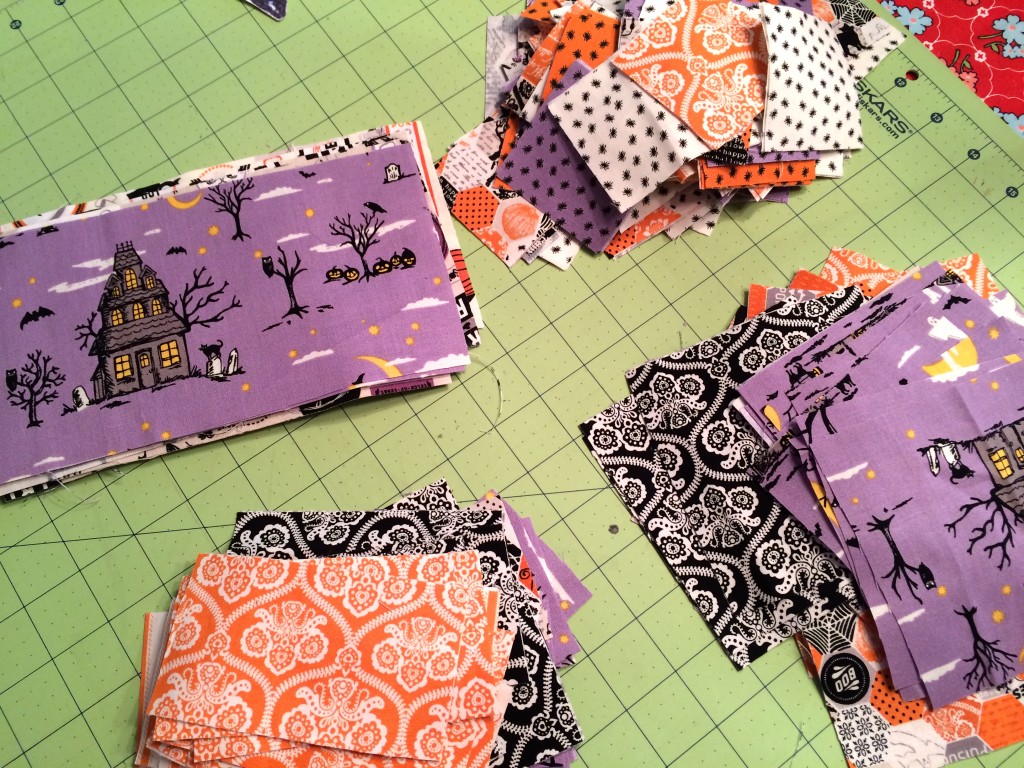 Now the fun begins – don't lay it out!  Just be totally random!  The goal here is to create 8.5″ blocks by using a combination of 4 patches, strip sets, and larger rectangles.  Below are a few examples, the combinations are endless!  Just be creative!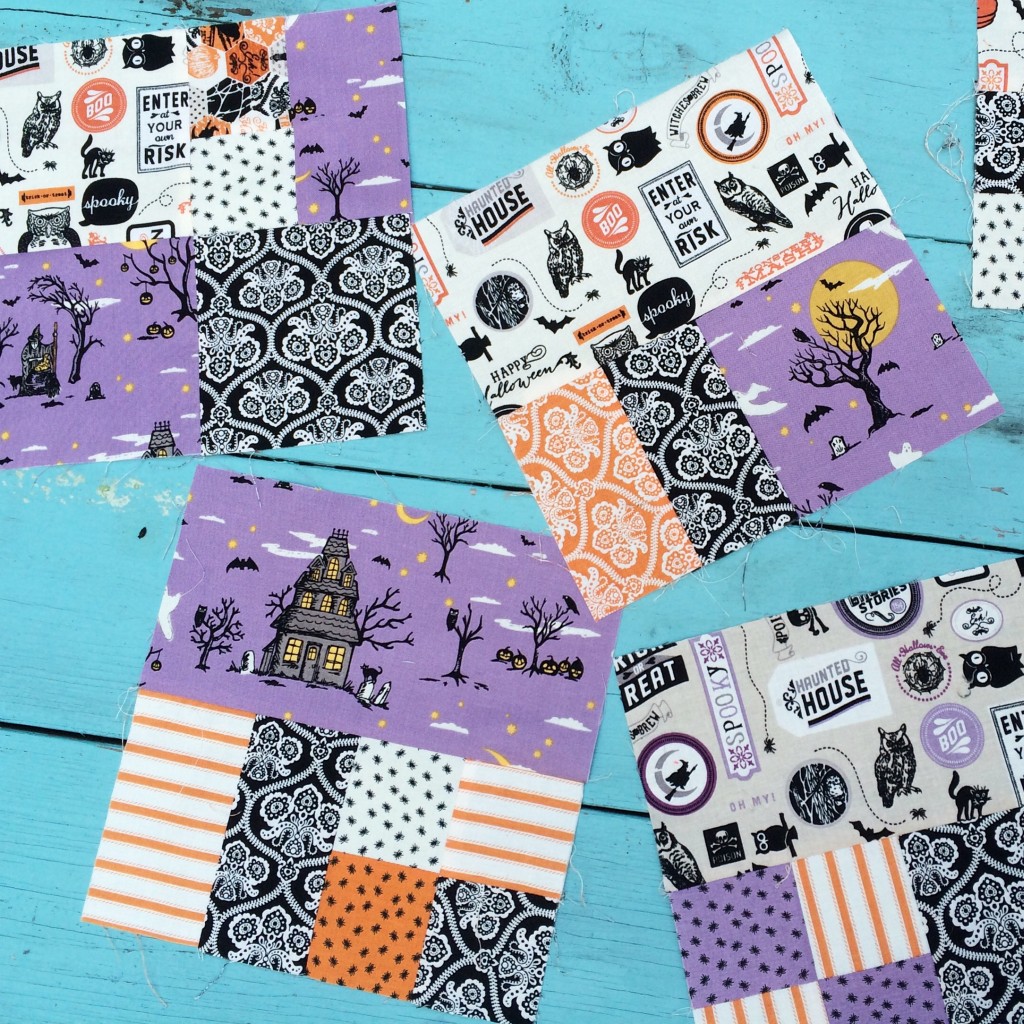 Each time we finished a block we hung it up on a clothes line and said "No, THIS is the cutest block!"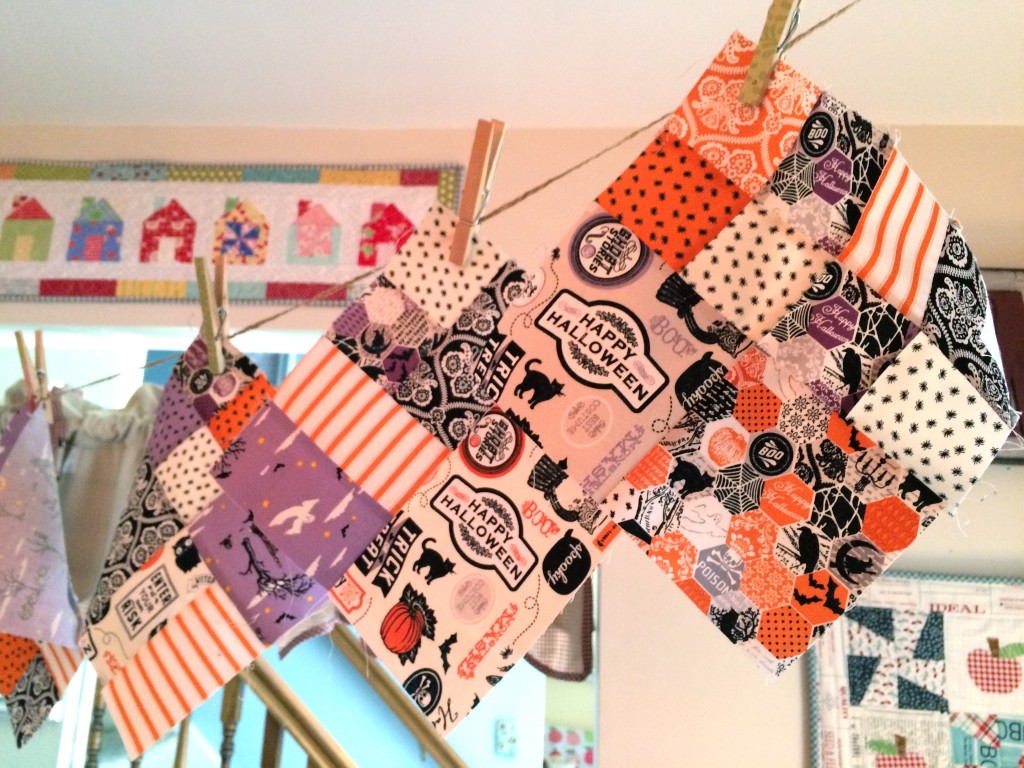 For the finished quilt you will need 20 total pieced blocks and 5 applique blocks.  We even made a block that was all 2.5″ squares!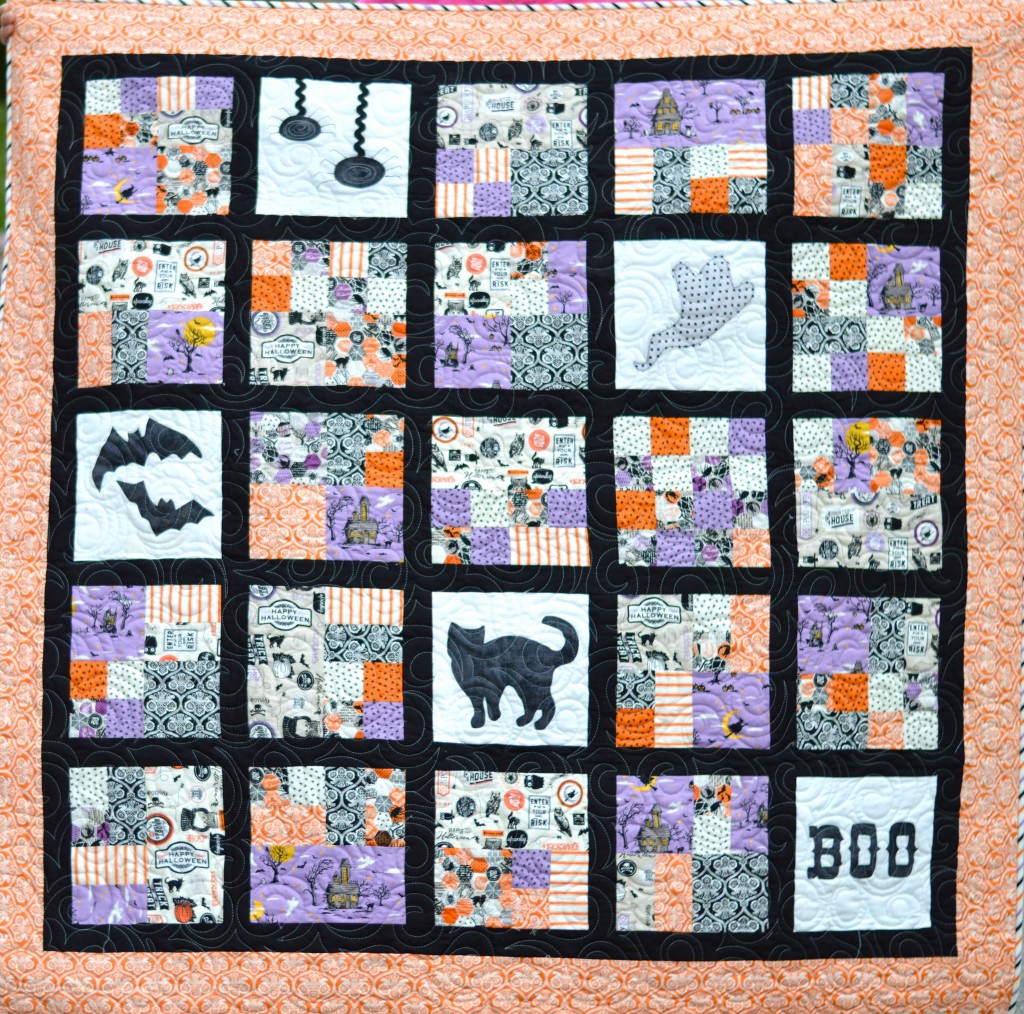 APPLIQUE
For the applique background squares, cut (5) 8.5″ white squares.  Trace the applique onto heat n bond lite or use the Heat n Bond EZ print sheets.  Iron the heat n bond to the wrong side of the fabrics and cut out the shapes.  Peel off the backing paper then press in place on the white squares.  The spiders have ric rac stitched onto the block and the legs are stitched with black thread. Top stitch around each image.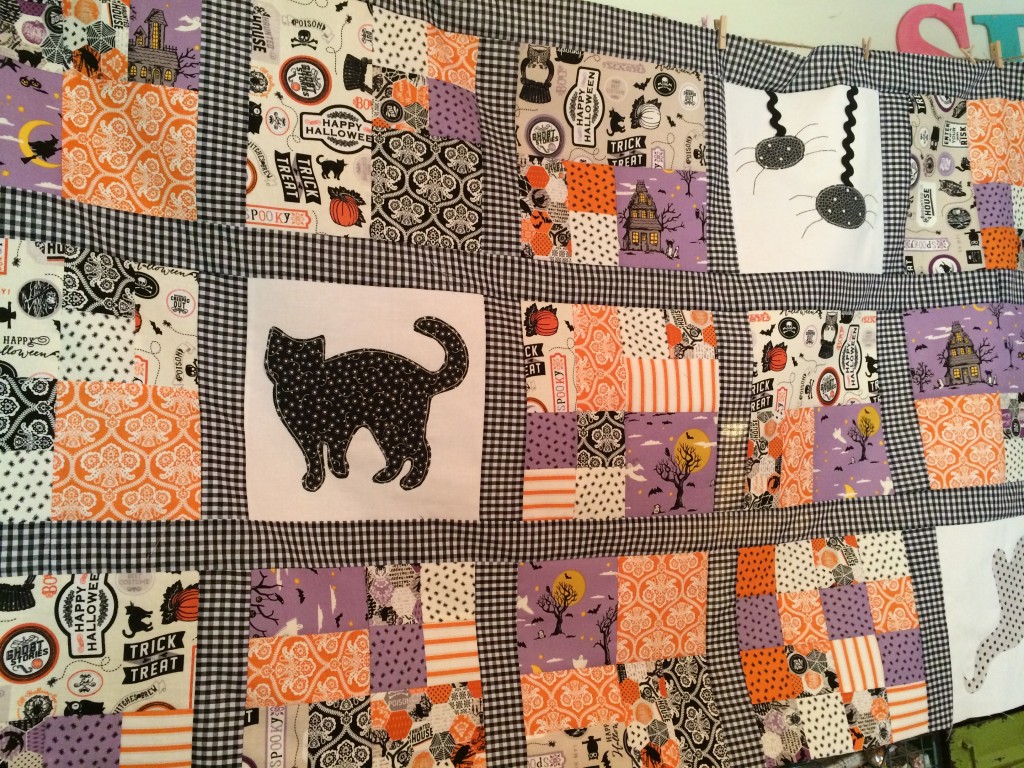 Once all the blocks are finished it's time to sash.  I love that Tina choose black and white gingham to sash her quilt – it gives it a cozy country look!
FOR THE SASHING
Cut (20) 2″ x 8.5″ strips
you will need to piece the next sashing strips to give you the following measurements
(6) 2″ x 46.5″ strips for the horizontal rows
(2) 2″x 49.5 strips for the sides
Sew the 8.5″ sashing strips in between the blocks forming horizontal rows.  Then add the horizontal strips along the top, middle rows, and bottom.  Press.  Finish by adding the 2 side strips.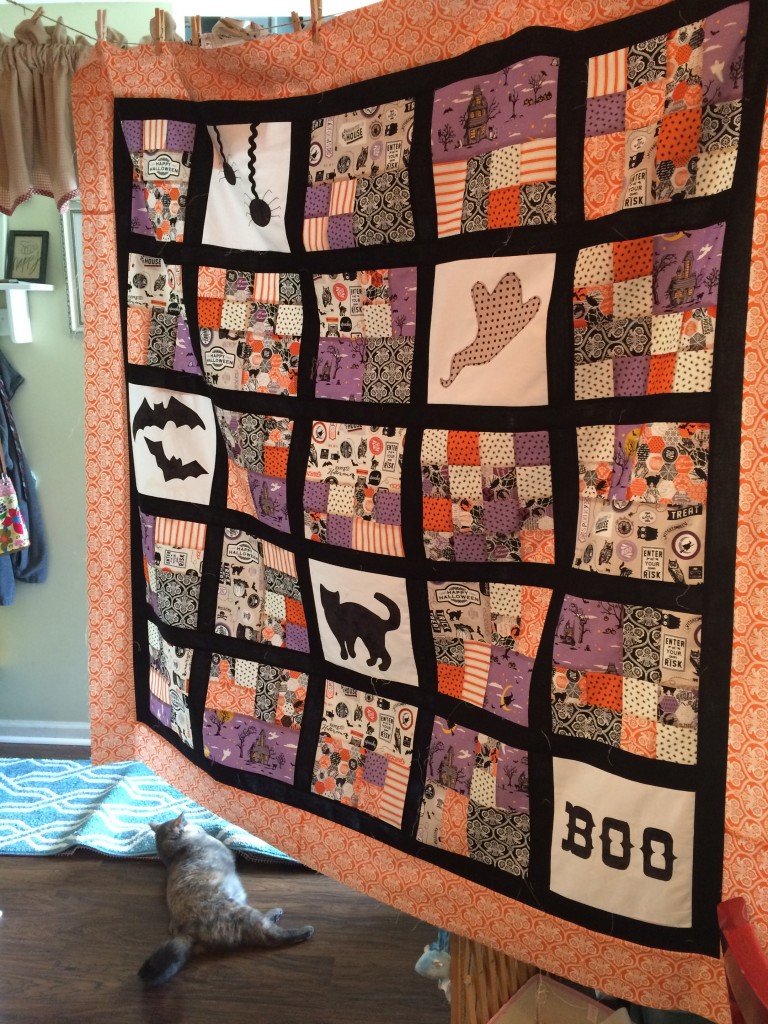 OUTER BOARDER
After sashing add the outer boarder.  I don't measure at this point – do you?  Cut (6) 3.5″ x WOF strips for the outer boarder.  You will need to sew them together end to end to have enough length.  Sew the side strips on, square up, press and then sew the top and bottom strips on.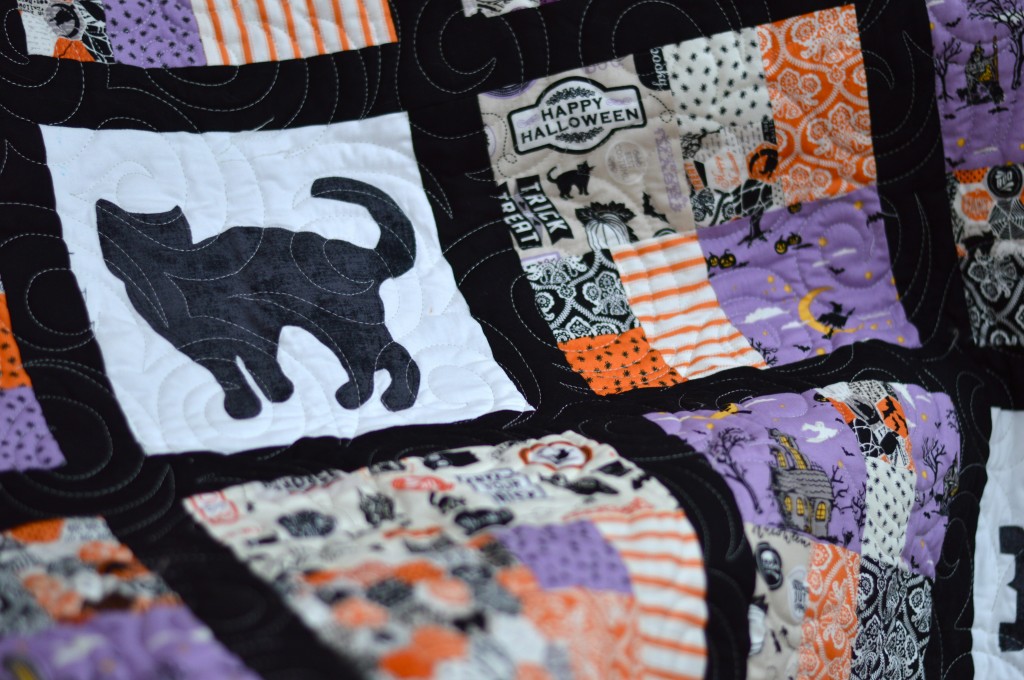 I had my friend use her long arm quilter to sew swirls all over the quilt, even through the applique.  I LOVE it!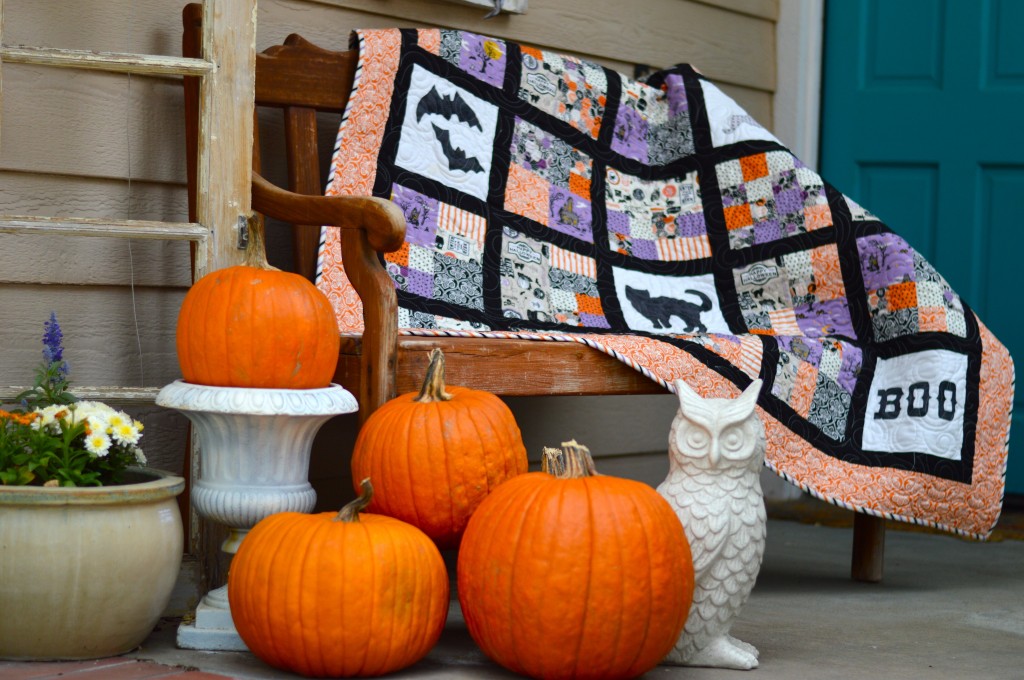 I am totally in love with this quilt.  I cut the striped fabric on the bias for the binding.  Striped binding is my absolute FAVORITE!!!!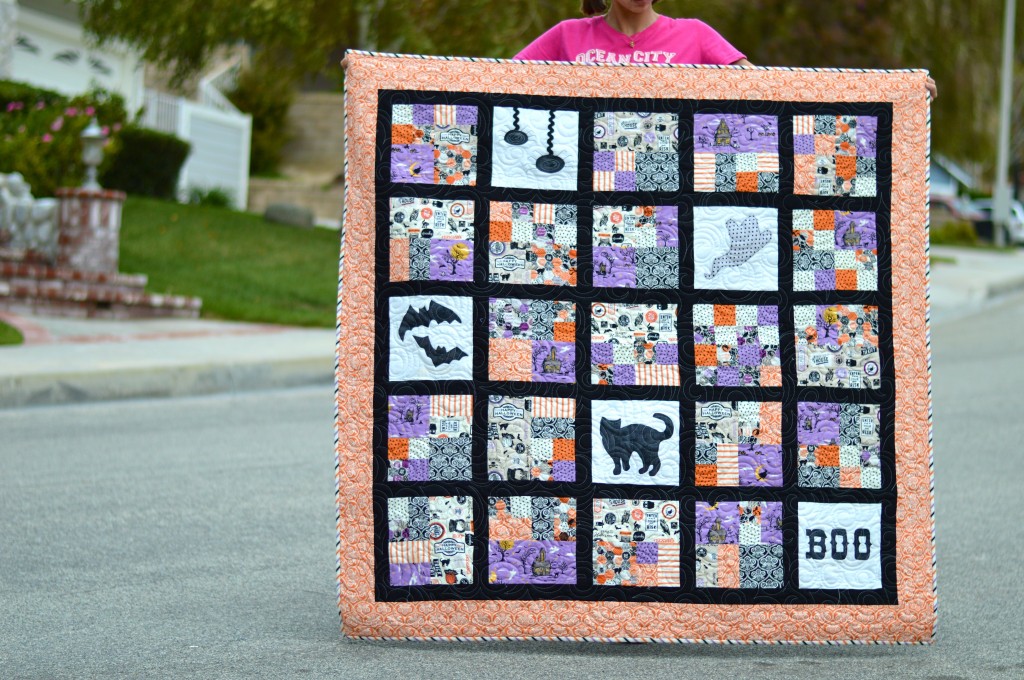 I had such a wonderful time putting this quilt together with my friend Tina.  Isn't it fun to sew with friends and family!!!