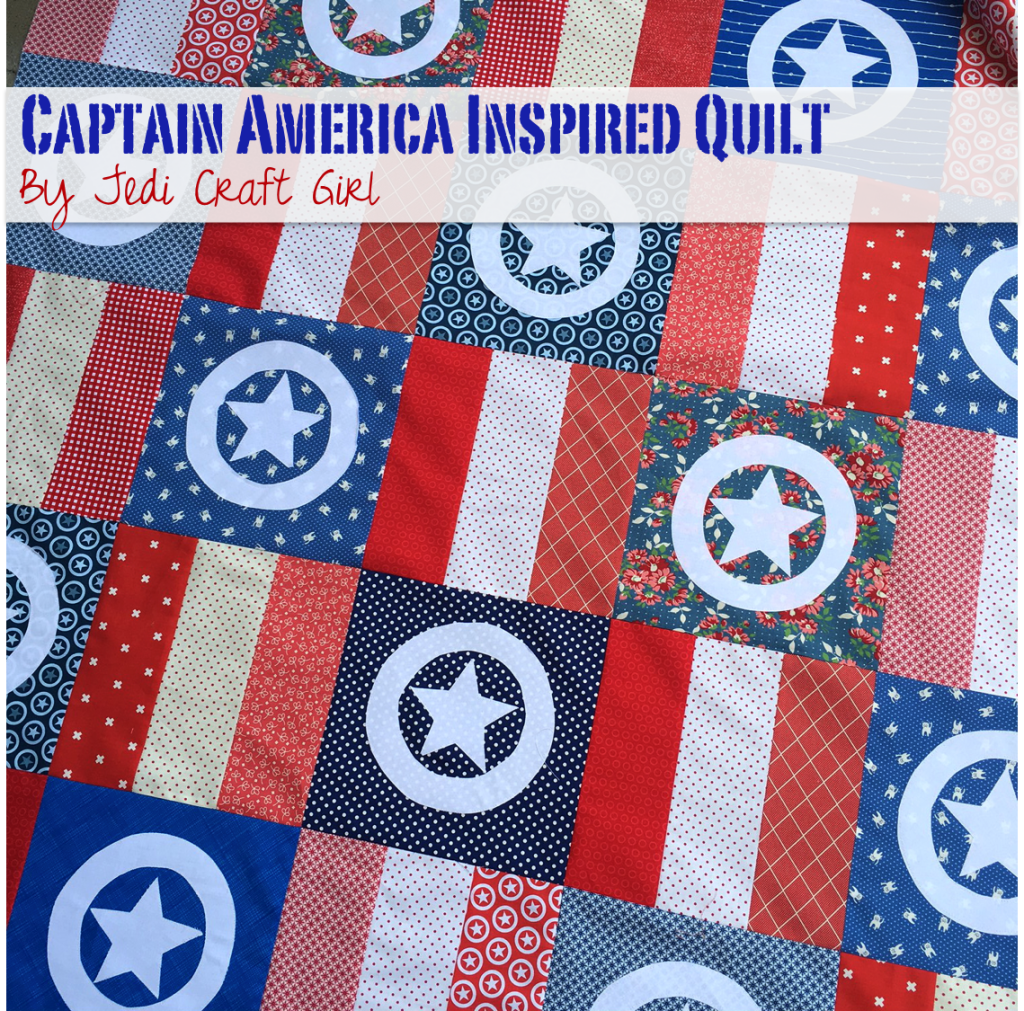 I couldn't resist putting this quilt together.  My family is totally obsessed with the Avengers, especially  Captain America and Iron Man.  We were so excited for the movie to come out!!!  We went to the first showing at 9:30 pm last night!  I was so much fun.  I love going to movies when the theater is packed with fans who cheer and clap together!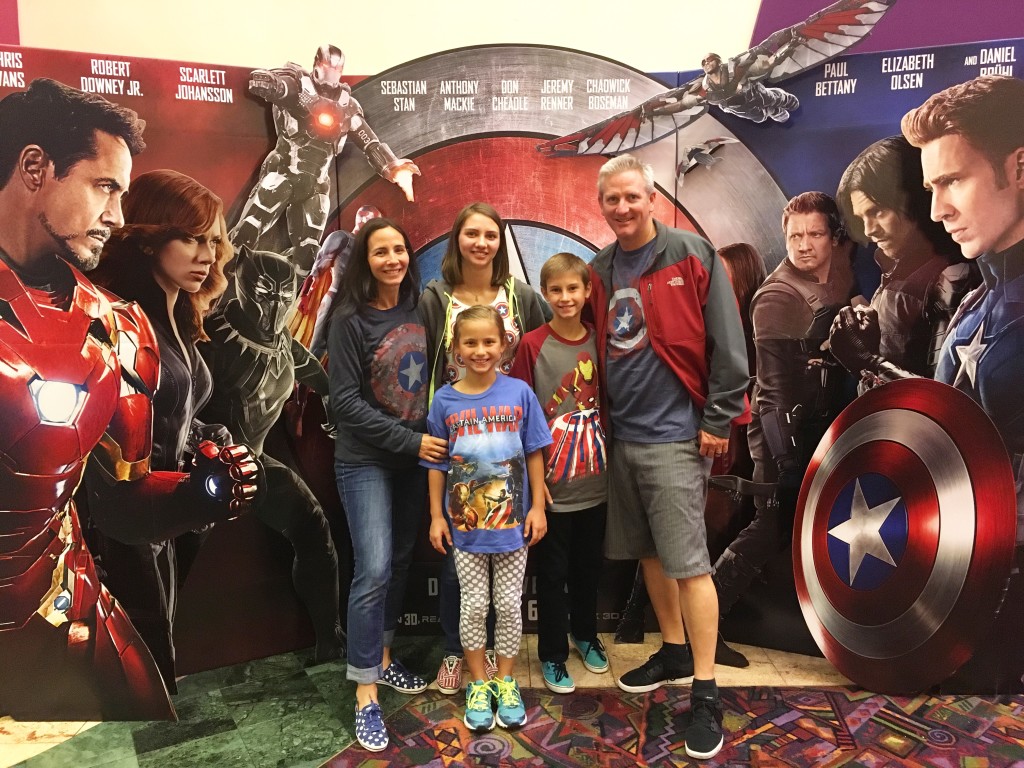 To celebrate this milestone in Marvel history, I created this quilt inspired by Captain America.  My 8 year old daughter is totally in love with him.  I guess we will be fighting over the quilt!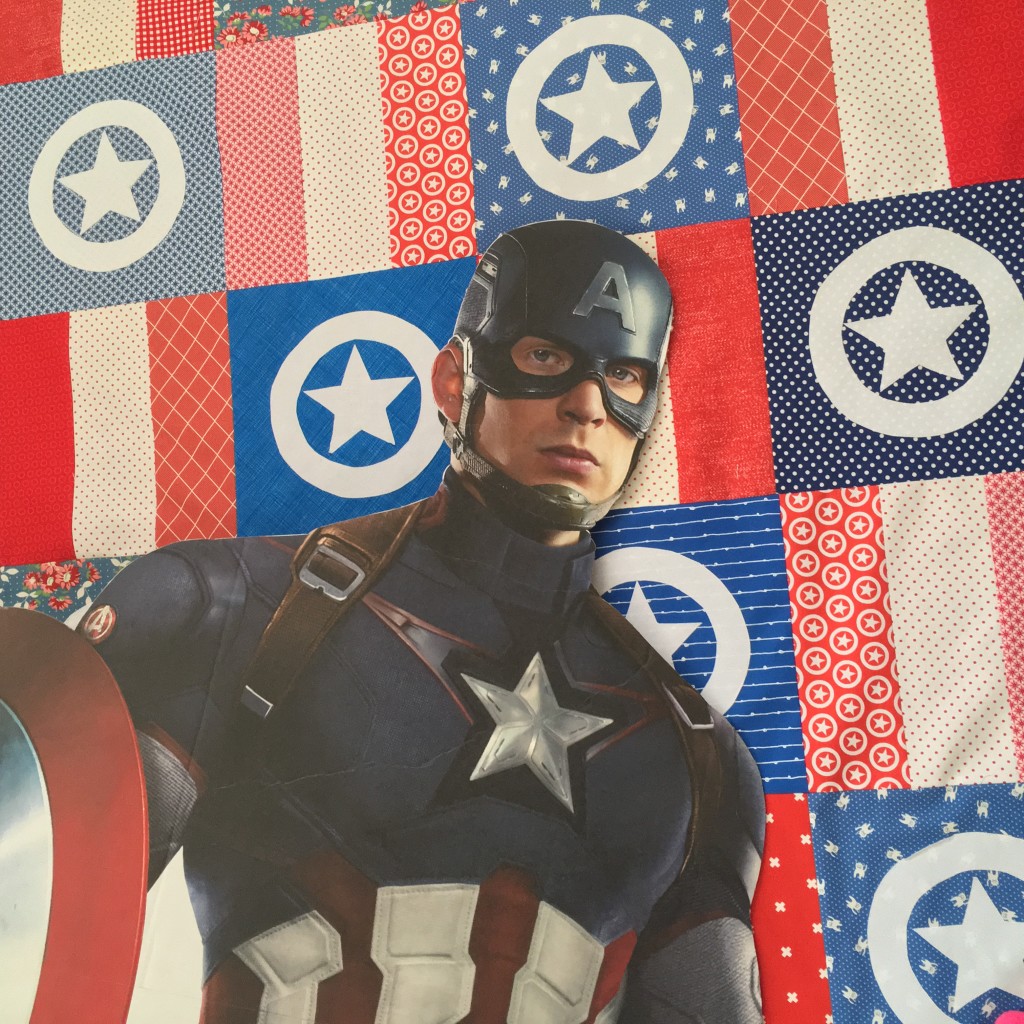 I curated this selection of Fat Quarters from Fat Quarter Shop just for this project.  You can view it here.  I wanted a fun mix of red, white, and blue fabrics.  This quilt totally works for a summer patriotic quilt if you're not into #teamCap.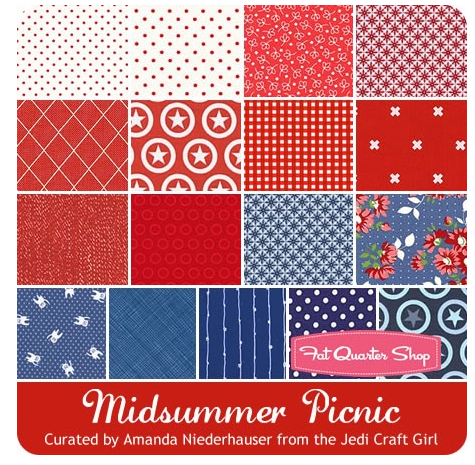 Lets Get Started
Finished block 9″, Finished Quilt 54″x72″
All Seams 1/4″
Supplies:
18 Fat Quarters (I used each one pictured above)
1.5 yards solid white
3 yards Heat n Bond Feather Lite Fusible Applique
Pattern, click HERE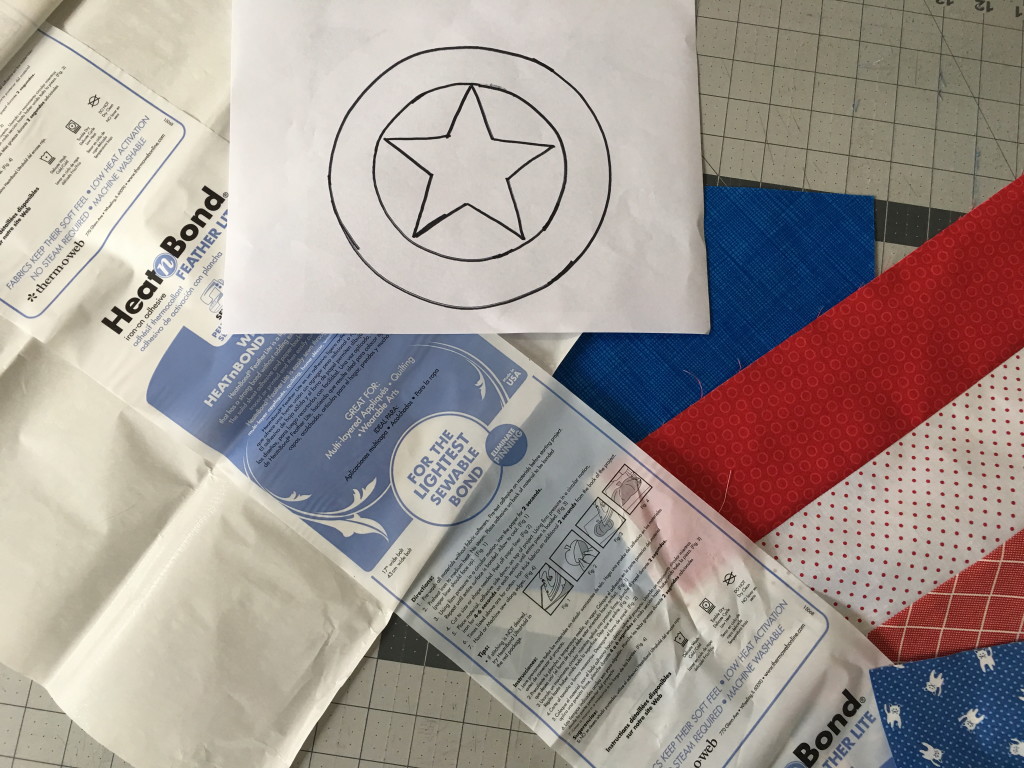 Make the Stripe Block
Cut the red prints and white prints into 3.5″ strips.  (Since we are using Fat Quarters, they will be half the WOF long)
Sew in strip sets of red, white red.  Press toward the dark.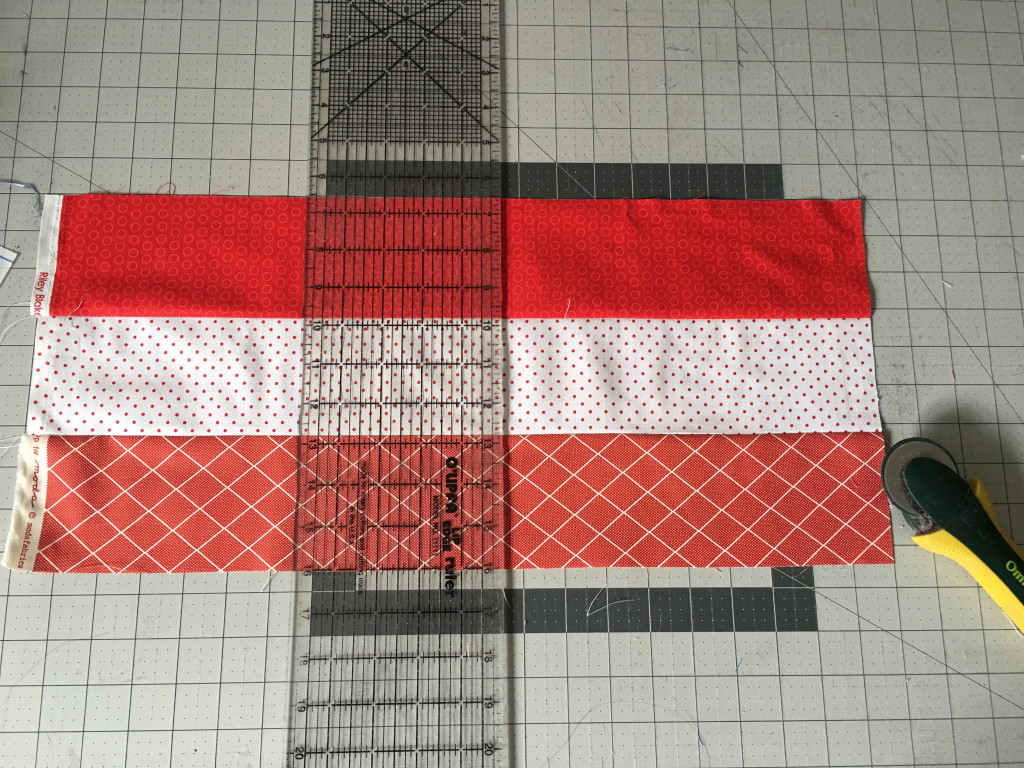 Cut each strip set in increments of 9.5″.  Each block should measure 9.5″ square.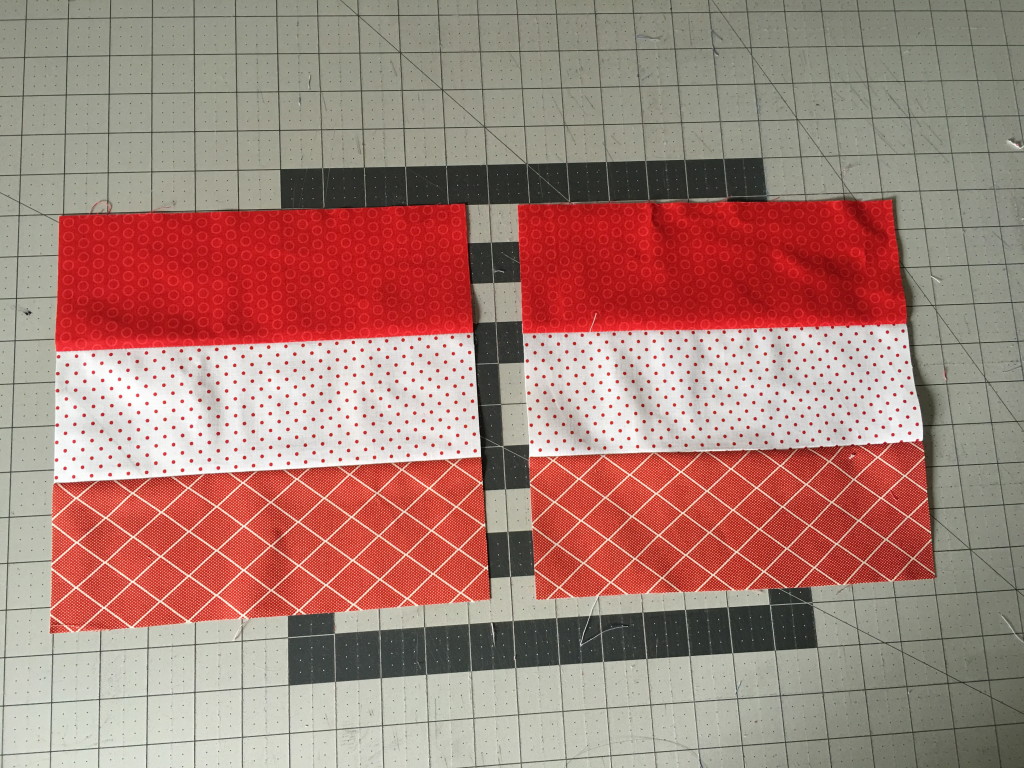 For the applique block…
Cut 24 blue squares 9.5″
Draw the pattern onto the Heat n Bond Feather Lite.  You will need 24.  I like to used the Feather Lite because it doesn't add any weight or stiffness to your quilt.  It holds it in place just long enough to cut and sew it.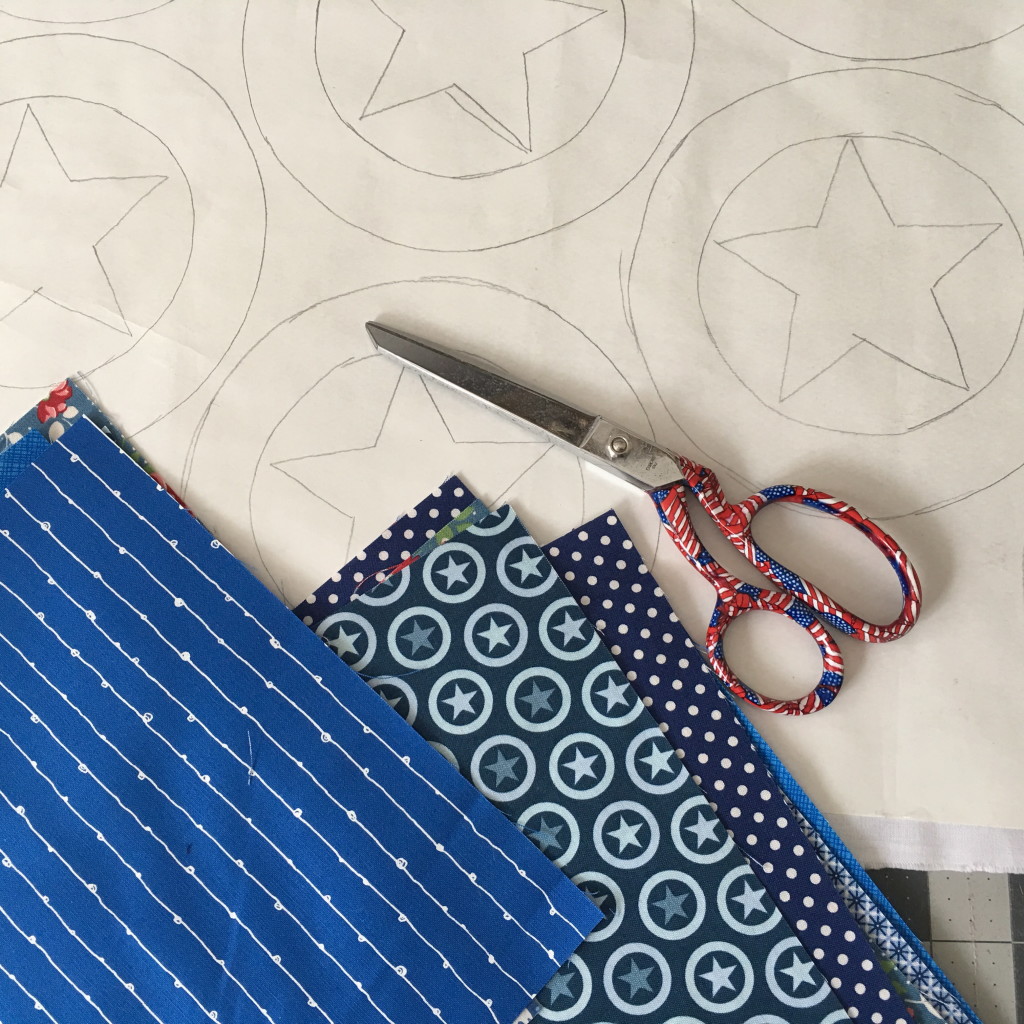 Press the heat n bond to the wrong side of the white solid fabric.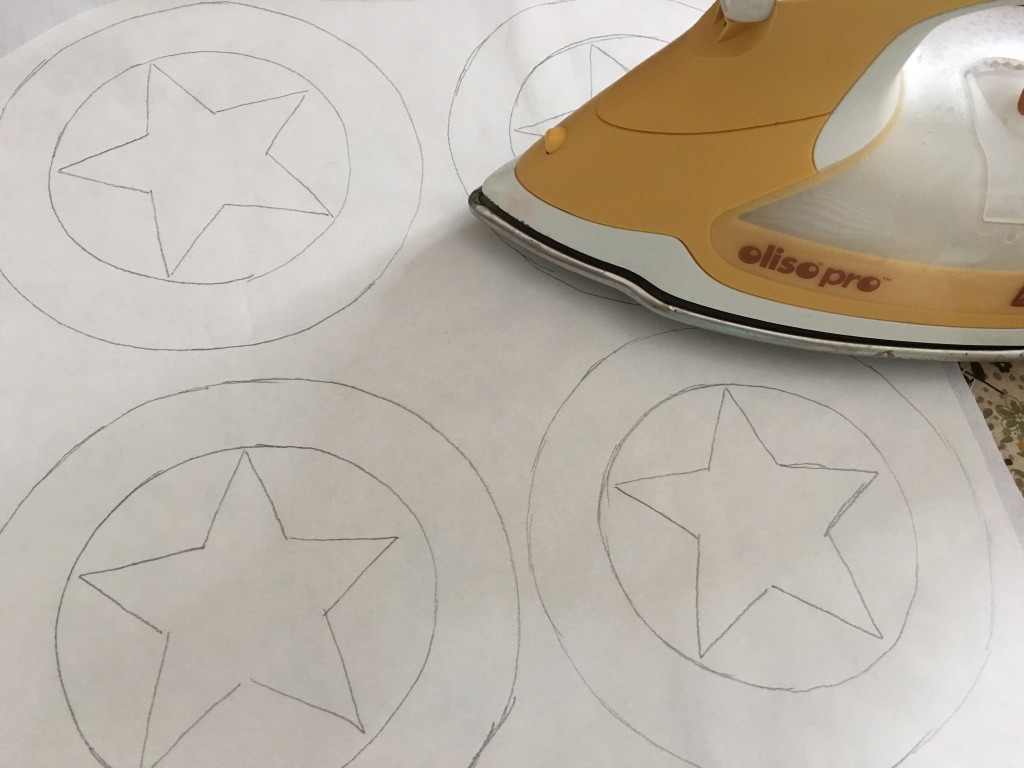 Put on Captain America I and II and cut out all the circles and stars following the pattern line.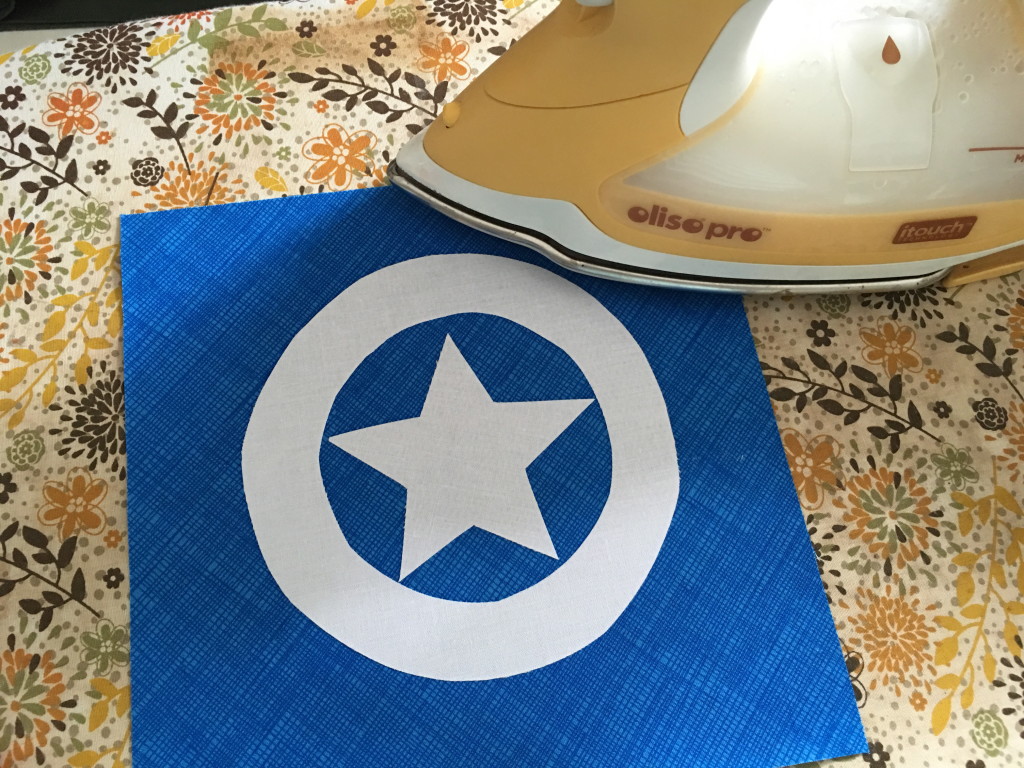 Position the circle and star in the center of each blue block and heat set in place.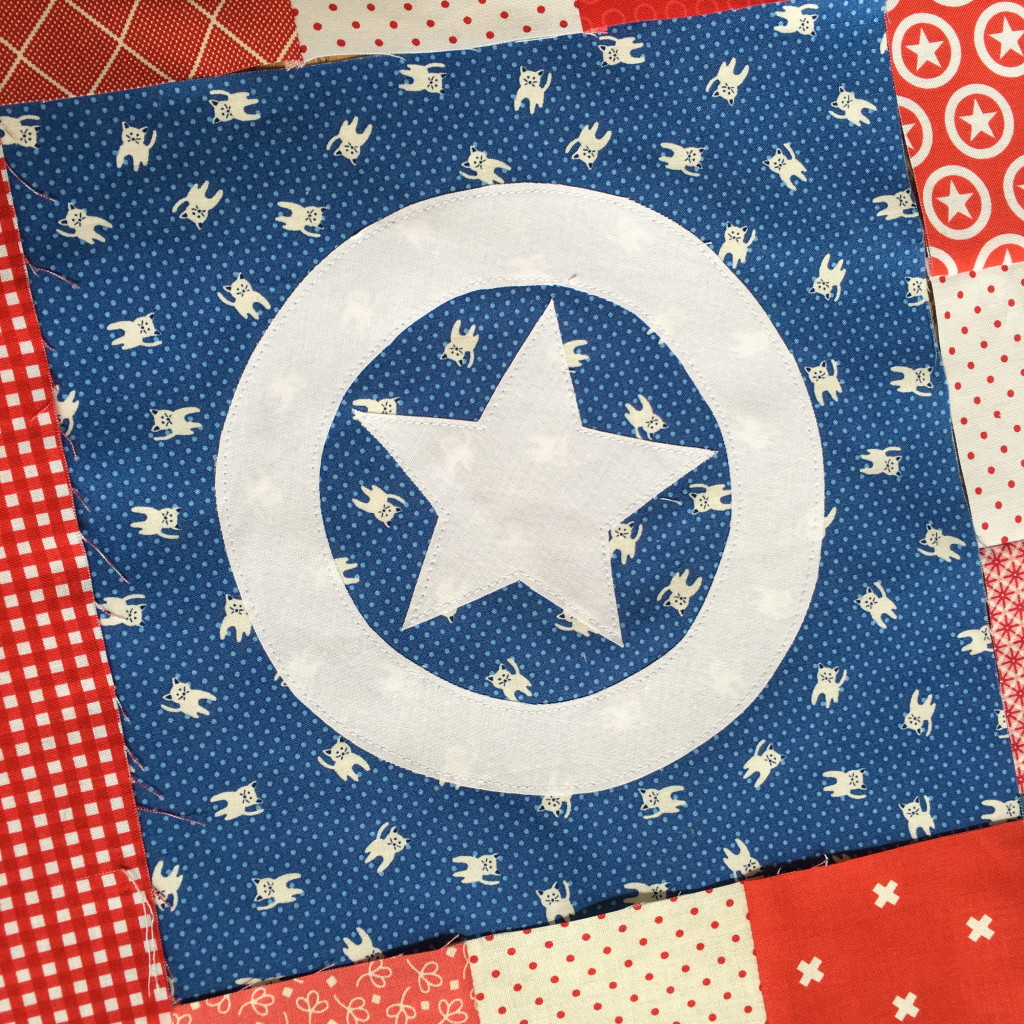 Top stitch around each piece with white thread.
***Optional **  "Winter Solider" Block.  My teenage daughter is in love with Bucky the Winter Solider so she insisted we represent him in the quilt.  We switched out one of the blue blocks for a gray block with red star applique.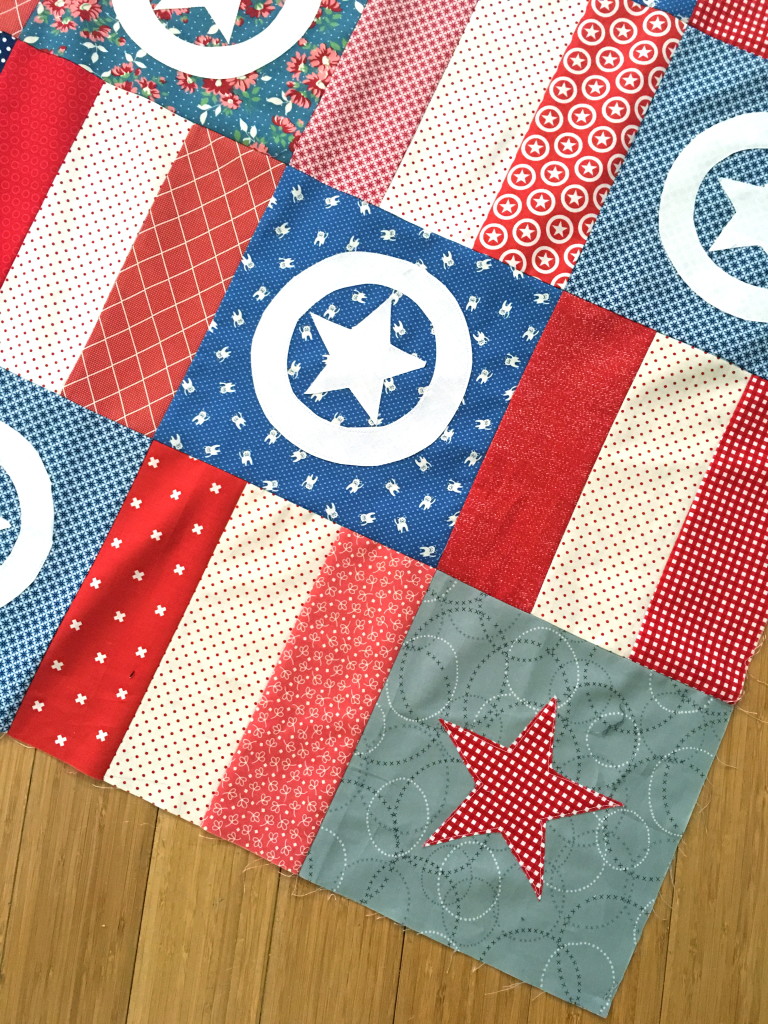 Now it's time to have some fun with all the blocks!  I hand them all to my daughter and she lays out the quilt for me.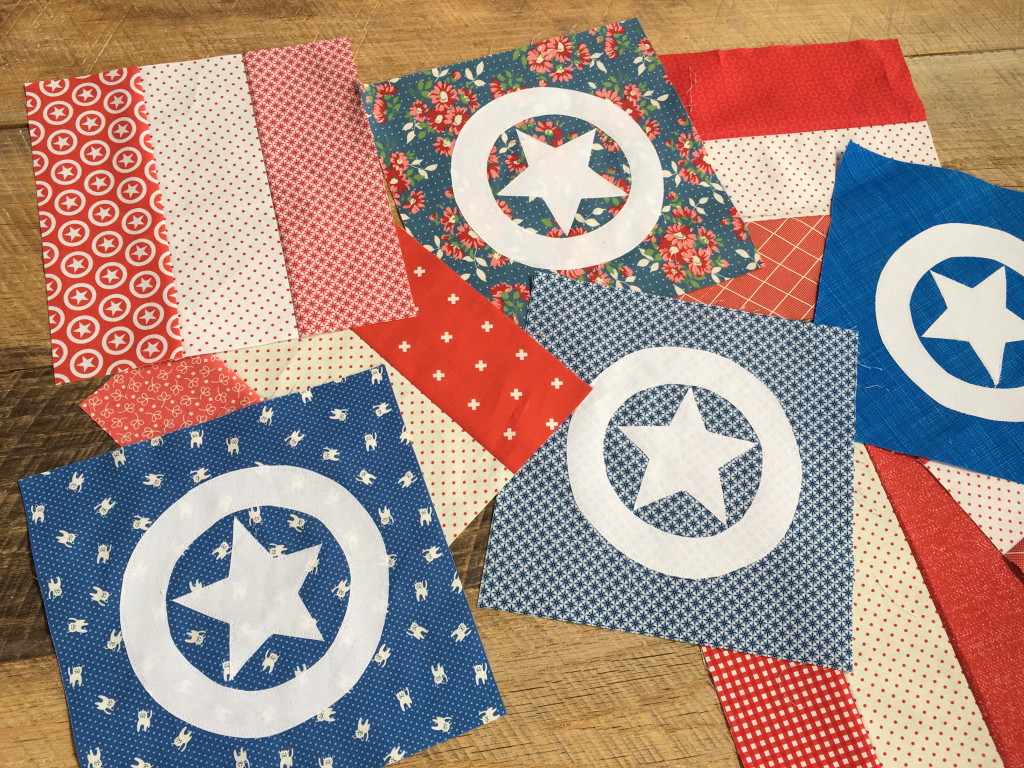 Sew the quilt together in rows, pressing after each and matching each seam intersection.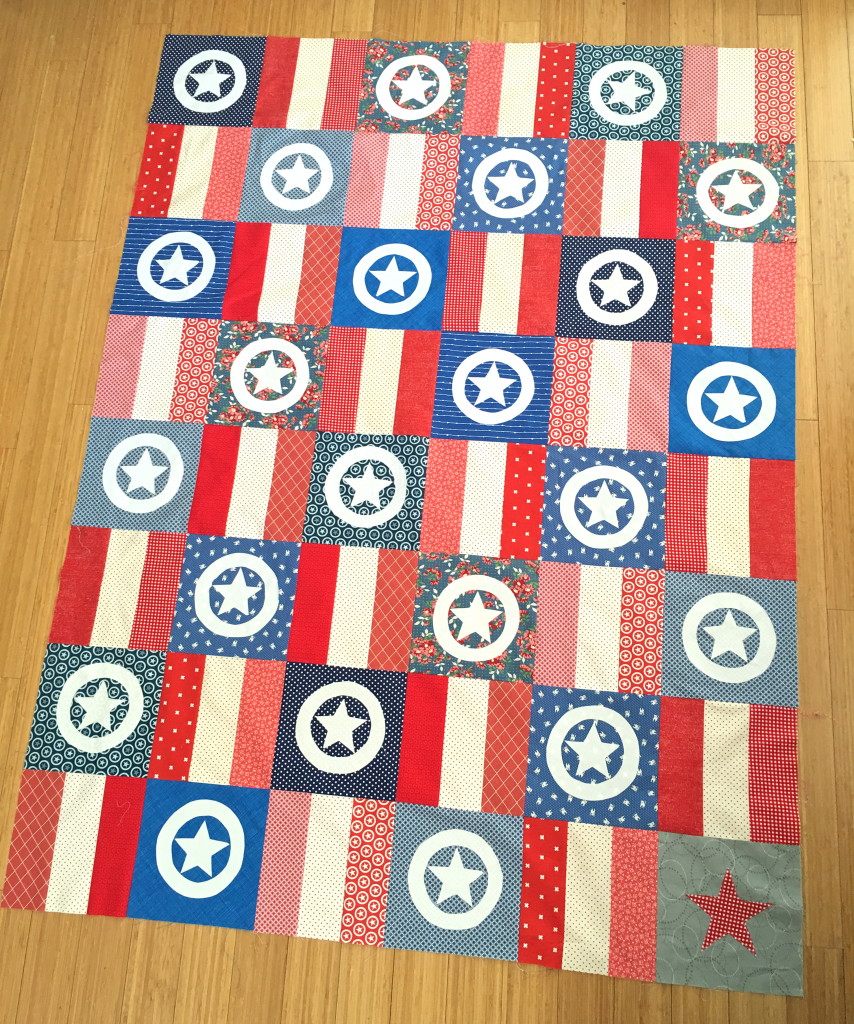 This quilt is totally Mufassa approved!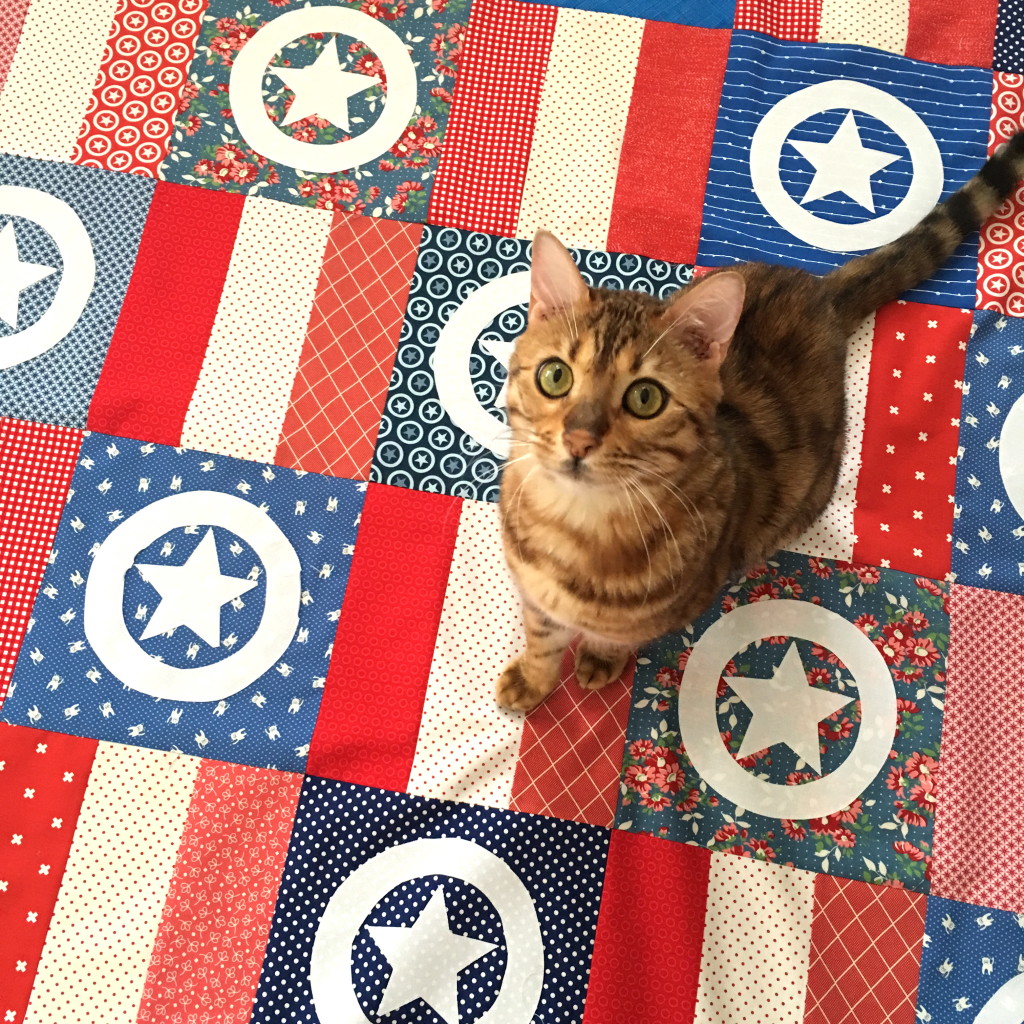 And approved by The Captain himself!  (Yes we have a giant cardboard cut out of Captain Rodgers!!!)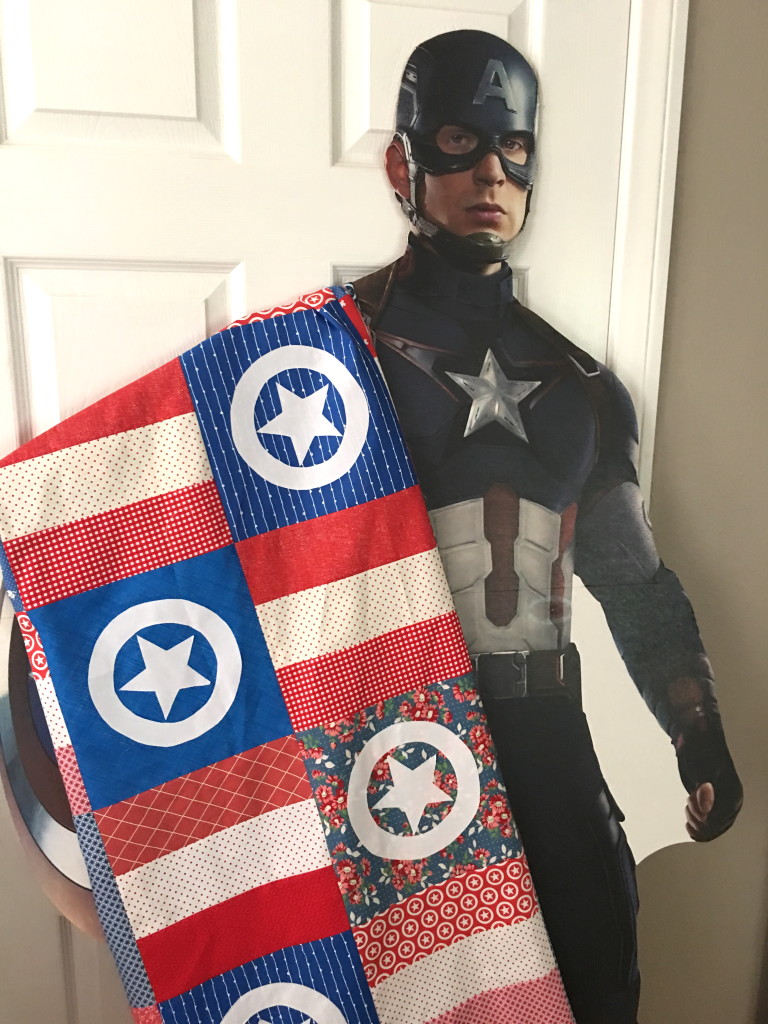 OK, I am seriously in love with it!  It screams summer picnic!!!!