I am so totally excited to be a part of Pat Sloan's Teach Me to Machine Quilt Blog Hop!!!  I have admired and followed Pat for years and years!  She is so inspiring!  Pat is truly amazing and she is such a wonderful teacher!!   I have been so impressed with her new "Teach Me To" series and absolutely love this third book in the series,  Teach Me to Machine Quilt
!!
Even if you've been a quilter for years and years (like myself) you will love this book.  I was excited to learn a few new tips and tricks from Pat.  Plus the projects are super inspiring!!
I LOVE this checkerboard star wall quilt!!!
Something I read and IMMEDIATELY put into practice was Pat's tip of laying down an old sheet on the floor before spray basting a quilt.  This way the overspray goes on the sheet and not on the carpet or wood!  Toss the sheet in the washer and there is no mess!  Brilliant!!!
Time for a giveaway!
And now, for the best news of all, Pat's giving away 5 copies of her book over on HER blog.
Here's the direct link to enter the giveaway:  blog.patsloan.com/pats-mega-fun-book-tour/
I'm one of the last stops on the tour that runs through Nov 30, so be sure to visit these other sites today:
Click here to see the entire blog hop schedule. Good luck and happy hopping!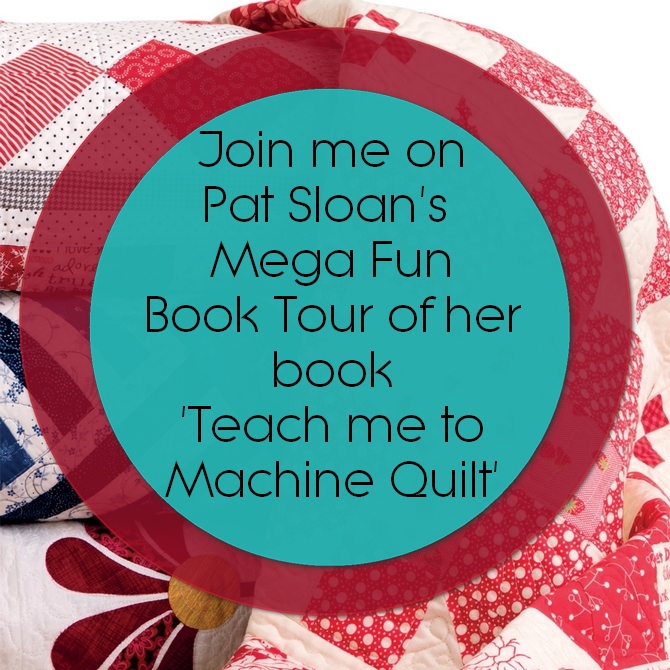 Save