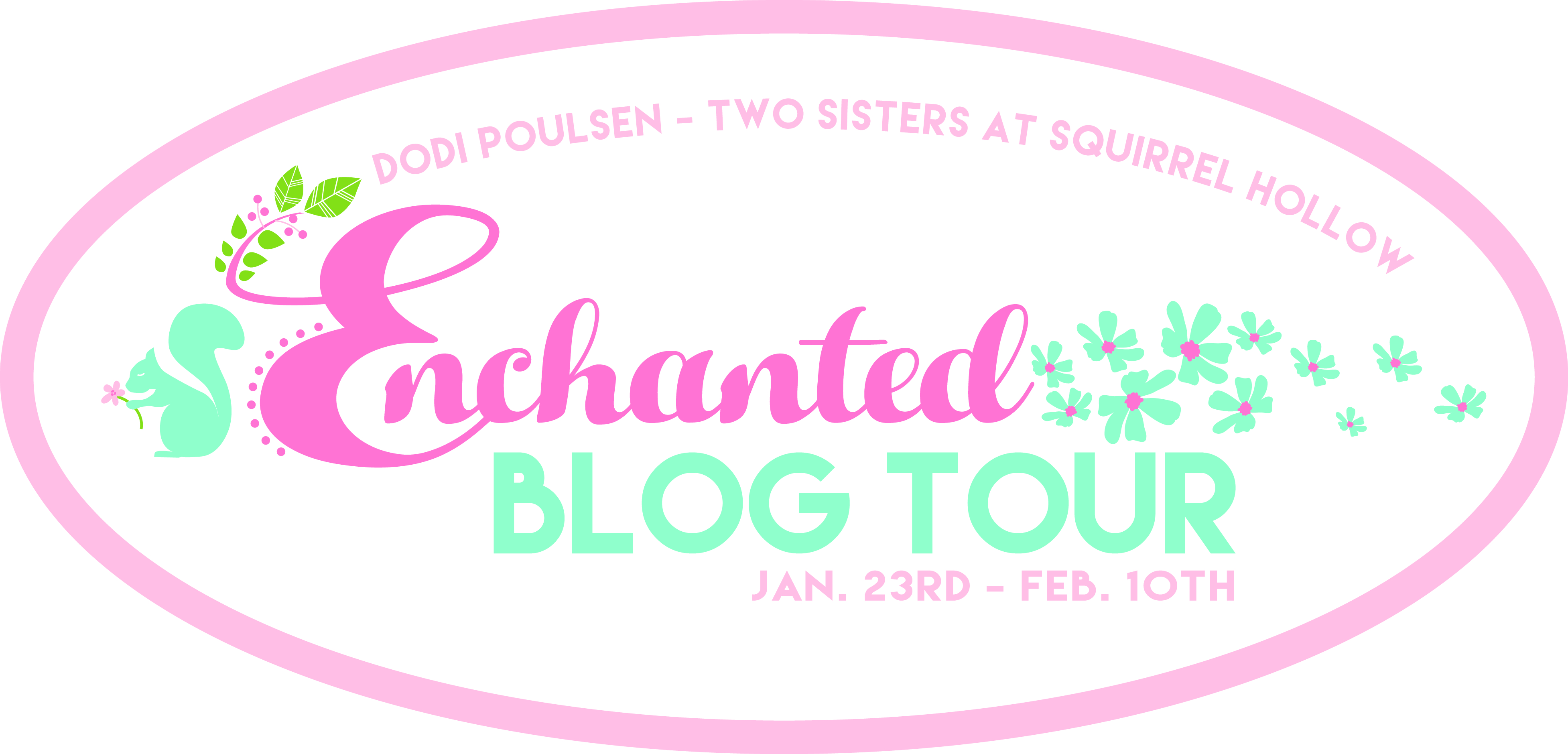 I am so totally excited to be a part of the Enchanted Blog Tour sponsored by Riley Blake Designs!  You can see the entire collection designed by Dodi Poulsen of Two Sisters at Squirrel Hollow by clicking here 🙂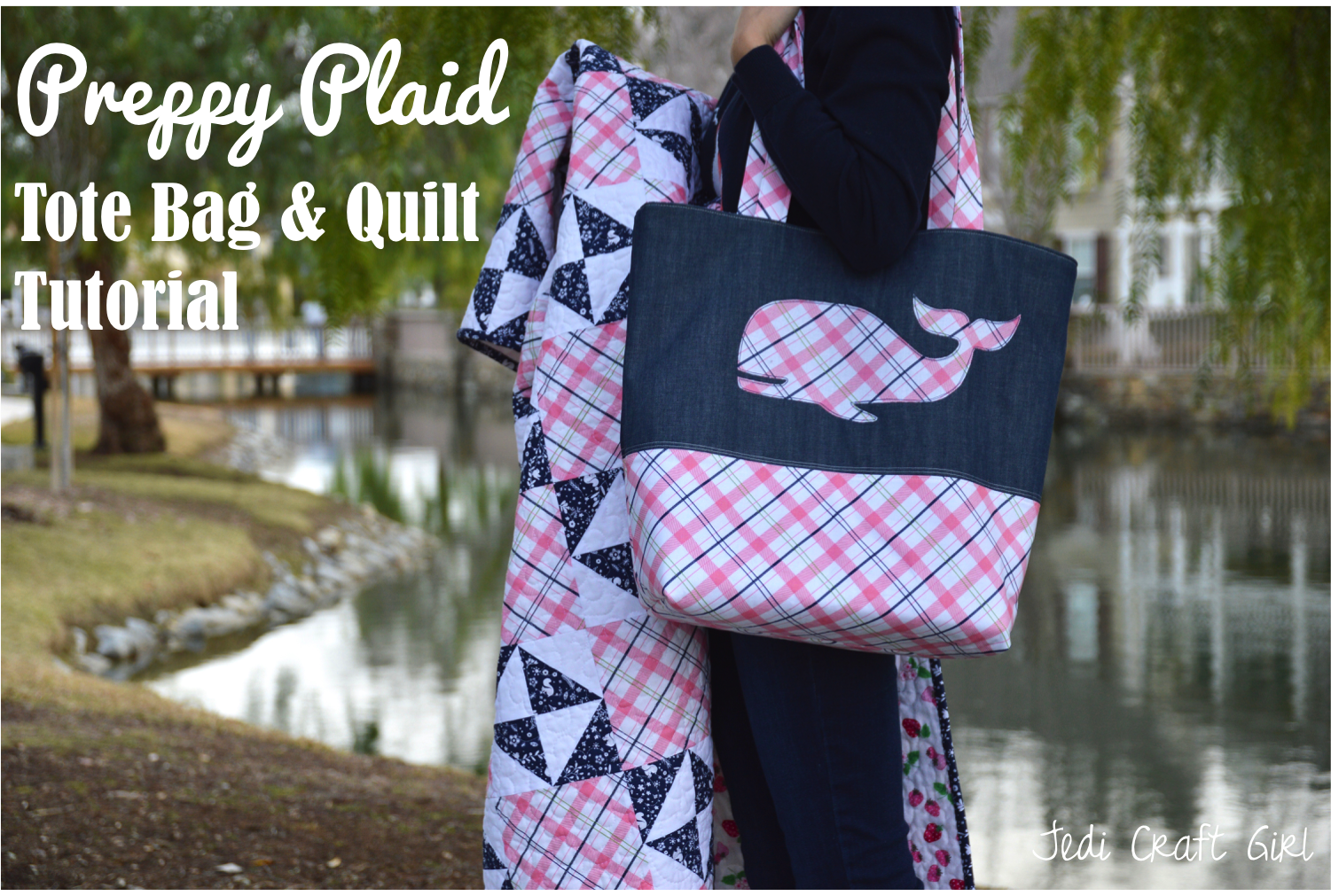 When I saw this new fabric line from Riley Blake Designs called Enchanted, my heart stopped.  I took one look at this pink, navy and white plaid and immediately I was transported to a Cape Cod dream!  Sailboats, lobsters, quaint homes and preppy boys on vacation from Harvard 🙂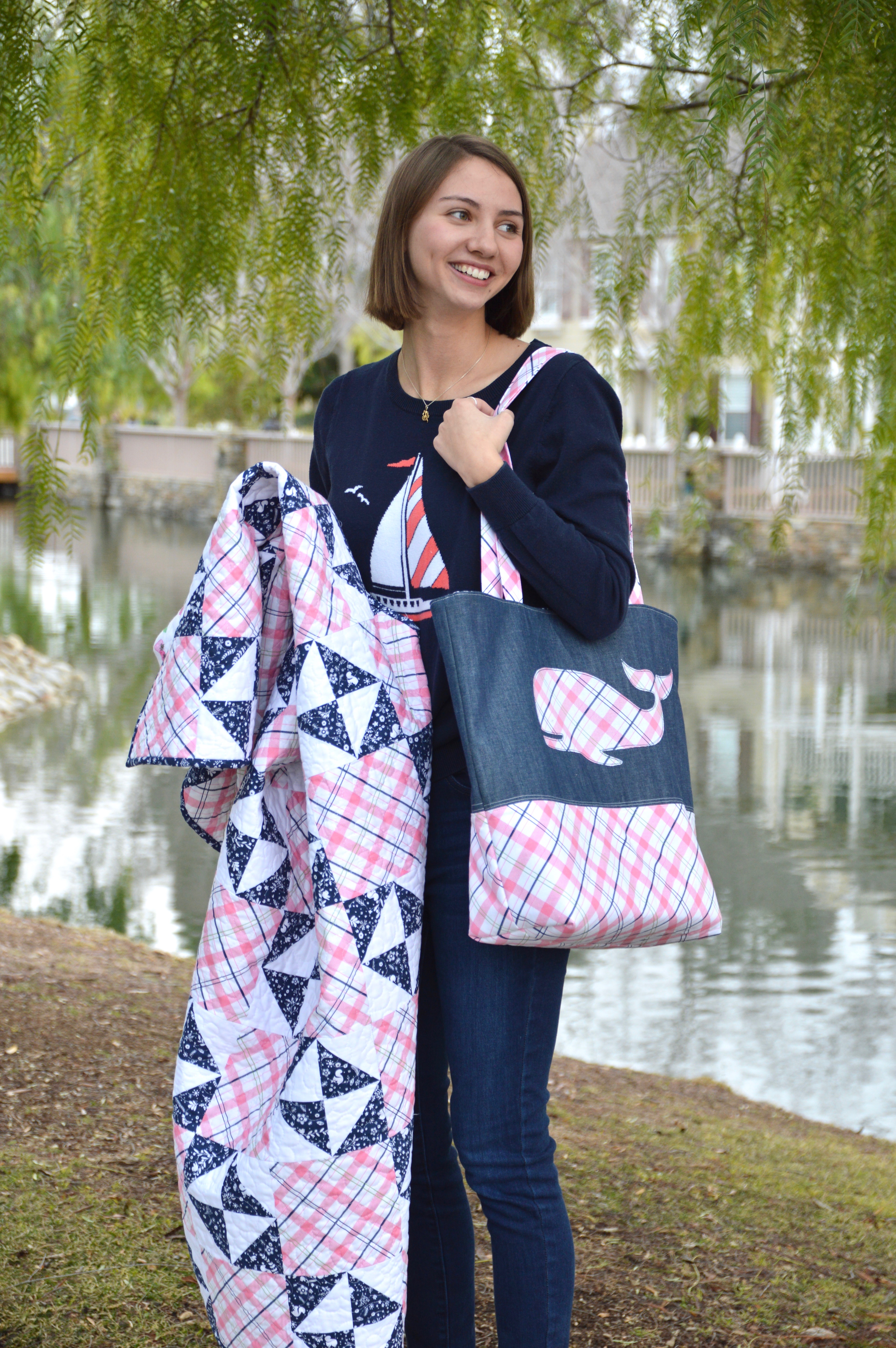 Ok Ok, so I've never been to the Cape but a girl can dream right?  I knew I wanted to design something that let this preppy plaid be the focus and something that would be perfect for my sailboat (hahaha).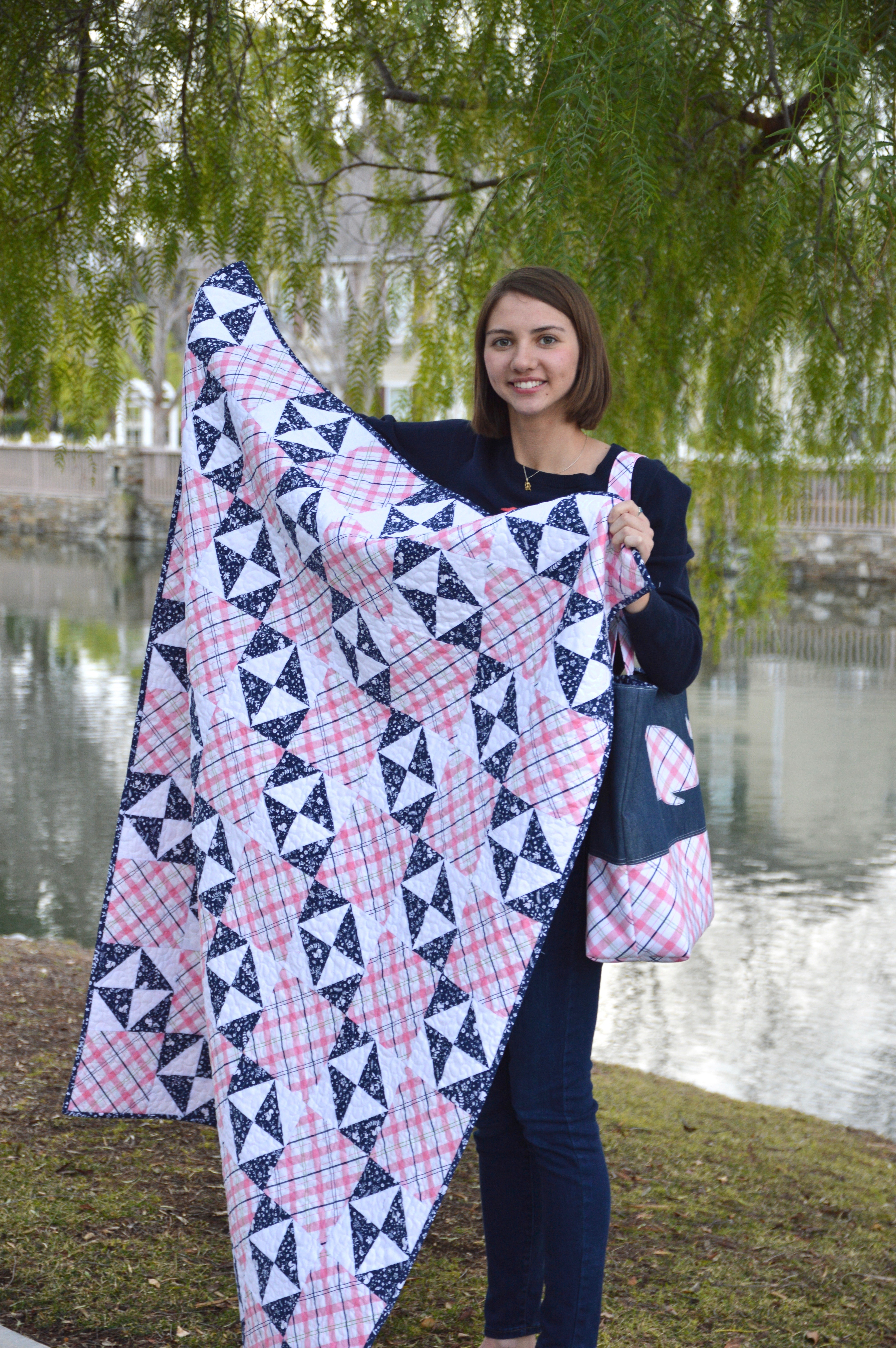 I came up with a simple quilt pattern that uses plaid, navy and white.  When only two prints arrived in the mail I began to panic wondering if I had made a terrible decision to make a quilt using only two prints!  I decided to go with my instincts and make the quilt……and I am totally in LOVE!!!!
This quilt really lets the plaid shine in and it's a great pattern to use if you fall in love with a single fabric print.  The accent blocks are made of 4 half square triangle blocks.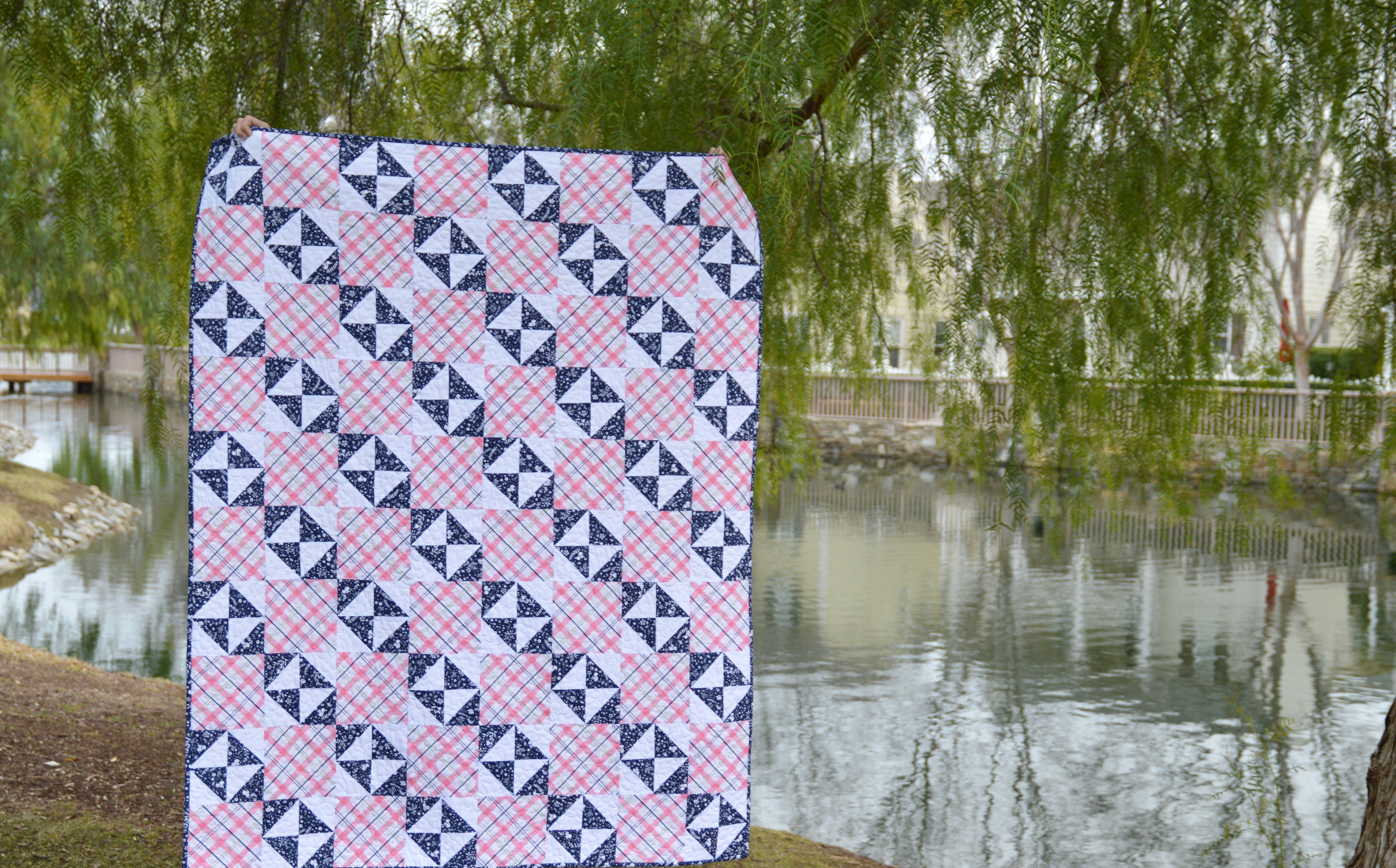 …..and the quilt fits nicely inside this preppy plaid whale tote bag – made with denim, plaid, and Heat n Bond Fusible fleece.  So, are you ready to set sail for the Cape?  Grab your fabrics and lets get sewing!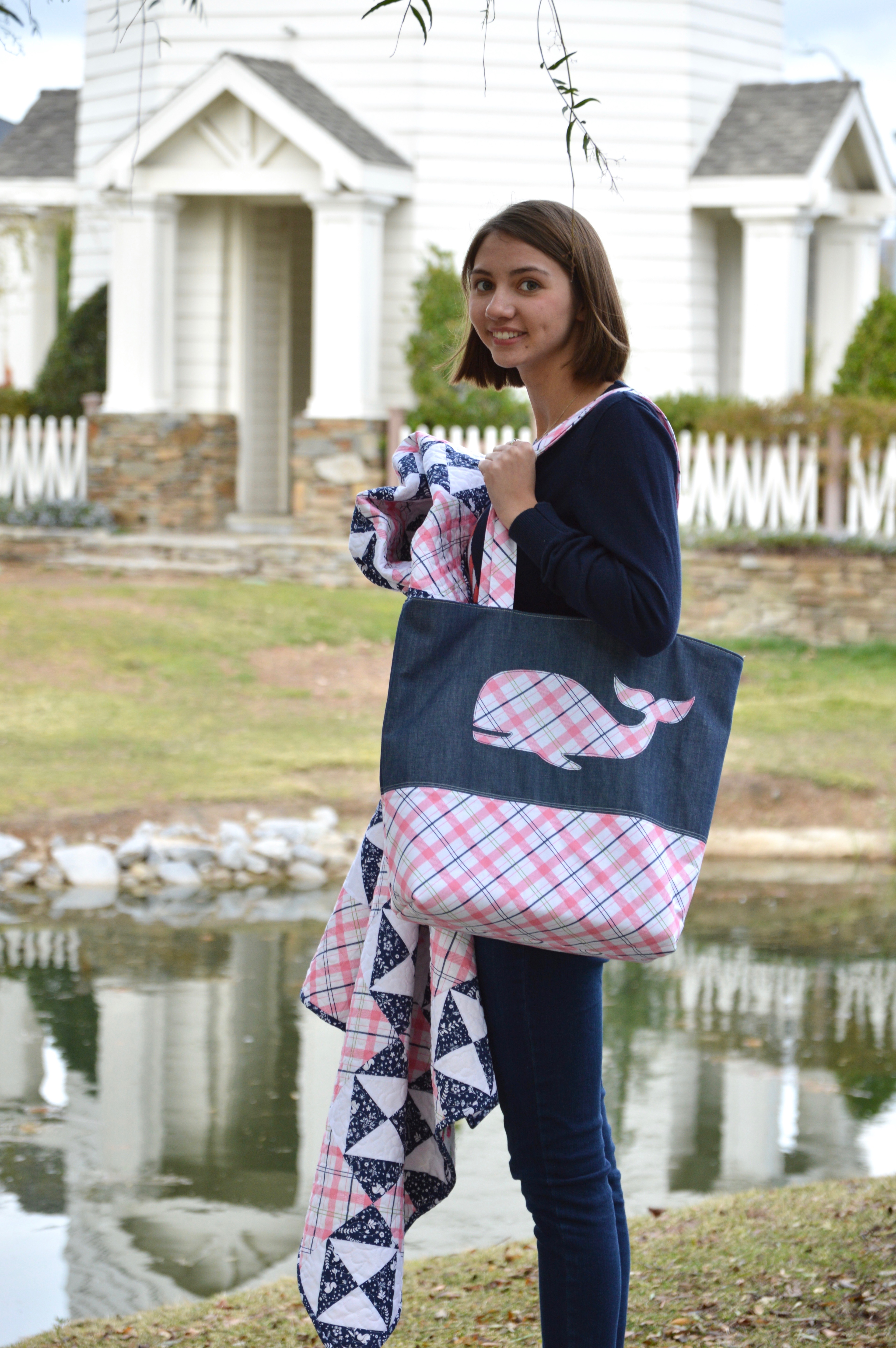 Preppy Plaid Quilt
1/4″ seams 
Supplies
2 yards plaid print
1 yard navy print
1 yard white
Begin by cutting the plaid into (40) 6.5″ squares.
Using the navy blue print and white print sew (160) half square triangles (HST) that measure 3.5″.  You can use any method you like.  I use my Sizzix half square triangle dies!  It is super fast, super easy and no squaring up – just perfection!!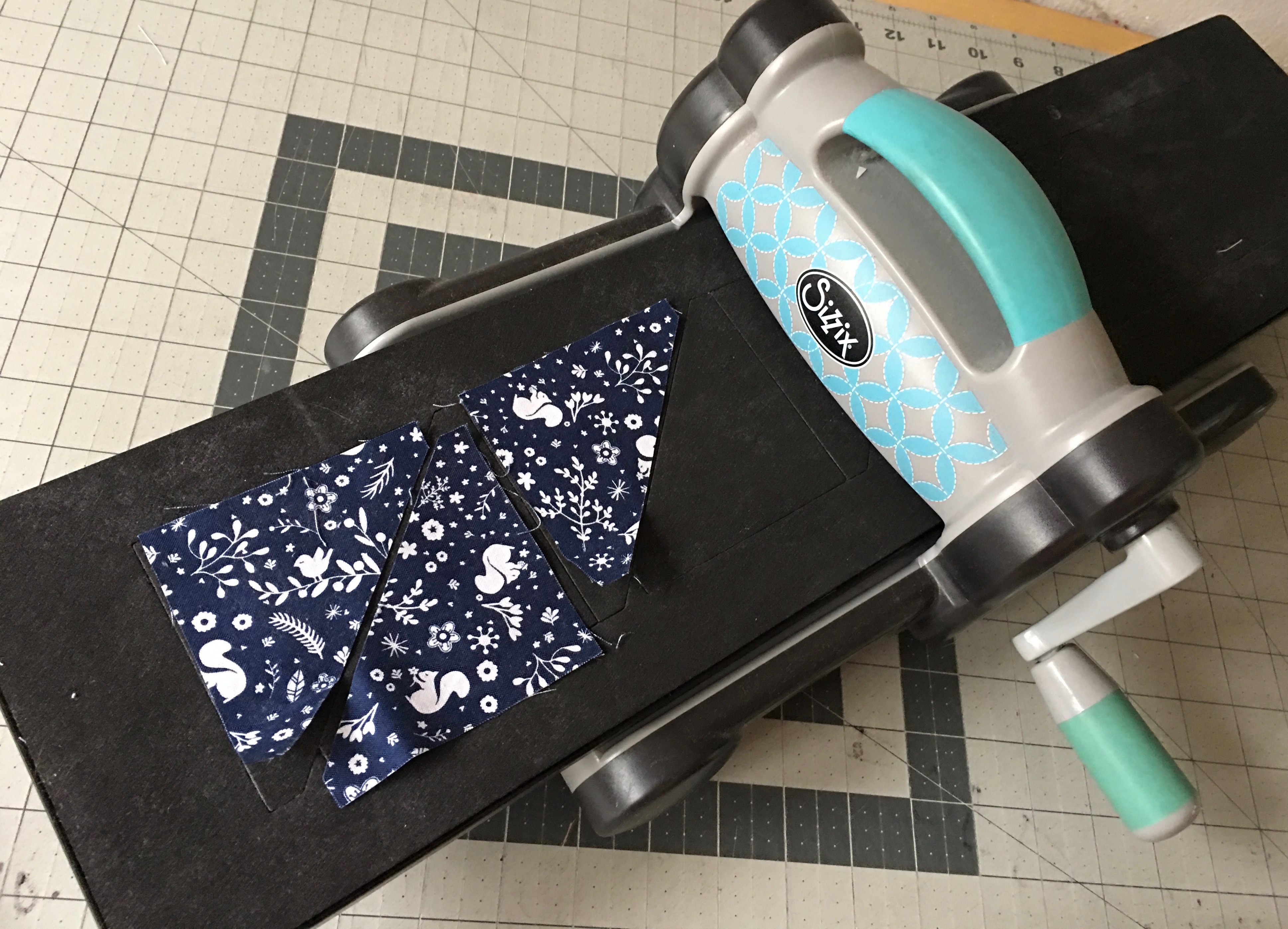 Die cut 160 navy HSTs and 160 white HSTs.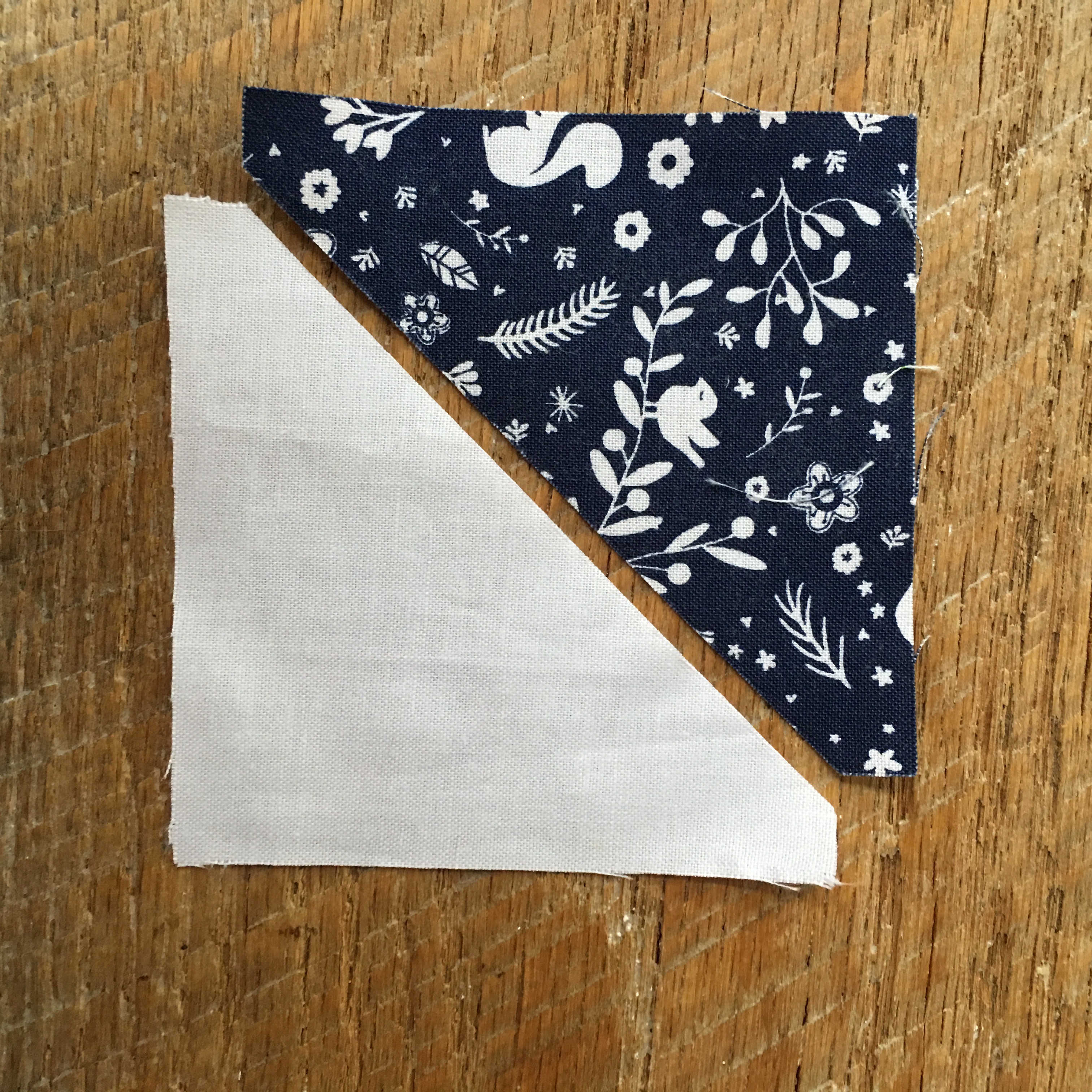 Sew the navy and white HSTs right sides together using 1/4″ seam.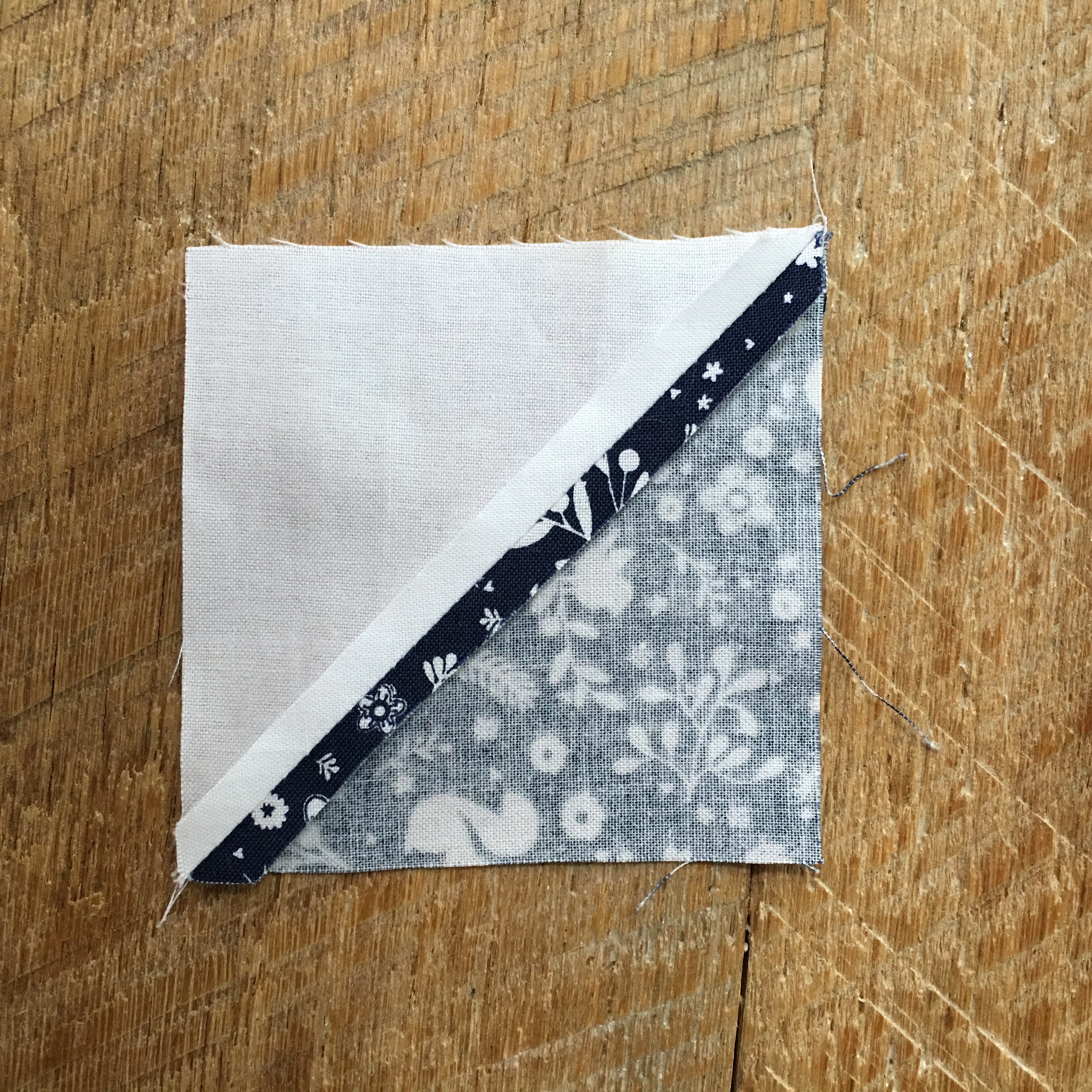 Press seams open.  Continue until you have 160 HSTs.  It's probably a good idea to put on a movie while doing this!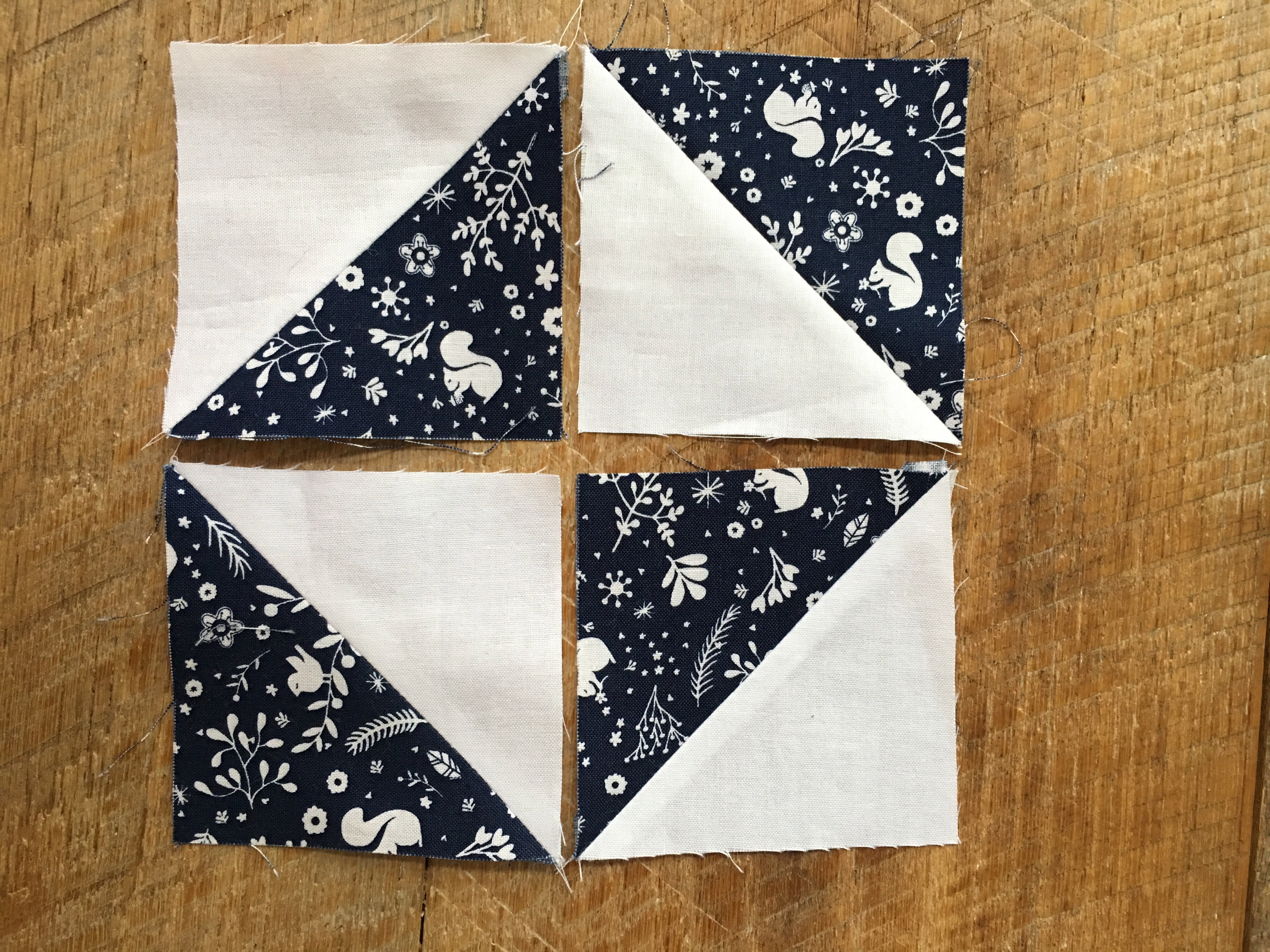 Lay out 4 HSTs to make the pattern above.  Sew together as you would a 4-patch.  Press seams open.  Finished block will measure 6.5″.  Make 40 of these blocks.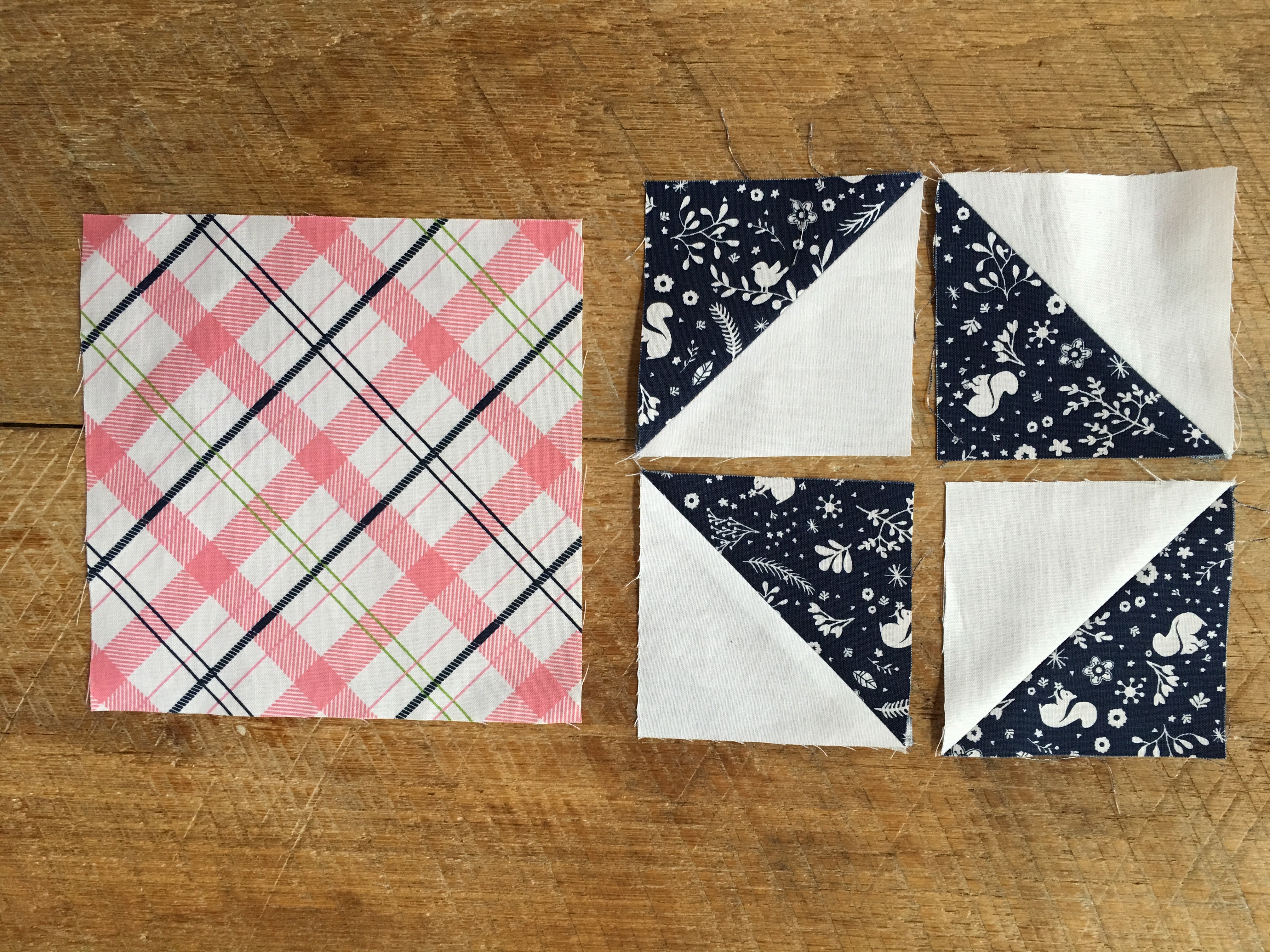 Cut 40 squares measuring 6.5″ out of the plaid.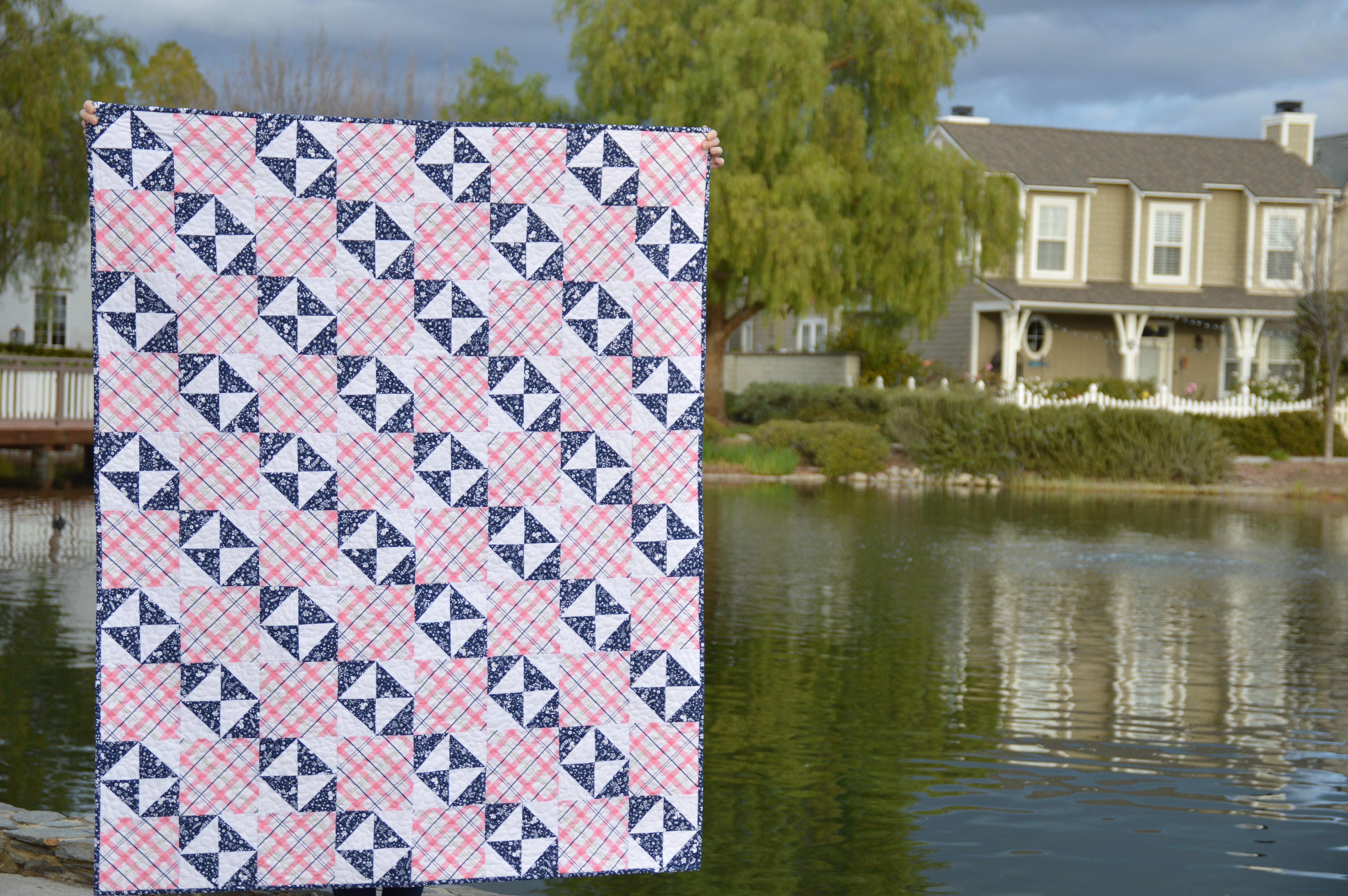 Sew the blocks together (1/4″ seams) as you would a checkerboard, alternating each block.  Make sure the pieced blocks are going the same direction.  Press the seams toward the plaid.  There are 8 blocks across and 10 rows down.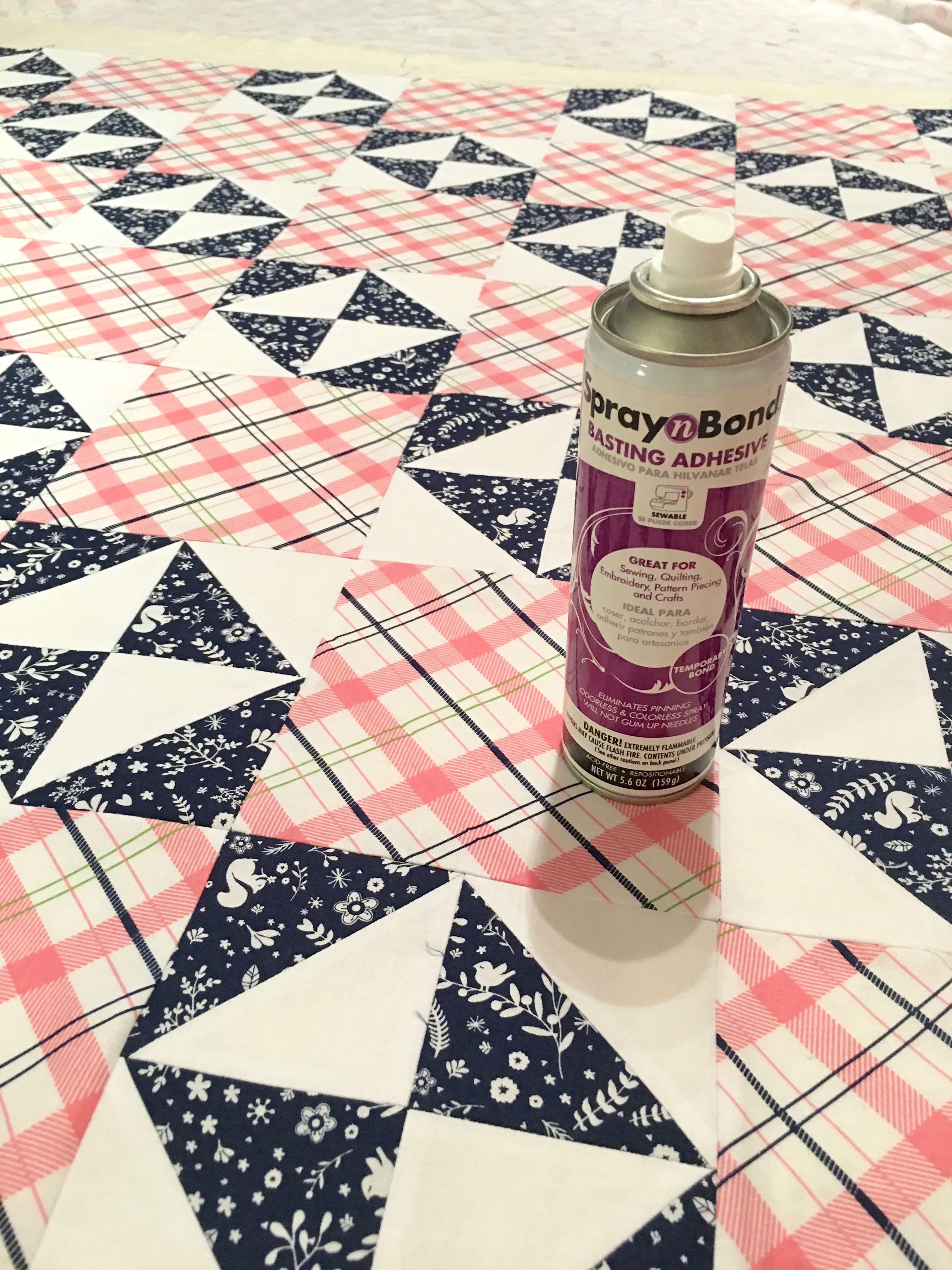 Baste (I always use Spray n Bond basting spray)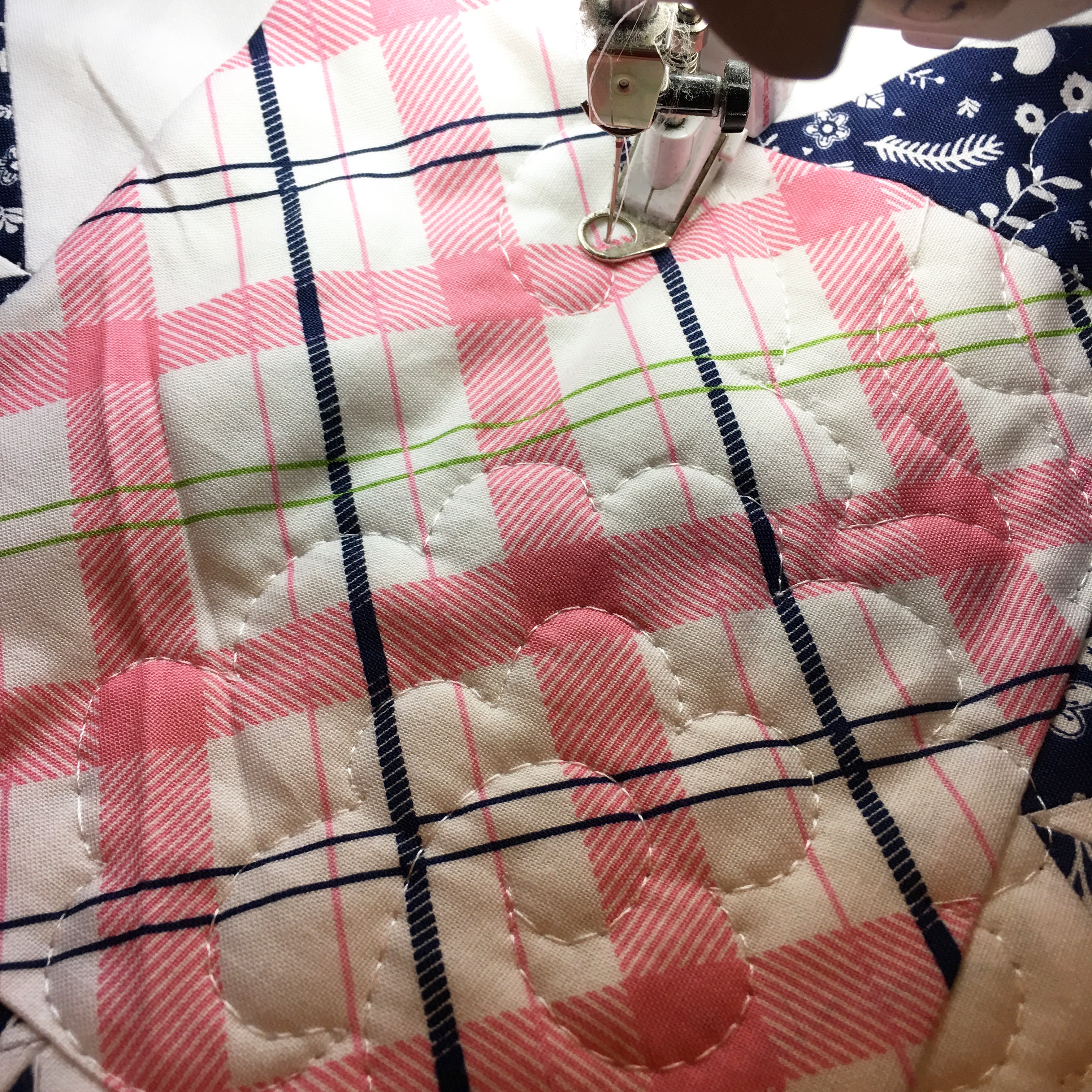 Quilt.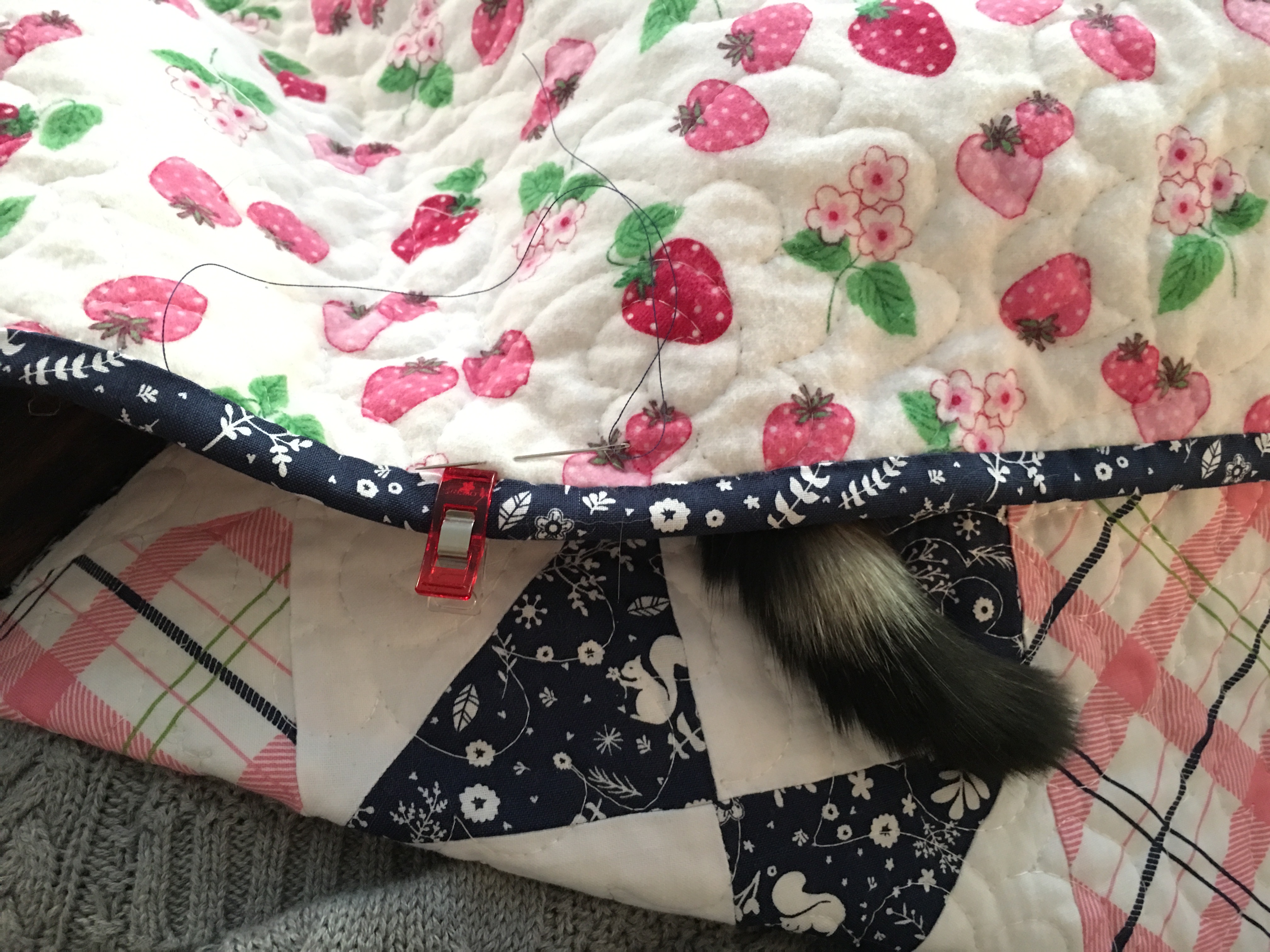 Bind.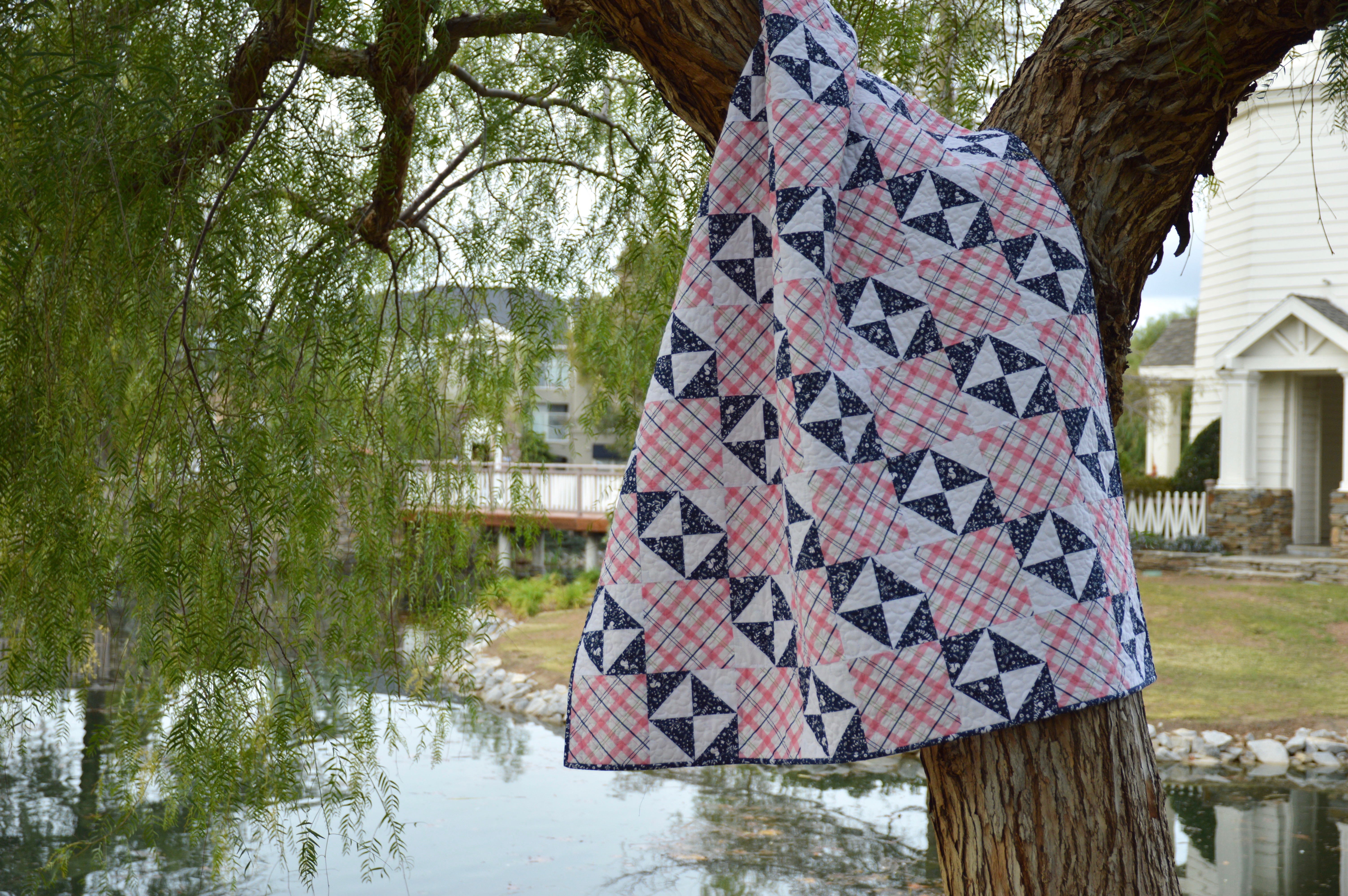 Love.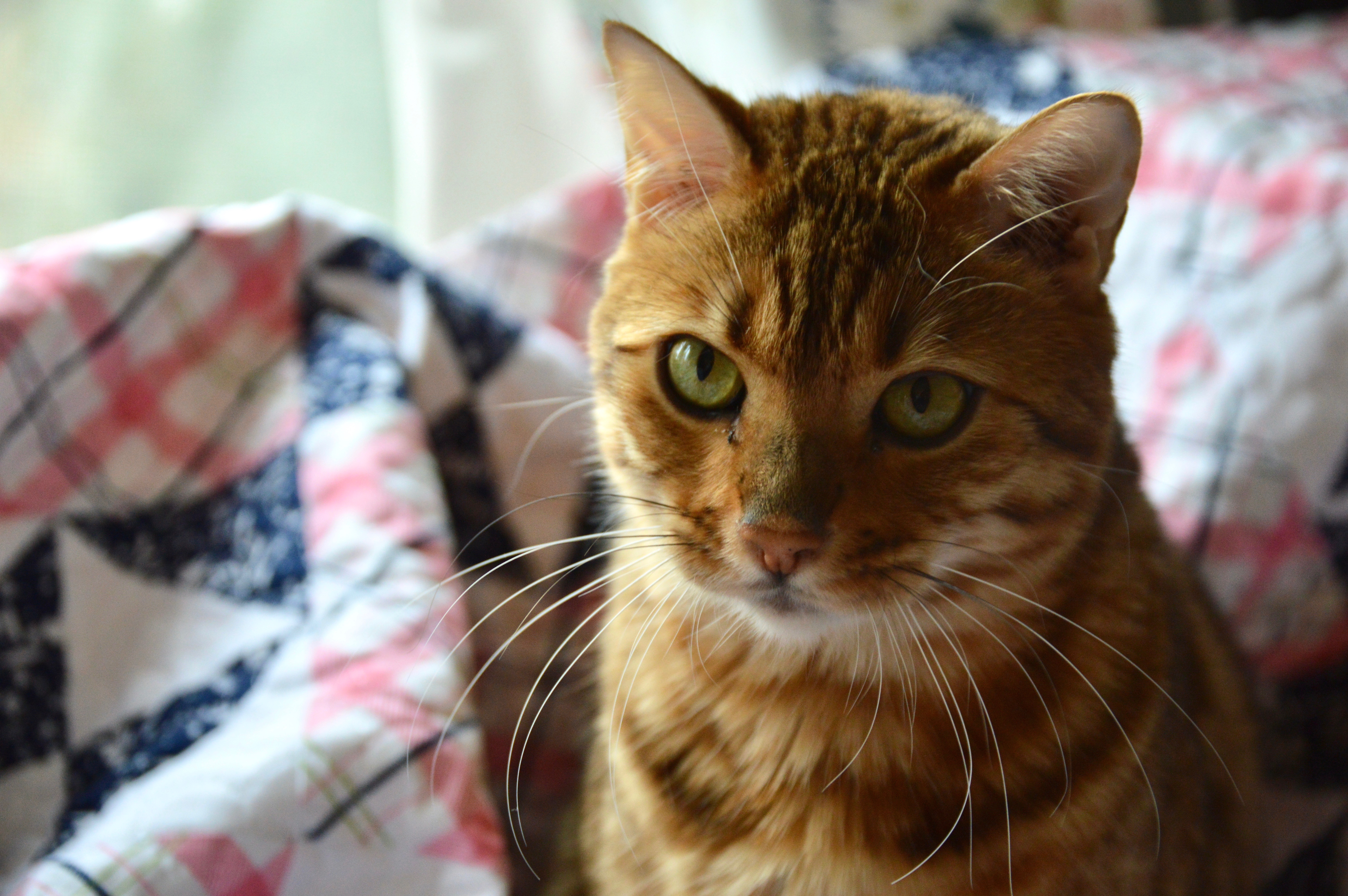 Mufasa and I love sewing on rainy days!!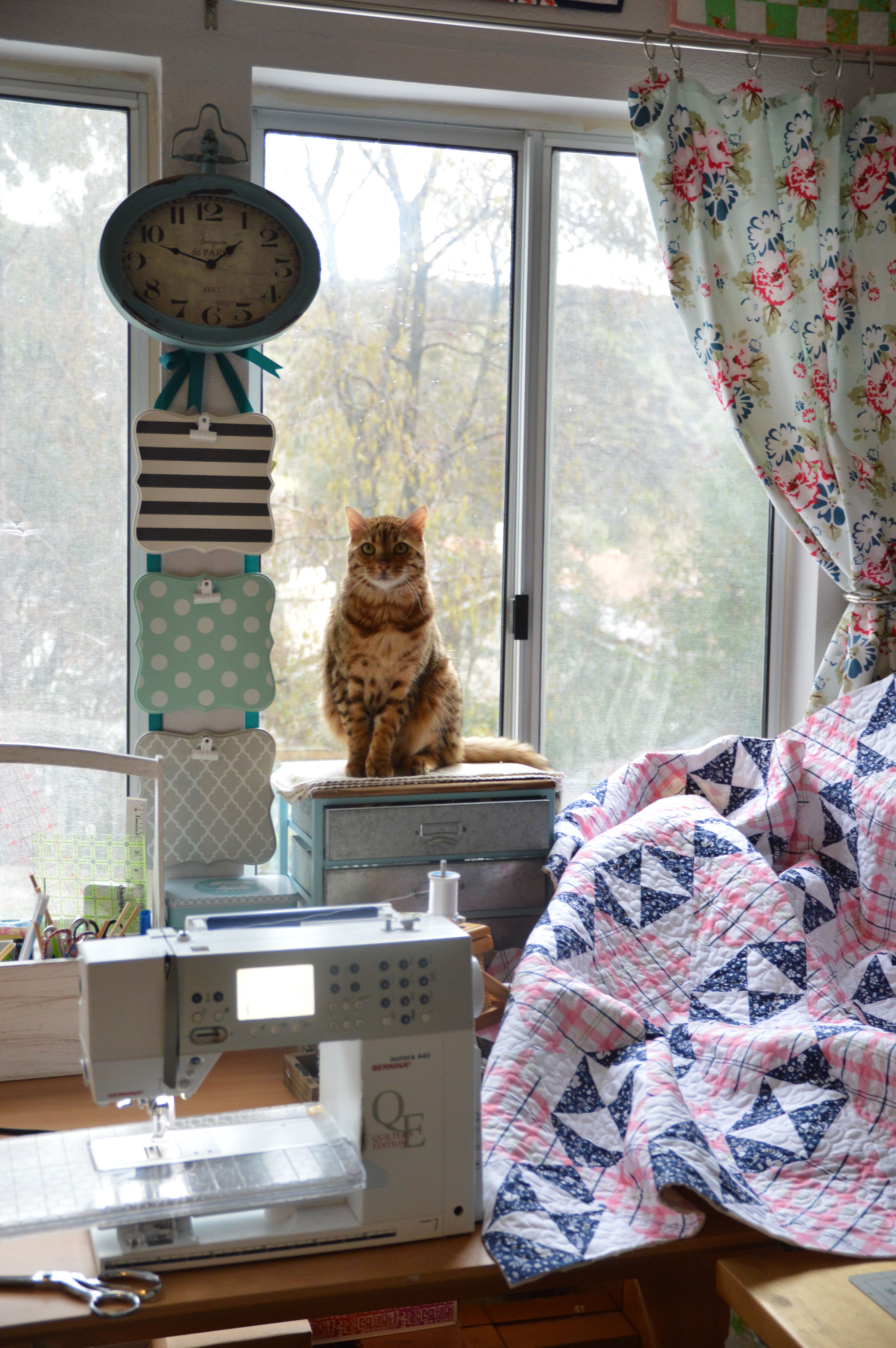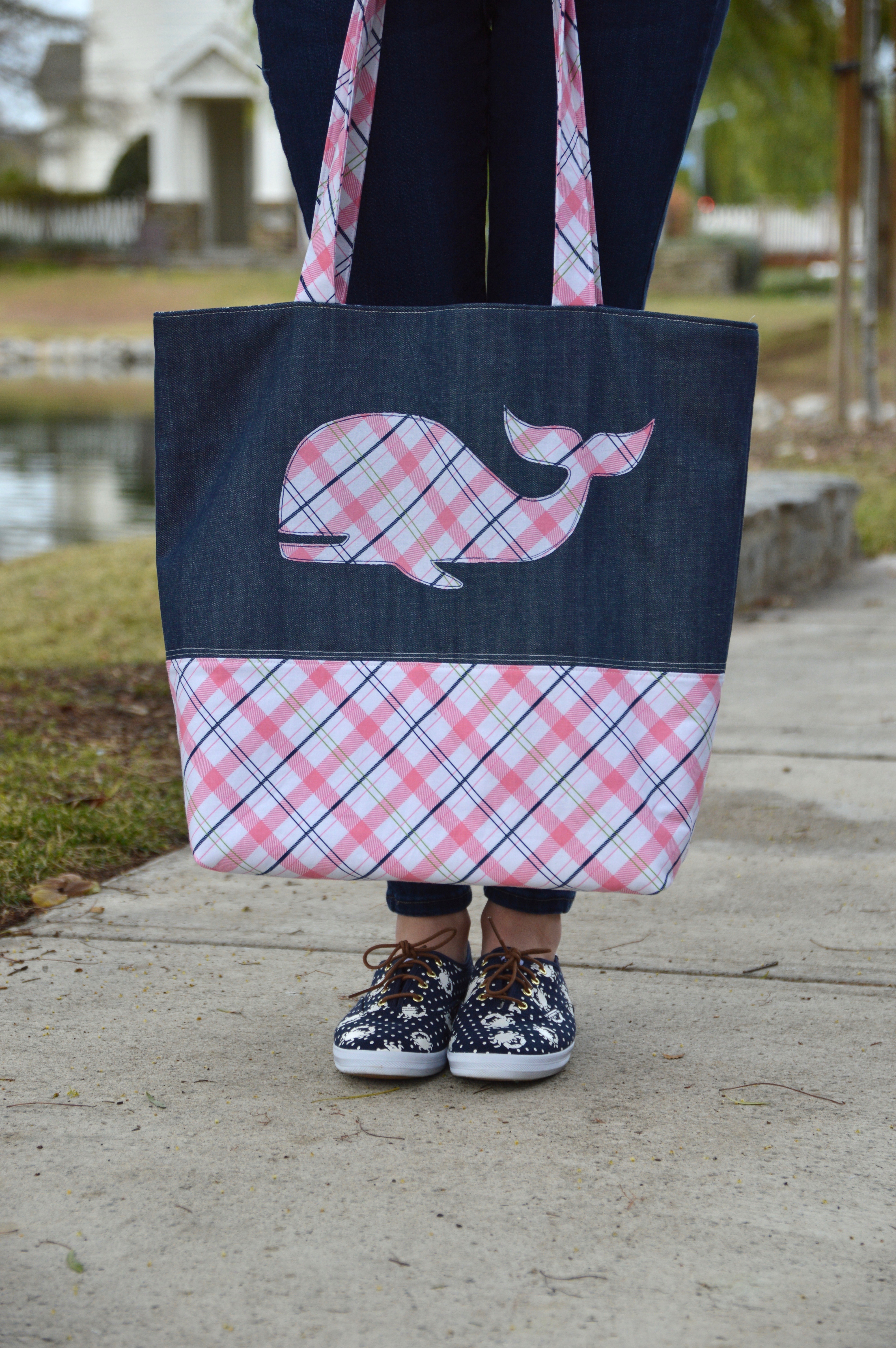 Tote Bag Instructions
I used my pattern, Quilted Tote Bag, for the measurements.  I followed the pattern pretty closely with the following exceptions:
I added an appliqué to the main bag.
I used denim.
I did not quilt the bag; I stabilized it with fusible fleece.
I came up with a new way to sew the handles (continue reading)
I omitted the inside pocket
I simplified how to make the bag bottom
Supplies
Denim (2) 20″ x 10.5″
Plaid (2) 20″ x 9.5″
Lining (2) 20″ x 19.5″
Plaid for handles (2) 5″ x 28″
Heat n bond medium stabilizer (2) 5″ x 28″
Heat n Bond Fusible Fleece (2) 20″ x 19.5″
Piece of plaid for the whale
Heat n Bond Lite
Appliqué the whale  Click HERE for the whale pattern.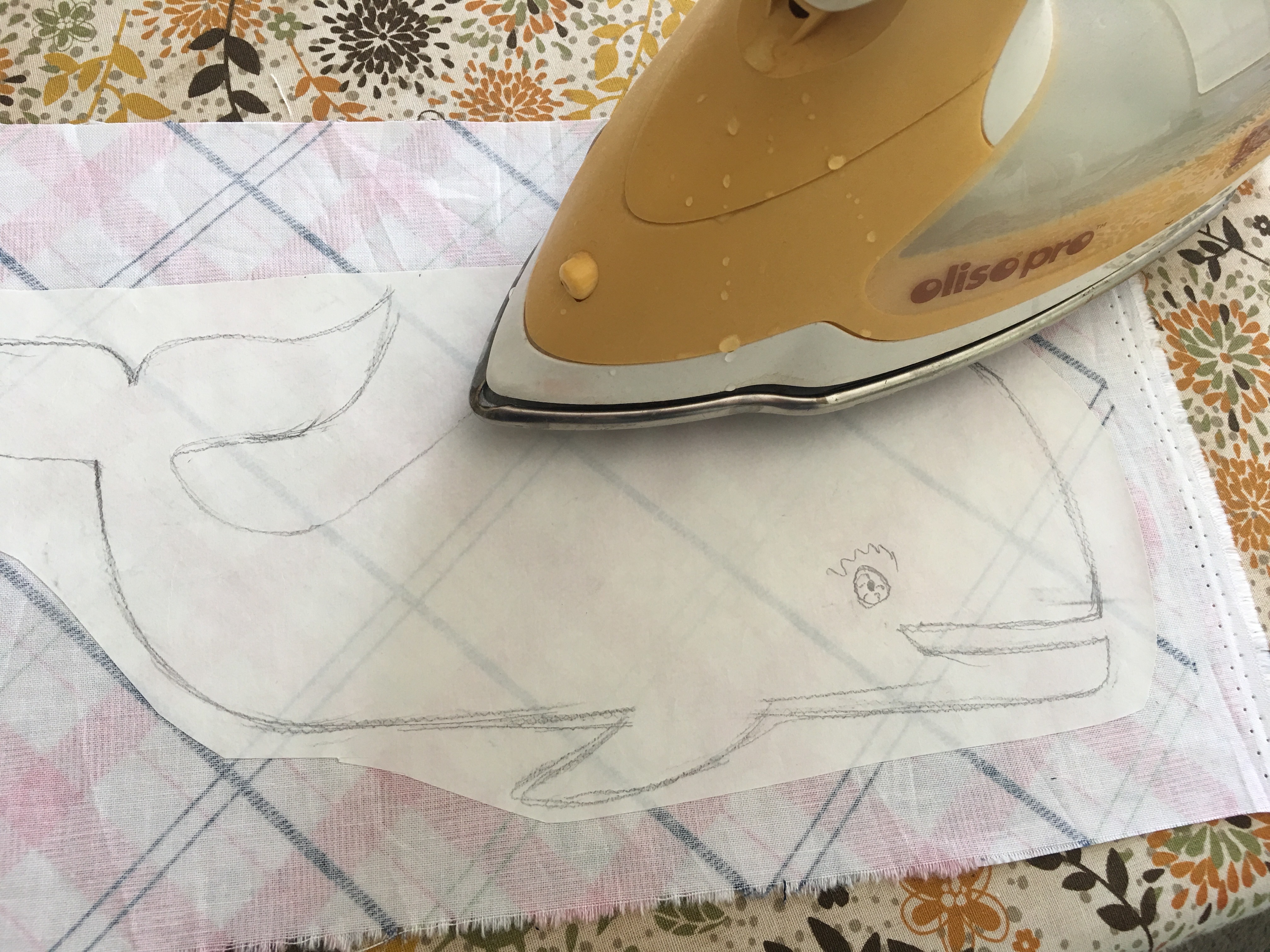 You can print the whale directly on Heat n Bond Lite EZ print sheets, or trace the whale onto Heat n Bond Lite.
Heat set the whale to the wrong side of the plaid fabric.
Cut out the whale.  Peel off the backing paper.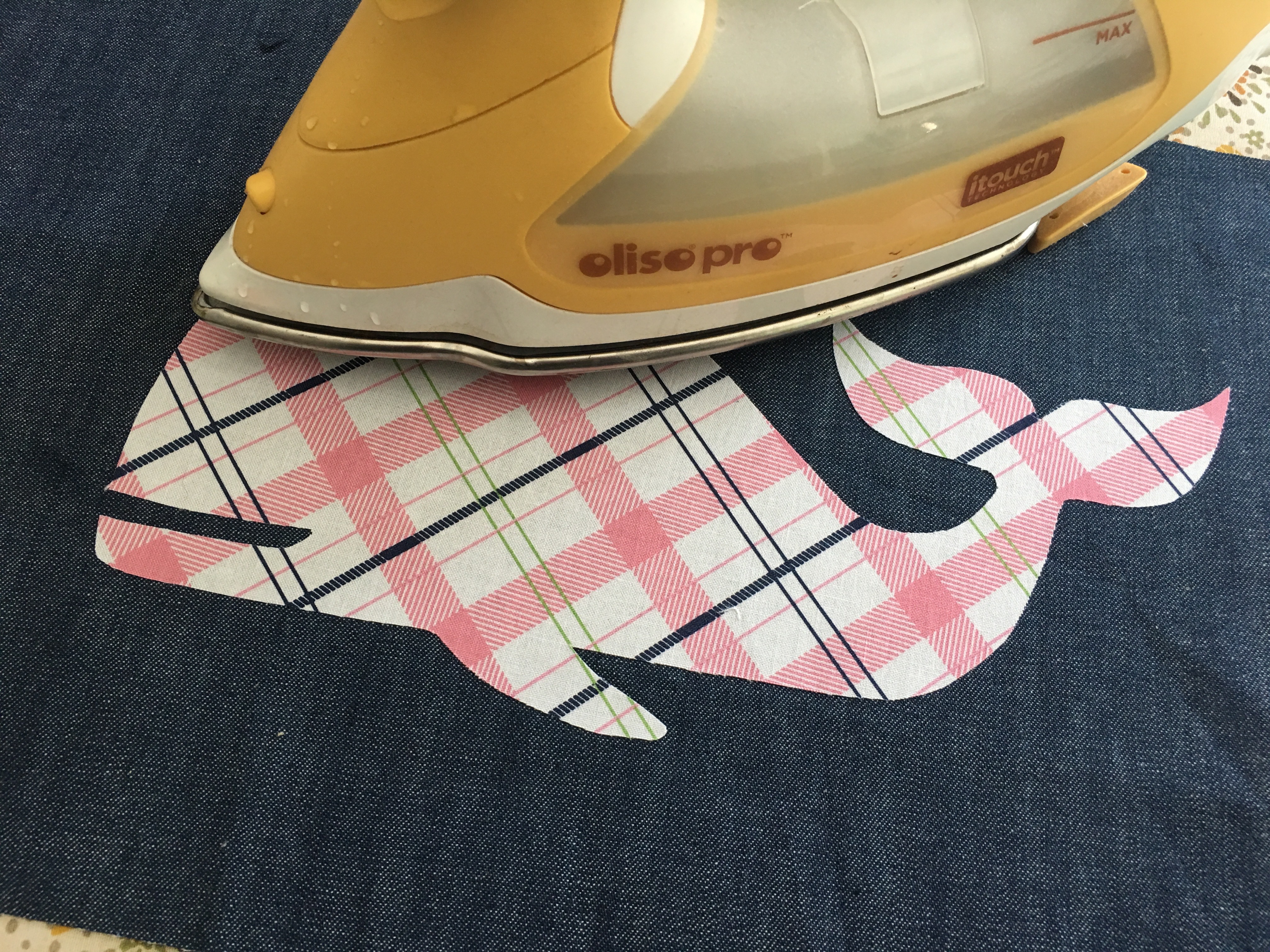 Press it onto one of the denim pieces, centering.  Using 1/4″ seams, sew the denim piece to the plaid piece to make the bag front and back.  Press seams.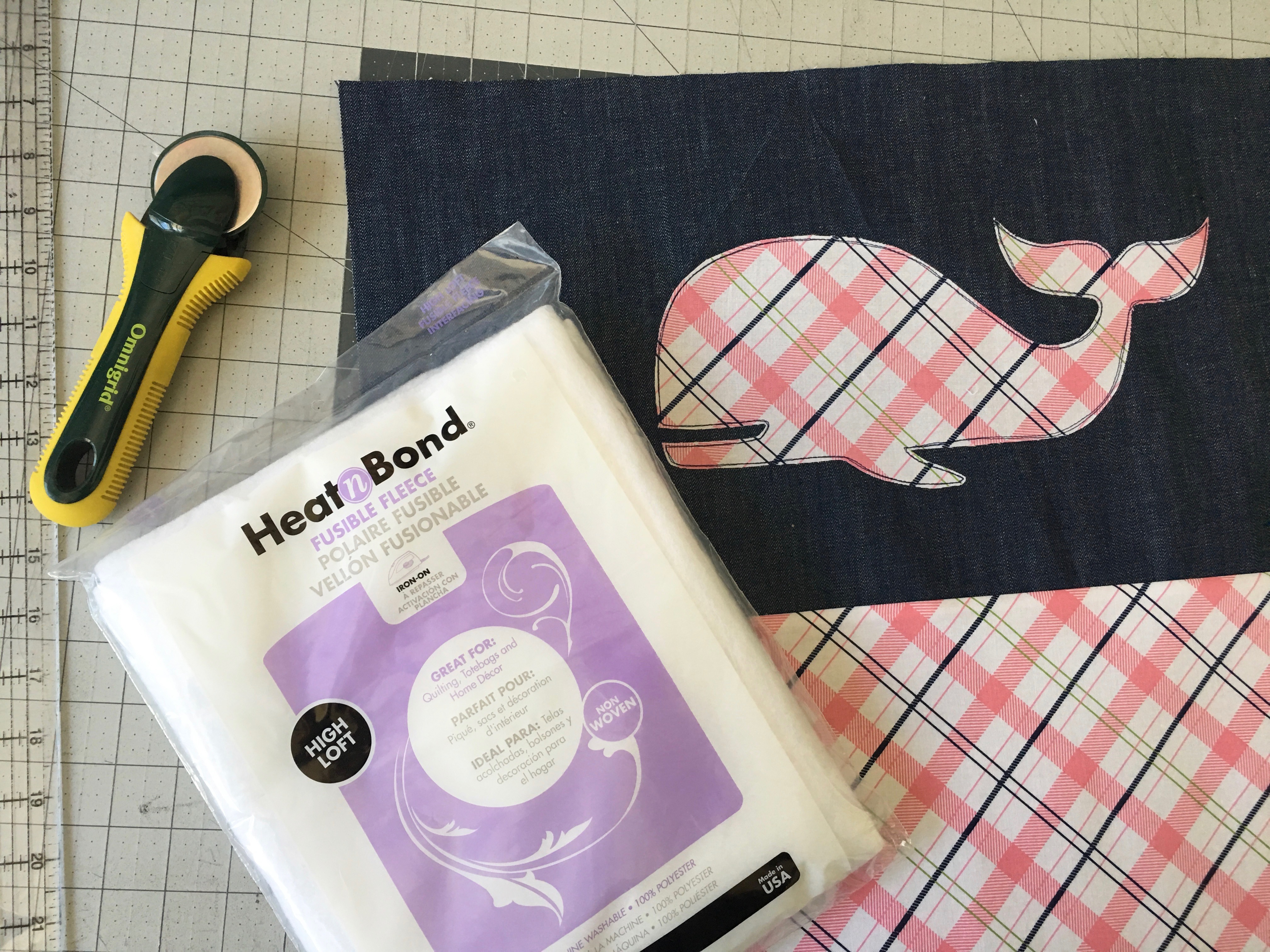 Fuse the Heat n Bond Fusible fleece to the wrong side of the bag front and the bag back.  Add some accent stitching along the seam.
Bag Handles
Fuse the stabilizer to the wrong side of each of the handle strips.
Press in half lengthwise.  Open up and press the long ends in to meet the center.  Press.  Then press in half again.  This makes a super sturdy handle!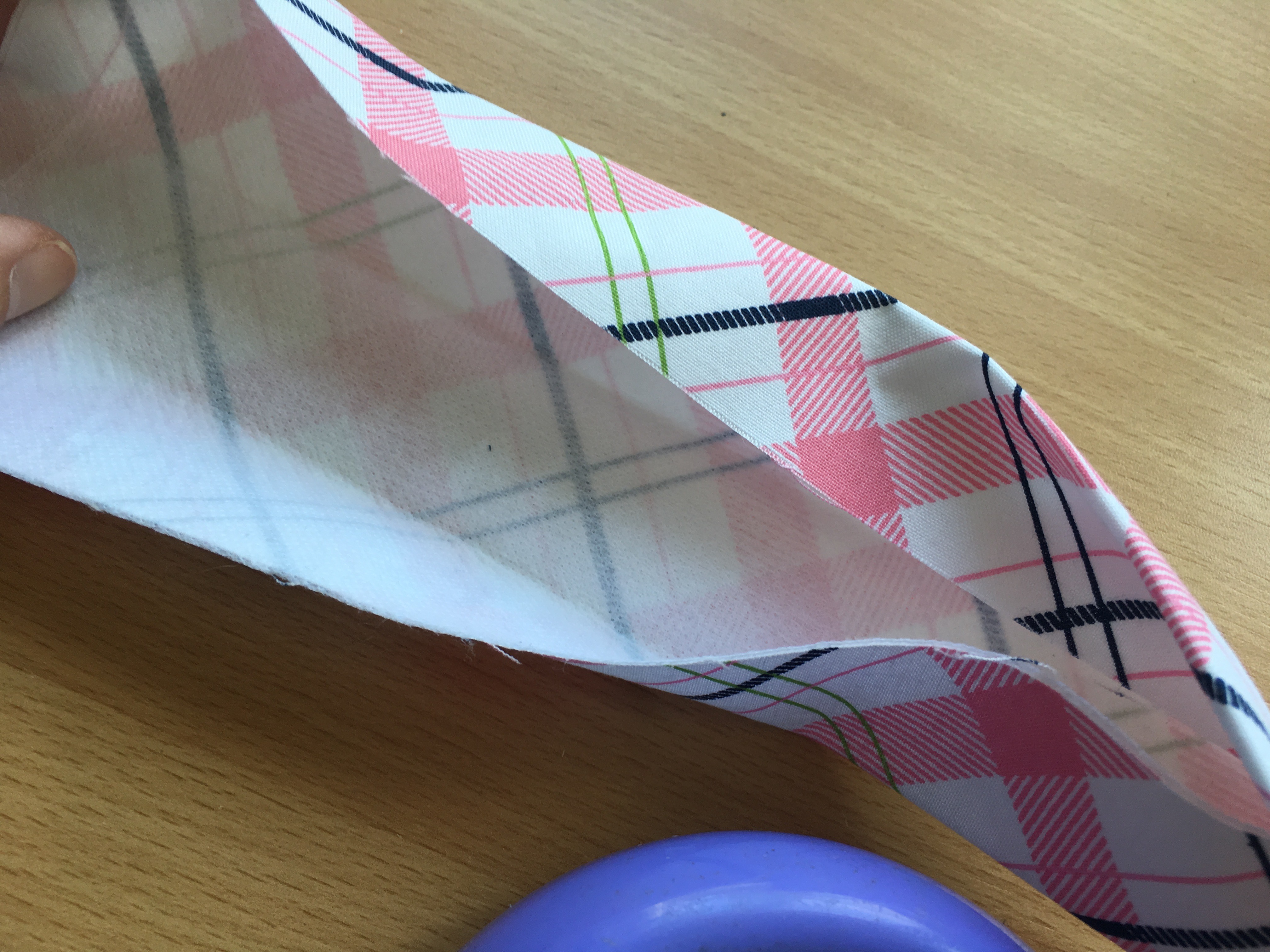 Topstitch along both of the long edges of each handle.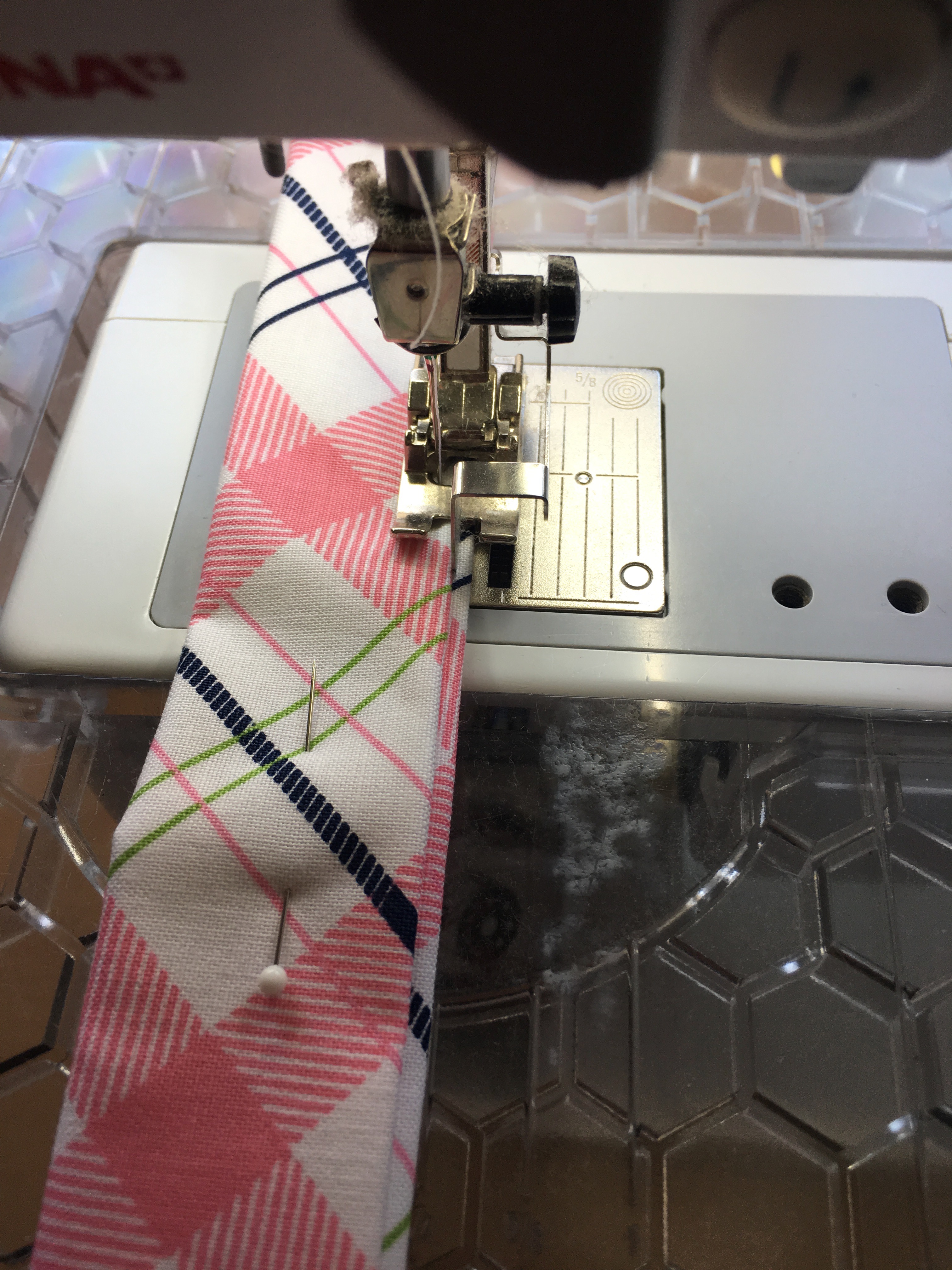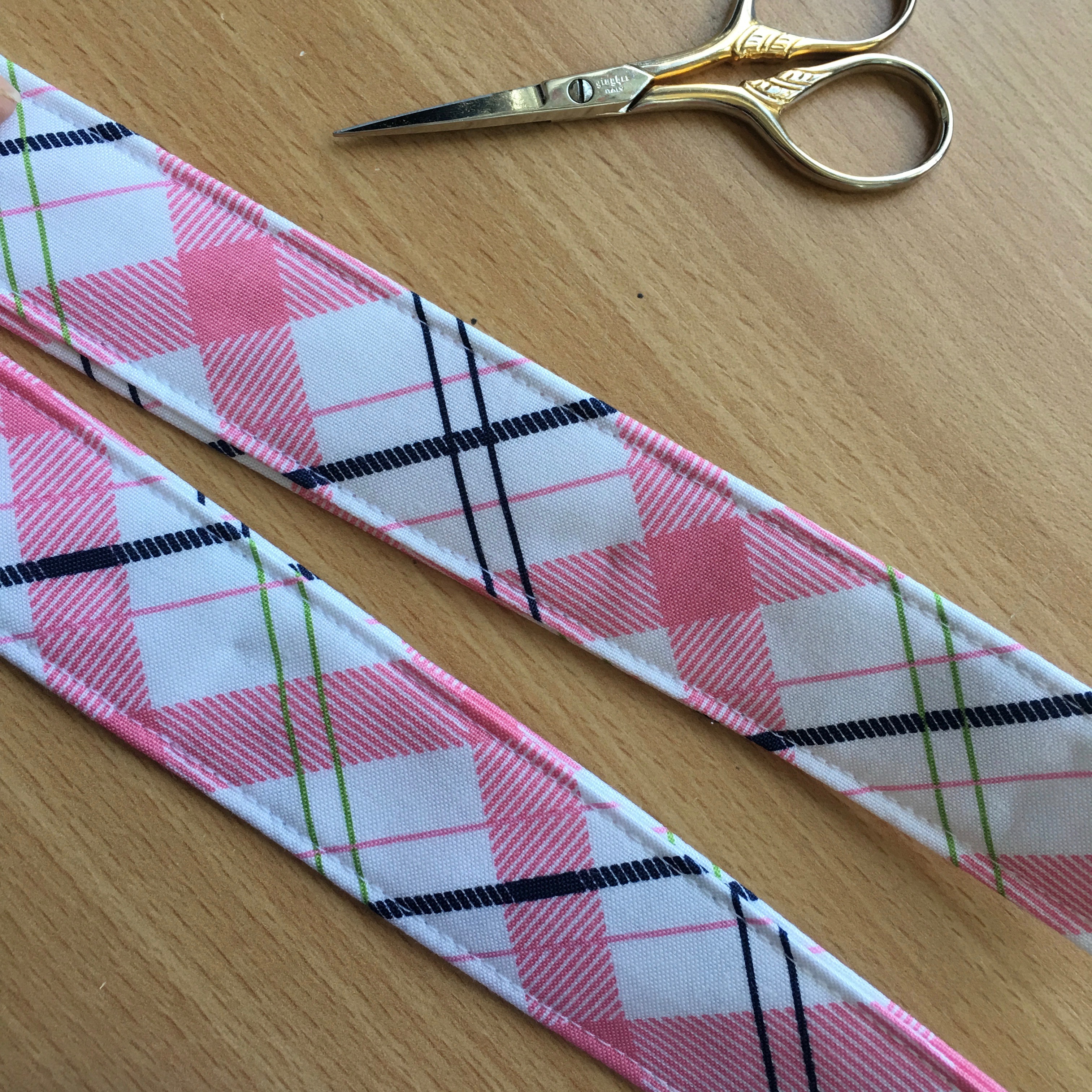 Continue following the bag instructions from this tutorial to complete the bag.  To make the bag bottom, cut a 3″ notch out of the bottom corners of the bag and the lining.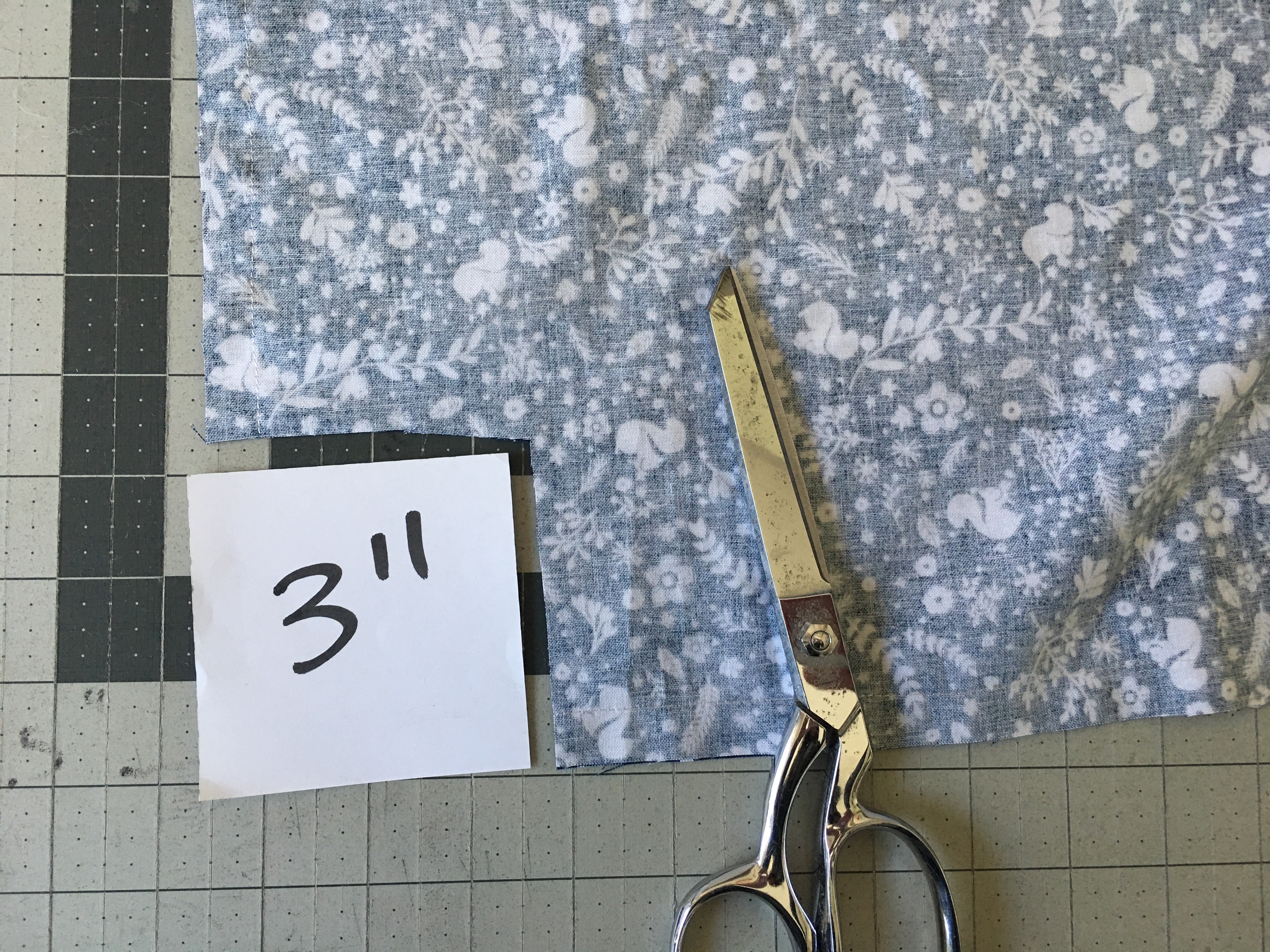 I am so in love with this tote bag!  It is such a great size, and if feels sturdy and it is super preppy plaid cute!!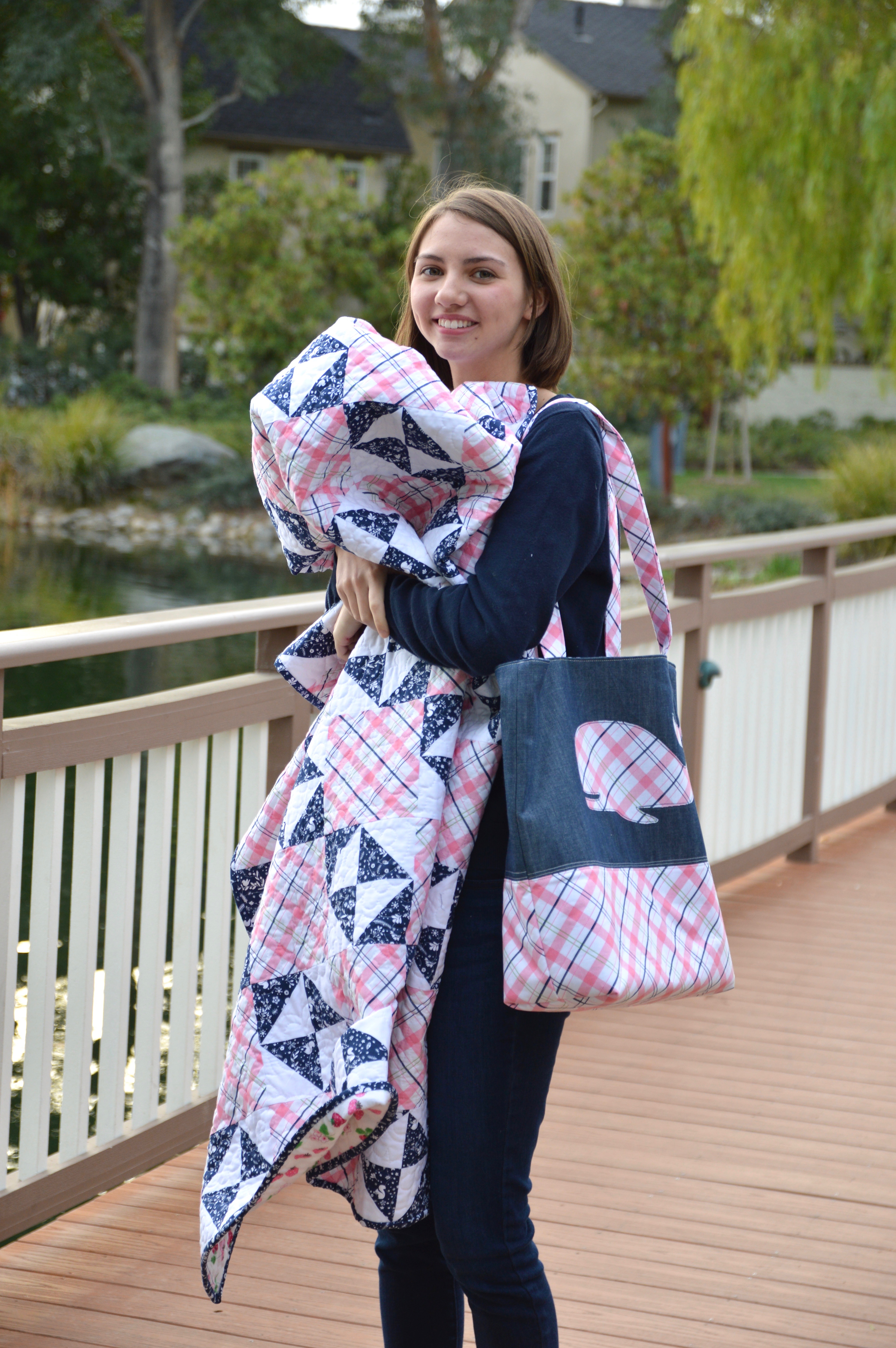 I'm ready for an Eastern Seaboard Vacation!!!
Together they make the Perfect Preppy Plaid Pair!!!!!


Be sure to check out these amazing designers to see what they've created using Riley Blake's Enchanted Fabric!!!
Blog Tour Schedule
Monday, Jan 23rd – Little Londyn
Tuesday, Jan 24th – Jedi Craft Girl
Wednesday, Jan 25th – Loose Threads
Thursday, Jan 26th – Meags and Me
Friday, Jan 27th – Pretty by Hand
Monday, Jan 30th – Tie Dye Diva
Tuesday, Jan 31st – Two Sisters as Squirrel Hallow
Wednesday, Feb 1st – Striped Swallow Designs
Thursday, Feb 2nd – Izzy and Ivy
Friday, Feb 3rd – Ellis and Higgs
Monday, Feb 6th – Aurifil
Tuesday, Feb 7th – The Crafy Quilter
Wednesday, Feb 8th – Two Sisters at Squirrel Hallow
Thursday, Feb 9th – Jina Barney Designz
Friday, Feb 10th – Riley Blake
You could win a bundle of Enchanted fabric by visiting Dodi's blog, Loose Threads (www.sashgals.com) and leaving a comment.
One entry per blog post, per day of the Blog Tour, there on Loose Threads.
Enter every day to increase your chance of winning!!!