Every Easter our family participates in a "14 Day Walk With Christ".  This takes place the 2 weeks leading up to Easter.  Life is so busy and rushed,  Easter can come and go before we know it.  It has been extremely meaningful to focus extra attention on the Savior during these two weeks.  Every day we have a scripture, lesson, video, etc. about Jesus Christ.  This is our 5th year doing this.  You can click HERE for the index from the past years.  I hope you are able to join with us!
This year we are focusing on "Choosing Jesus".  Each Day we will focus on a different attribute that will help us Choose Jesus each day.  Follow along on Instagram and use #walkwithchrist2017 and #choosejesus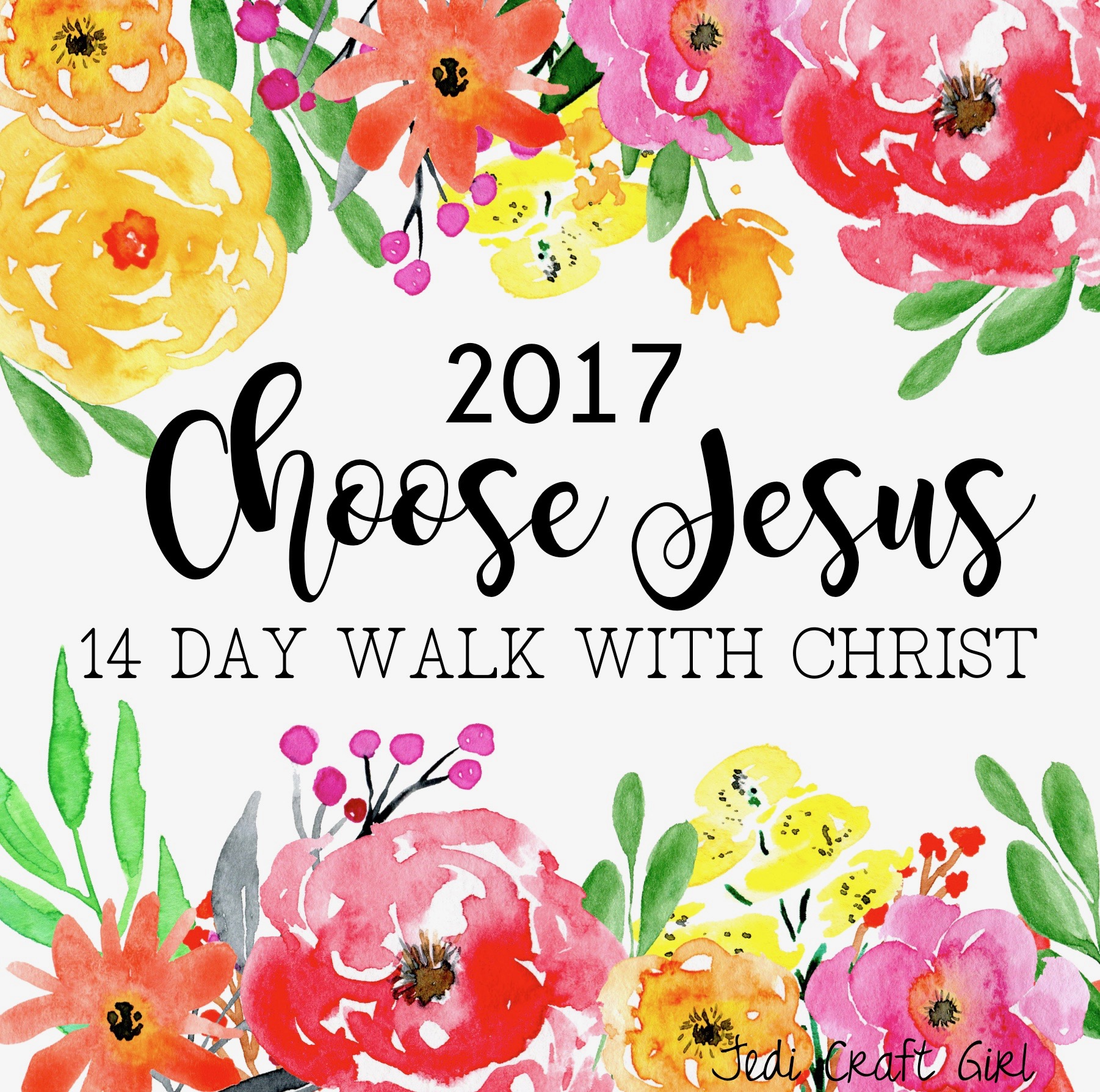 Day #1 Choose Jesus – For the next two weeks we will focus on what it means to Come Unto Christ, or to Choose Jesus in all parts of our life.
Matthew 11: 28 "Come unto me, all ye that labour and are heavy laden, and I will give you rest.  Take my yoke upon you, and learn of me; for I am meek and lowly in heart: and ye shall find rest unto your souls.  For my yoke is easy, and my burden is light."
"By His Words and His example, Christ has sown us how to draw chooser to Him," President Henry B. Eyring.
Watch this video called Choose Him Again
Discuss in your family ways you can Choose Jesus each day.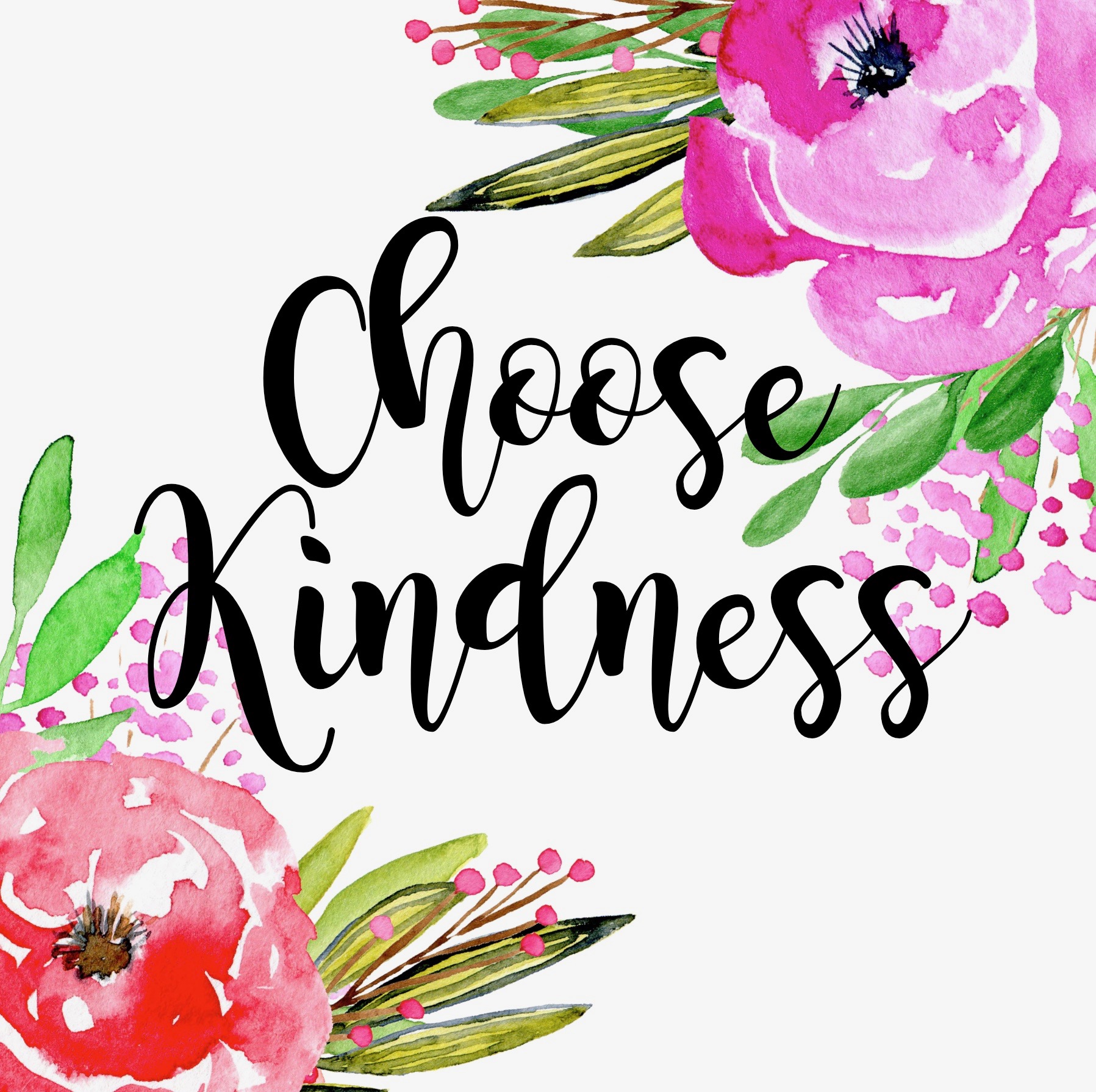 Day #2 Choose Kindness
John 13:35 By this shall all men know that ye are my disciples, if ye have love one to another.
Ephesians 4:32 And be ye kind one to another, tenderhearted, forgivingone another, even as God for Christ's sake hath forgiven you.
Why do any of us have to be so mean and unkind to others? Why can't all of us reach out in friendship to everyone about us? – President Hinckley
Be cheerful, helpful, and considerate of others. Many problems in the home are created because family members speak and act selfishly or unkindly. Concern yourself with the needs of other family members. Seek to be a peacemaker rather than to tease, fight, and quarrel."
"Remember this: kindness begins with me."
Activity: (adapted from Mormonshare.com)
Wrap "Special" dark chocolate bars in nice packaging and some in unattractive packaging.  Include the scripture  1 Samuel 17:7 "For the Lord seeth not as man seeth, for man looketh on the outward appearance but the Lord looketh on the heart" Display the packages and let the children choose one by the appearance of the package. Then ask each family member why they chose the package.  Have everyone open the package and read the scripture and how this relates to their lives.
Challenge:  Seek out to be kind to someone at school, work, or in your family.  Try and see them as Jesus would see them.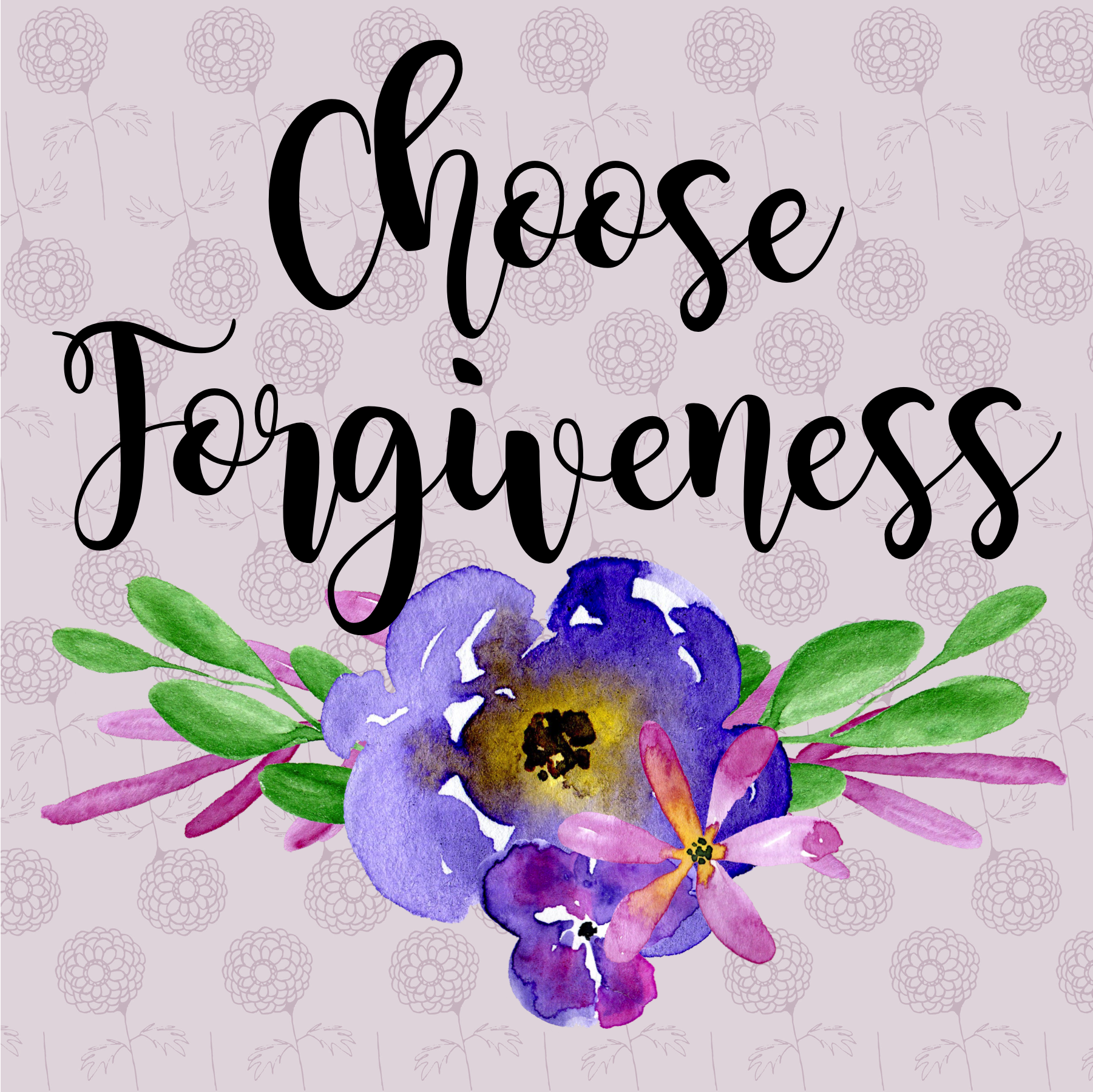 Day #3 Choose Forgiveness
Colossians 3: 13 Forbearing one another, and forgiving one another, if any man have a quarrel against any: even as Christ forgave you, so also do ye.
Matthew 5: 44 But I say unto you, Love your enemies, bless them that curse you, do good to them that hate you, and pray for them which despitefully use you, and persecute you;
When someone has hurt us or those we care about, that pain can almost be overwhelming. It can feel as if the pain or the injustice is the most important thing in the world and that we have no choice but to seek vengeance. But Christ, the Prince of Peace, teaches us a better way. It can be very difficult to forgive someone the harm they've done us, but when we do, we open ourselves up to a better future. No longer does someone else's wrongdoing control our course. When we forgive others, it frees us to choose how we will live our own lives. Forgiveness means that problems of the past no longer dictate our destinies, and we can focus on the future with God's love in our hearts. -David E. Sorensen
We all make mistakes. The words of Jesus in the Lord's Prayer: "And forgive us our trespasses, as we forgive those who trespass against us"
Activity:
After teaching your family about forgiveness, have everyone think of a grudge they're still holding in their heart. Provide paper and pencils, and have each person write down what happened and how it makes them feel.  Build a outdoor camp fire and have each person wad up their paper and place it in the fire.  If anyone feels like sharing what they wrote or needs help moving past the grievance, discuss as a family what you can do to forgive people who have offended you. Talk about how much better you'll feel if you don't let the offense take root in your heart. Take an opportunity to turn this into a sweet experience by roasting marshmallows and making s'mores.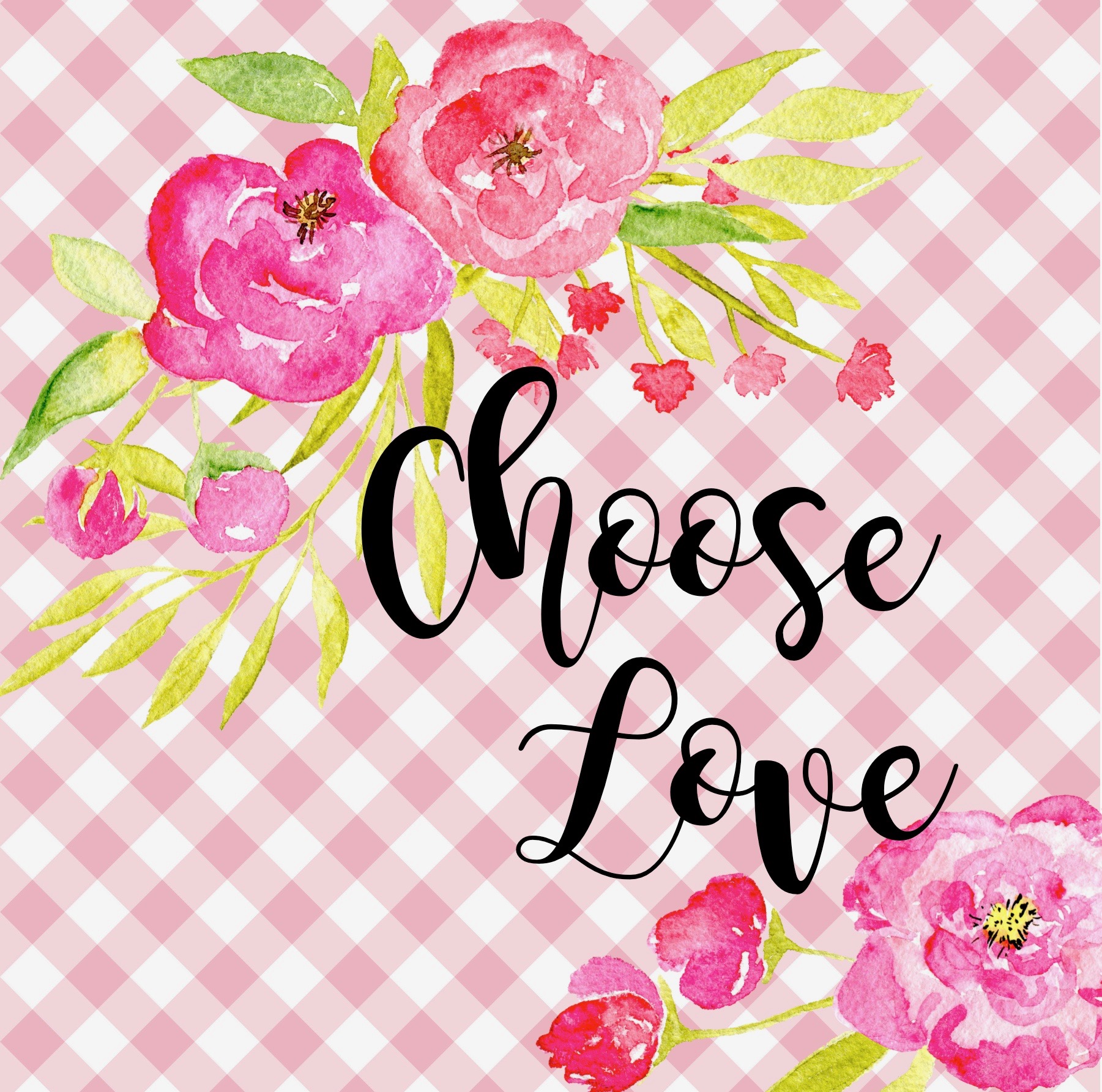 Day #4 Choose Love
1 John 4: 19 We love him, because he first loved us.
Matthew 22: 37-39 Jesus said unto him, Thou shalt love the Lord thy God with all they heart, and with all they soul, and with all thy mind.  This is the first and great commandment.  And the second is like unto it, Thou shalt love thy neighbor as thyself.
Love is expressed in many recognizable ways: a smile, a wave, a kind comment, a compliment. Other expressions may be more subtle, such as showing interest in another's activities, teaching a principle with kindness and patience, visiting one who is ill or homebound. These words and actions and many others can communicate love.-President Monson
Dale Carnegie, a well-known American author and lecturer, believed that each person has within himself or herself the "power to increase the sum total of [the] world's happiness … by giving a few words of sincere appreciation to someone who is lonely or discouraged." Said he, "Perhaps you will forget tomorrow the kind words you say today, but the recipient may cherish them over a lifetime."
Activity:  Write letters, emails, or cards to family members expressing the feelings of love you have for each of them.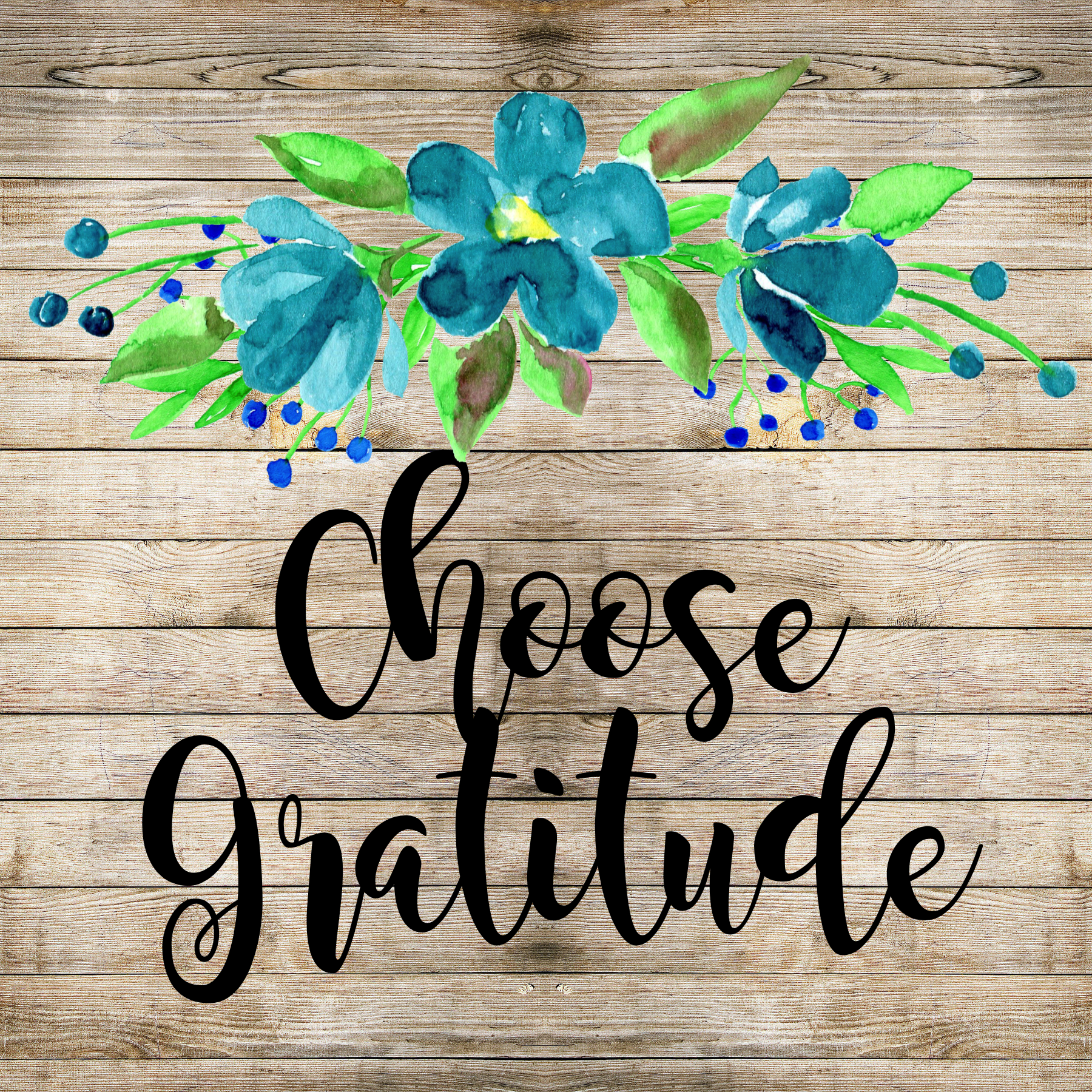 Day #5 Choose Gratitude
In the book of Luke, chapter 17, we read:
"And it came to pass, as he went to Jerusalem, that he passed through the midst of Samaria and Galilee.
"And as he entered into a certain village, there met him ten men that were lepers, which stood afar off:
"And they lifted up their voices, and said, Jesus, Master, have mercy on us.
"And when he saw them, he said unto them, Go shew yourselves unto the priests. And it came to pass, that, as they went, they were cleansed.
"And one of them, when he saw that he was healed, turned back, and with a loud voice glorified God,
"And fell down on his face at his feet, giving him thanks: and he was a Samaritan.
"And Jesus answering said, Were there not ten cleansed? but where are the nine?
"There are not found that returned to give glory to God, save this stranger.
"And he said unto him, Arise, go thy way: thy faith hath made thee whole." (Luke 17:11–19.)
Activity:
Take a walk in nature and say everything you are grateful for that you might take for granted.  Say a prayer of gratitude, taking extra time to tell Heavenly Father of everything you are grateful for.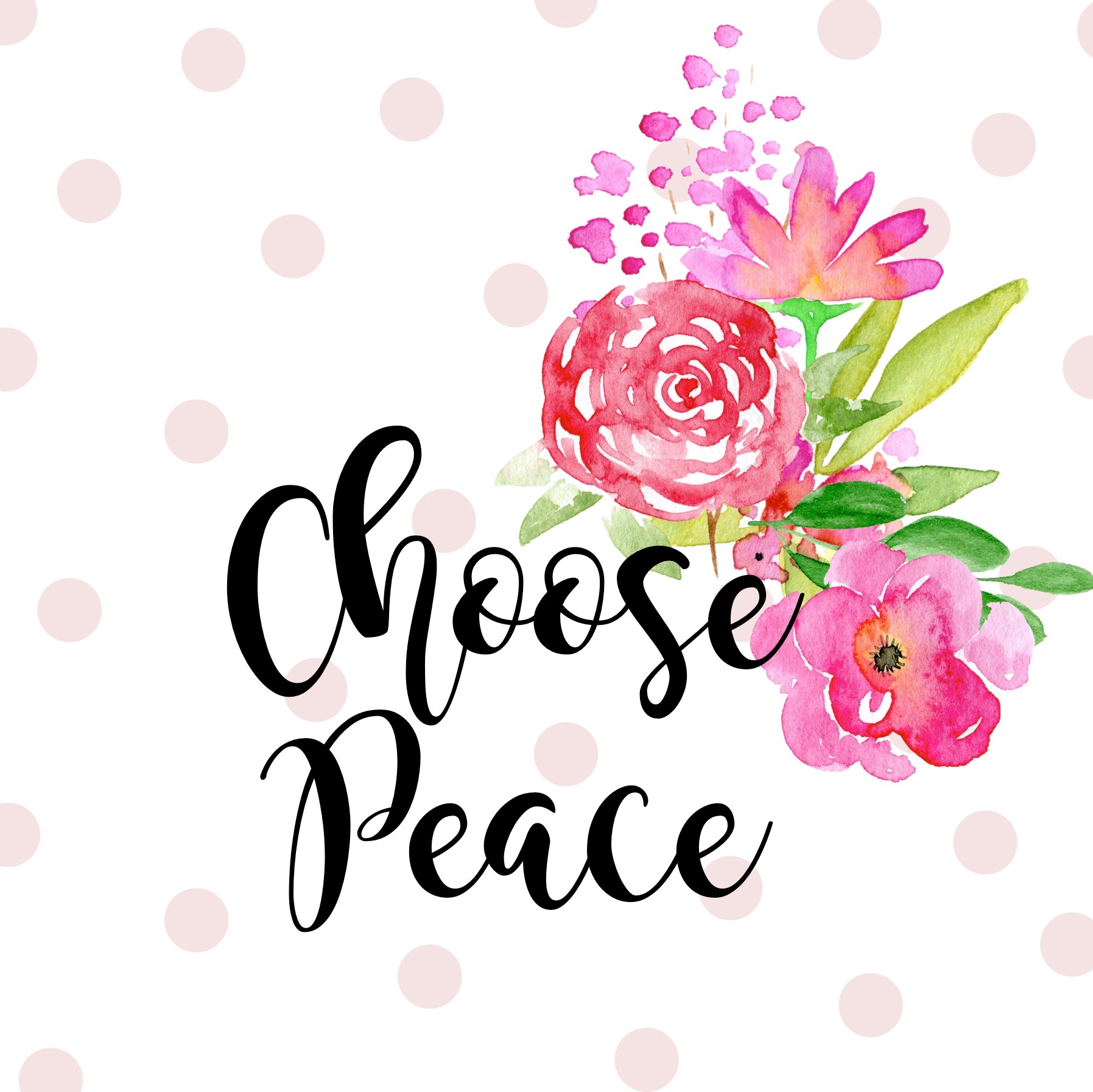 Day #6 Choose Peace
John 14: 27 Peace I leave with you, my peace I give not you: not as the world giveth, give I unto you.  Let not your heart be troubled, neither let it be afraid.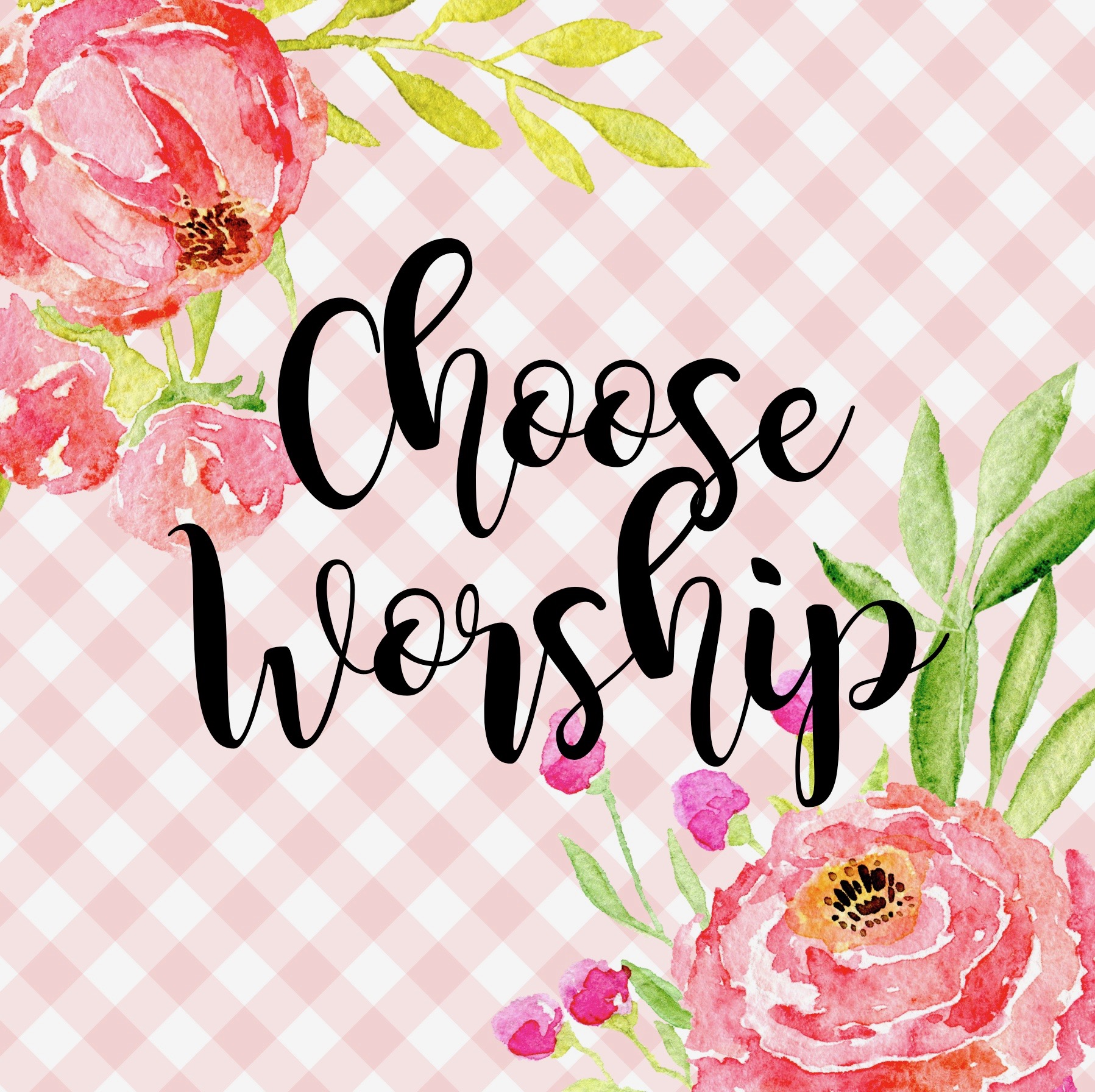 Day #7 – Choose Worship
Isiah 58:18 refers to the Sabbath Day as a Delight.
When Isaiah described the Sabbath as "a delight," he also taught us how to make it delightful. He said:
"If thou turn away … from doing thy pleasure on my holy day; and call the sabbath a delight, … and shalt honour [the Lord], not doing thine own ways, nor finding thine own pleasure, nor speaking thine own words:
"Then shalt thou delight thyself in the Lord."
Not pursuing your "own pleasure" on the Sabbath requires self-discipline. You may have to deny yourself of something you might like. If you choose to delight yourself in the Lord, you will not permit yourself to treat it as any other day. Routine and recreational activities can be done some other time.
What did the Savior mean when He said that "the sabbath was made for man, and not man for the sabbath"?I believe He wanted us to understand that the Sabbath was His gift to us, granting real respite from the rigors of daily life and an opportunity for spiritual and physical renewal. God gave us this special day, not for amusement or daily labor but for a rest from duty, with physical and spiritual relief.
Take today and give it to the Lord.  Worship at church, play hymns of praise, read the holy scriptures, spend time with loved ones, visit the sick or needy – give this day to God.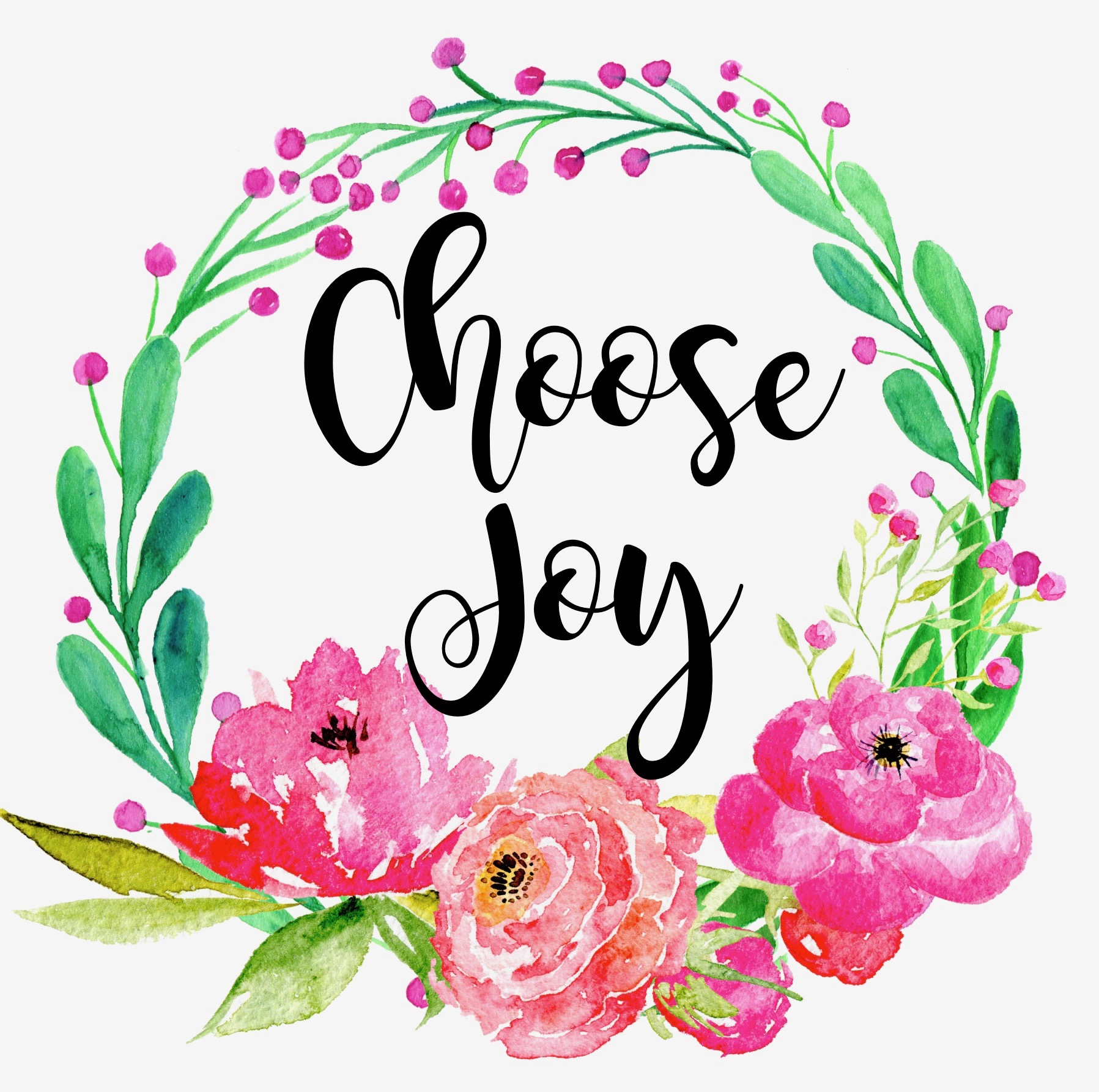 Day #8 Choose Joy
John 15: 11 These things have I spoken unto you, that my joy might remain in you, ad that your joy might be full.
James 1:2. Count it All Joy
Psalms 5:11 But let all those that put their trust in thee rejoice: let them ever shout for joy, because thou defendest them: let them also that love thy name be joyful in thee.
Challenges have always been part of mortality and God's plan for our growth. Through the power of the Atonement, we can still "be of good cheer.  Christ's enabling power helps us feel happiness and cheer amid mortal gloom and doom. Misfortune and hardship lose their tragedy when viewed through the lens of the Atonement. The process could be explained this way: The more we know the Savior, the longer our view becomes. The more we see His truths, the more we feel His joy." -Camille Fronk Olson
"In stories, as in life, adversity teaches us things we cannot learn otherwise. Adversity helps to develop a depth of character that comes in no other way. Our loving Heavenly Father has set us in a world filled with challenges and trials so that we, through opposition, can learn wisdom, become stronger, and experience joy." – President Uchtdorf
Activity:
Take a moment to consider a challenge or trials in your life.  List ways that you can count it all joy.  Put sticky notes all over the house or the car that say JOY!!!!

Day #9 Choose Light
John 8:12  Then spake Jesus again unto them, saying, I am the light of the world: he that followeth me shall not walk in darkness, but shall have the light of life.
"Even though we may feel lost in the midst of our current circumstances, God promises the hope of His light." – President Uchtdorf
"You make choices every day and almost every hour that keep you walking in the light or moving away toward darkness." – President Eyring
Object Lesson:
Materials Needed: Several battery powered tea lights.
Procedure: If possible, darken the room slightly. Turn on one tea light and place it in the middle of the table. Ask: What things can you do daily to invite the Spirit? (Pray, read scriptures, serve others, etc.) As each idea is shared, turn on another tea light and place it by the first one. When all the lights have been used, ask what would happen if more tea lights were turned on.
Liken the tea lights to the Spirit of the Lord. As we obey the commandments and participate in spiritual activities, we invite the Spirit and bring light into our lives.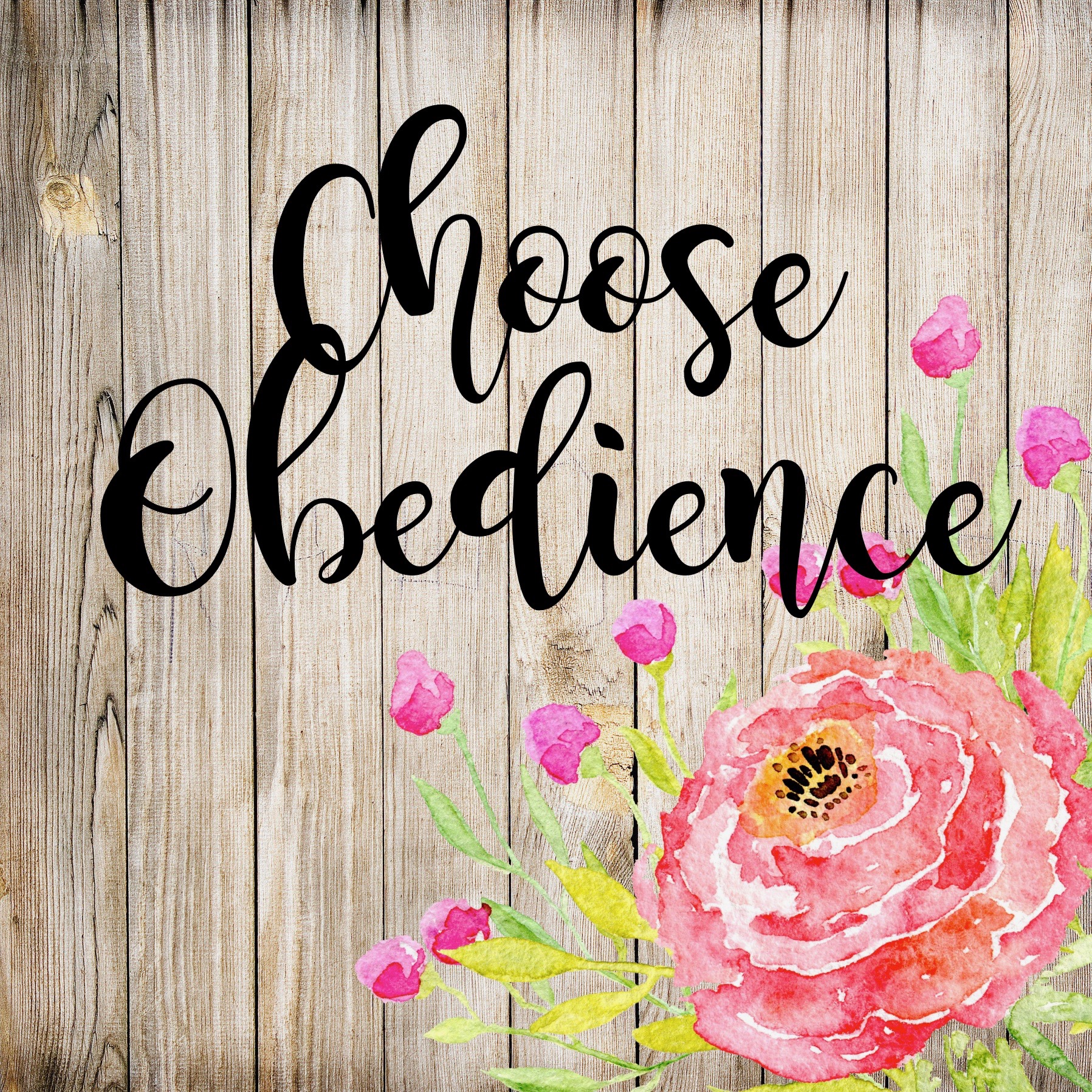 Day #10 Choose Obedience
John 15: 10 If ye keep my commandments, ye shall abide in my love, even as I have kept my Father's commandments and abide in his love."
"Of all the lessons we learn from the life of the Savior, none is more clear and powerful than the lesson of obedience. – Robert D. Hales
"I experienced the joy of coming closer to the Savior and of His coming closer to me most often through simple acts of obedience to the commandments," President Henry B. Eyring.
Activity:  Choose a recipe to bake together.  Talk about how important it is to follow the ingredients list and instructions so the recipe turns out right.  So too should we follow the commandments so we will "turn out" and be all that Heavenly Father wants us to be.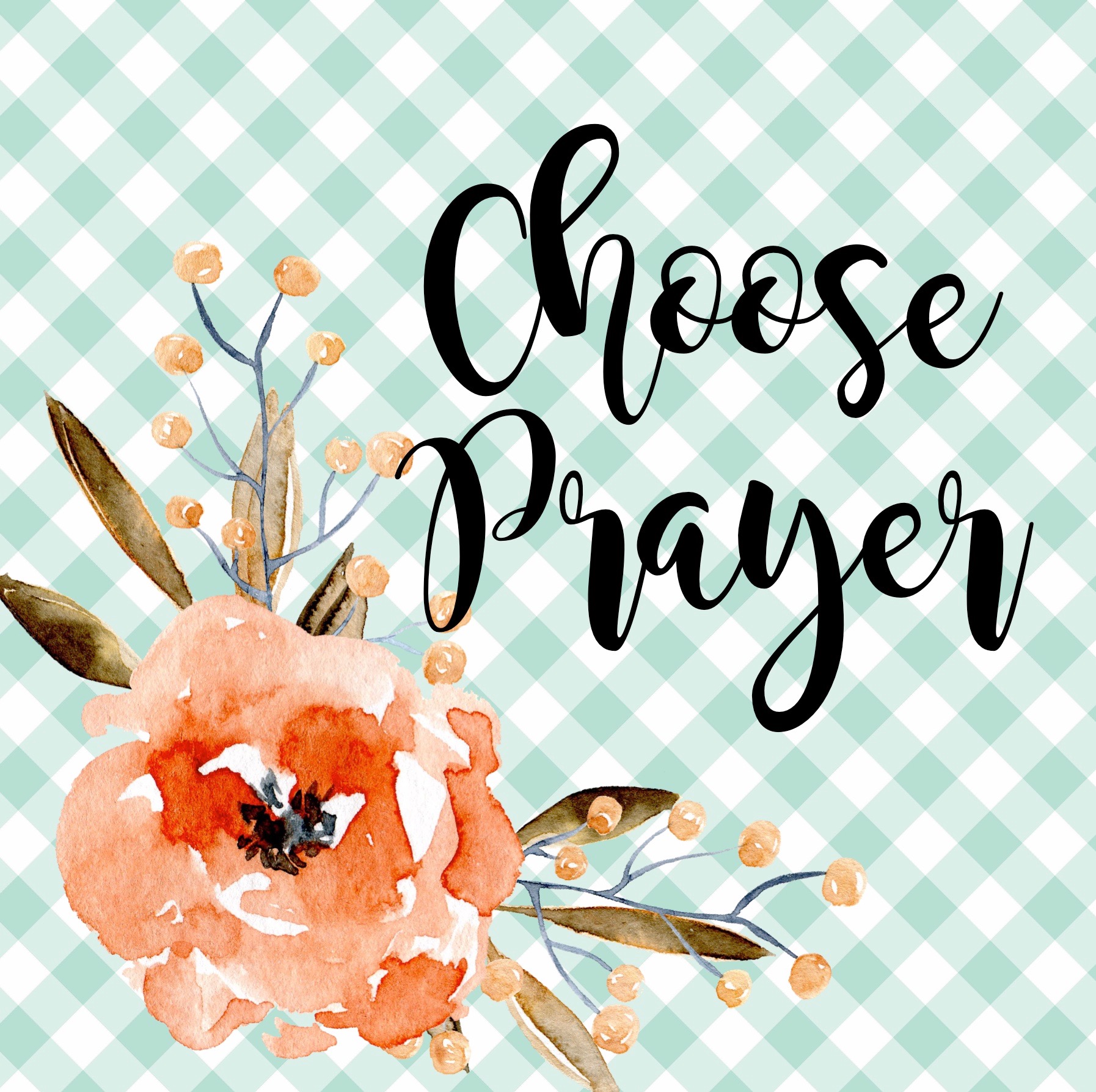 Day #11 Choose Prayer
Prayer is a supernal gift of our Father in Heaven to every soul. Think of it: the absolute Supreme Being, the most all-knowing, all-seeing, all-powerful personage, encourages you and me, as insignificant as we are, to converse with Him as our Father. Actually, because He knows how desperately we need His guidance, He commands, "Thou shalt pray vocally as well as in thy heart; yea, before the world as well as in secret, in public as well as in private. – Elder Richard G. Scott
Ask the family, if they were to mix up a cake batter, which tool they would rather use. Suggest that they could get the job done with the hand mixer, but it would take a lot more time to get the batter smooth. (Perhaps demonstrate this while preparing treats for afterwards.) It would also prove to be very tiring. The electric mixer would be much easier to use. This is because they would be using an additional power source to help with the work.
Point out that oftentimes we try to do things on our own without enlisting the help from our Heavenly Father. He is there for us anytime we are willing to plug into the power source. We will find the burden to be lighter when we seek the guidance and strength of the Lord.
Make a cake together as a family.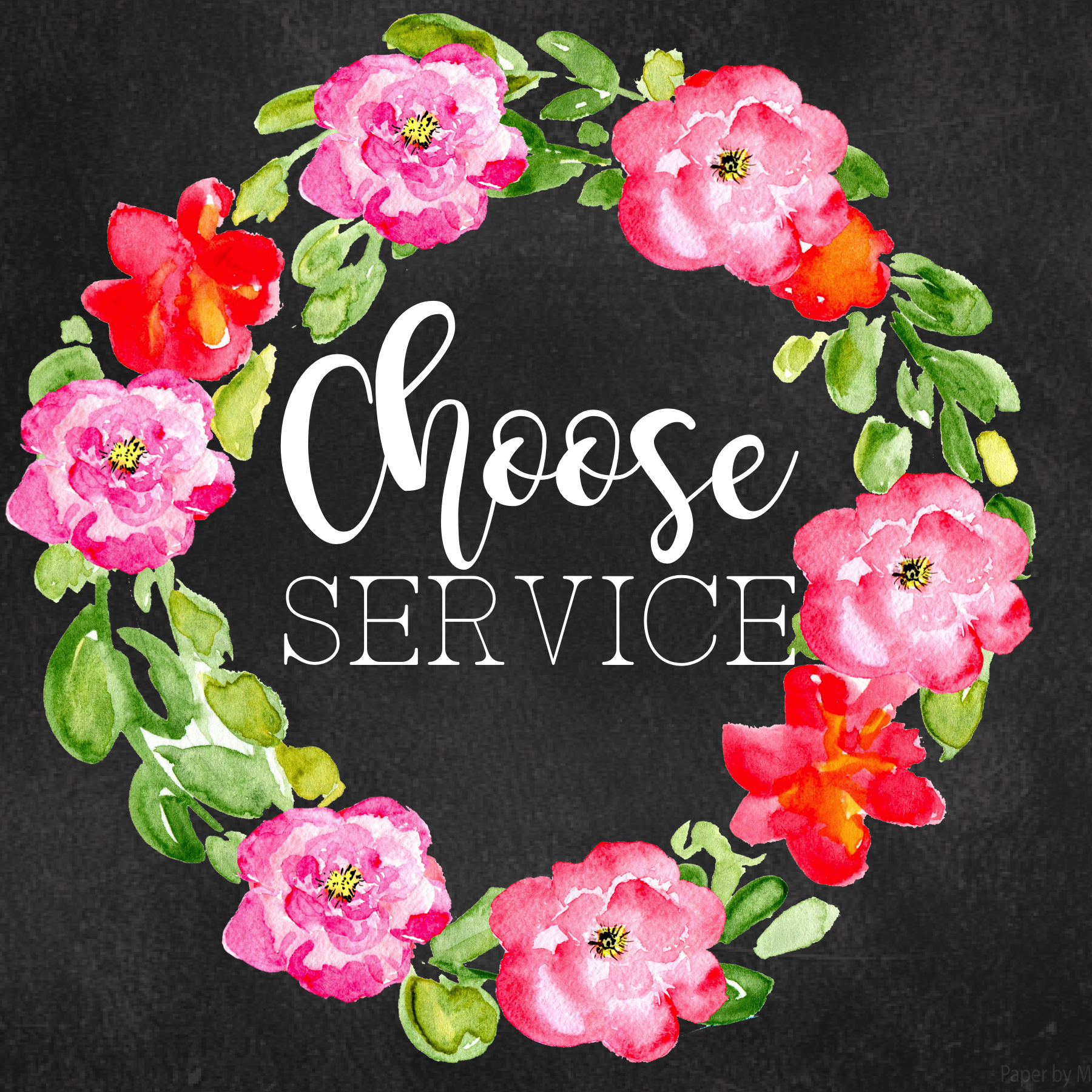 Cay #12 Choose Service
Matthew 25:40 – Verily I say aunt you, Inasmuch as ye have done it unto one of the least of these my brethren, ye have done it unto me.
For whosoever will save his life shall lose it: and whosoever will lose his life for my sake shall find it" (Matthew 16:24–25; see also Matthew 10:39).
Our Savior teaches us to follow Him by making the sacrifices necessary to lose ourselves in unselfish service to others. – Elder Dallin H. Oaks
Take today to do something for someone else.  You can also check out JustServe.org for service ideas in your area.
Try this fun object lesson about service.
Short video about Just Serve: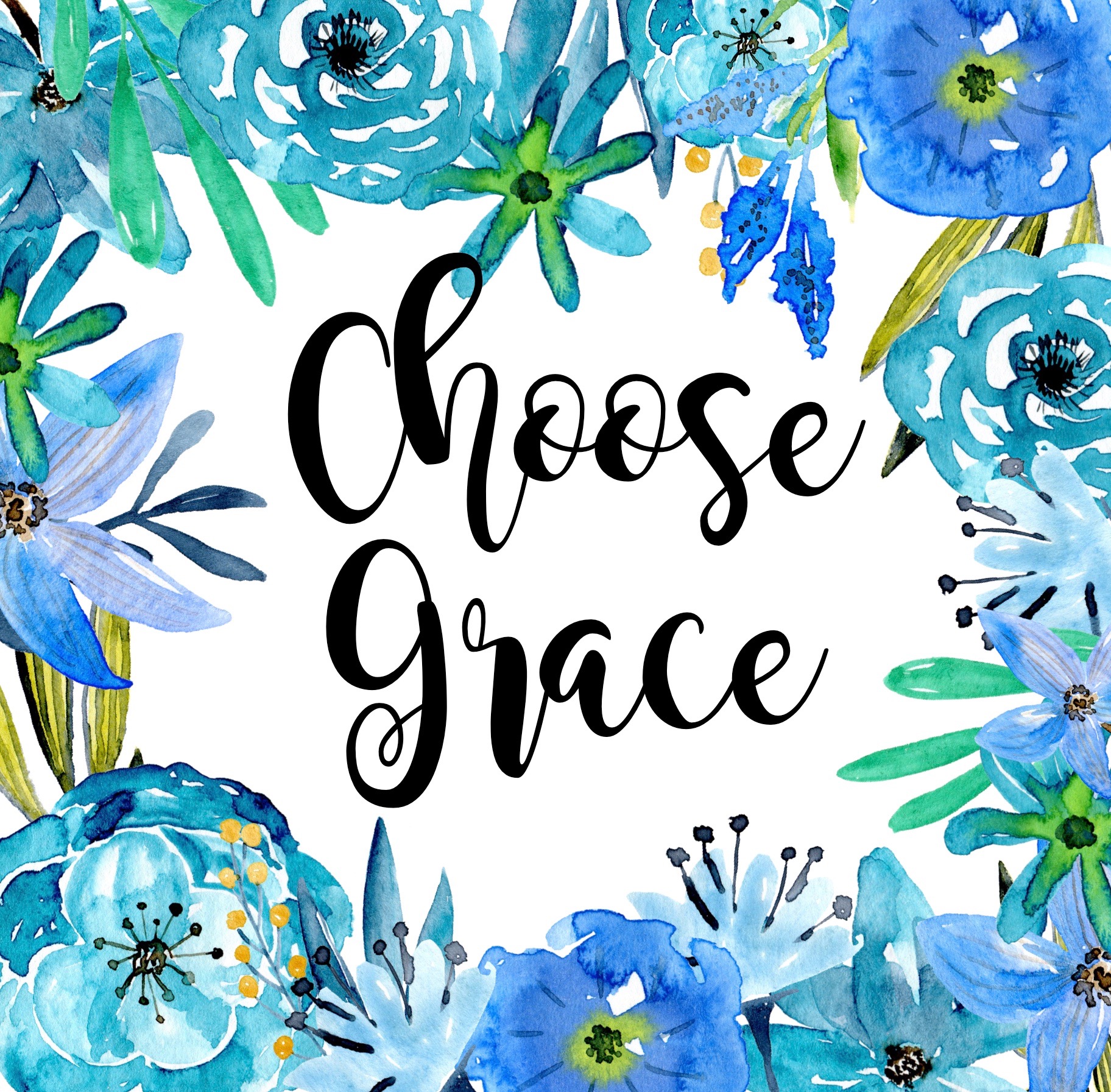 Day #13 Choose Grace
Grace is the help or strength given through the Atonement of the Lord Jesus Christ. Through the grace of God, everyone who has lived will be resurrected—our spirits will be reunited with our bodies, never again to be separated. Through His grace, the Lord also enables those who live His gospel to repent and be forgiven.  The grace of God helps us every day. It strengthens us to do good works we could not do on our own. The Lord promised that if we humble ourselves before Him and have faith in Him, His grace will help us overcome all our personal weaknesses
I was unloading the car after a trip to the grocery store, and our three-year-old daughter was helping. She was carrying in loaves of bread and cartons of eggs and was doing just fine. Then she decided that she was going to carry in a gallon of milk. After some struggle, she pulled it out of the car, and it landed with a thud on the driveway. She gripped the handle with both hands and heaved it. It barely budged. I offered to help, and she snapped at me: "No! I do it myself!" She strained and grunted but made no progress in lifting the milk. After several minutes she looked up at me with tears welling in her eyes and said, "Too heavy. Can't do it."
As I looked at my sweet, stubborn little girl, I saw in an instant what Heavenly Father must see in me—a well-meaning but stubborn child who wouldn't accept His help. A scripture I had learned in seminary came to my mind:
"Behold, ye are little children and ye cannot bear all things now; ye must grow in grace and in the knowledge of the truth.
"Fear not, little children, for you are mine, and I have overcome the world, and you are of them that my Father hath given me;
"And none of them that my Father hath given me shall be lost" (D&C 50:40–42).
The significance of this is obvious, but the lesson became even more profound when my daughter's eyes brightened and she said, "Mommy, you carry me; then I carry milk." I scooped my little messenger up in my arms. I carried her, and leaning the jug against my arm, she carried the milk. In tears, I deposited my precious cargo inside.
Assignment:  Take time to notice Grace in your life, pray that you can receive this power.  Place a picture of Jesus where you can see it often.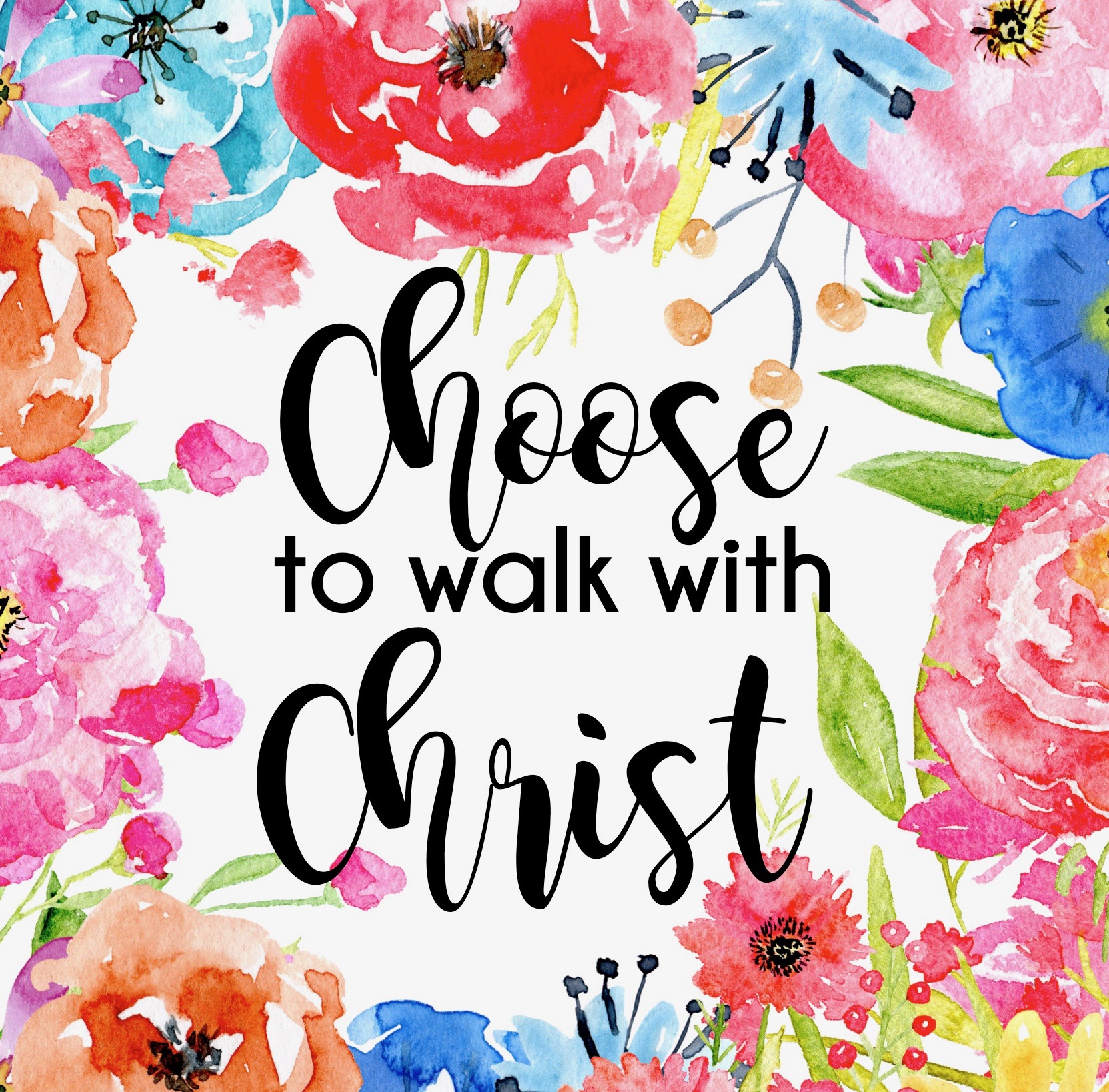 Day #14 Choose to Walk With Christ – everyday
Take time on this Easter Sunday to share your feelings about Jesus with your family, write in your journal how you've grown closer to Jesus over the past two weeks.  How will you continue this throughout the year?