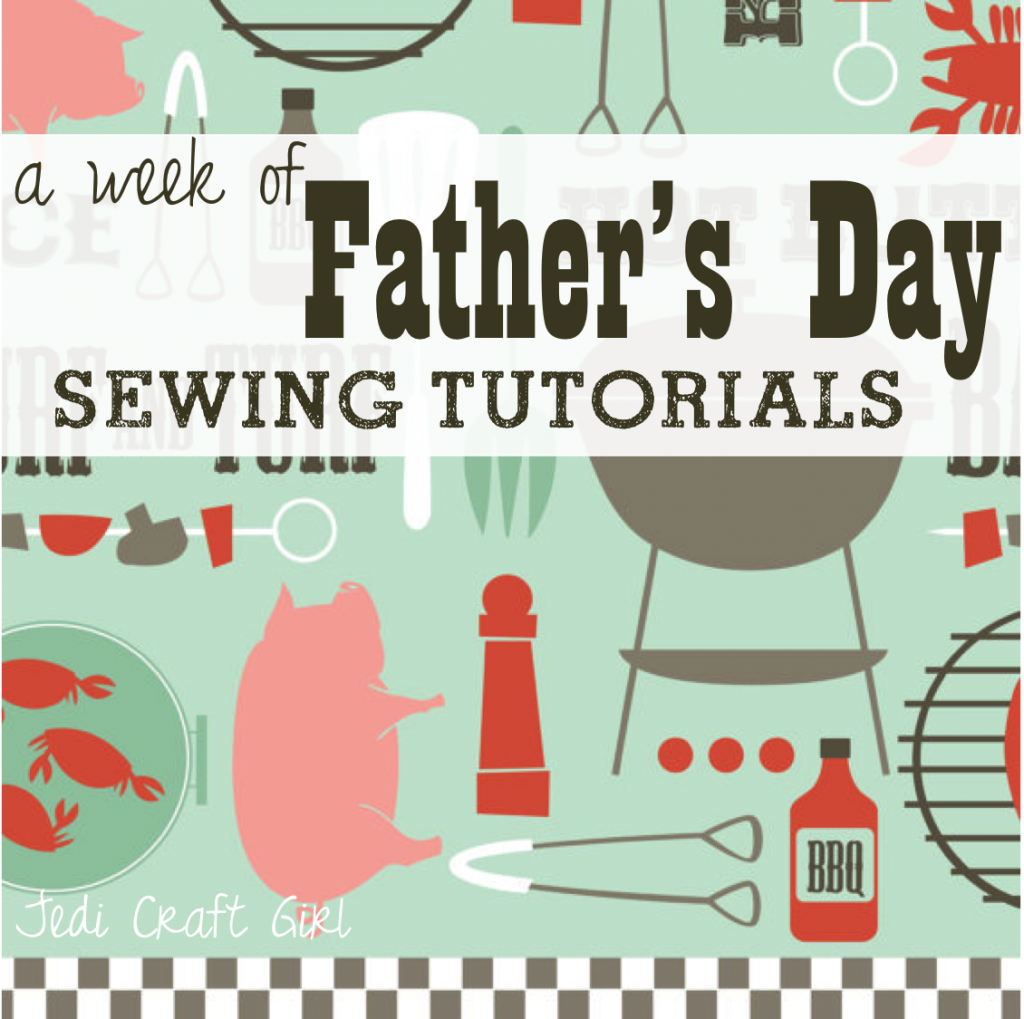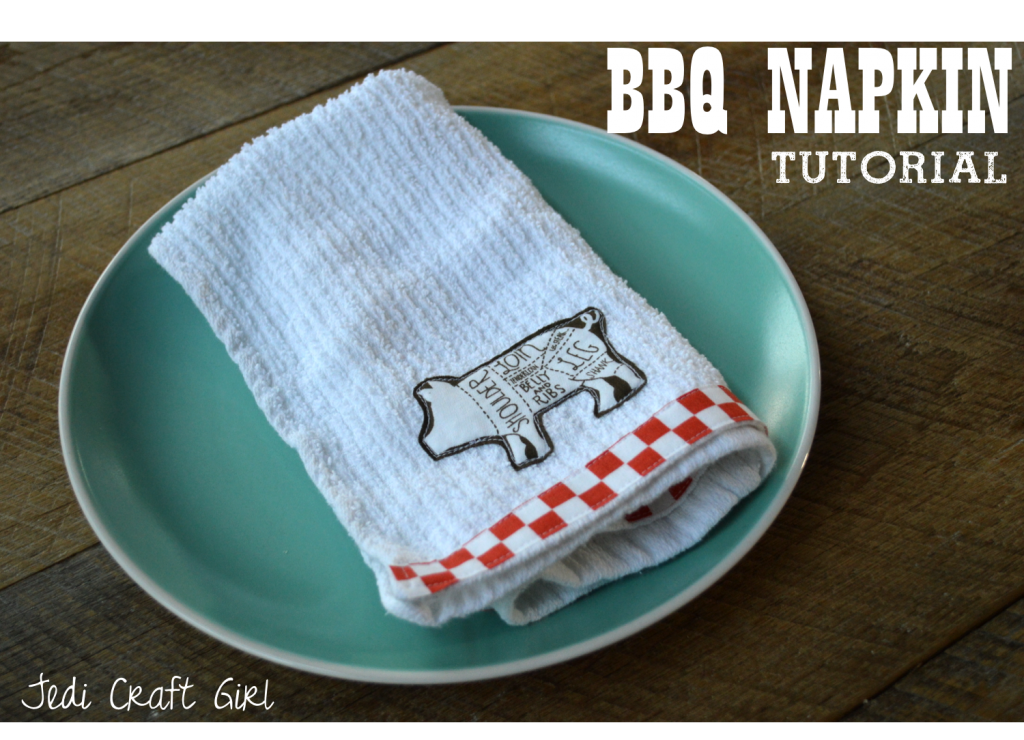 I am so in love with this fabric line from Blend designed by Maude Asbury called Ribs and Bibs.  It screams Father's Day.  I normally don't sew for the men in my life but this year is totally different because of all the inspiration this fabric has given me!  Don't you just love it!!  I wish I had yards and yards to make table cloths with!  Every day this week I am sharing a tutorial using this fabric line.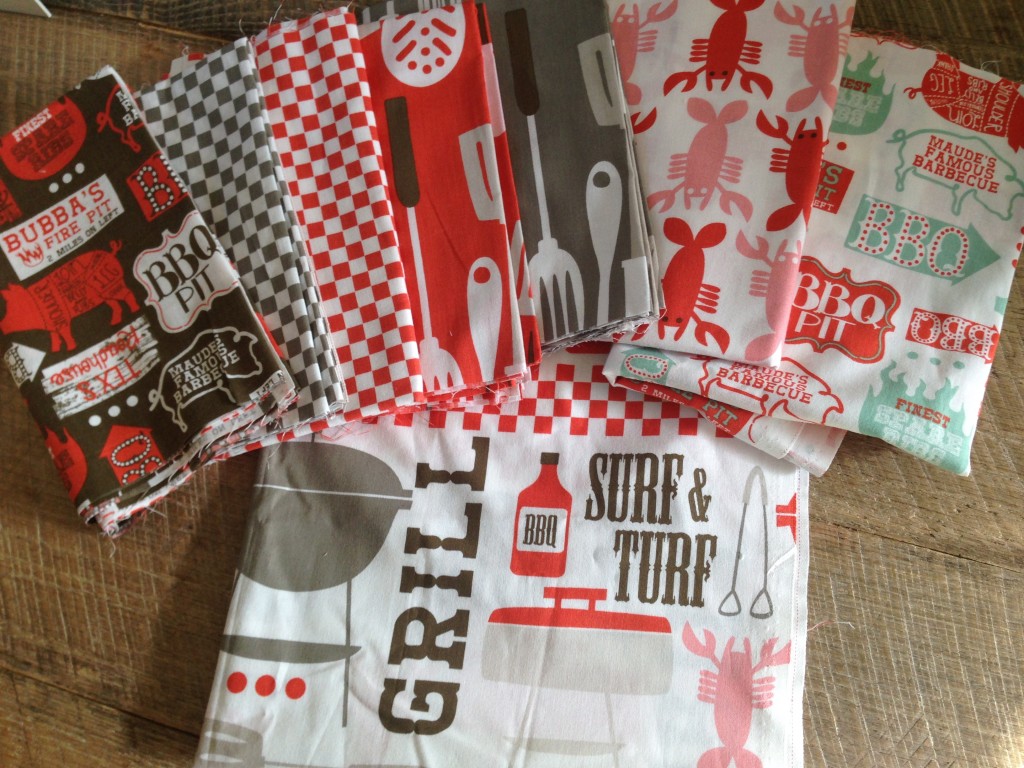 Of course Father's Day is in June – during one of the busiest months of the year.  The holiday has to compete with end of the year final projects, class parties, class field trips, graduations, and the list goes on.  The tutorials I am sharing are projects that can be sewn quickly – because who has time in June for anything extra?
I am the world's messiest eater – I really mean it.  When I go out to dinner with my husband, I have a pile of napkins at the end of the dinner and my husband doesn't even have one (because I used it for myself).  At home I eat with a kitchen towel on my lap – it just saves paper 🙂  When our family gets together to eat ribs or BBQ paper napkins just are not enough – and even cloth napkins leave something to be desired.  That's when I decided to purchase "Bar Mop" towels and turn them into BBQ napkins.  Bar Mop towels are available at any home store in the kitchen towel department.  They are slightly smaller than  normal kitchen towels, and not a traditional washcloth.  They provide the right amount of absorbency for BBQ sauced fingers!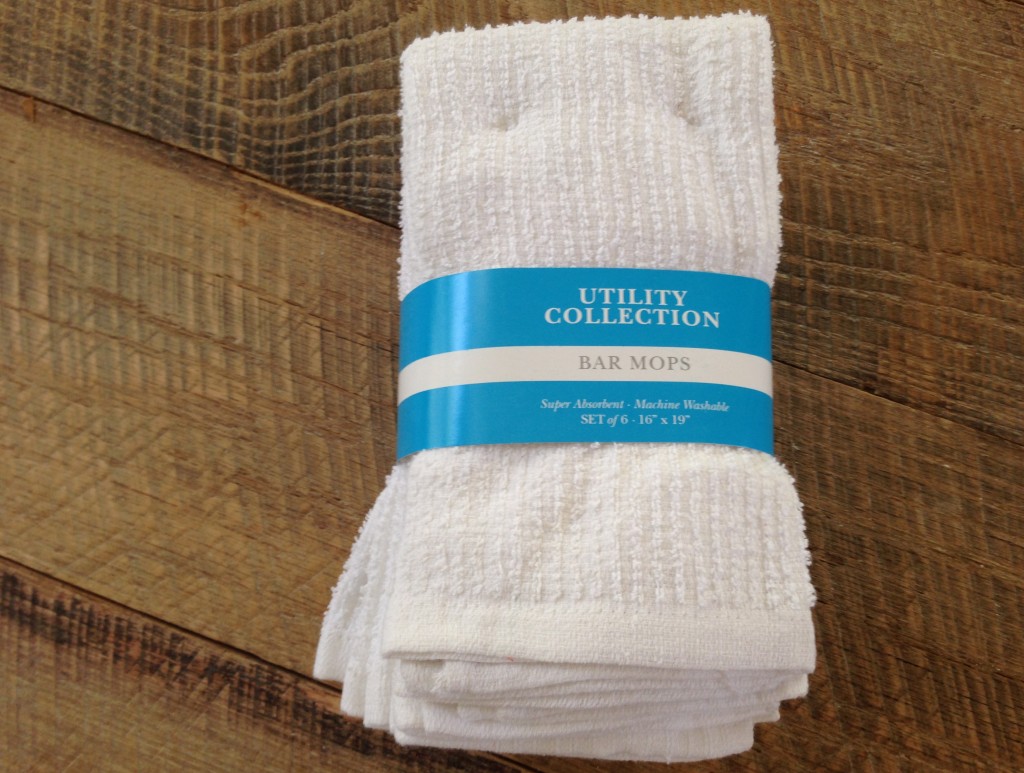 Let's get started….
Supplies:
Bar Mop Towels – pre wash & dry
fat quarter Ribs & Bibs "Open Pit" in brown fabric
fat quarter Ribs & Bibs "Checker Board" in red
Therm O Web Heat n Bond Lite
Begin by cutting a piece of the Heat n Bond and ironing it to the back of the Open Pit fabric.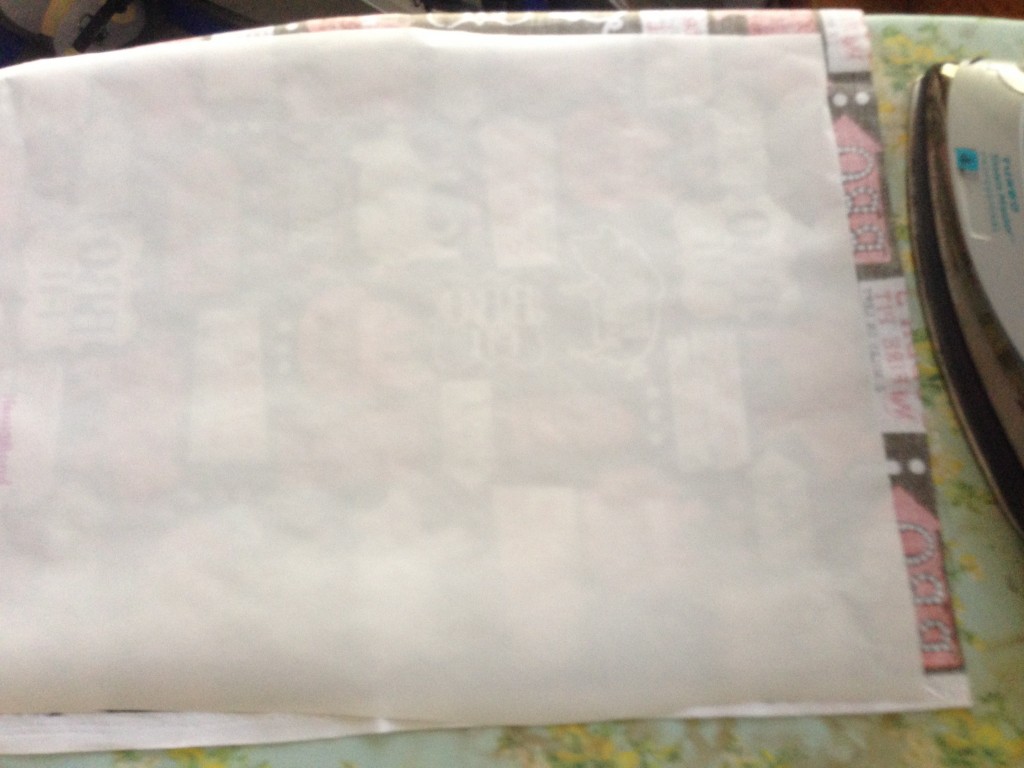 Cut around each image leaving a little bit of brown boarder.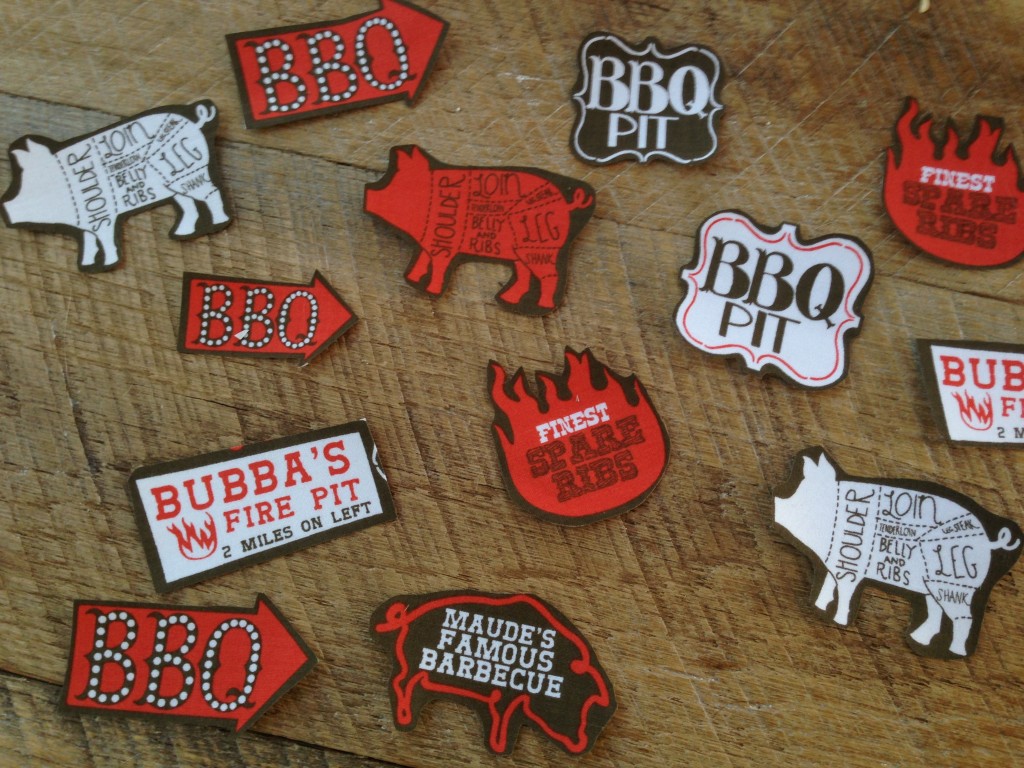 Peel off the backing paper and iron it to the corner of the bar mop towel.  Keep in mind the heat n bond won't permanently adhere to the fuzzy towel so it needs to be sewn on.  The Heat n Bond will hold the image in place temporarily and it will prevent fraying.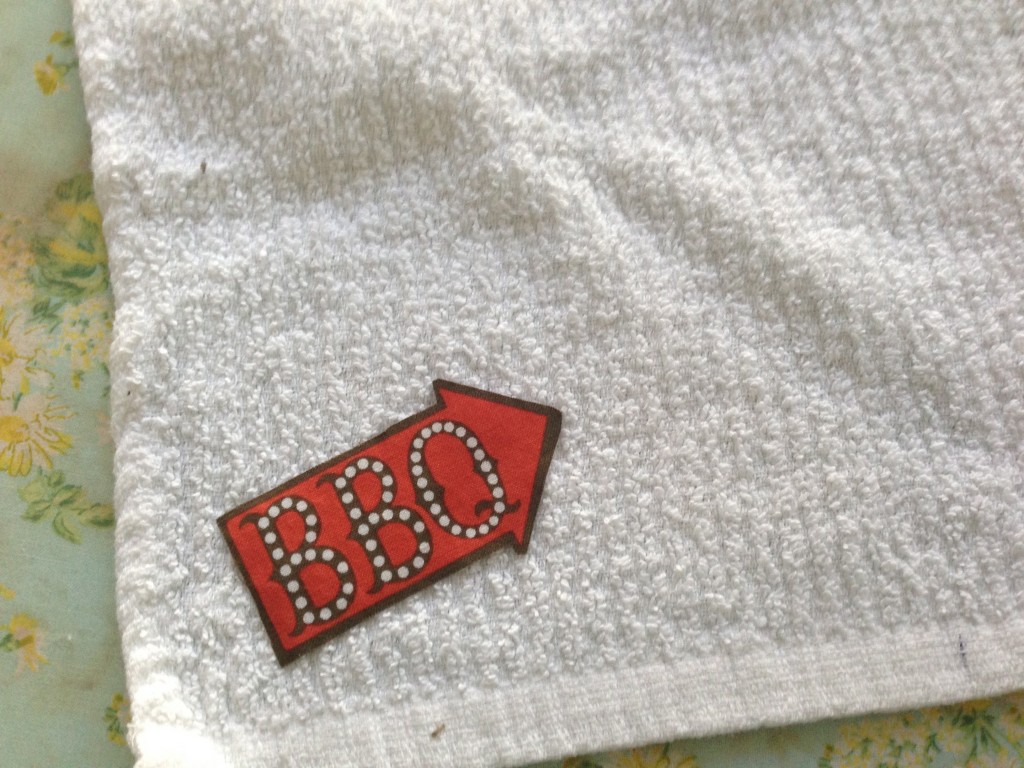 Sew around each image with a straight stitch.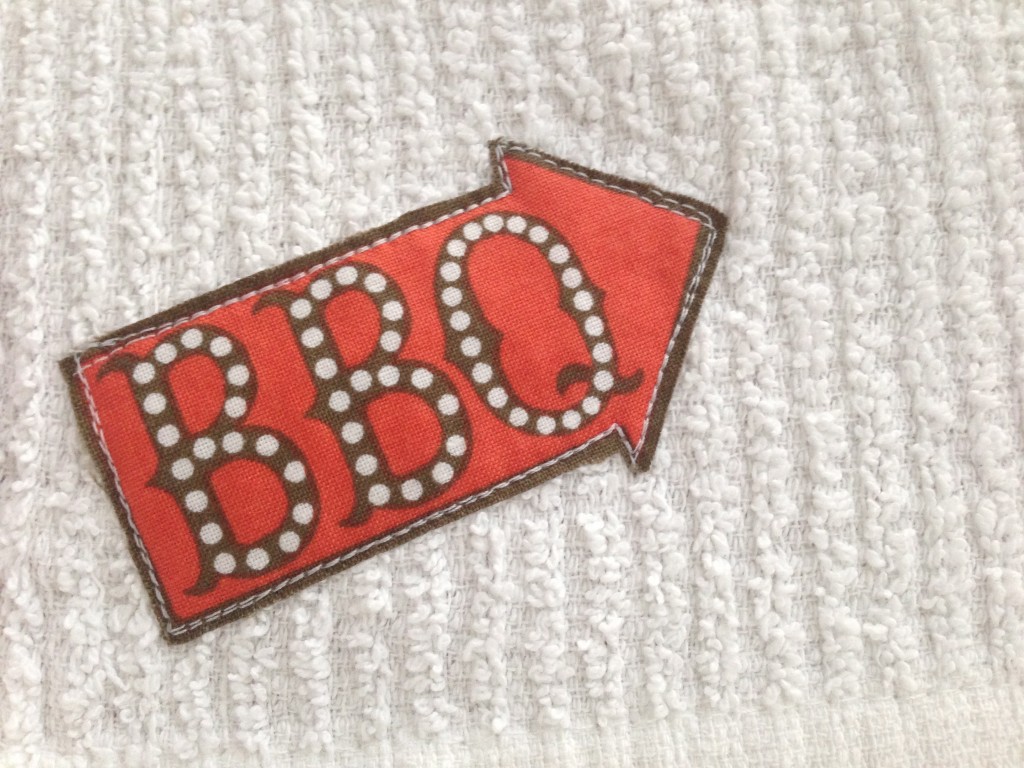 Iron another piece of Heat n Bond to the wrong side of the checker board fabric.  (This is a little bit of a "cheater" way to add an accent strip to the towel.)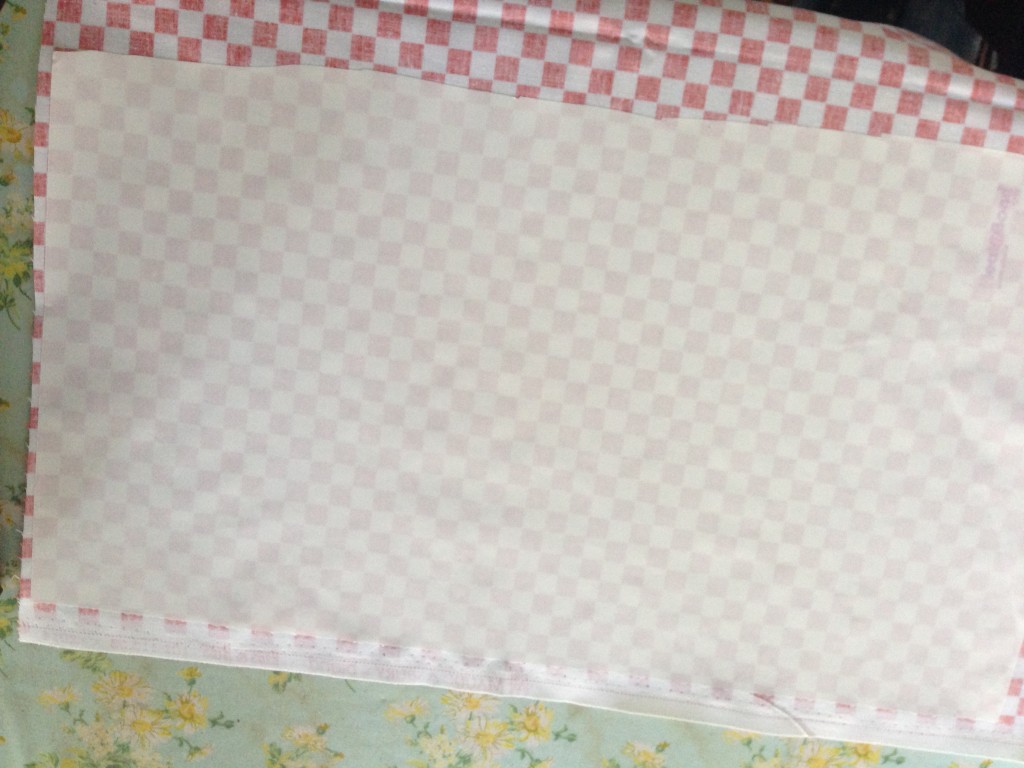 Cut strips of the checkerboard 2 squares wide.  Peel off the backing fabric.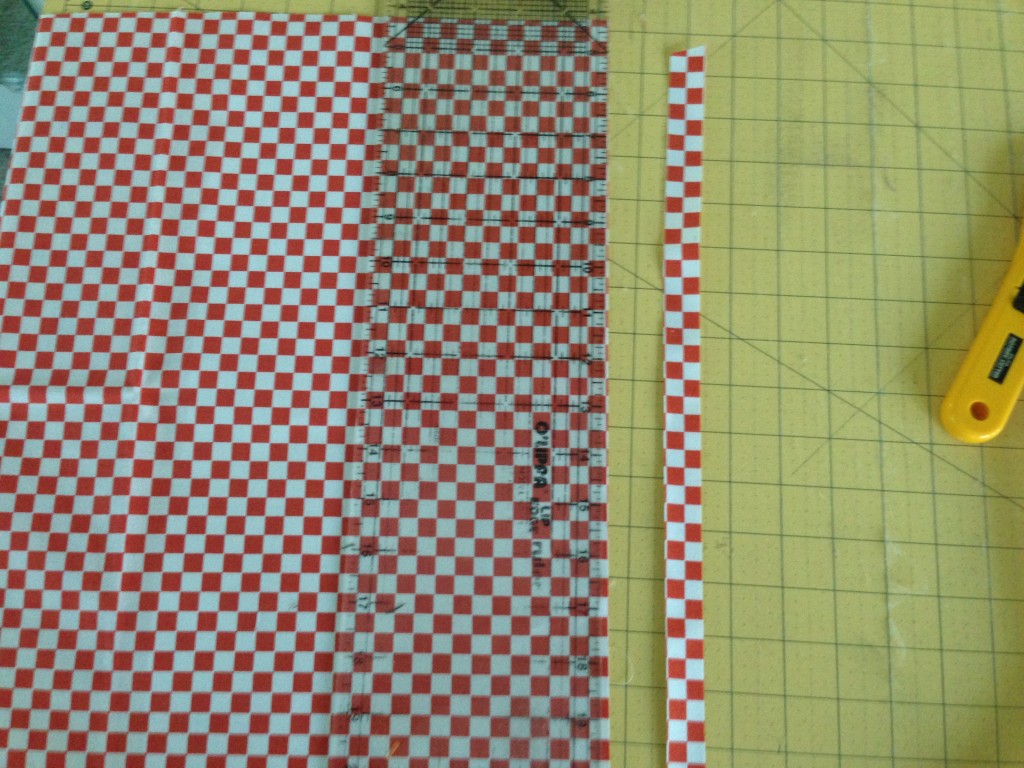 Iron it to the bottom of the towel and top stitch around the strip.  Now make enough for everyone coming to your Father's Day BBQ!!