Here is a little update on my Moonlight Path quilt tutorial!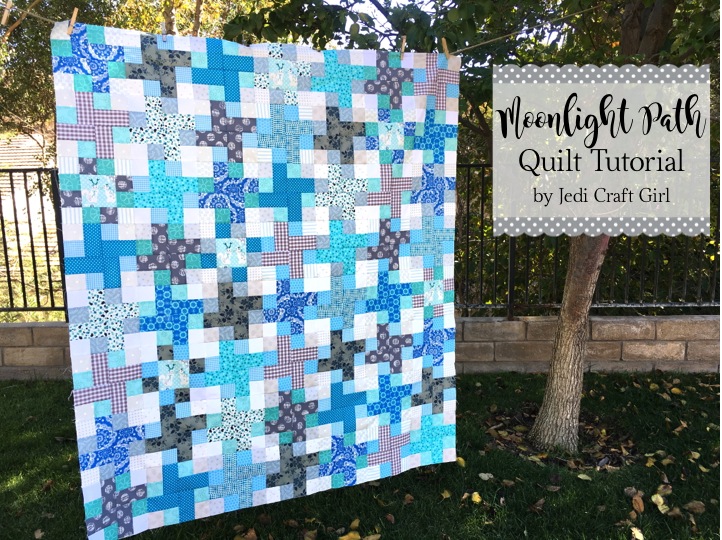 I have always loved this pattern – it looks so much more difficult than it really is!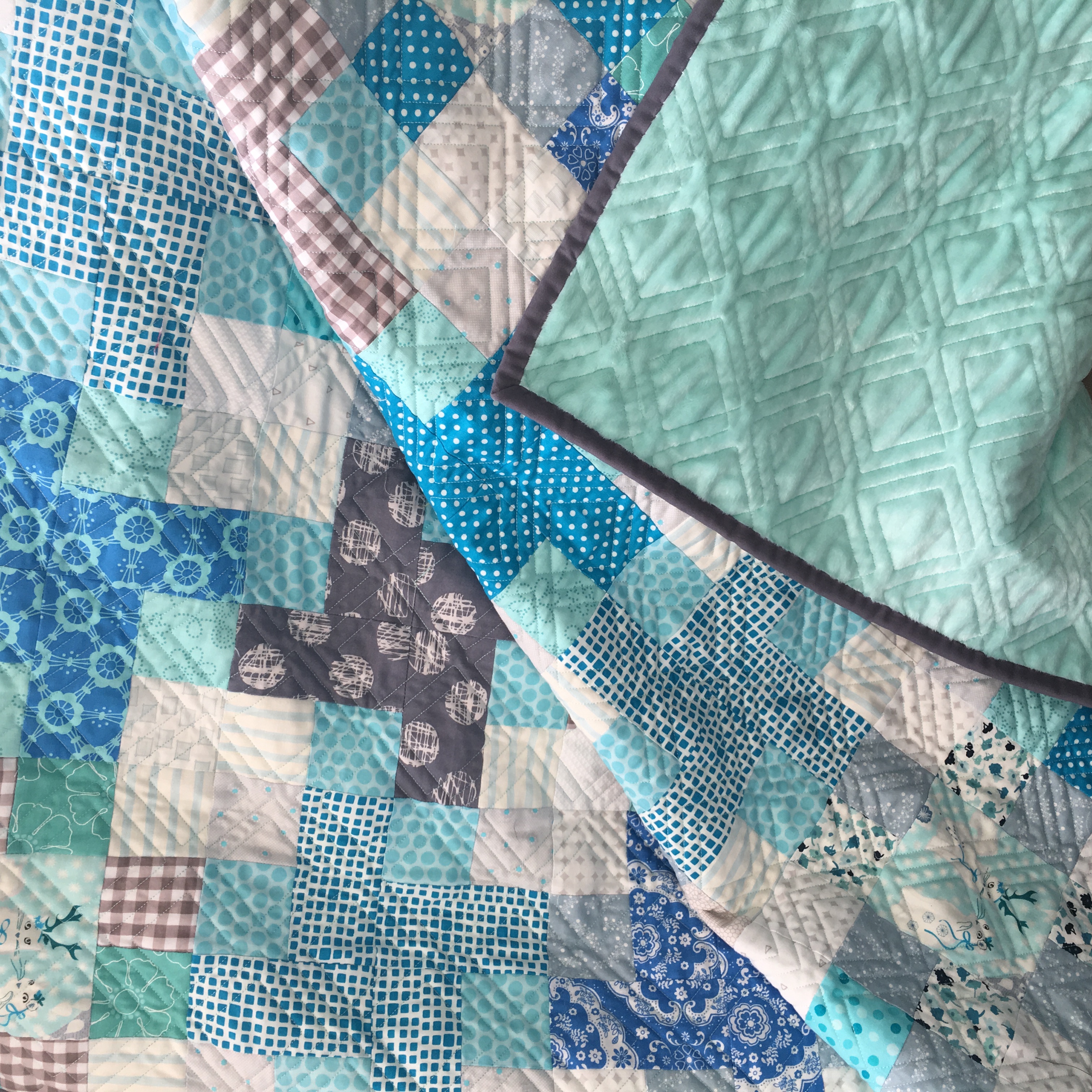 I just got it back from the quilter and I love love love how it turned out!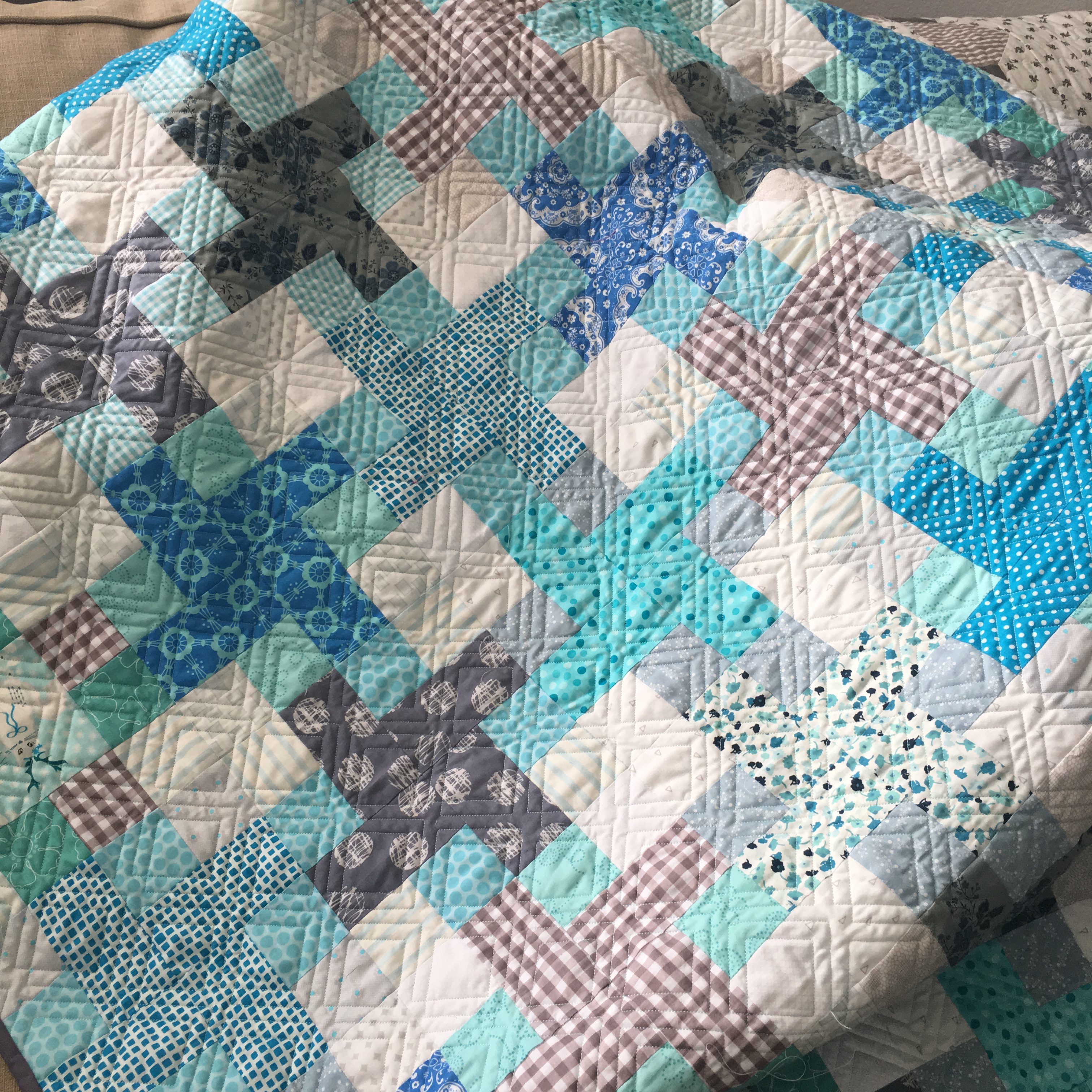 It's perfect with the soft aqua minky on the back!
You can scroll down to find the full tutorial.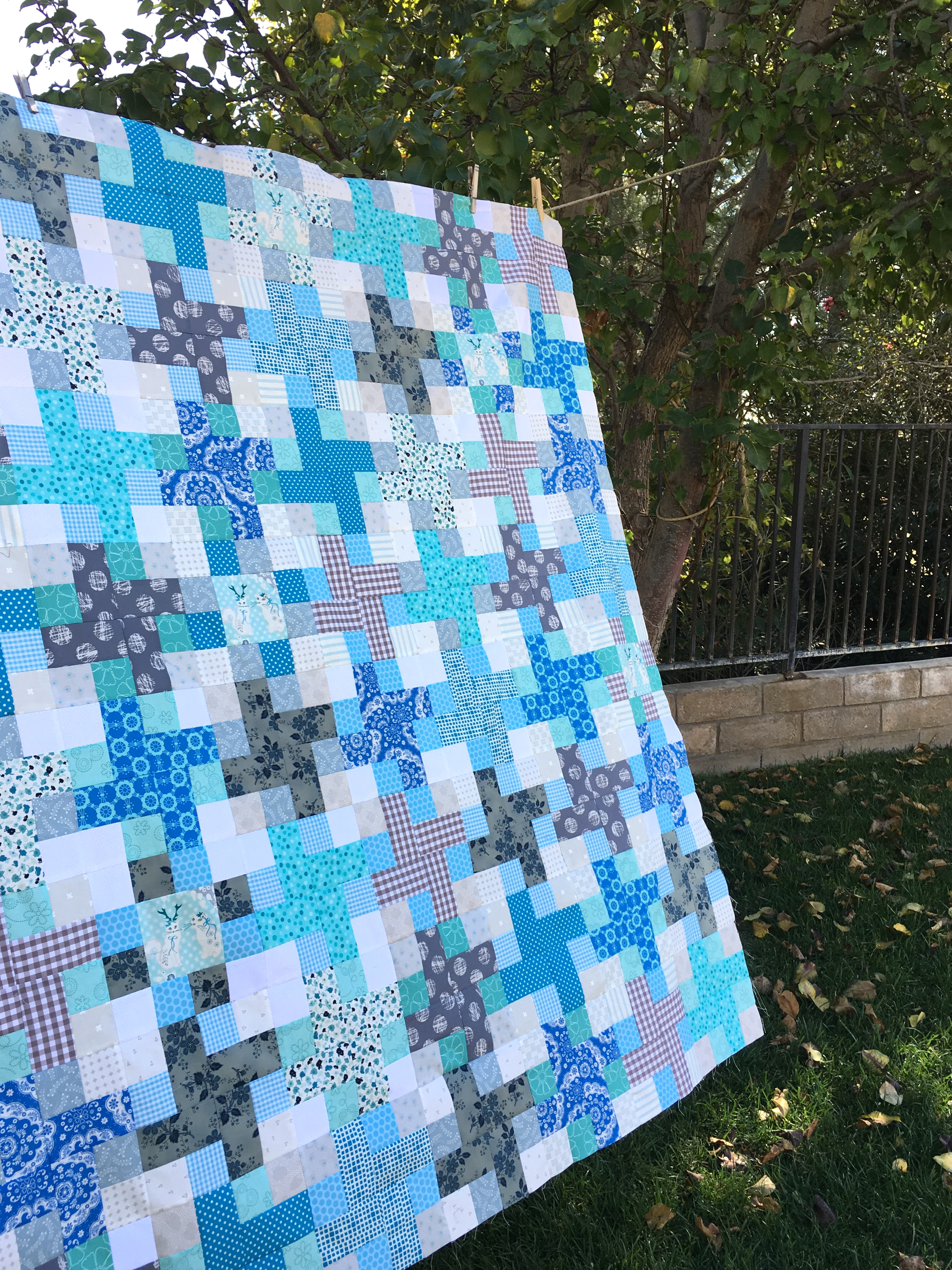 As a little bonus I've included a Christmas design which alternates red block and green block.  You can use all your scraps of low volume for the background – super fun!
I omitted the "cat" blocks in the Christmas version – it's the same block repeating.
OK – I got totally carried away with the quilt design software and I have a bunch of different Christmas versions!  I can't wait to make one!!!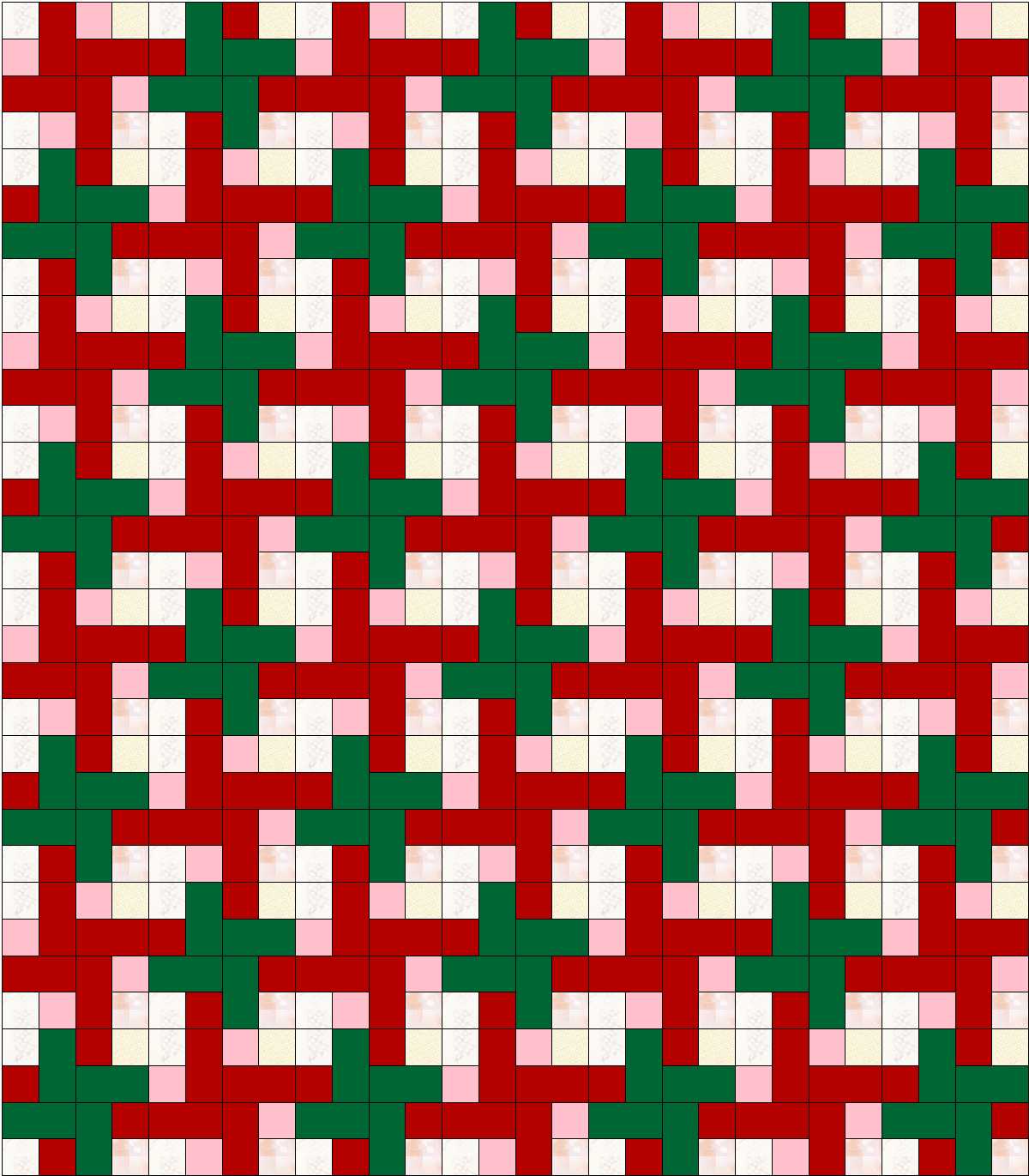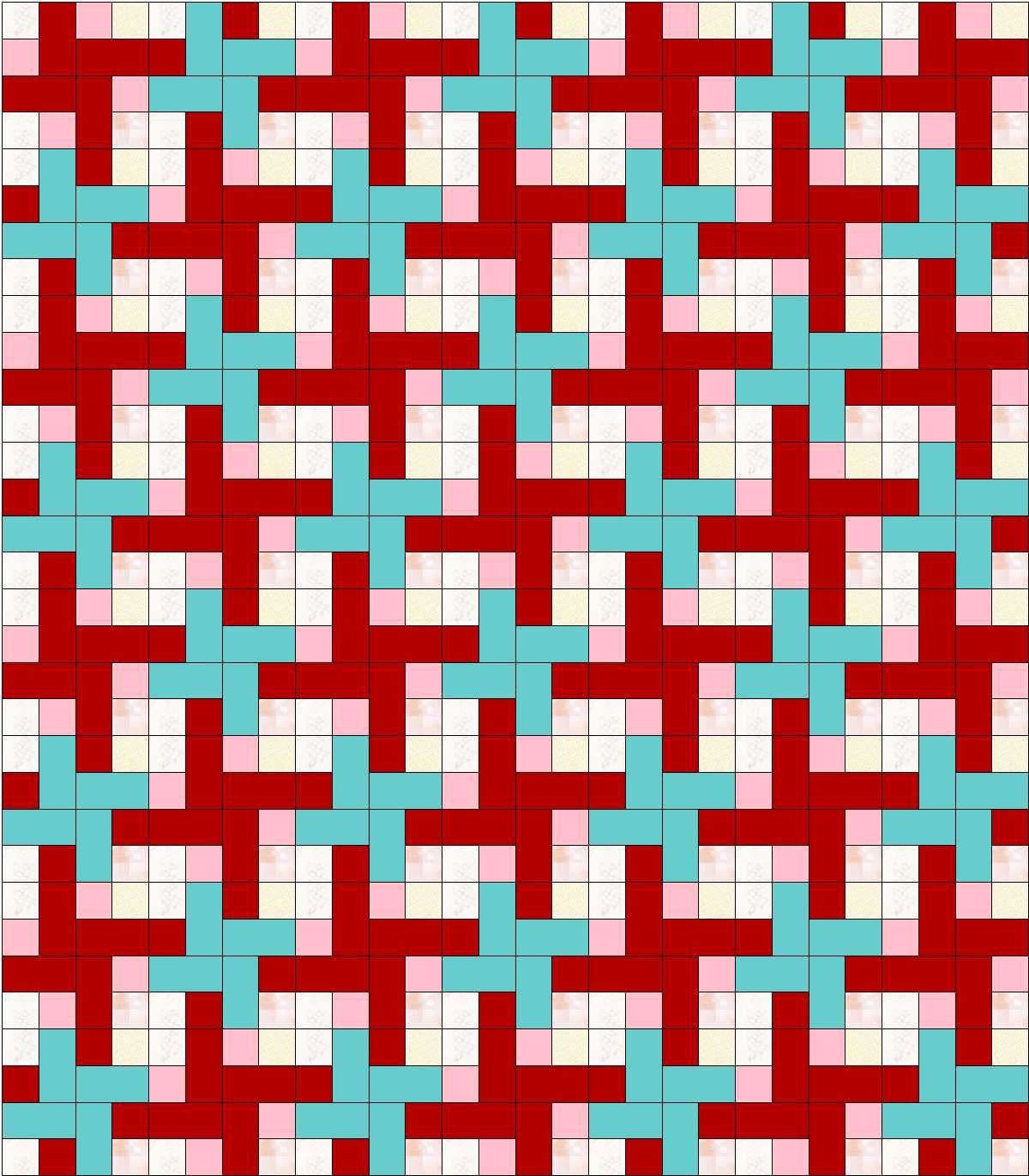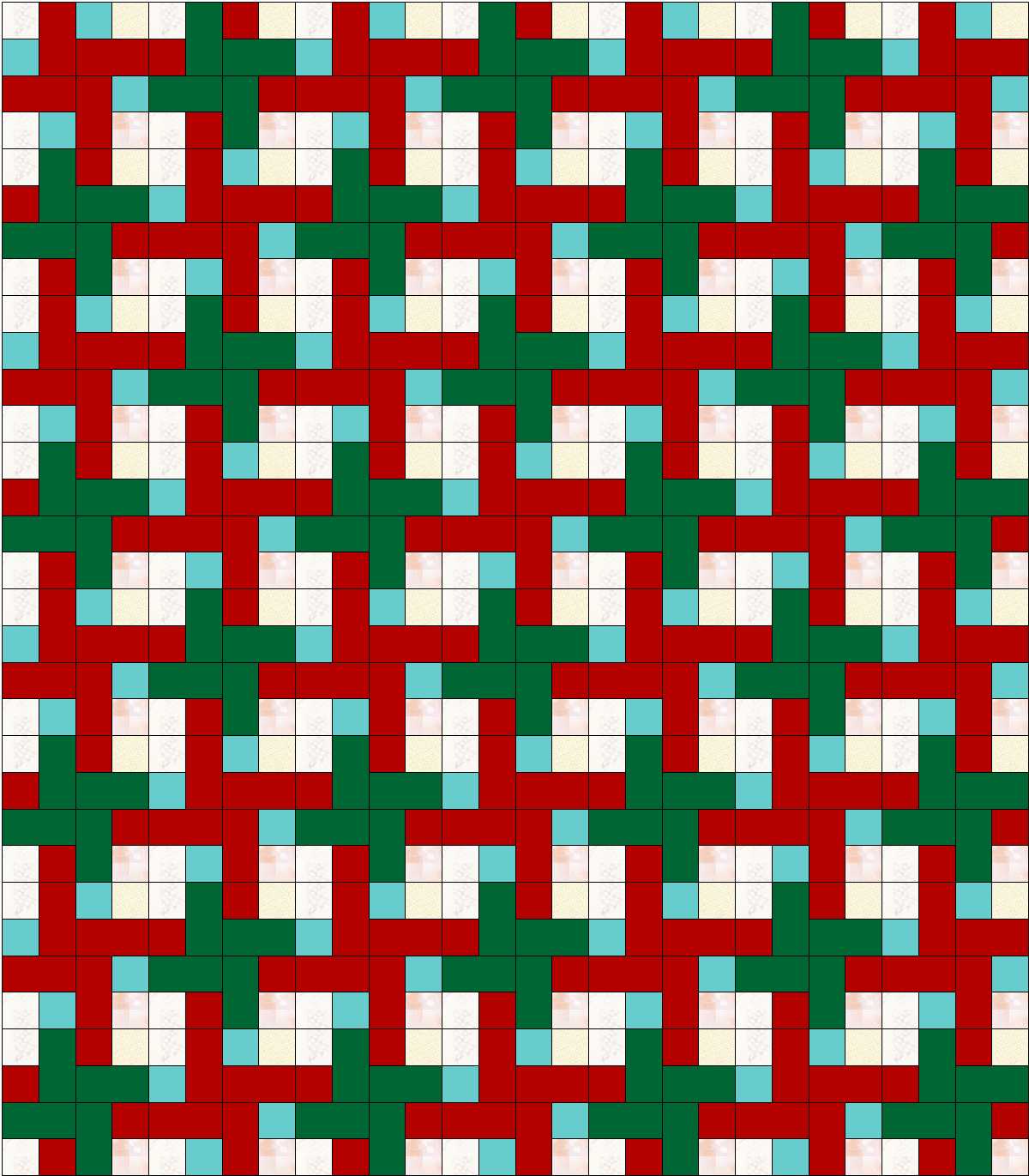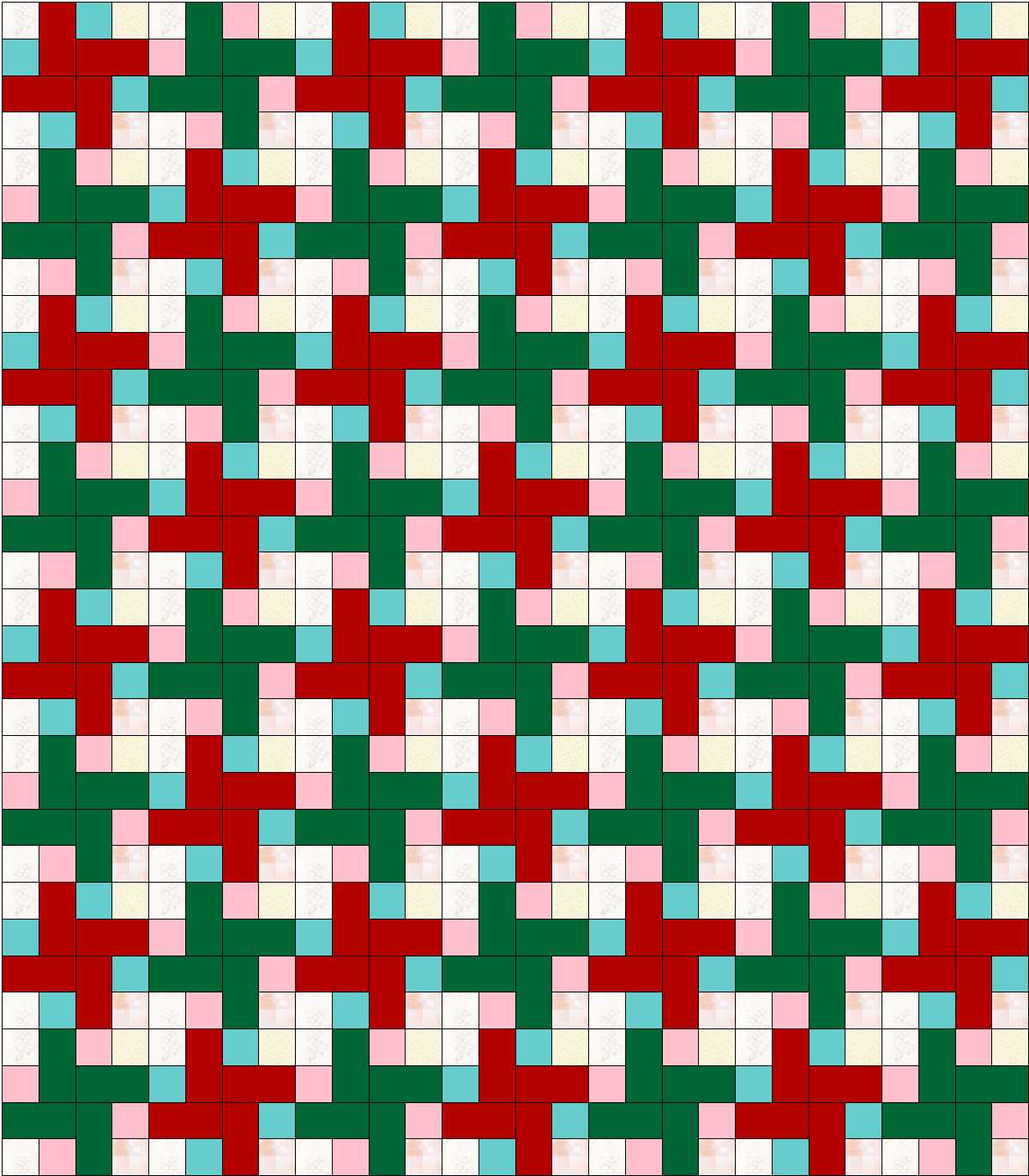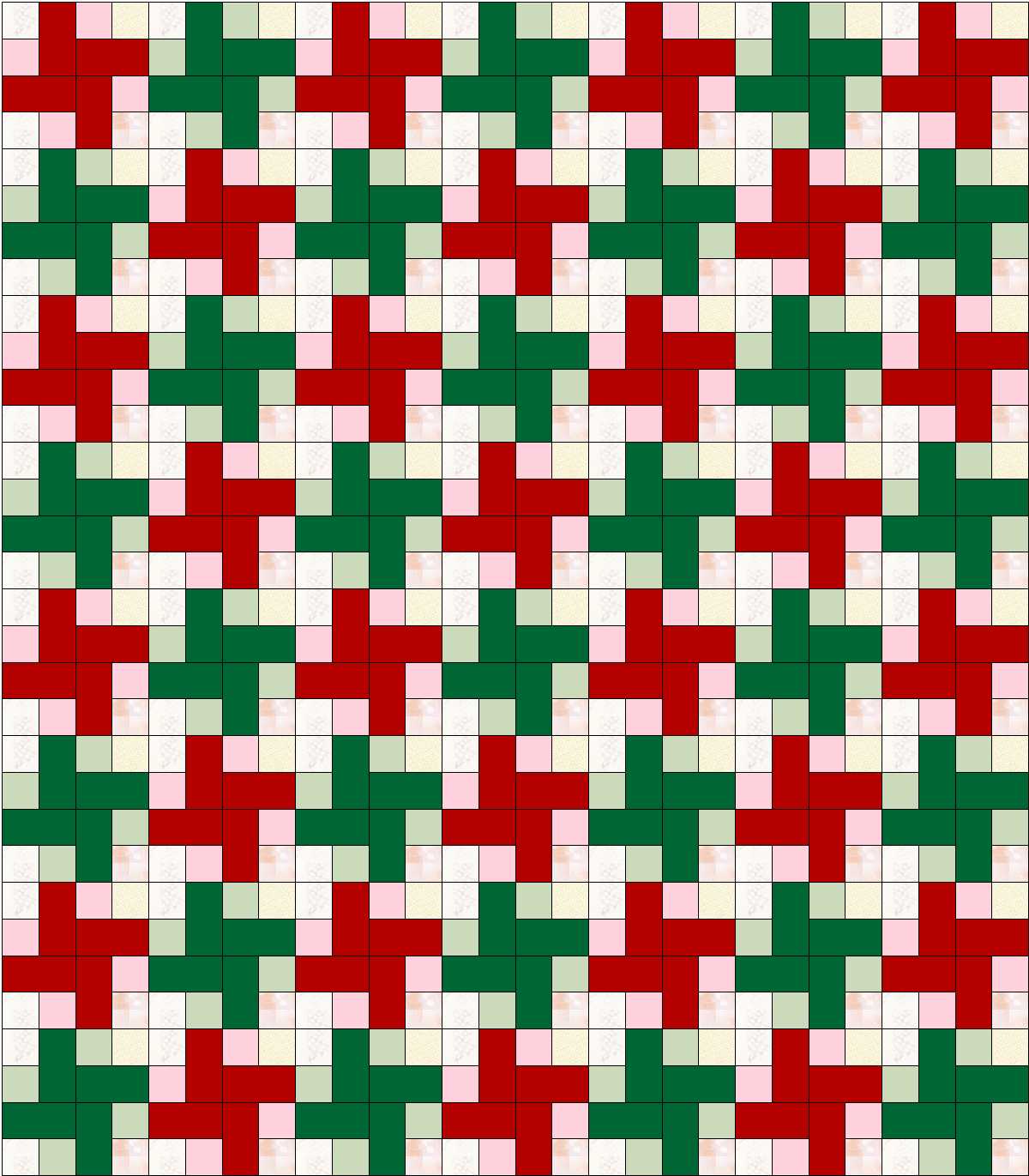 Let's get started!!
all seams 1/4″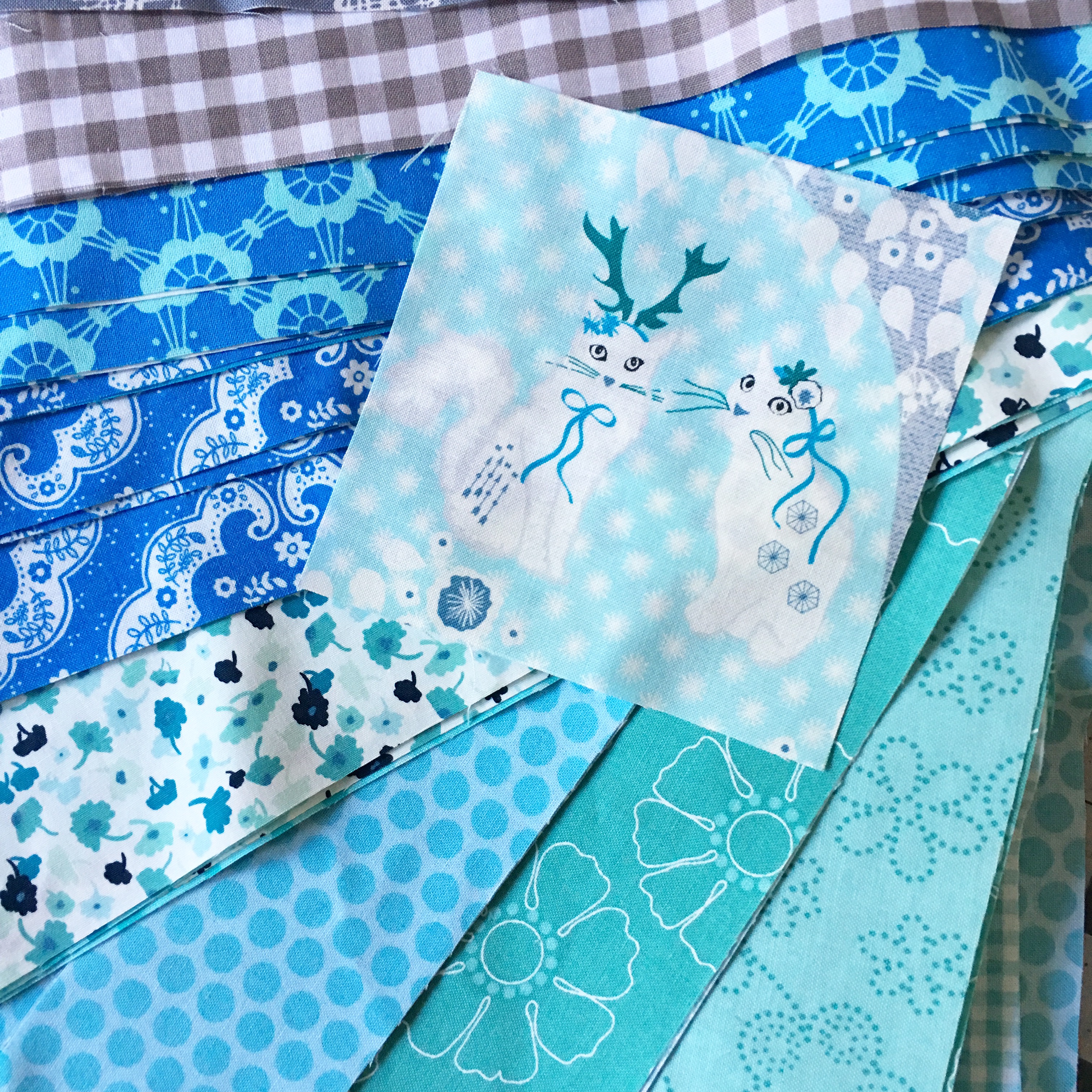 We will only be using 2 1/2″ strips for the blocks.
Each dark print 2 1/2″ strip will be enough for one block.  You need 50 dark strips for the 50 blocks.
Each light print 2 1/2″ strip will be enough for (2) blocks.  You need 25 light print strips.
Each medium print 2 1/2″ strip will be enough for (2) blocks.  You need 25 medium print strips.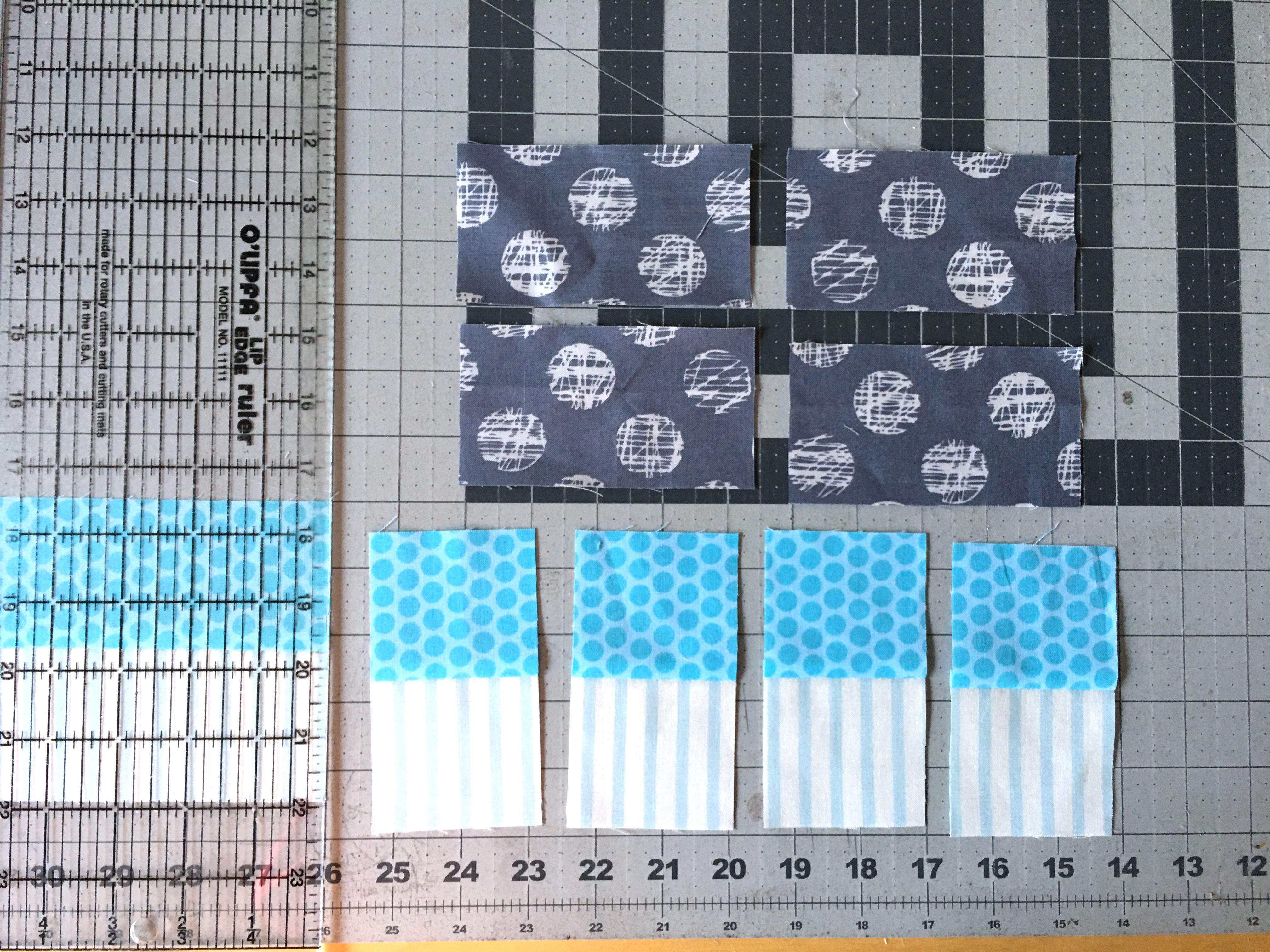 Once the strips are cut, sew the light and medium strips together lengthwise.  Press toward the dark.  Sub-cut into 2 1/2″ increments.  Cut the dark strips in 4 1/2″ increments.  The above picture shows everything you need for one block.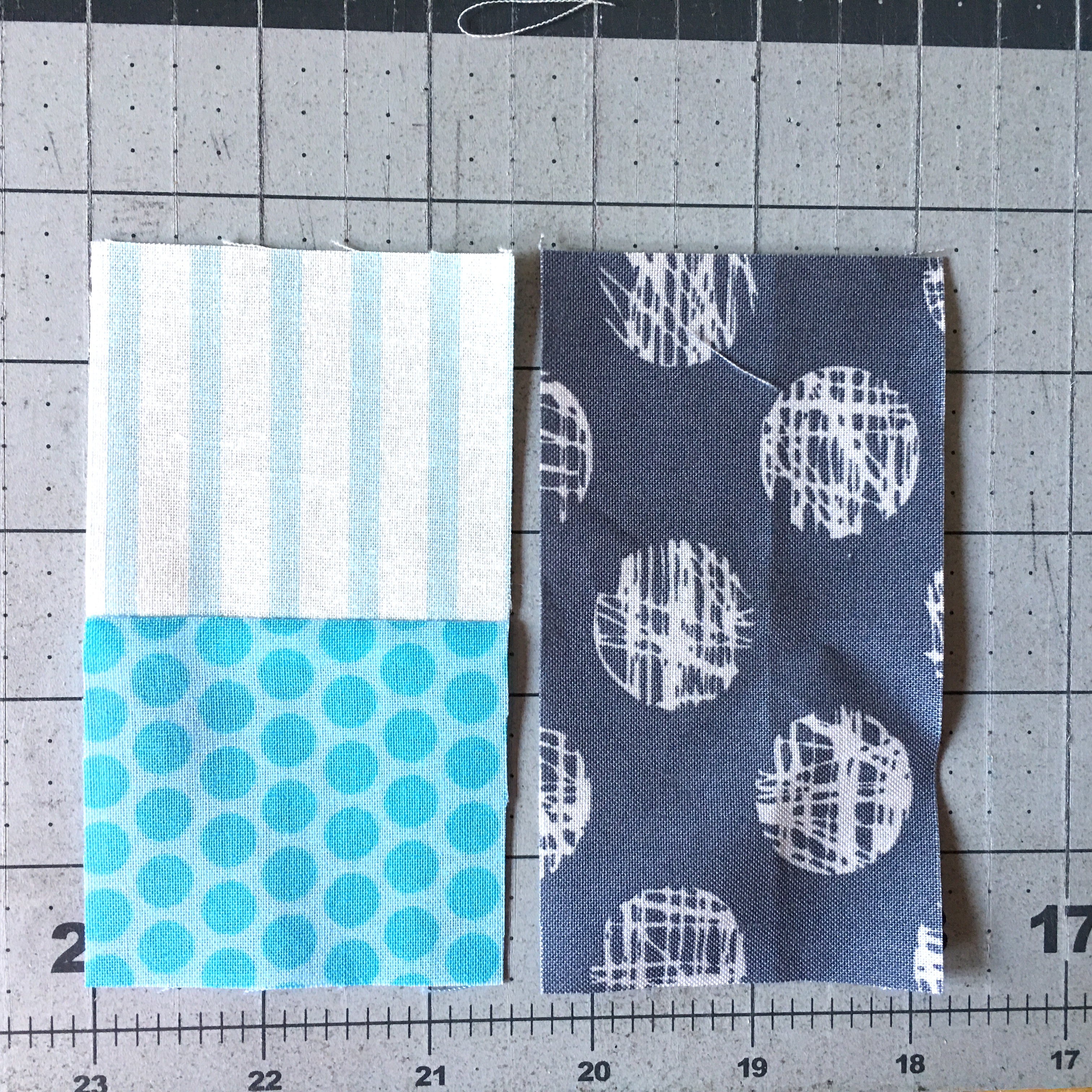 Sew the strip set to the dark rectangle as pictured above.  You will have (4) of these units per block.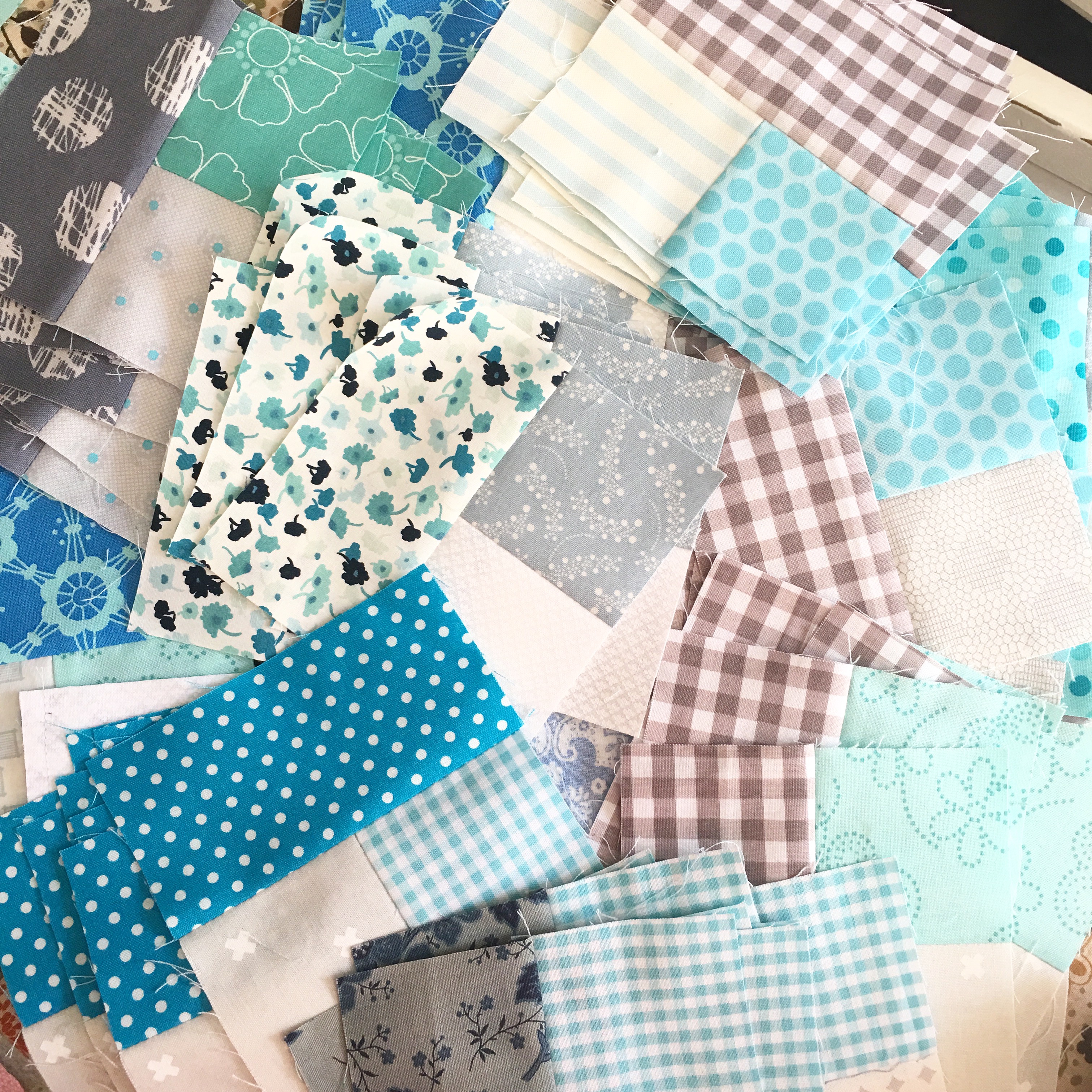 Continue sewing in this manner until all the strips are sewn into these units.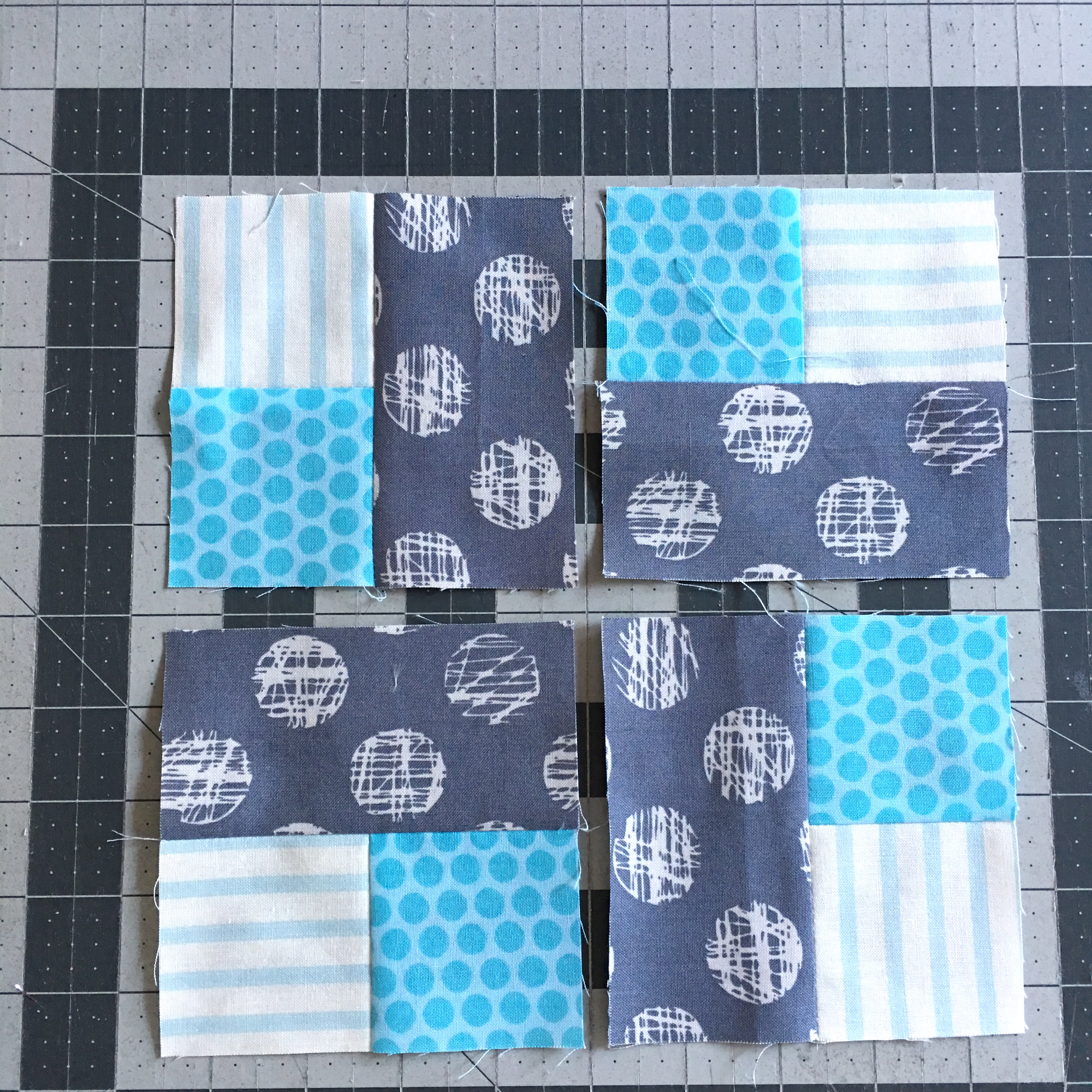 The pieced units will be sewn as pictured above, like a 4-patch.  I pressed the seams alternately as much as I could for easy matching.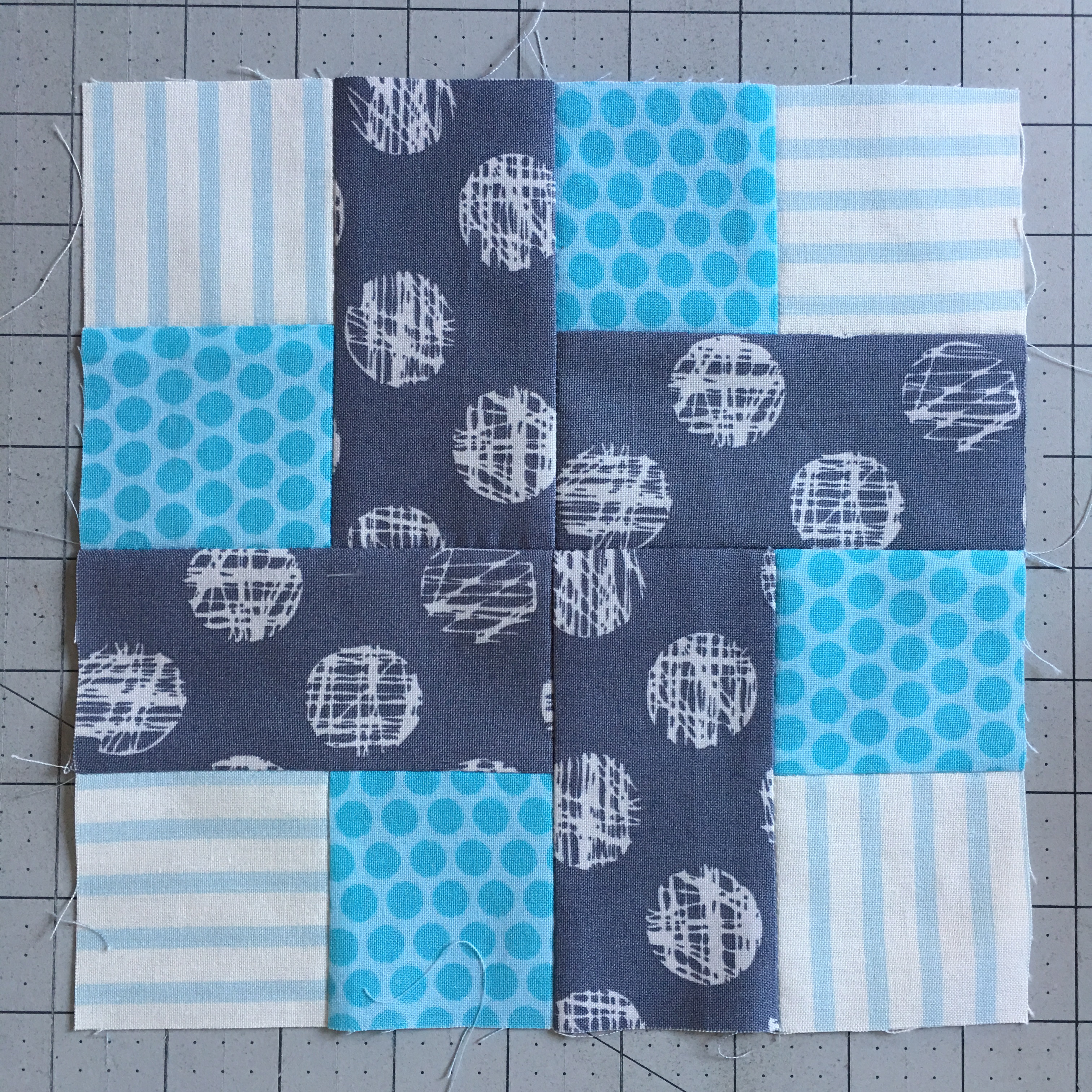 Now you have a finished block!  Continue sewing all the units together to form 50 blocks.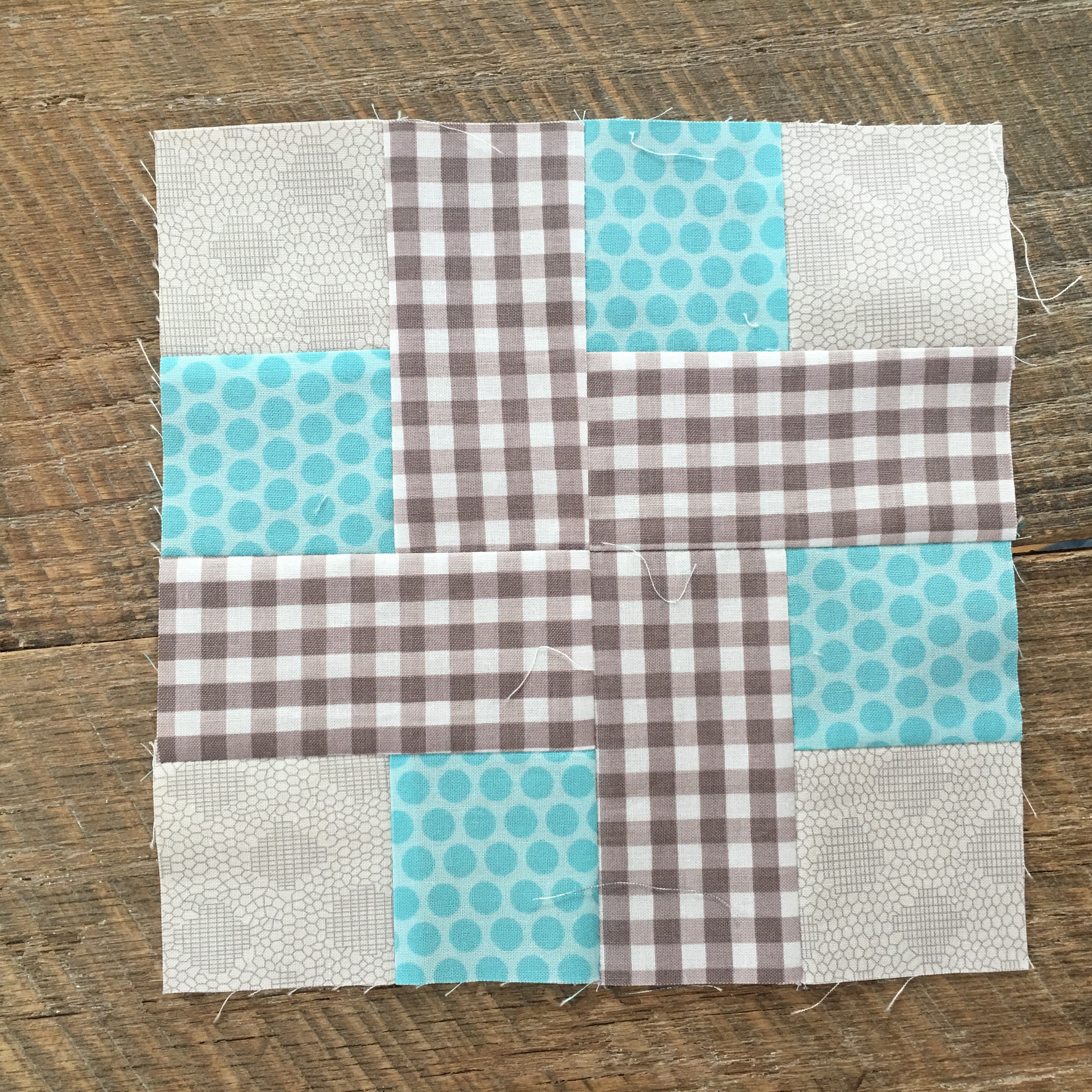 I love how they each turned out!!!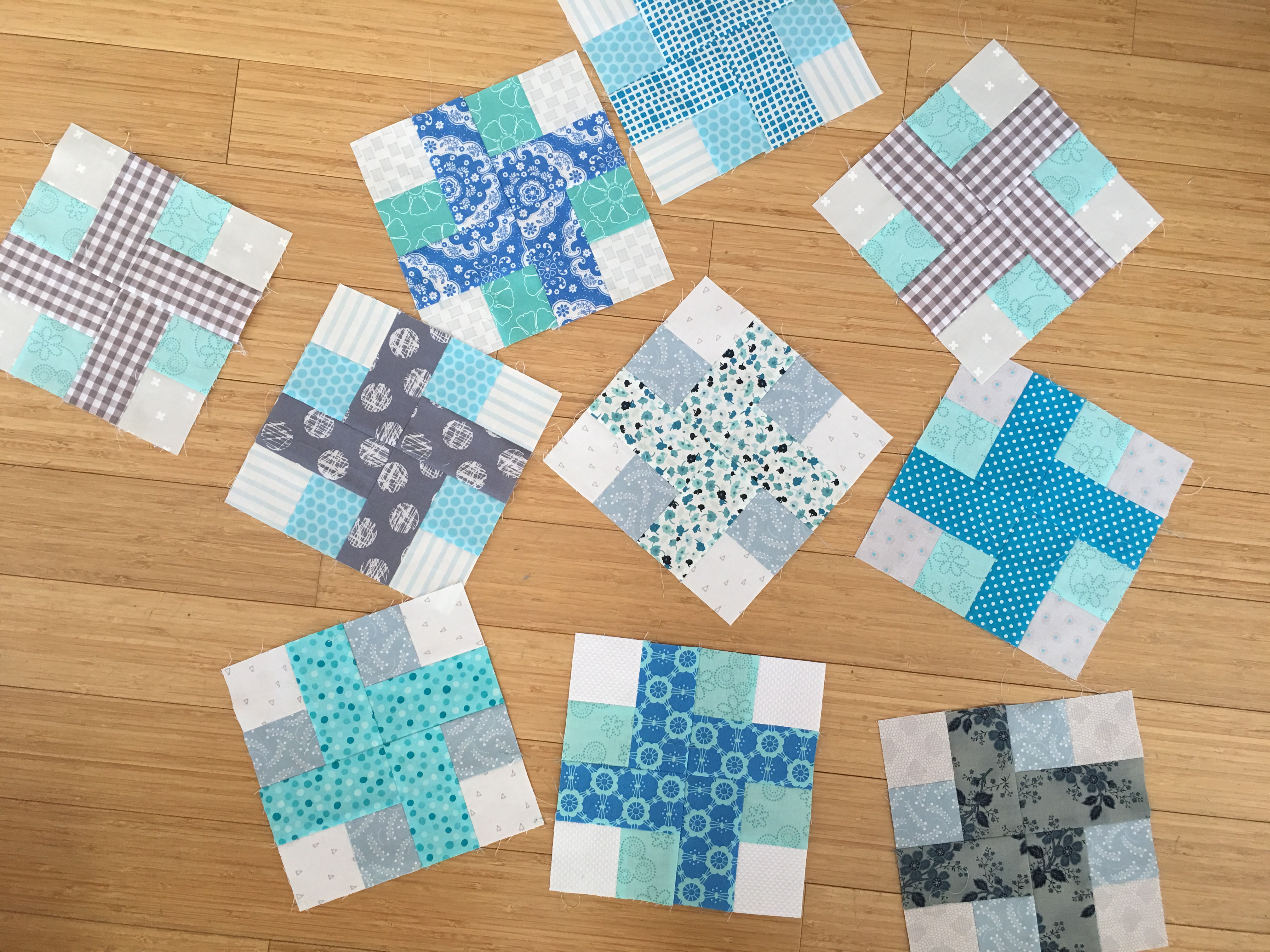 Cat Blocks
You will need to make 6 additional fussy-cut cat blocks to mix in.
Fussy cut the cat fabric in 4 1/2″ squares.  Cut 6.
Cut (24) light 2 1/2″ squares.
Cut (24) medium 2 1/2″ squares.
Cut (24) dark 2 1/2″ squares.
Lay them out according to the photo below: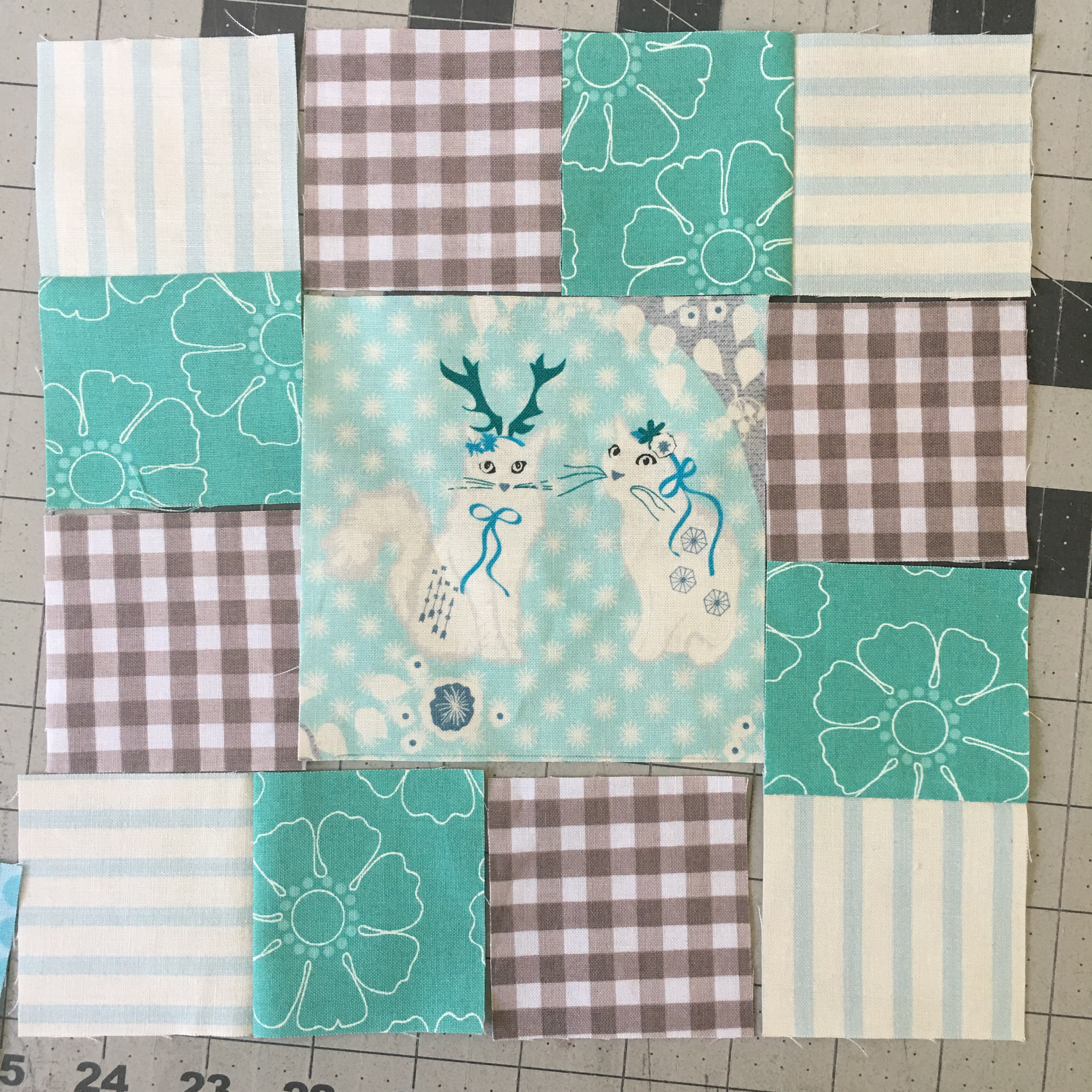 Sew the top and bottom rows together.  Sew the sides together, press, then sew to the sides of the cat square.  Finally sew the top and bottom rows to the center cat unit, matching seams.  Press.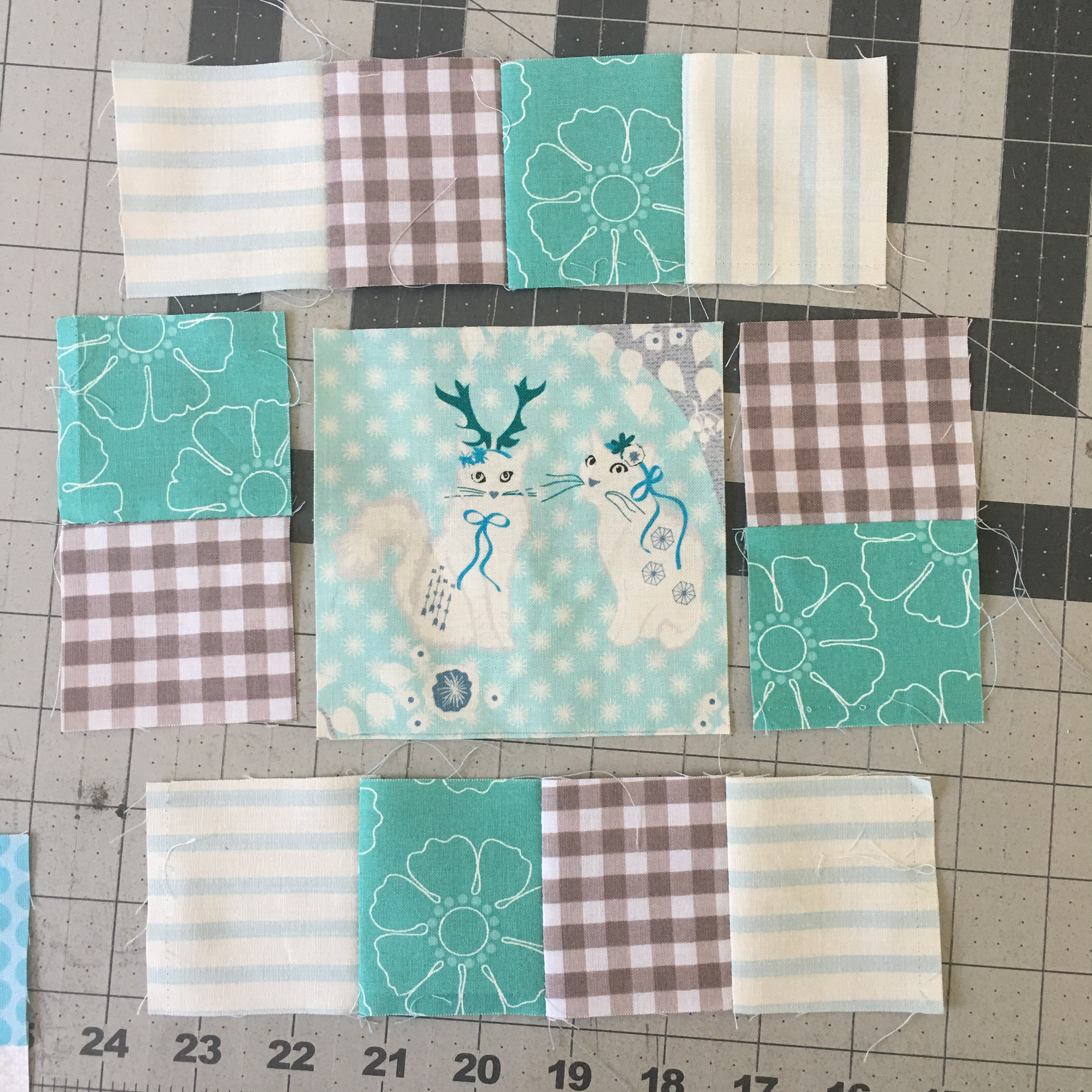 I love the cat block!  It wouldn't be a quilt unless there was a little theme print in it!!!  Of course you could omit the cat blocks and just make 56 of the original blocks.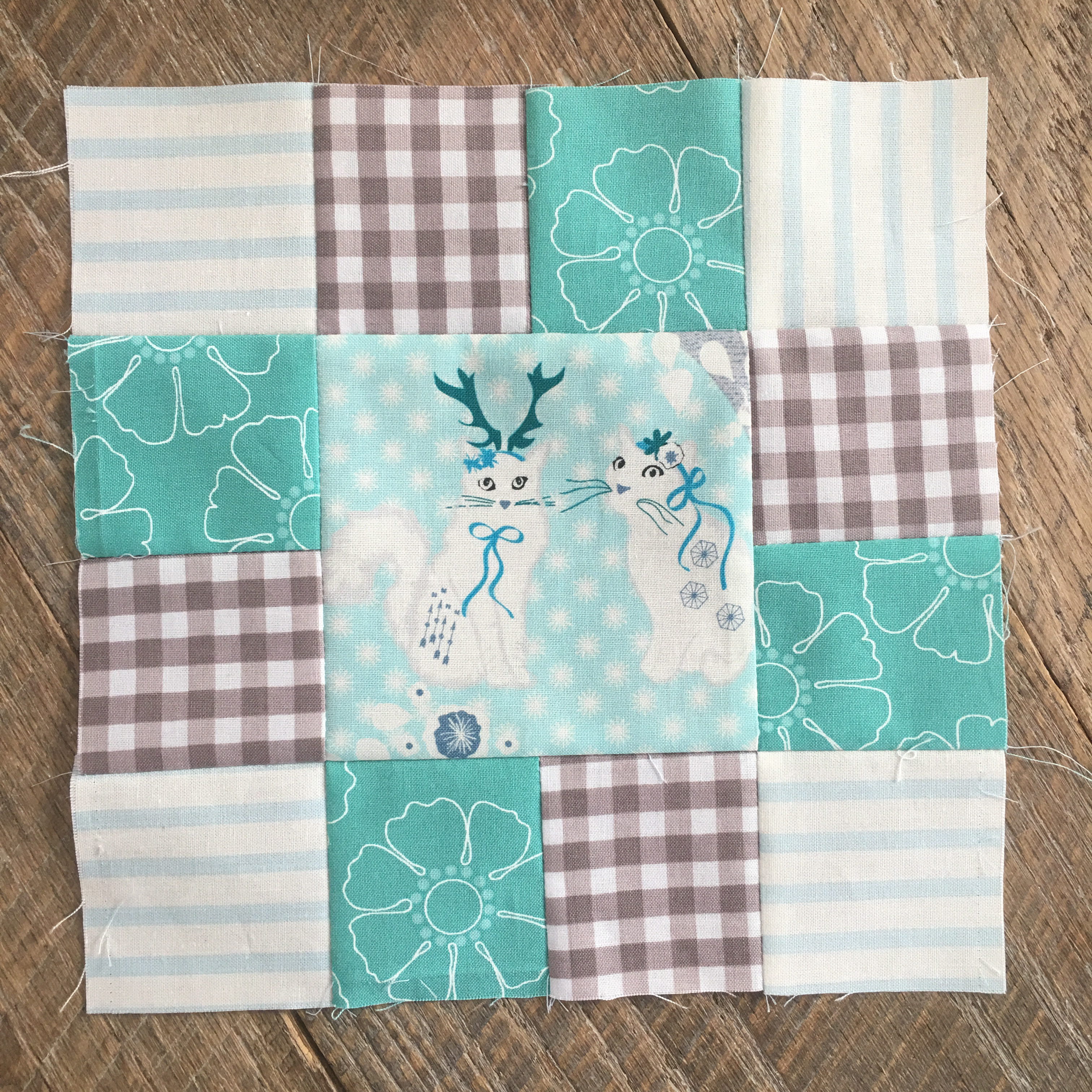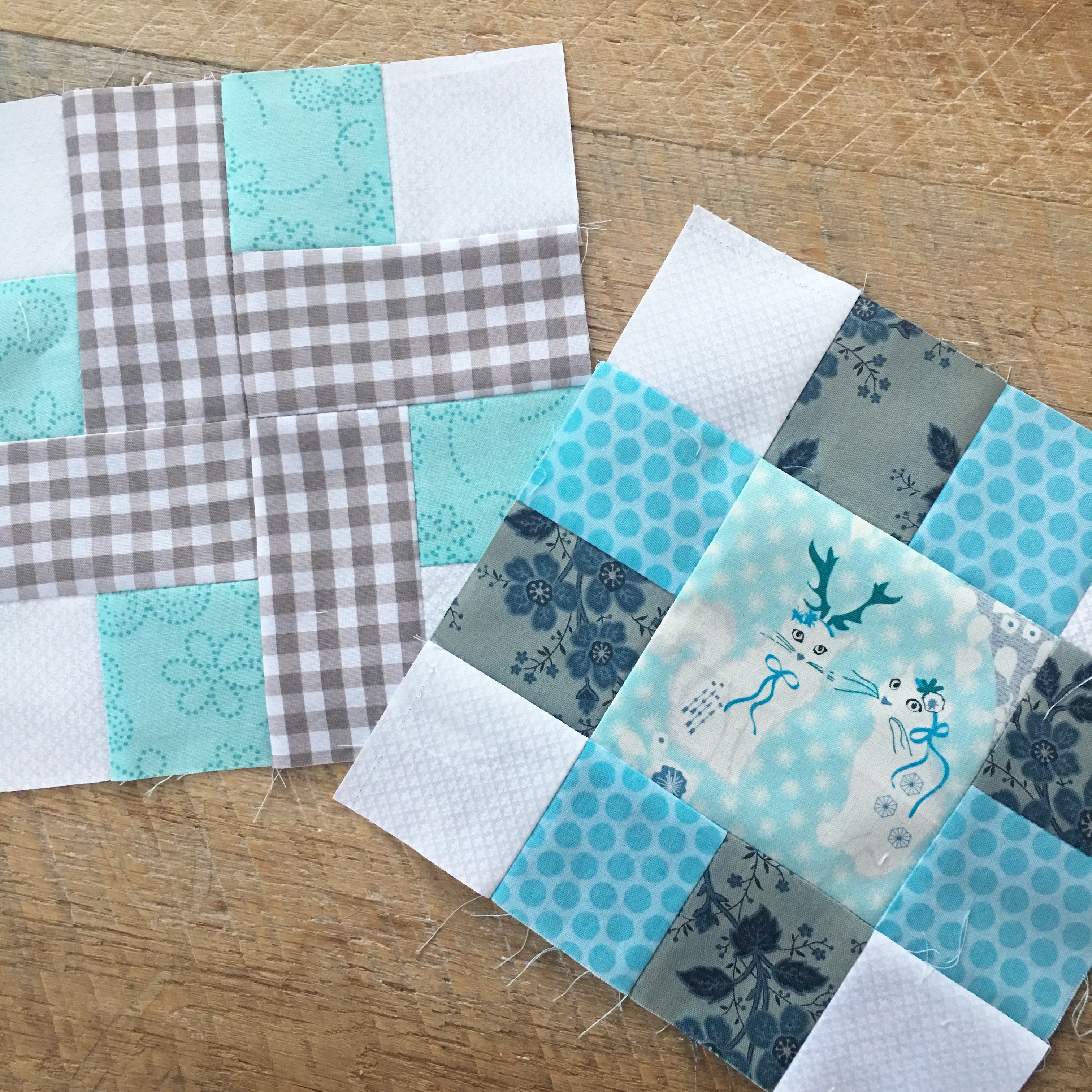 Lay the quilt out 7 blocks across and 8 rows down.  I had to play around with my blocks so they didn't create an unwanted pattern.  It's tricky to look random 🙂  Sew the blocks together pressing seams alternately with each row.  Sew the rows together pinning at every seam intersection.  Quilt, bind, love!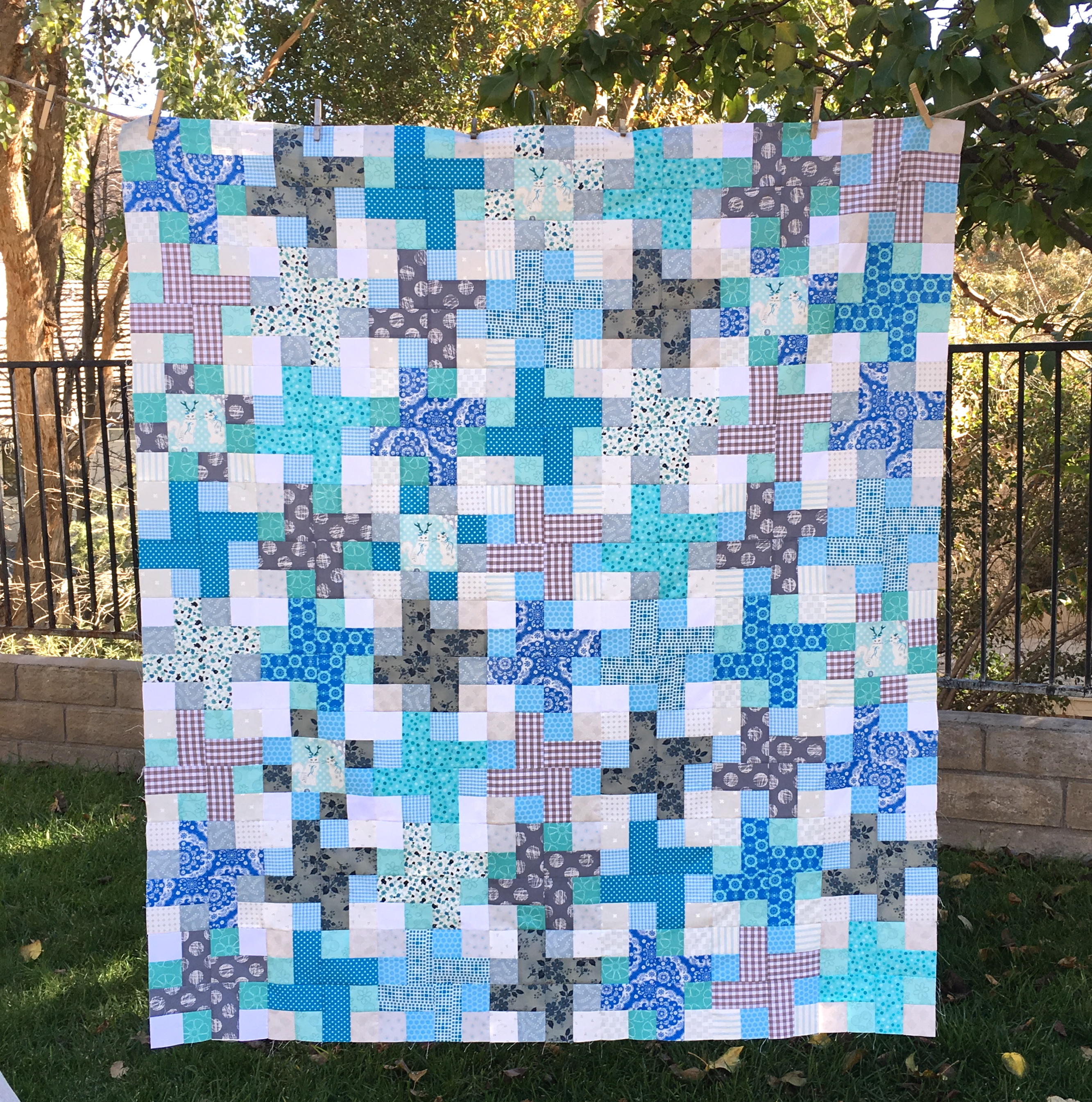 Save
Save