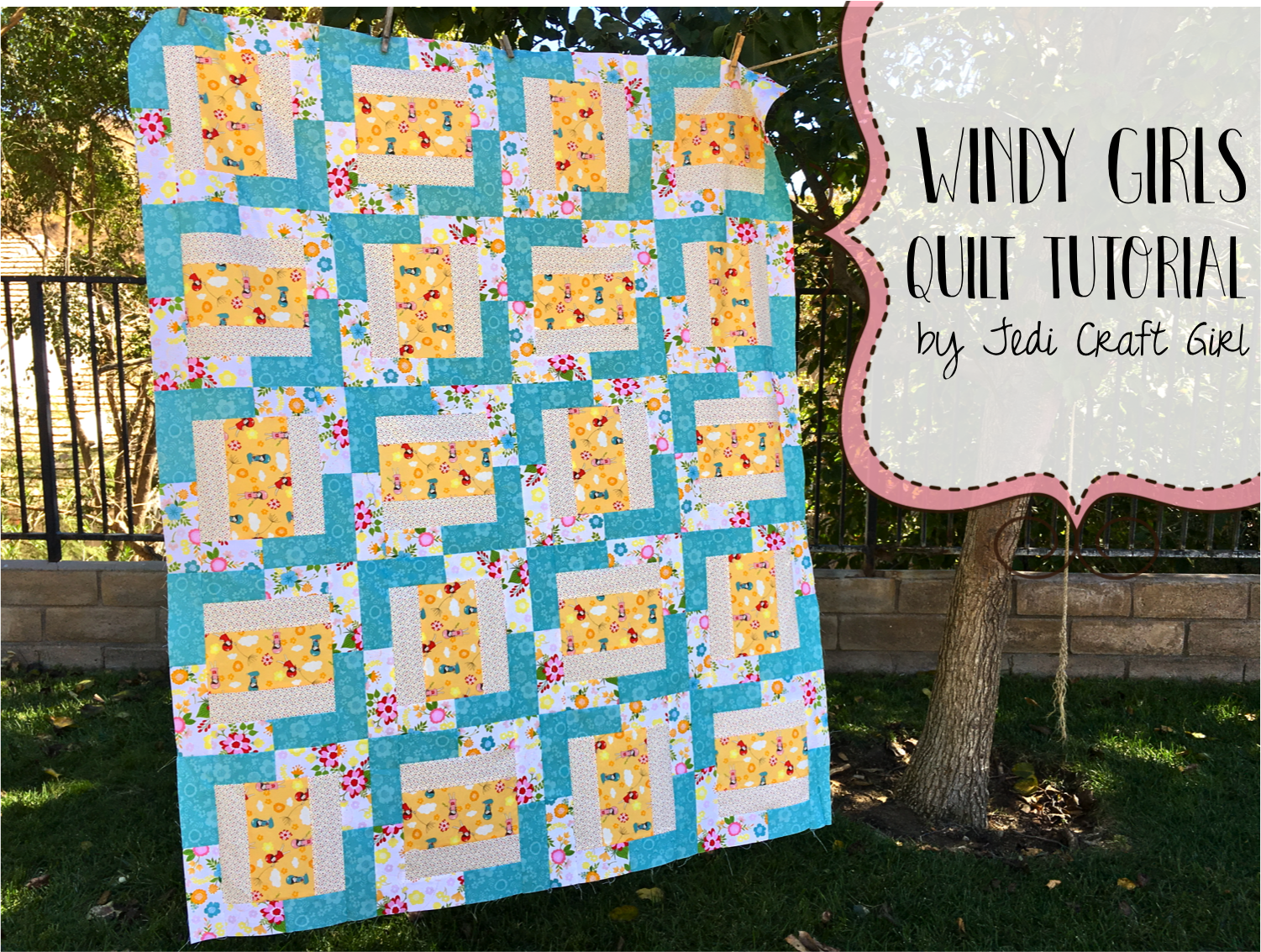 I'm super excited to be apart of Shari Butler of Doohicky Designs' Whistful Winds Blog Tour!  I met Shari at Quilt Market in May and I was introduced to her Wistful Winds fabric line.  Shari is the nicest person ever and her designs are so sweet!  As soon as I saw this fabric I new I had to make something for Sally.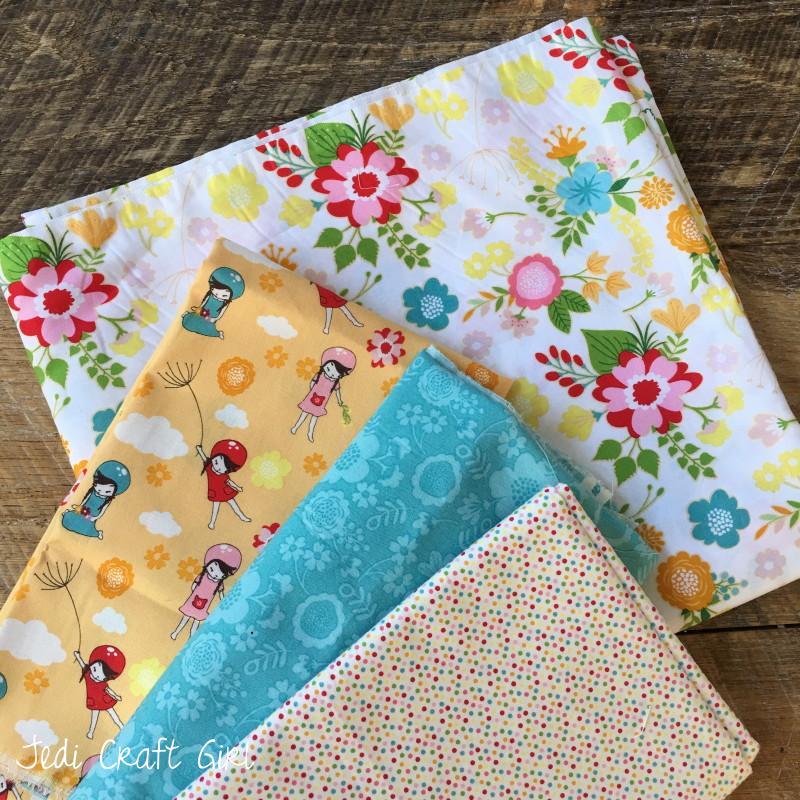 So I set out plans to sew her a dress.  I had 4 different prints of yardage which was what the dress required.  Then, Sally told me she did not want a dress and that she had too many dresses as it was.  She asked if I would make her a quilt and I did a little happy dance in my head 🙂  Sewing clothes stresses me out and quilting makes me happy!
And so I set out to design a quilt that only uses 4 different fabrics – because that's all I had!  I love how it turned out and Sally is thrilled!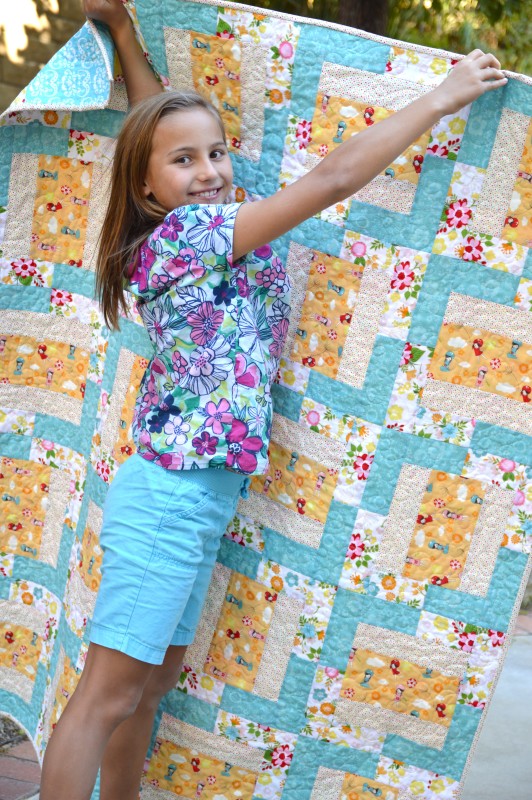 Mufasa got to test it out for a few minutes before Sally got a hold of it.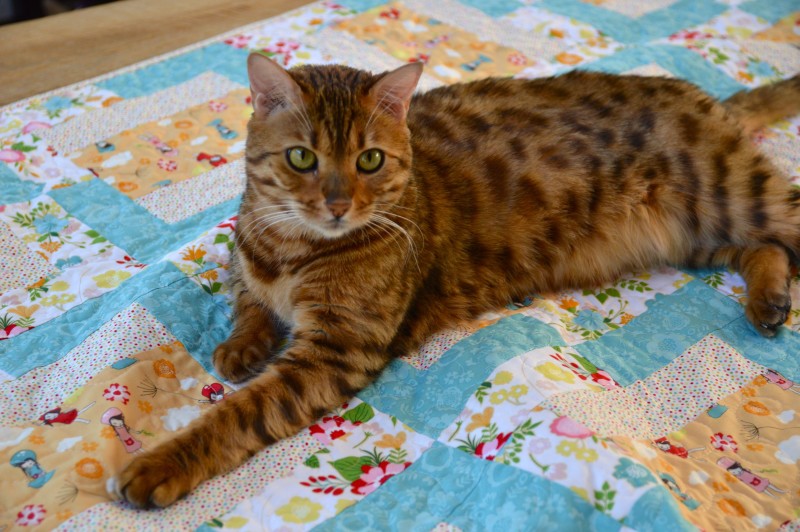 Here's how you can make this quilt:
Finished Quilt 48″ x 60″ – perfect for a little girl
Block Size 12″
All seams 1/4″
Press toward the dark side when possible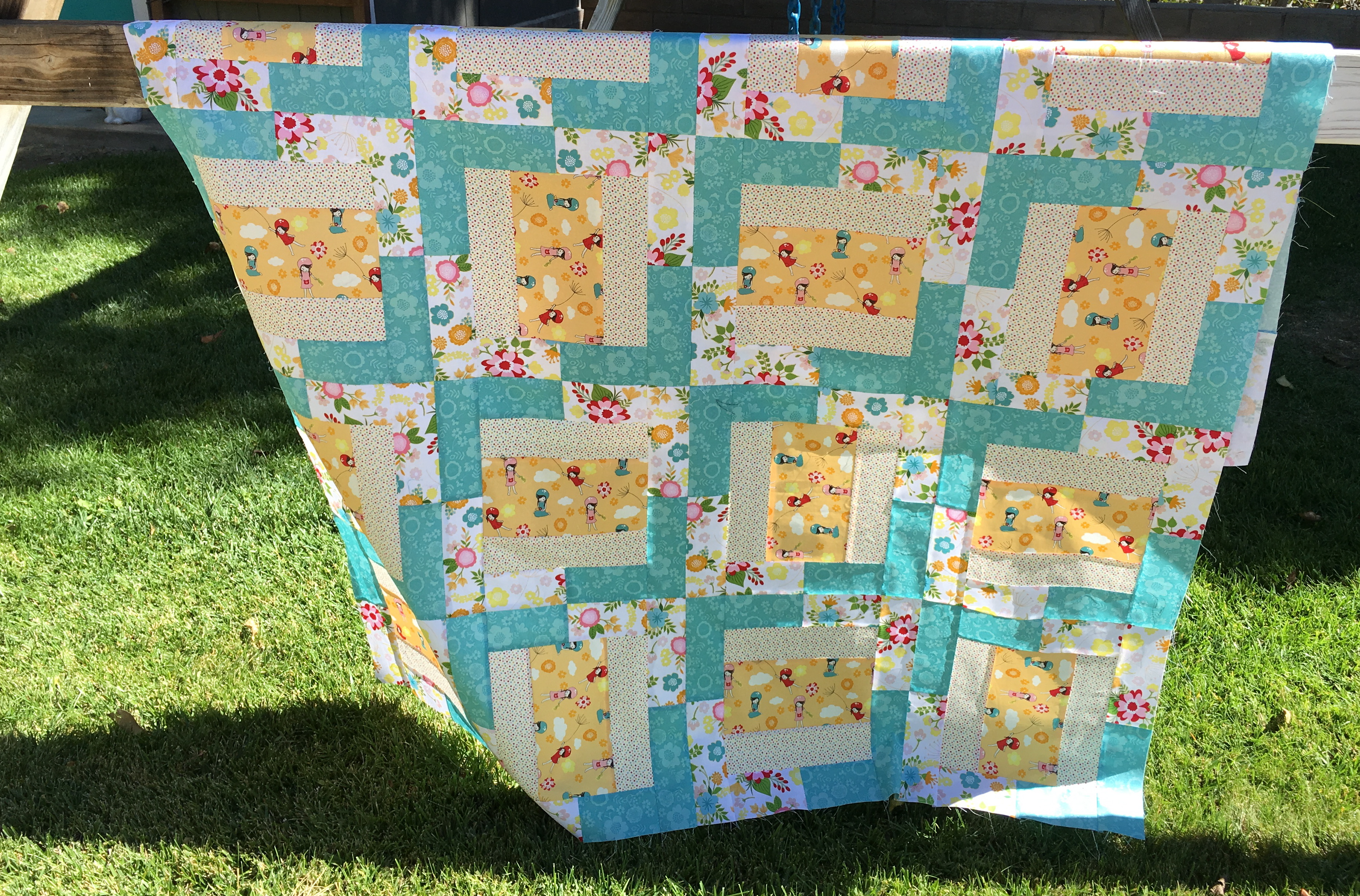 Fabric Requirements:
2/3 yard orange girl fabric
3/4 yard small dot fabric
1 yard blue floral
1 yard white floral
1/2 yard binding
3 yards backing
Cut (4)  4 1/2″ x WOF strips orange girl fabric
Cut (8) 2 1/2″ x WOF strips white dots
Cut (3) 4 1/2″ x WOF Blue on blue floral
Cut (3) 6 1/2″ x WOF Blue on Blue floral
Cut (3) 4 1/2″ x WOF White floral
Cut (3) 6 1/2″ x WOF white floral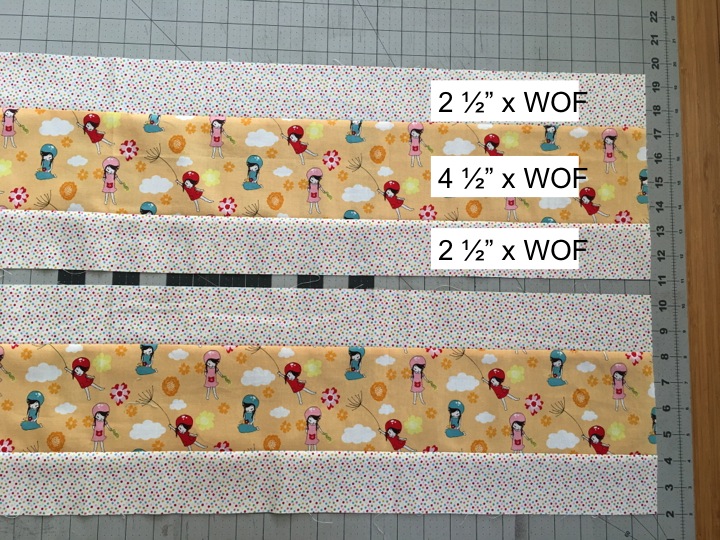 Sew the white dot strips to the orange girl strips lengthwise.  Press seams.  Make 4 of these strip sets.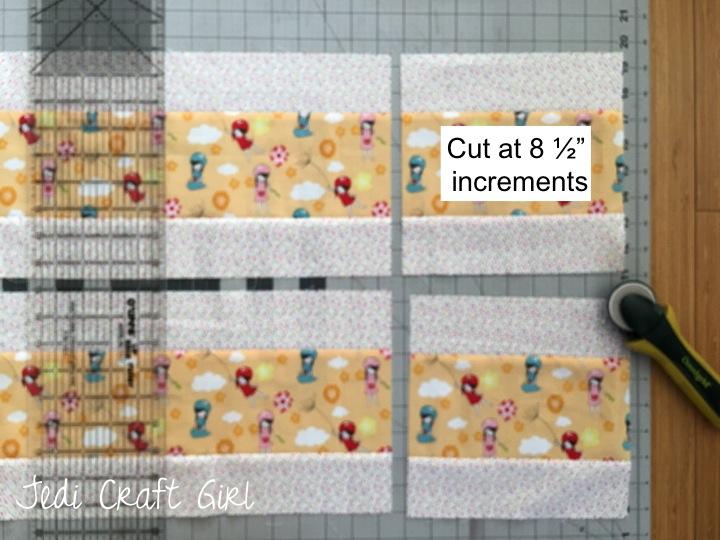 Subcut stripsets into 8 1/2″ increments yielding 8 1/2″ squares.  You should have 20.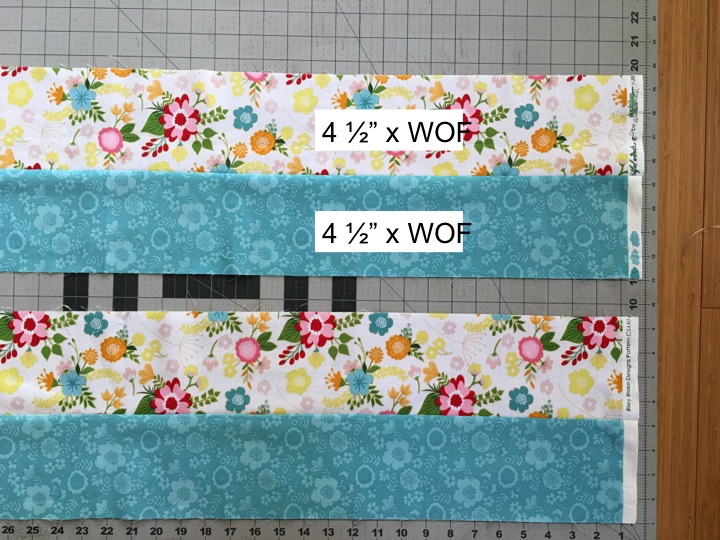 Sew a white floral 4 1/2″ strip to a blue floral 4 1/2″ strip.  Make 3 of these strip sets.  Press.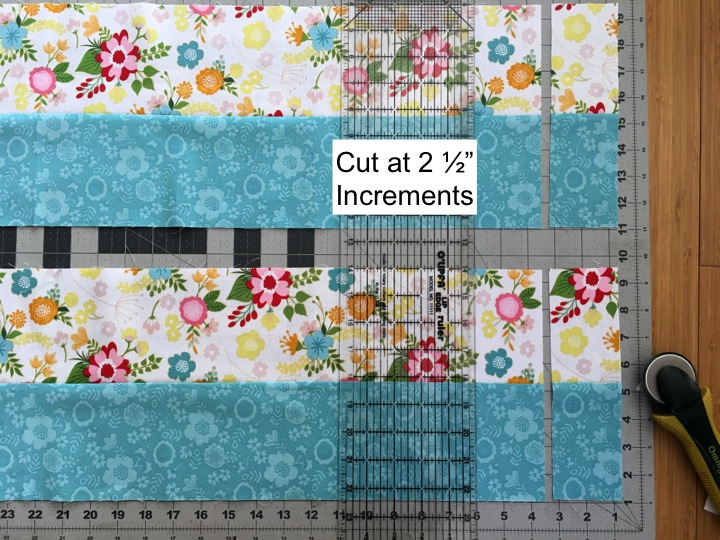 Cut at 2 1/2″ increments.  Cut 40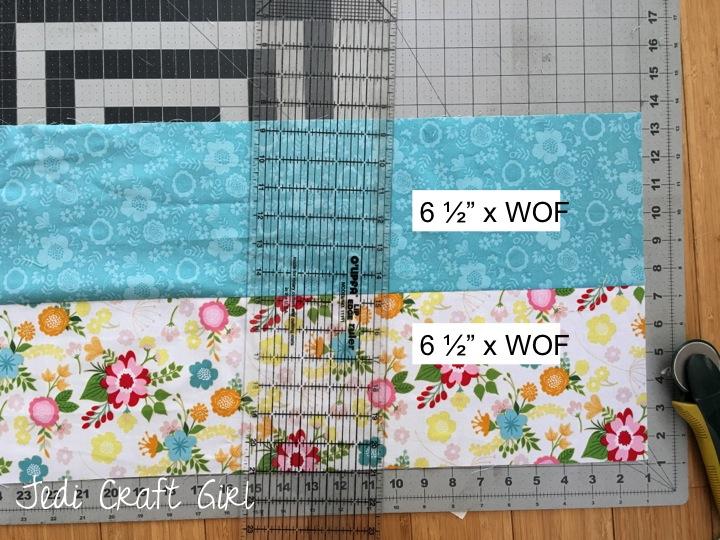 Sew a 6 1/2″ blue floral strip to a 6 1/2″ white floral strip.  Press.  Make 3 of these strip sets.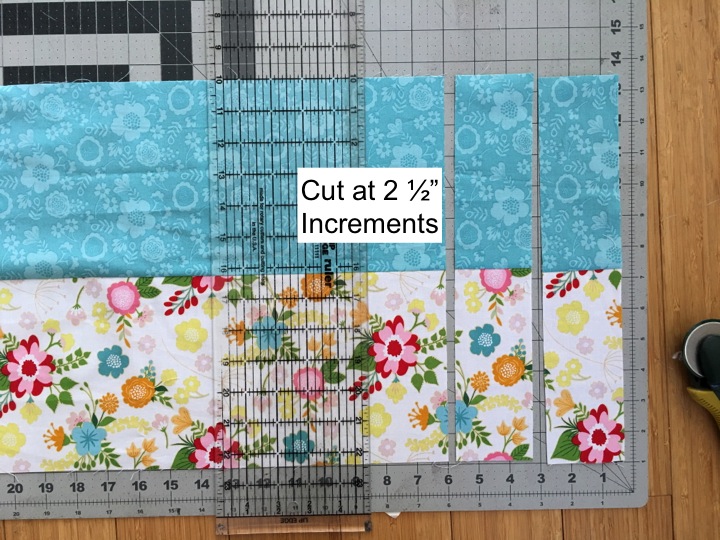 Cut at 2 1/2″ increments.  Cut 40.
Lay out 10 blocks this way.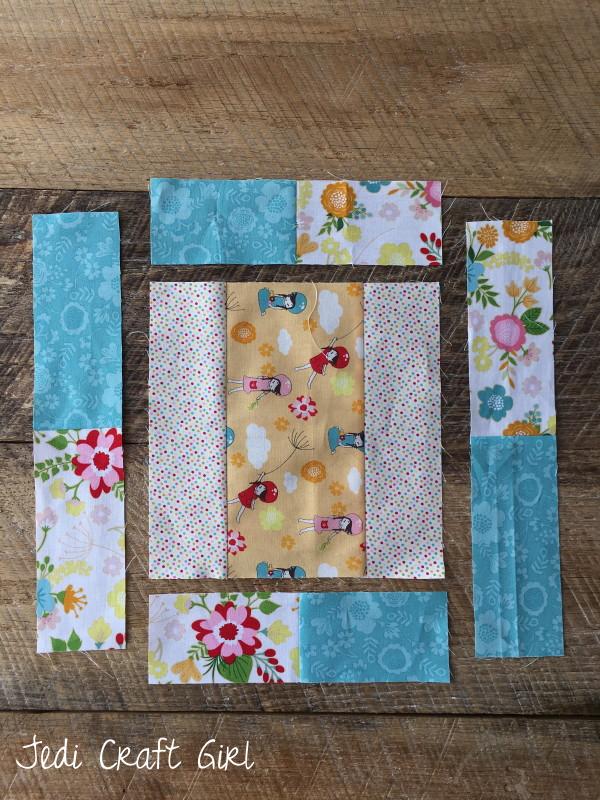 Lay out 10 blocks this way – notice the center block rotates.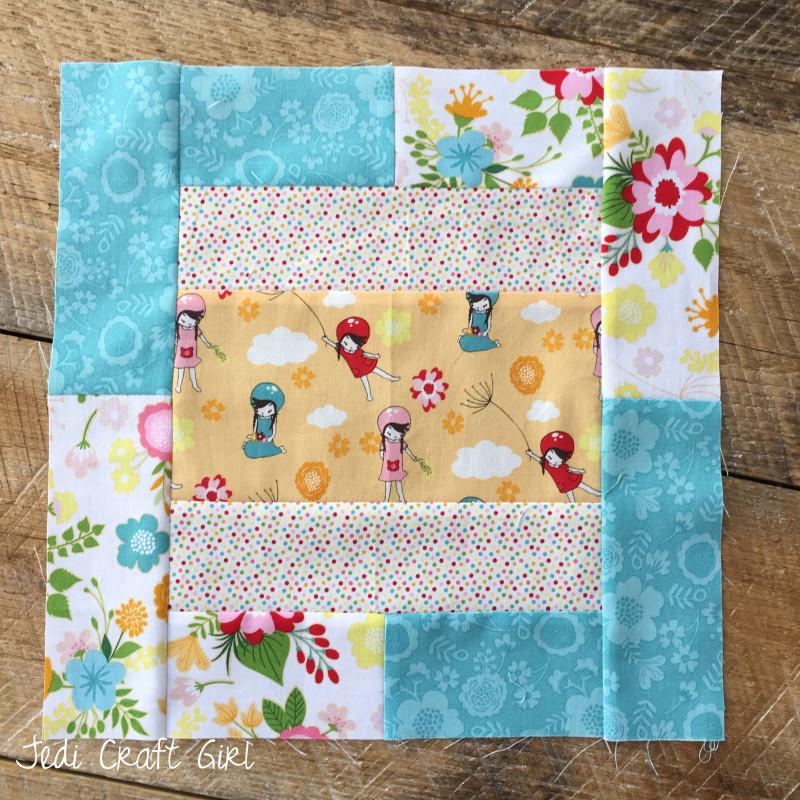 Sew the top and bottom units, press.  Sew the side units, press.  You will have 20 total blocks.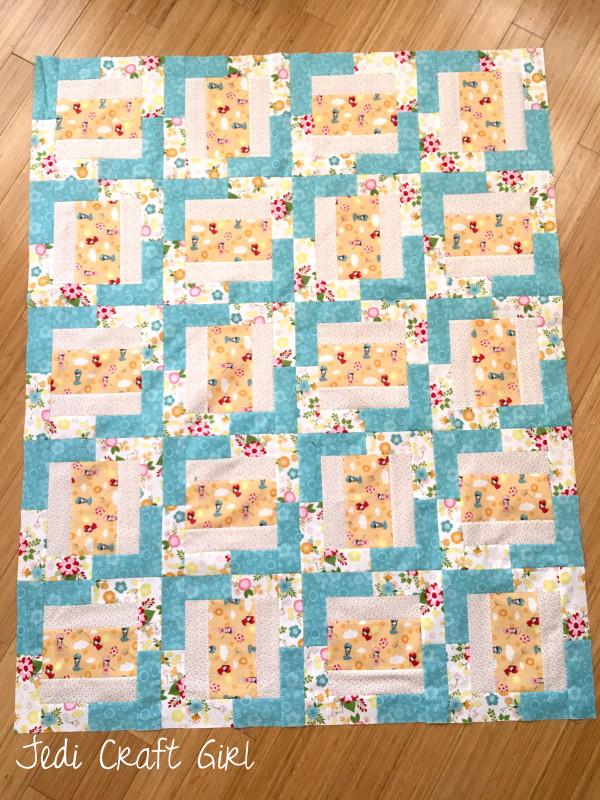 Lay out the quilt as pictured above.  Notice each row alternates center square direction.  Sew blocks together in rows, matching seams.  Sew rows together.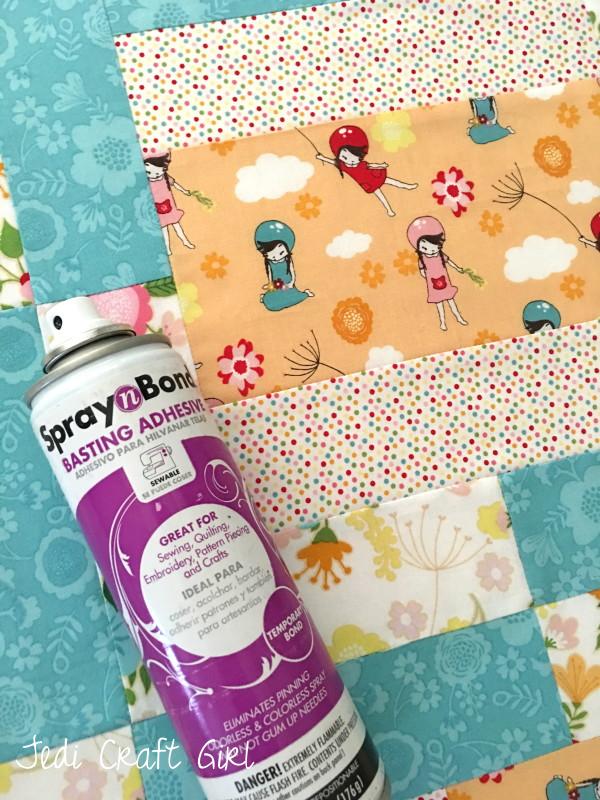 Baste, quilt, bind.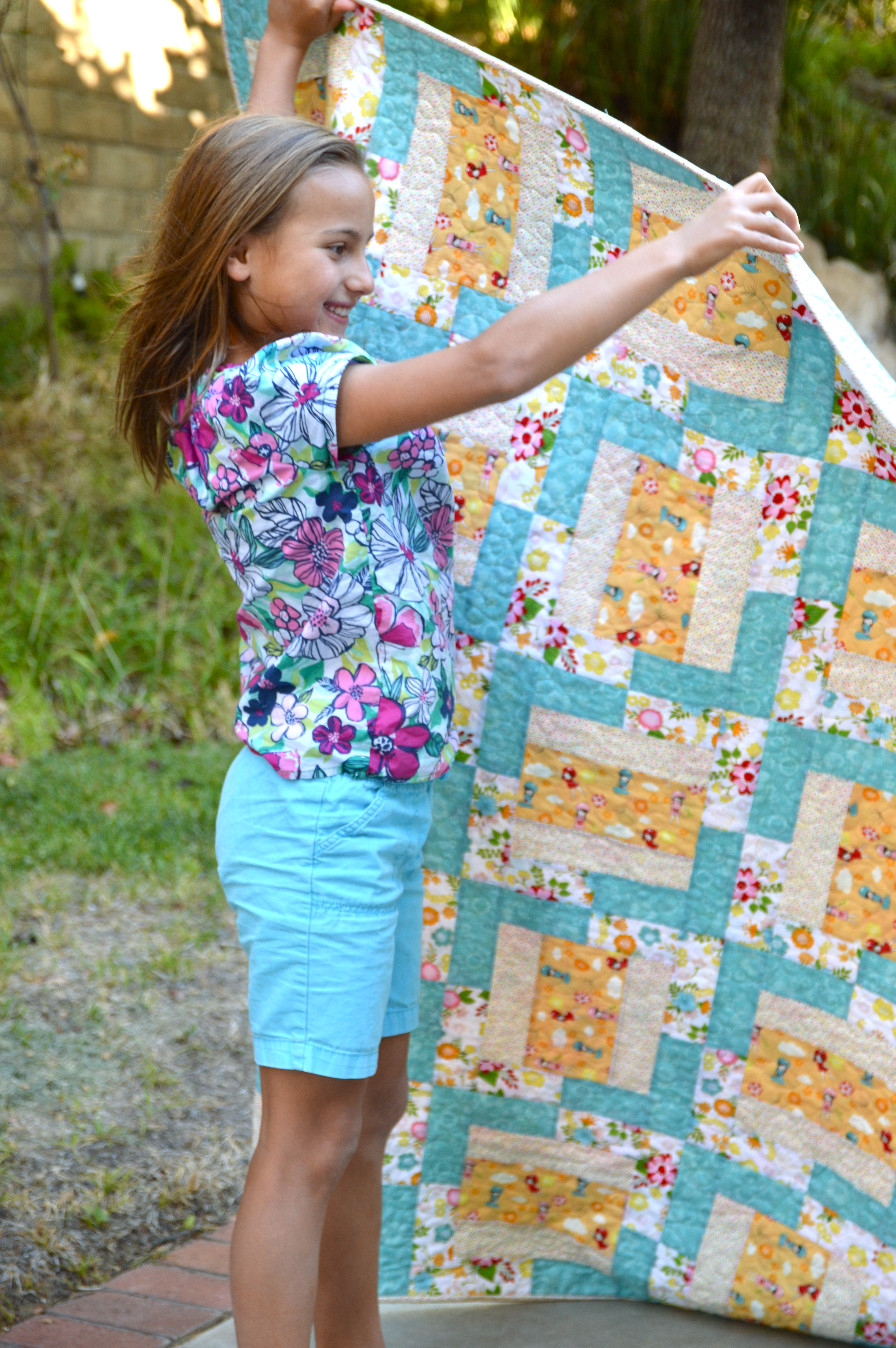 This is such a great pattern to whip up for a gift.  You could omit 3 blocks and it would be a perfect baby quilt size.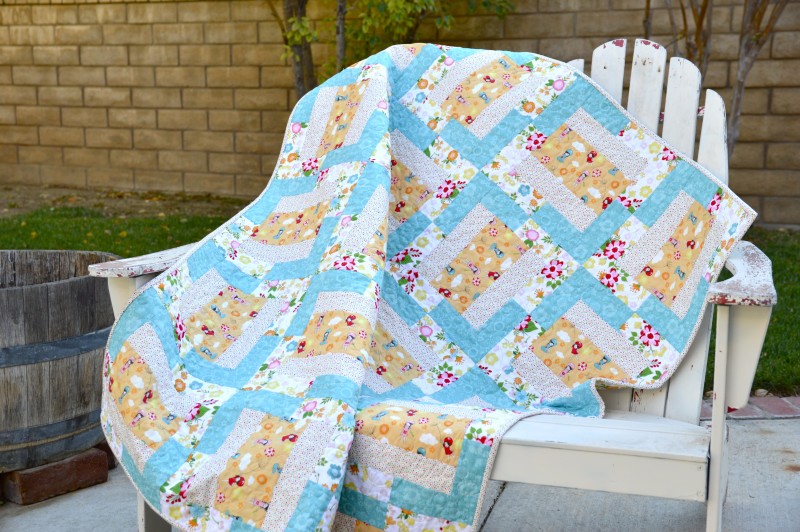 I love the fun pattern this quilt creates by using only 4 fabrics.  A scrappy version with lots of different fabrics would also be fun!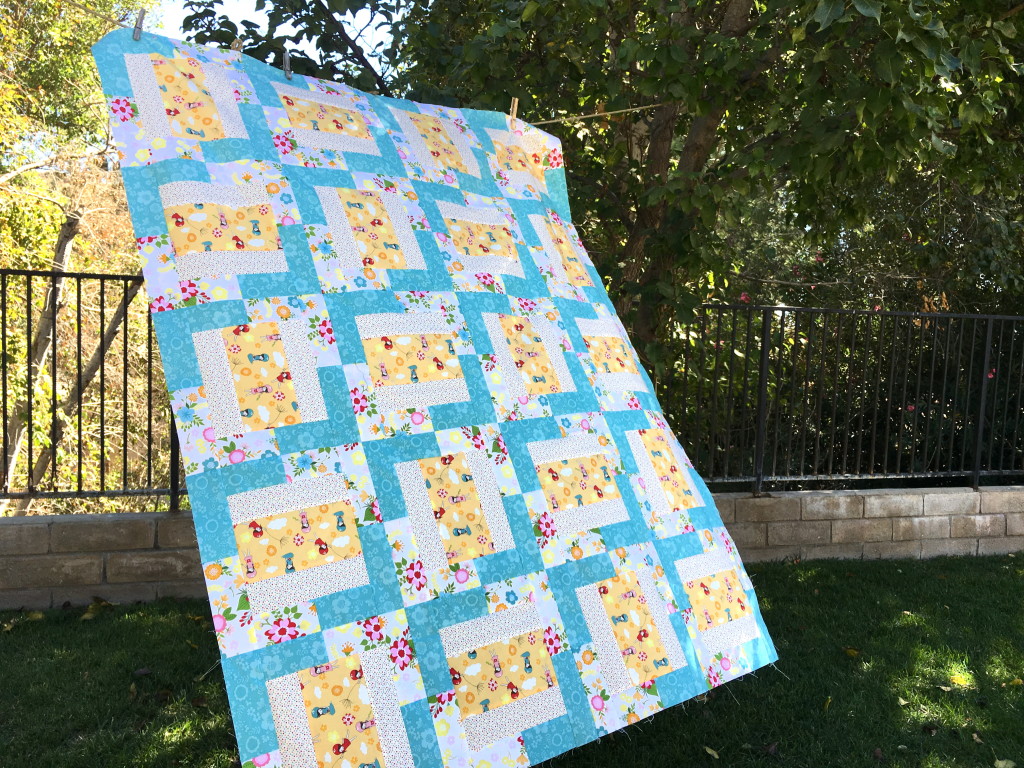 I'm thinking this is my new favorite throw quilt pattern!  It might even be doable for Christmas gifts!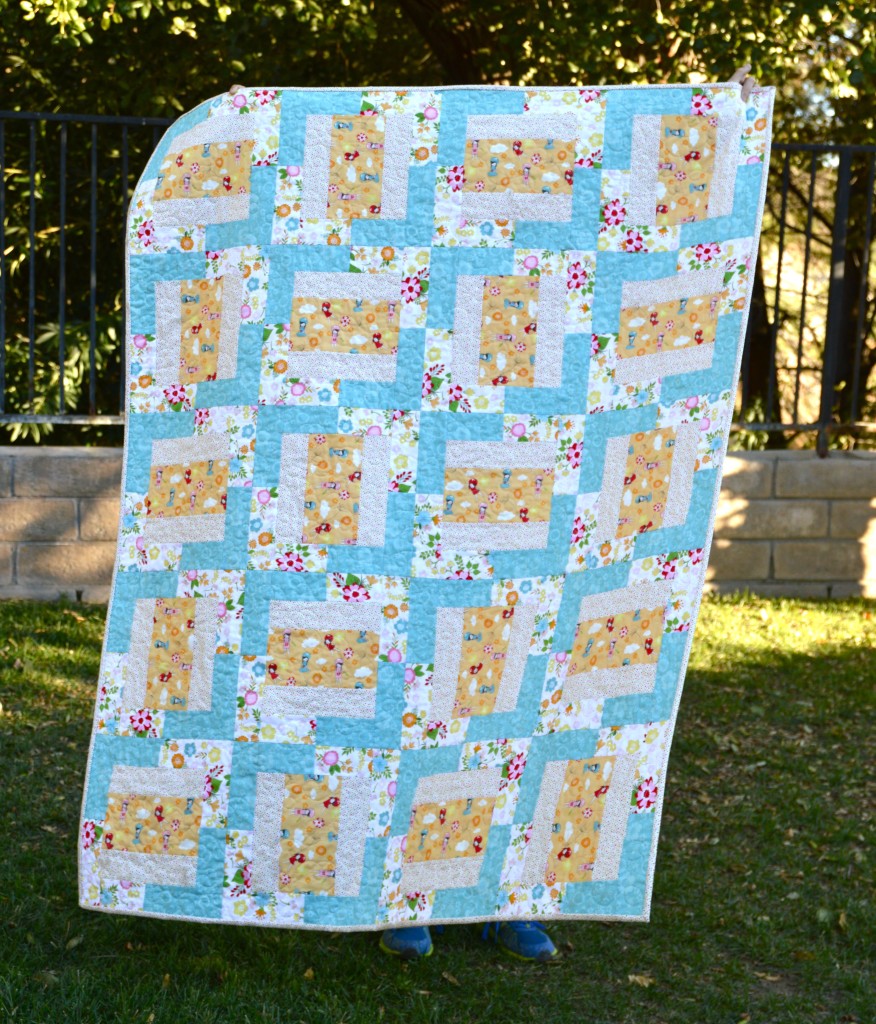 Someone is pretty happy!!  It's not everyday your mom sews a quilt just for YOU!!!!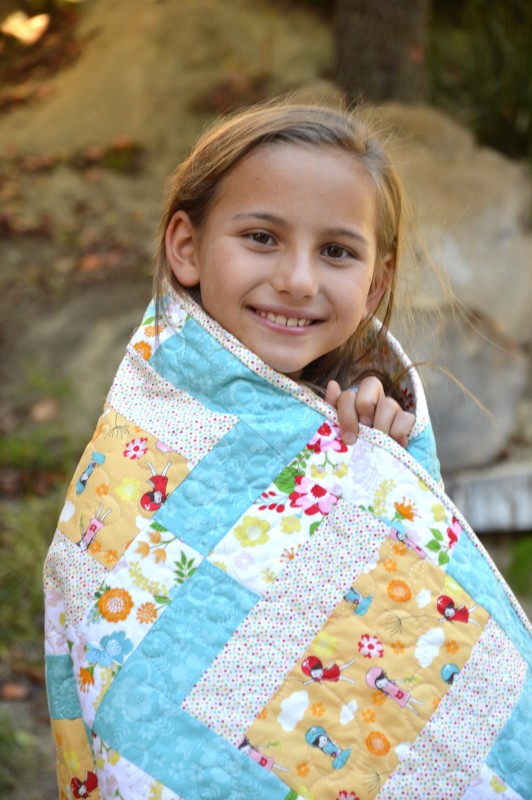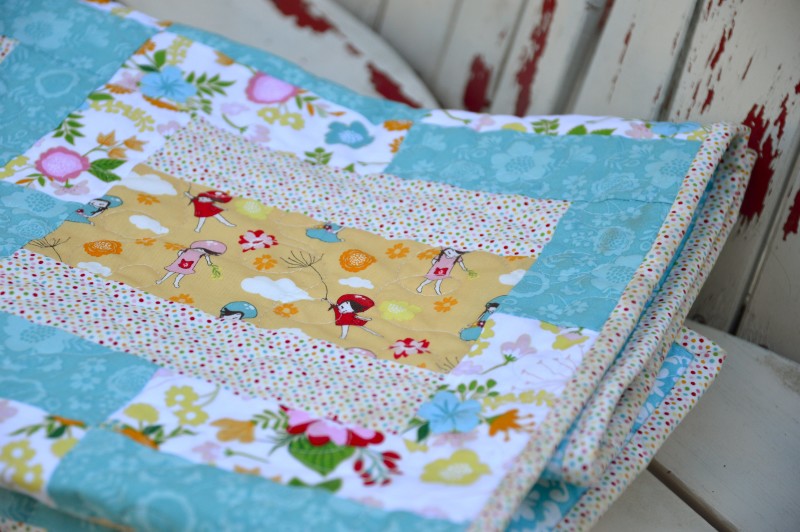 Mufasa looks a touch jealous!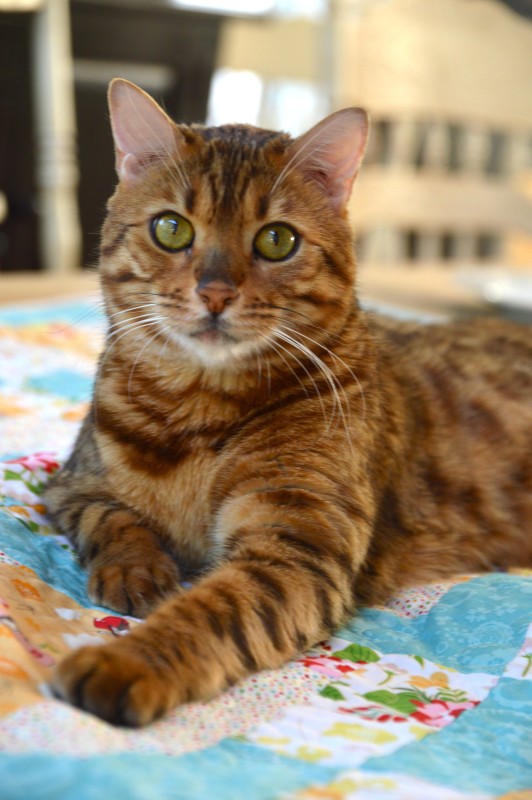 Check out these amazing designers and the awesome projects they've created using Wistful Winds by Riley Blake Designs!
October 3rd:
Amy Sinibaldi – www.nanaCompany.typepad.com
Kristyne Czepuryk – www.prettybyhand.com
October 4th:
Amanda Niederhauser – www.jedicraftgirl.com
Amy Smart – www.diaryofaquilter.com
October 5th:
Meagan Taylor/Kristi Jones – www.meagsandme.com
Christine Cook – www.stitchingrevival.com
October 6th:
Elea Lutz – www.elealutzdesign.com
Jodie Carleton – www.vintagericrac.blogspot.com
October 7th:
Sedef Imer – www.downgrapevinelane.com
Jina Barney – jinabarneydesignz.com
October 10th:
Elizabeth Evans – www.simplesimonandco.com
Kimberly Bourne – www.mainstreetmarketdesigns.com
October 11th:
Jemima Flendt – www.tiedwitharibbon.com
Nadra Ridgeway – www.ellisandhiggs.com
Amy Chappel – www.amerooniedesigns.blogspot.com
October 12th:
Katie Skoog – www.thesimplelifecompany.com
Amber Johnson – www.alittlebitbiased.blogspot.com
Gwen Sager – www.tillalili.blogspot.com
October 13th:
Angie Wilson – www.gnomeangel.com
Clare Horsman – www.claresplaceblog.blogspot.com
Deanna Wall – www.stitchesquilting.com
October 14th:
Melissa Mortenson – polkadotchair.com
Jessica Stewart – www.izzyandivydesigns.com
Shari Butler – www.doohikeydesigns.com/blog/
Save
Save
Save