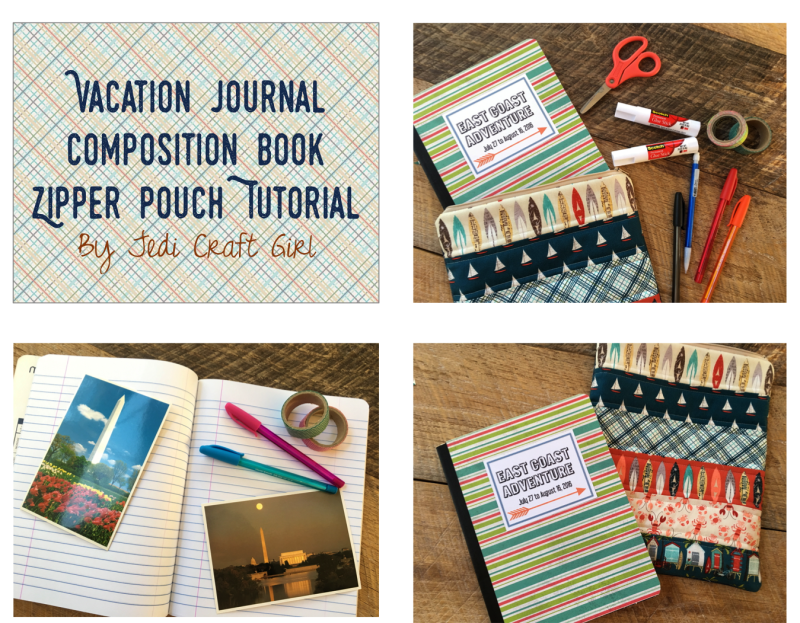 I had this great idea for my kids to keep a summer vacation journal.  I got each of them a composition book and covered it with patterned paper.  I thought it would be fun for them to have a zipper pouch to keep the journal in along with glue sticks, pens, pencils, scissors, washi tape, etc.  That way when we are traveling they can write down their experiences and also include post cards, maps, brochures, ticket stubs, and other memorabilia of our trip.  They were super excited to pick their own fabrics!  Here's how you can make one!!
Supplies:
Front: (6) 2.5″ x 10″ strips
Back: 12″x 10″ piece of denim
Lining: (2) 12″ x 10″ coordinating fabric
12″ or longer zipper
All seams 1/4″
Begin by cutting the 2.5″ x 10″ strips for the front.  You will need 6.
Sew together and press.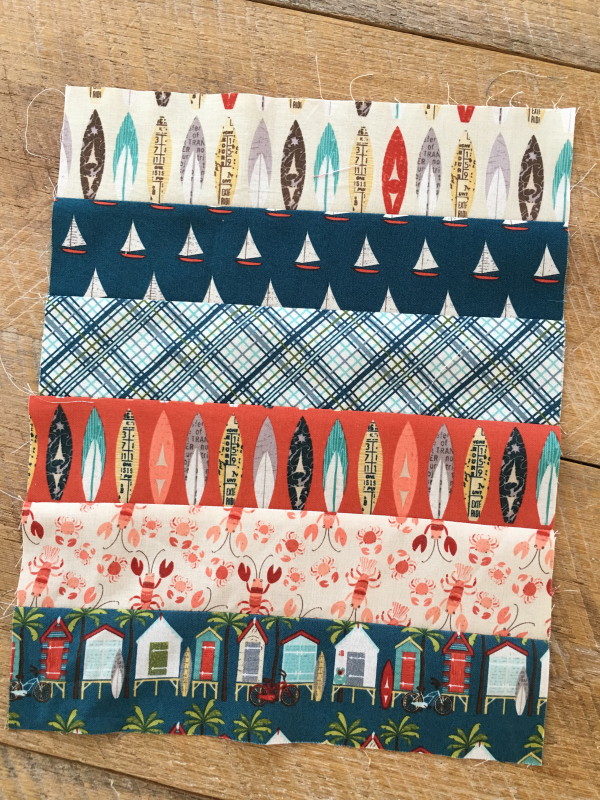 Ryan choose Off Shore by Riley Blake Designs.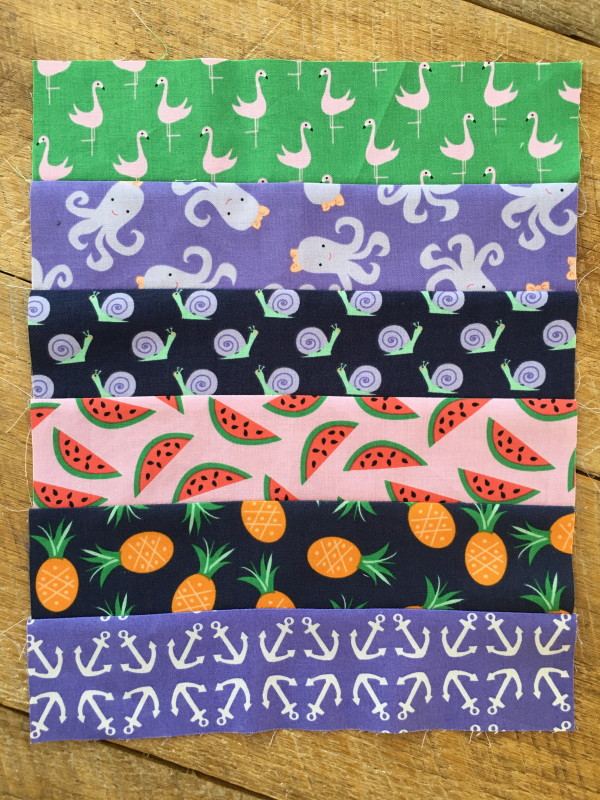 Sally choose these fun prints from Dear Stella.
Once the strips are sewn it's time to quilt.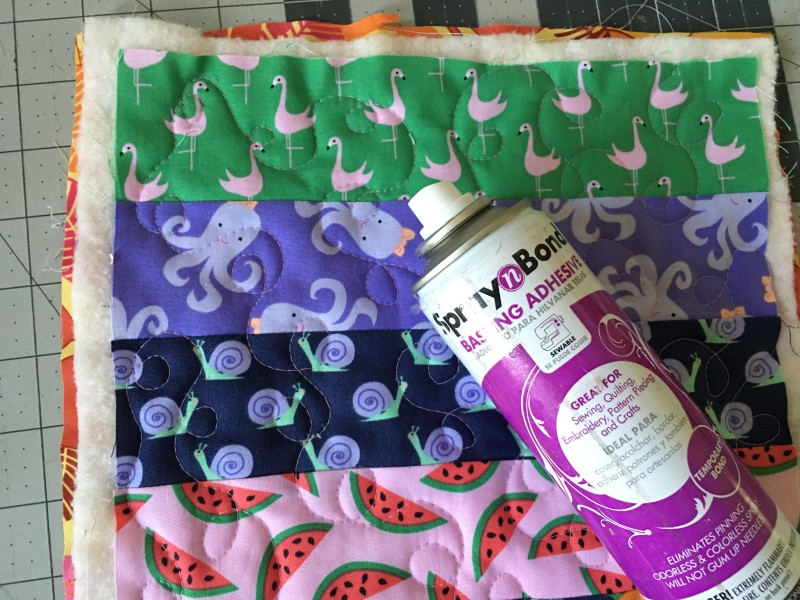 Baste the pieced front to the batting.  For a little extra stability I add an additional piece of fabric to the back of the batting – one that will not be seen.  So I use fabric I don't like.  Quilt.  Square up.  Depending on how much you quilted, your measurements might have changed a touch.  The piece before quilting should measure 12″ x 10″.  If it has changed, make a note and use this measurement to cut the denim back and the lining pieces.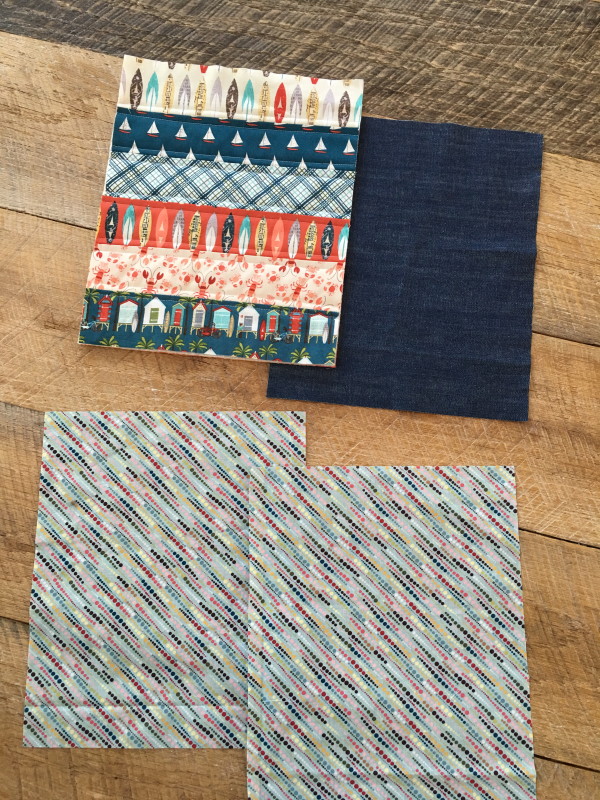 Now it's time to install the zipper.  If you need more assistance on the zipper, I have a whole section of zipper pouch tutorials that will have more detail.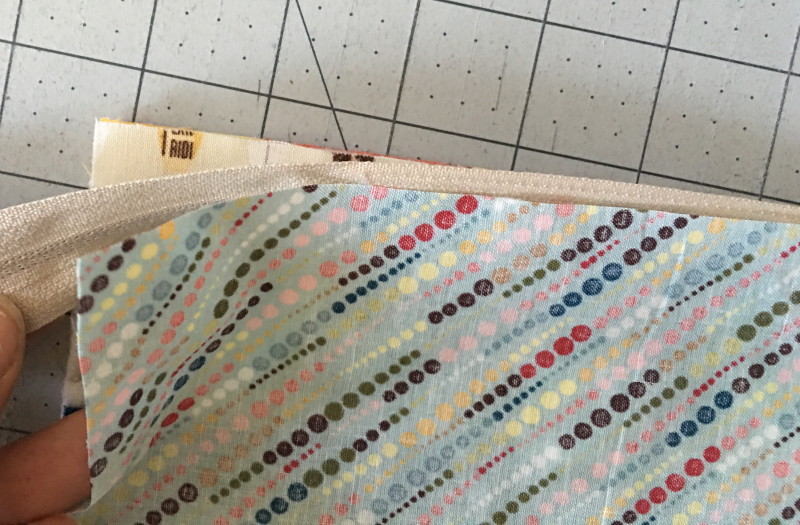 Lay the front piece face up.  Align the zipper face down.  Add one of the lining pieces also face down.  Make sure all the top edges match.  Pin.  I buy my zippers extra long so there is zipper hanging off on both sides – not to worry 🙂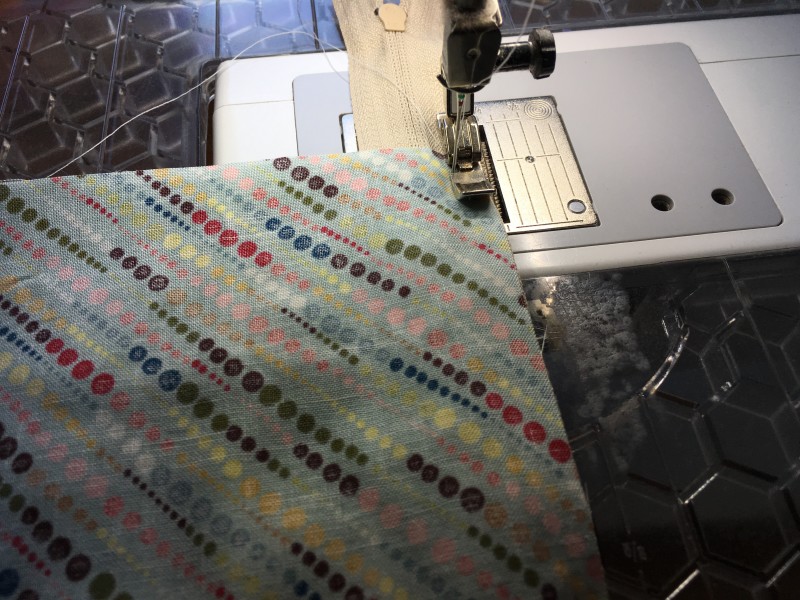 Using a zipper foot, sew 1/4″ along the raw edges.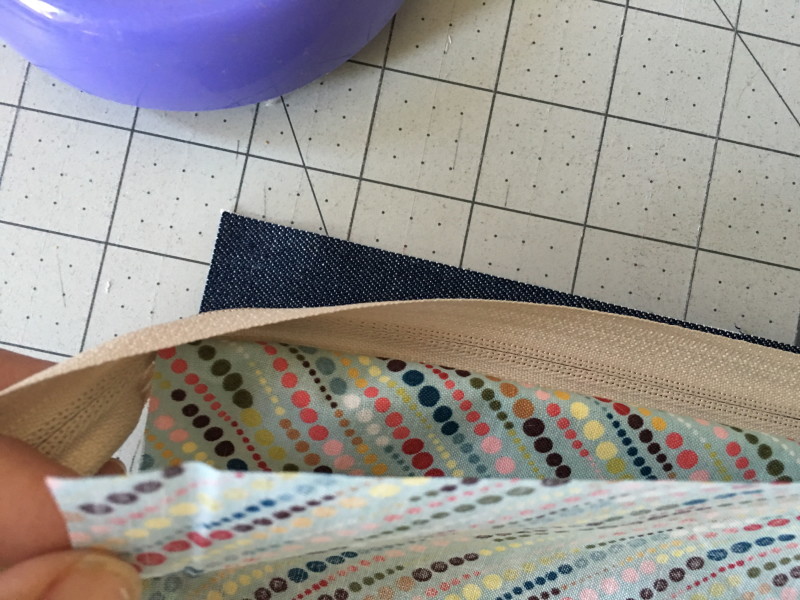 Now repeat with the other side.  Lay the denim face up.  Position the bag front and zipper face down.  Lay the second piece of lining face down as well.  Align all top edges, pin, sew.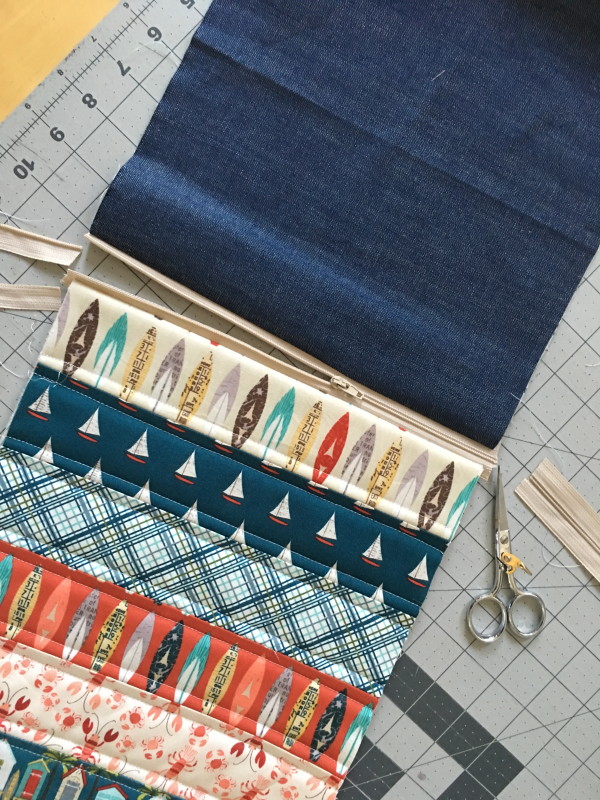 Press the fabric along the zipper.  I usually top stitch 1/8″ away from both sides of the zipper.  In my haste to get these done super fast I forgot this step.  Position the zipper in the center of the bag and trim off the excess zipper.
Match the lining pieces right sides together.  Match up the denim and front pieces right sides together.  Pin all the way around.  Here is what it looks like where the zipper ends meet.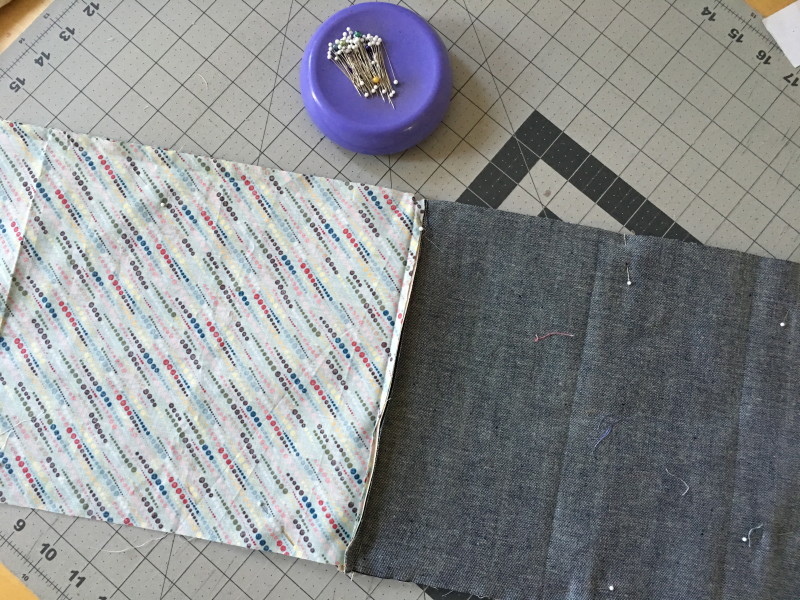 Sew 1/4″ all the way around the bag leaving a 3″ opening on one of the lining sides.  Turn right side out and top stitch the lining closed.  Press.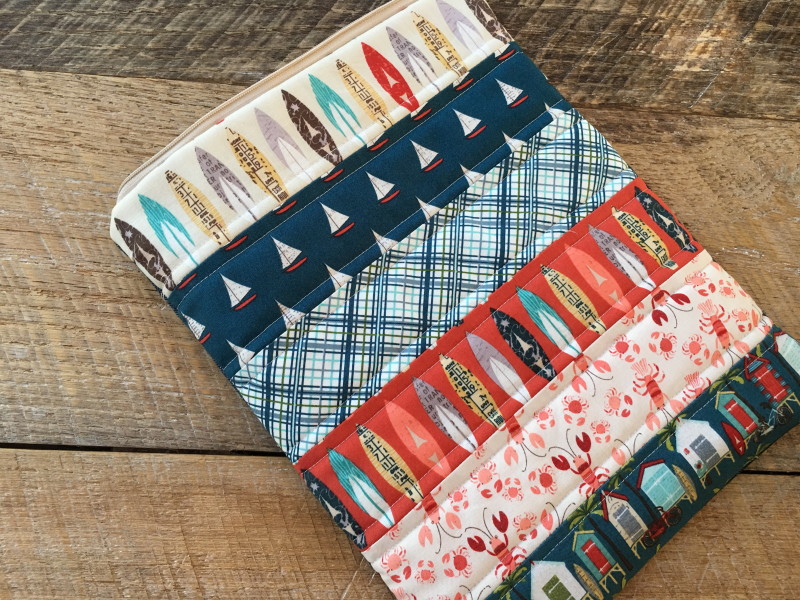 I love how they turned out!  My kids are thrilled as well!!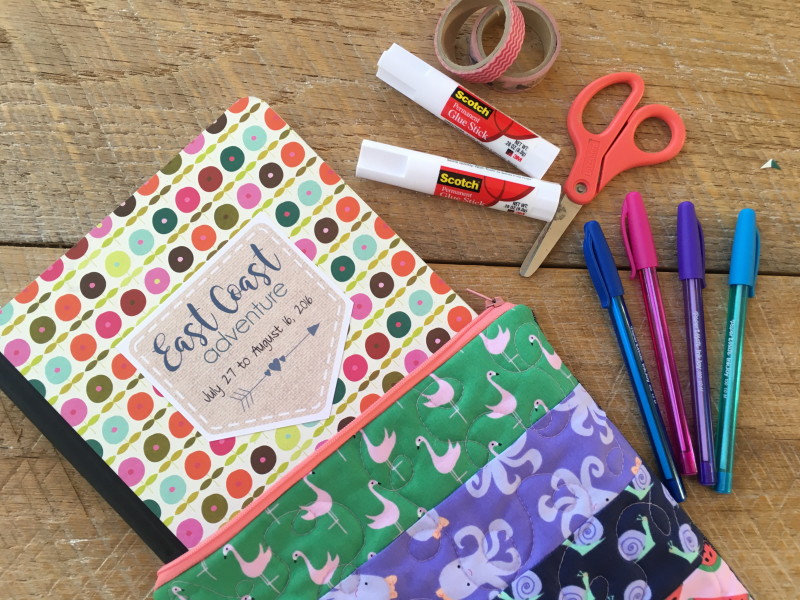 Now we are ready for a fun adventure!