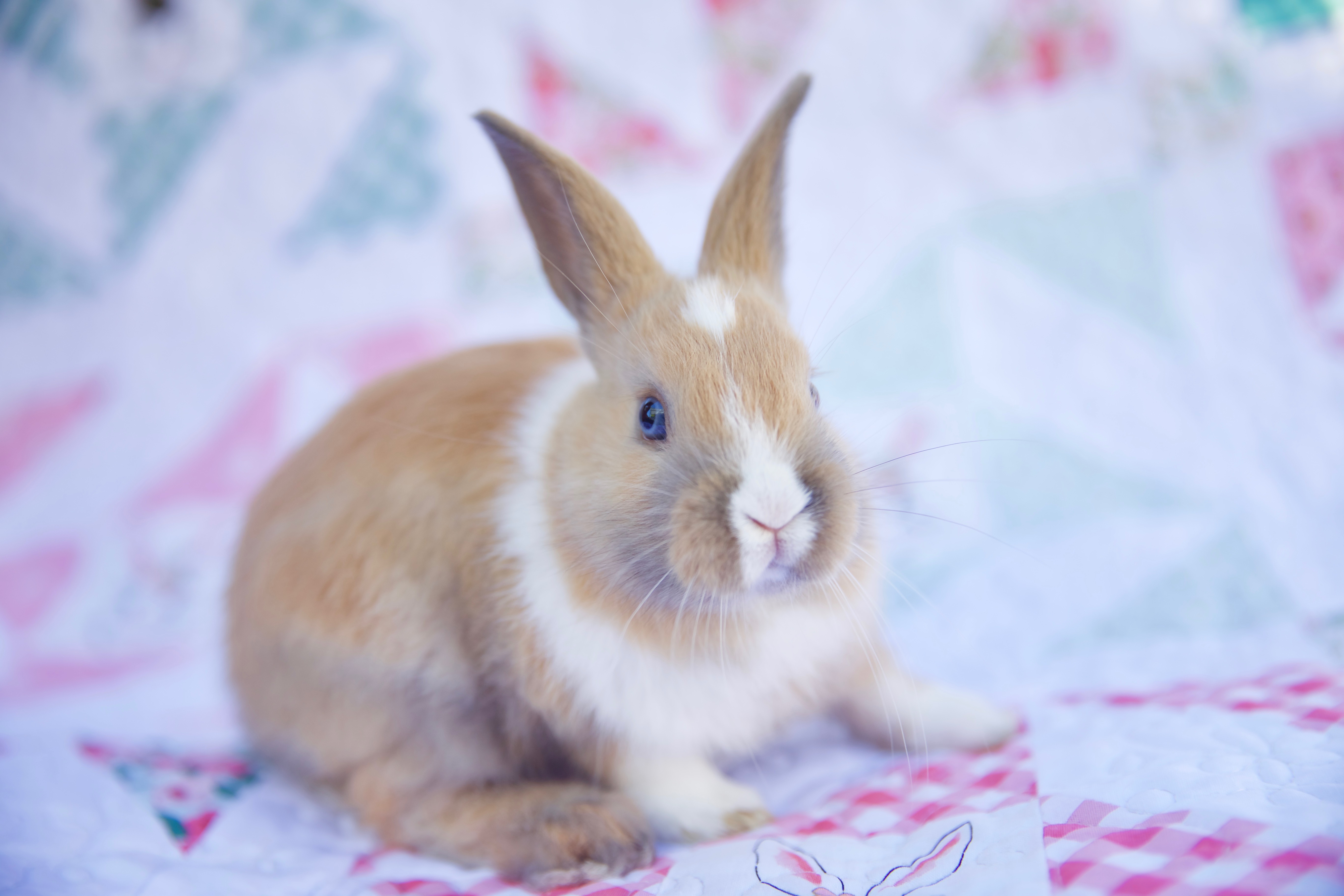 I'm super excited to be participating in the Riley Blake Designs Wonderland Two Blog Tour today.  Melissa Mortenson from the Polka Dot Chair is as sweet as her adorable bunny fabric!!  I can't even begin to say how much I love this fabric line!!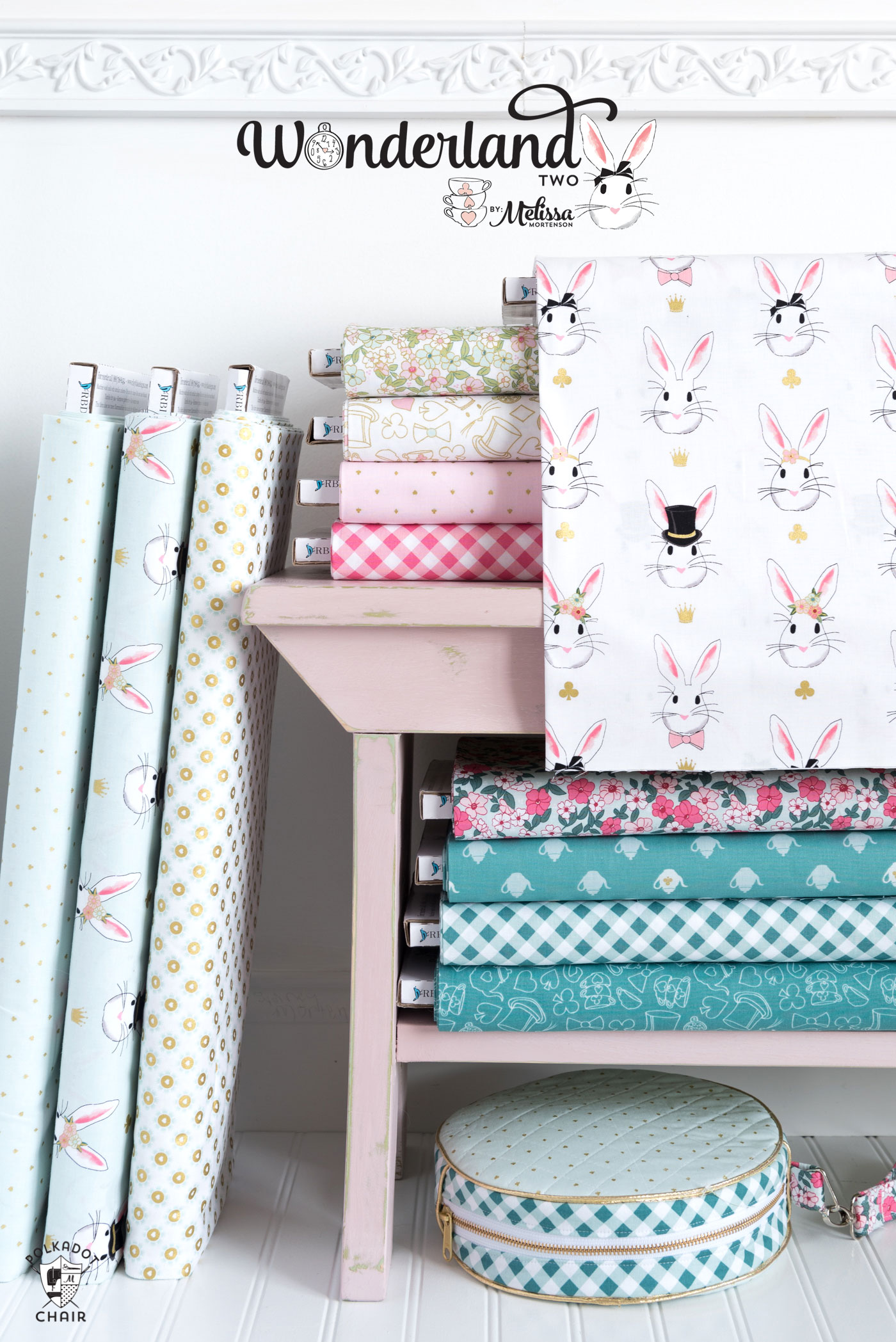 I wanted to make a little something that used most of the fabrics and showed off the bunnies!!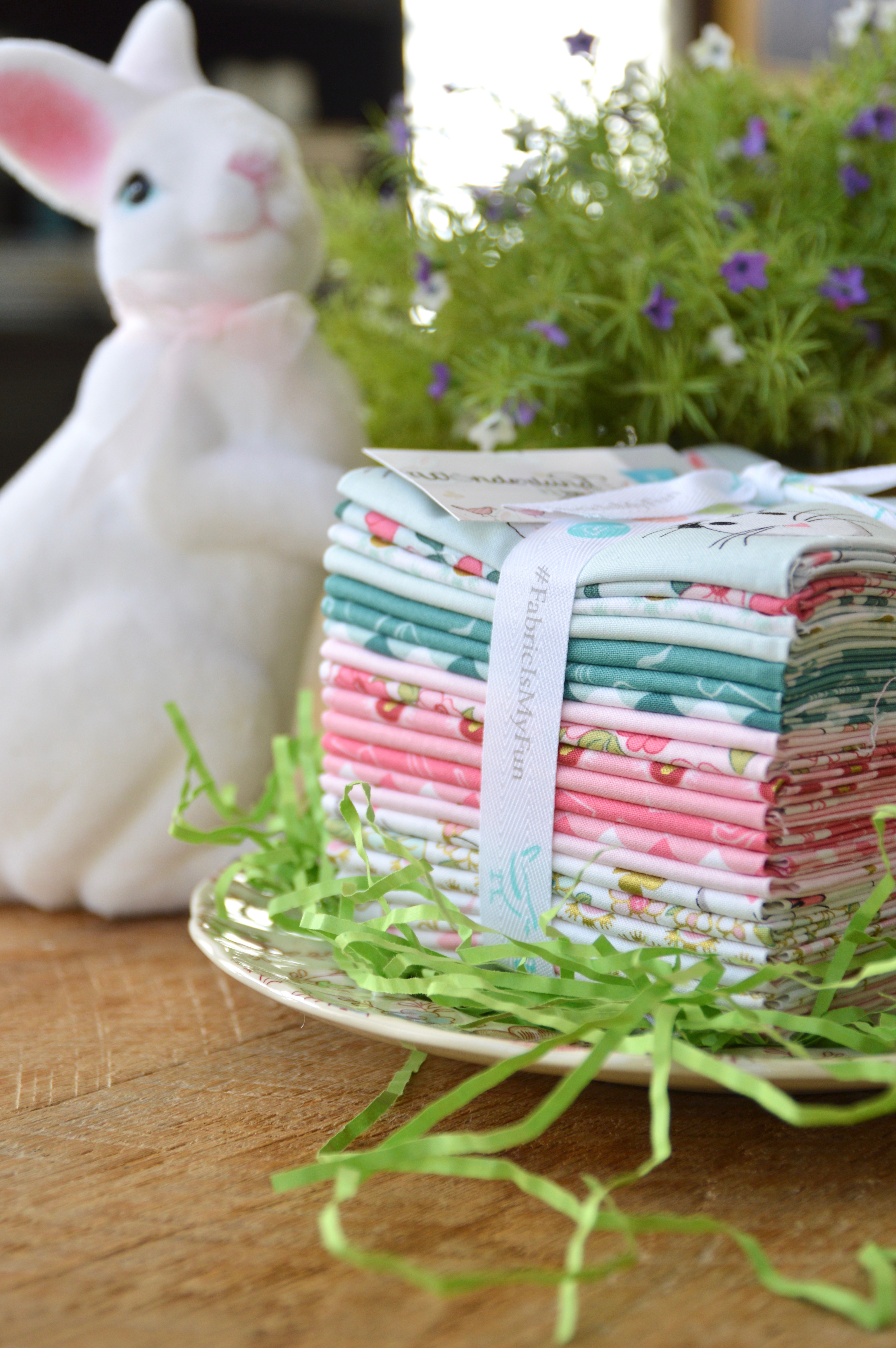 My sister unintentionally raises bunnies and this sweet little baby bunny volunteered to be the quilt model 🙂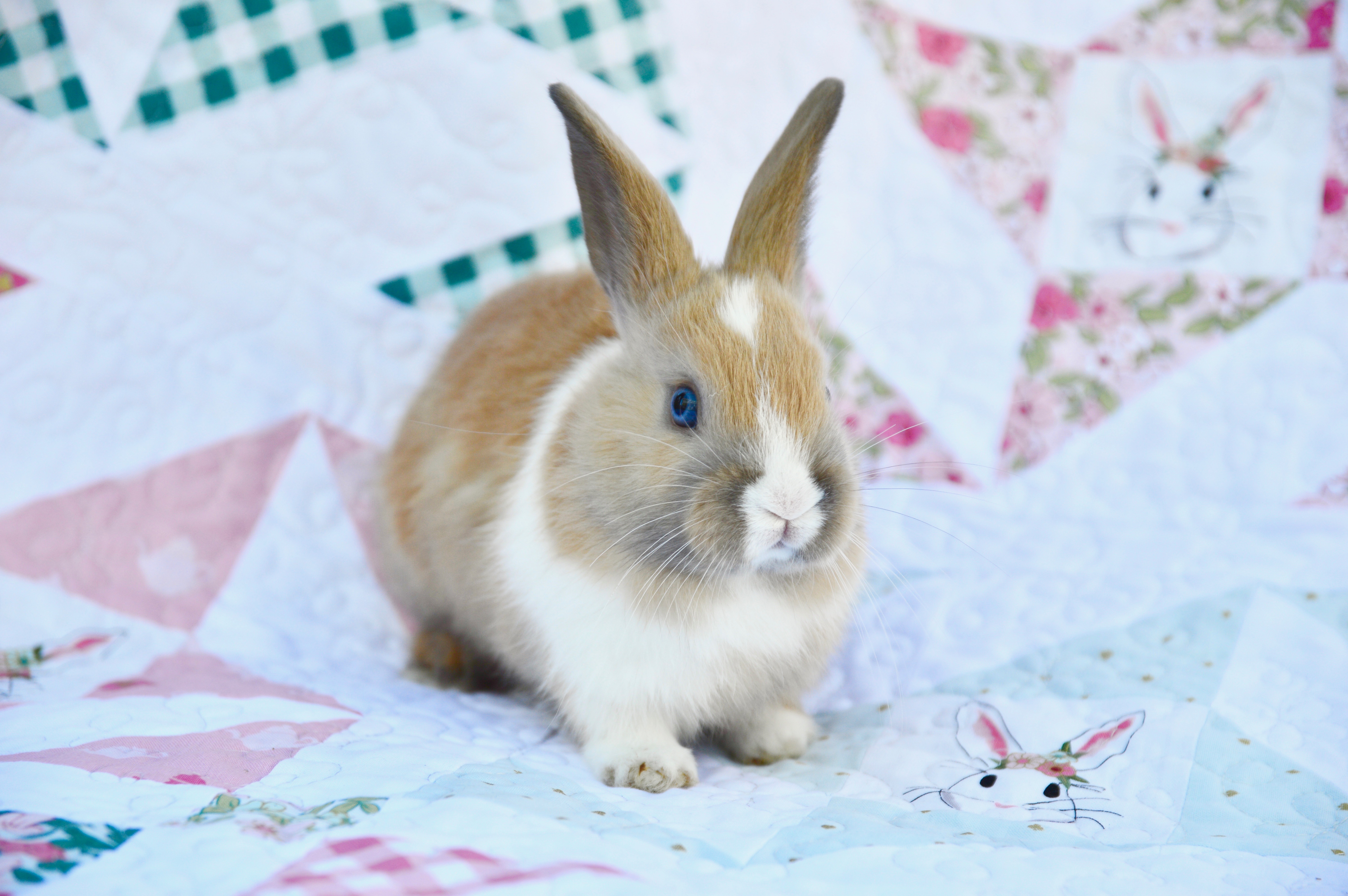 I came up with this fun little wall/table quilt that is perfect to add to your spring decor.  Now I wish I had a big giant quilt of this!!!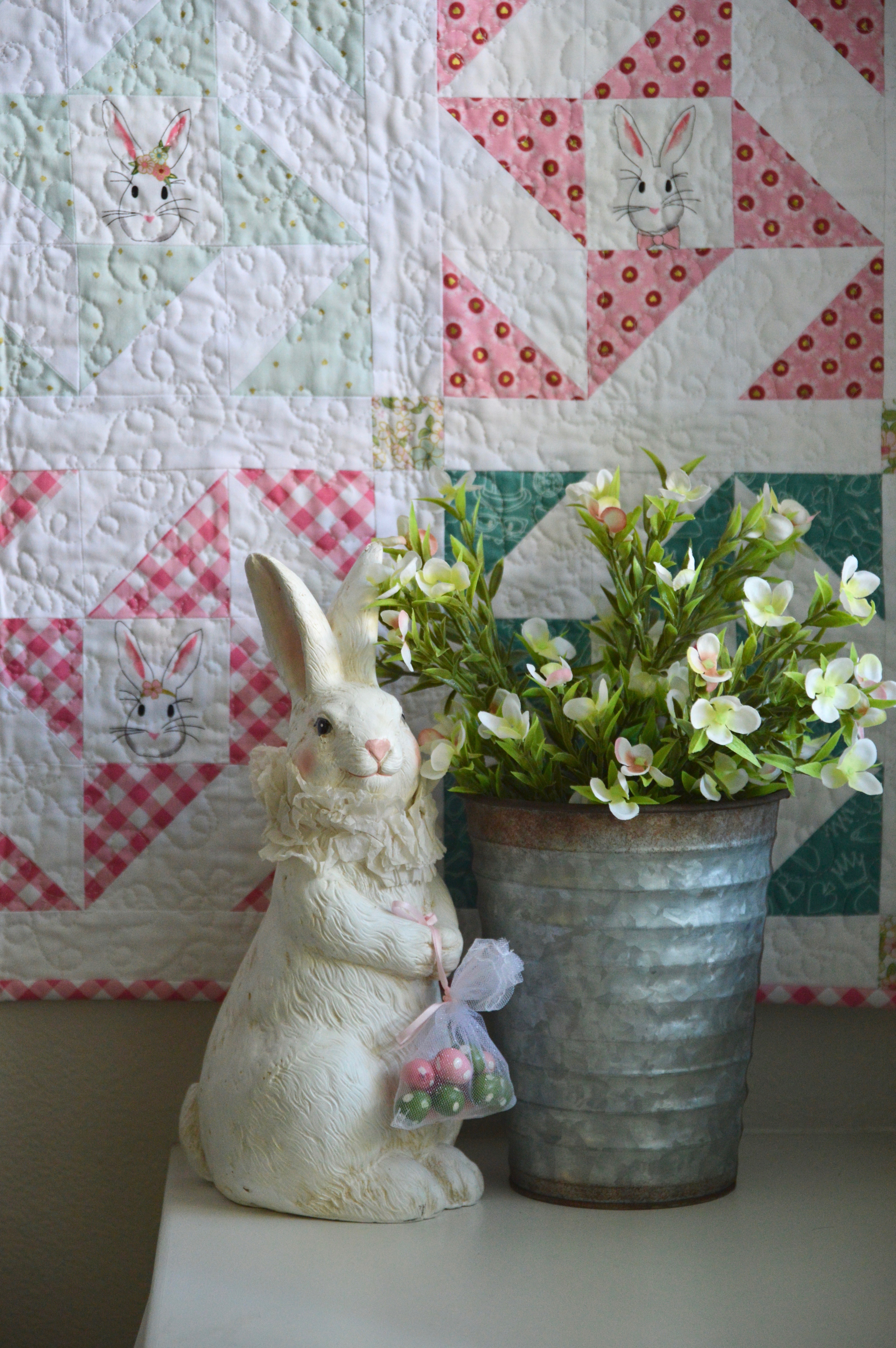 The quilt measures 32″ square and the blocks are 9″ finished.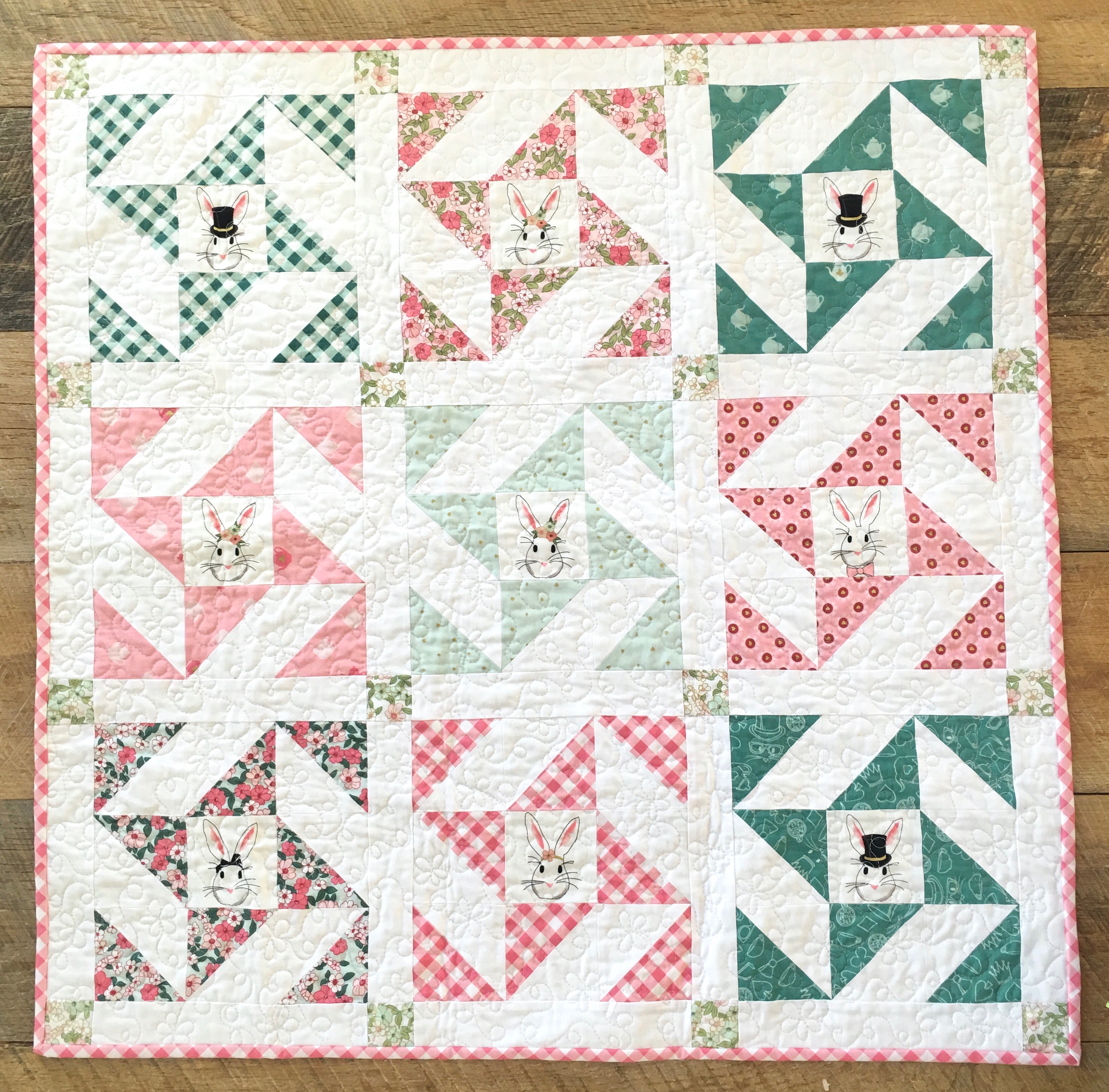 Let's get started!
All seams 1/4″
Press Seams Open on all seams
Fabric Requirements:
1 yard white background fabric
9 fat quarters or quarter yards of assorted Wonderland 2 prints for blocks
1 fat quarter white bunny fabric
1 fat quarter or quarter yard corner squares
1/3 yard gingham for binding
1 yard backing
Fussy Cutting
Cut a 3 1/2″ window out of a piece of ugly gold card stock…….heeeeheee.
I label my windows with the size and save them so I don't have to repeat this process.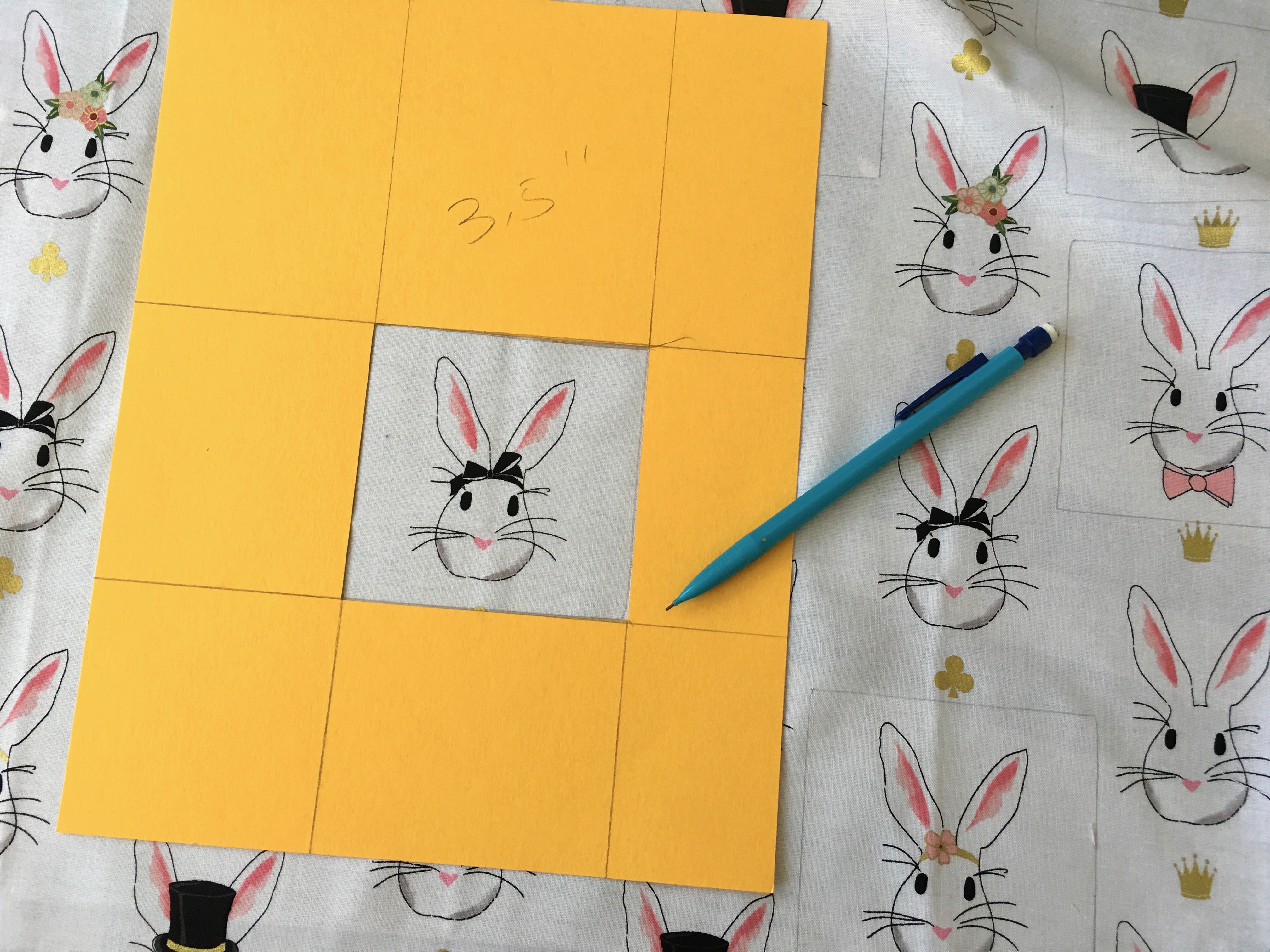 Lay the window over the rabbit and center.  With a pencil, draw a line following the window edge.  Cut roughly around it with scissors.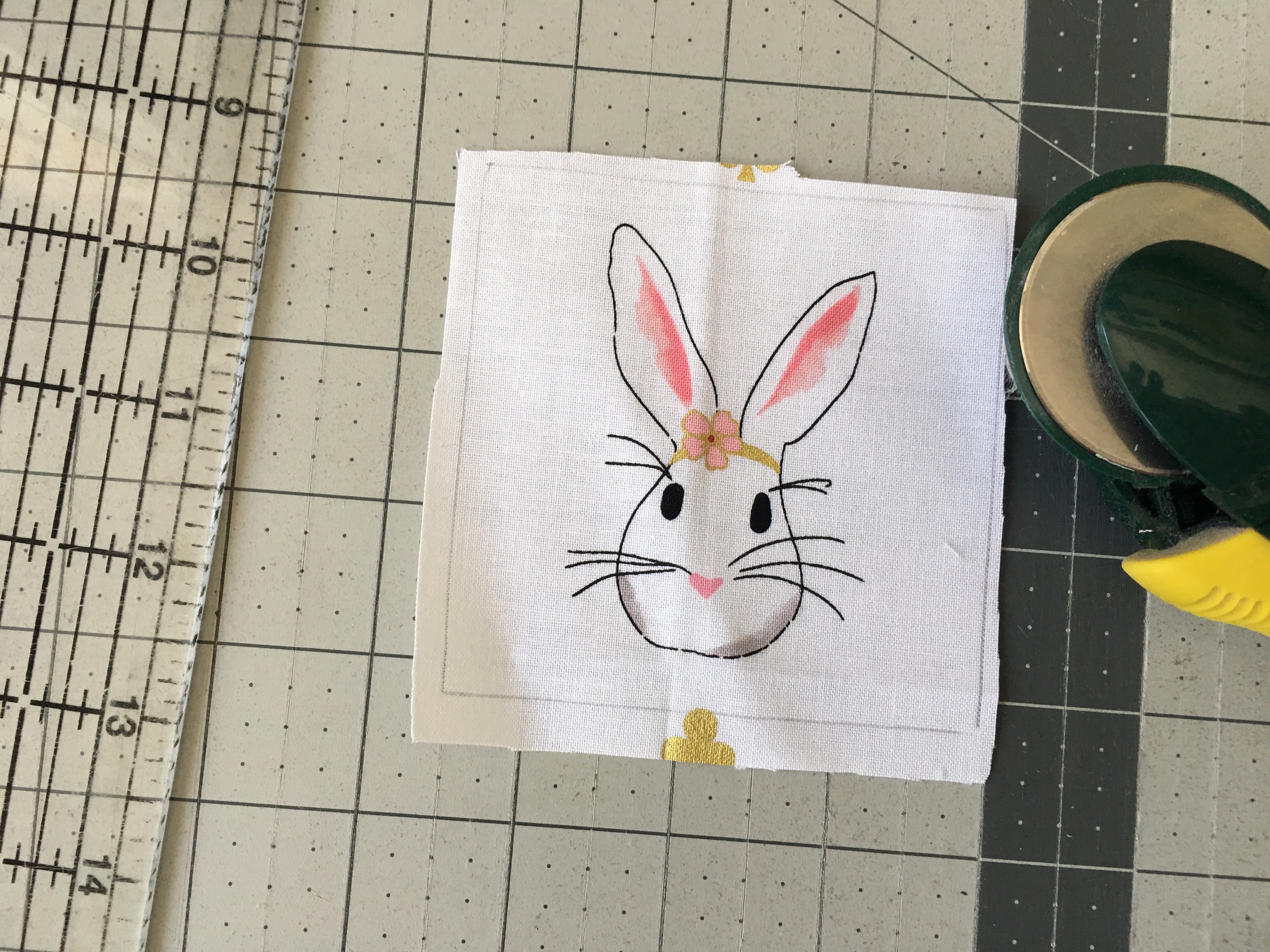 Lay the rough cut square on the rotary mat and align the pencil lines with the grid lines.  Use the ruler and cutter to cut a nice even 3 1/2″ square.  Cut 9 of these.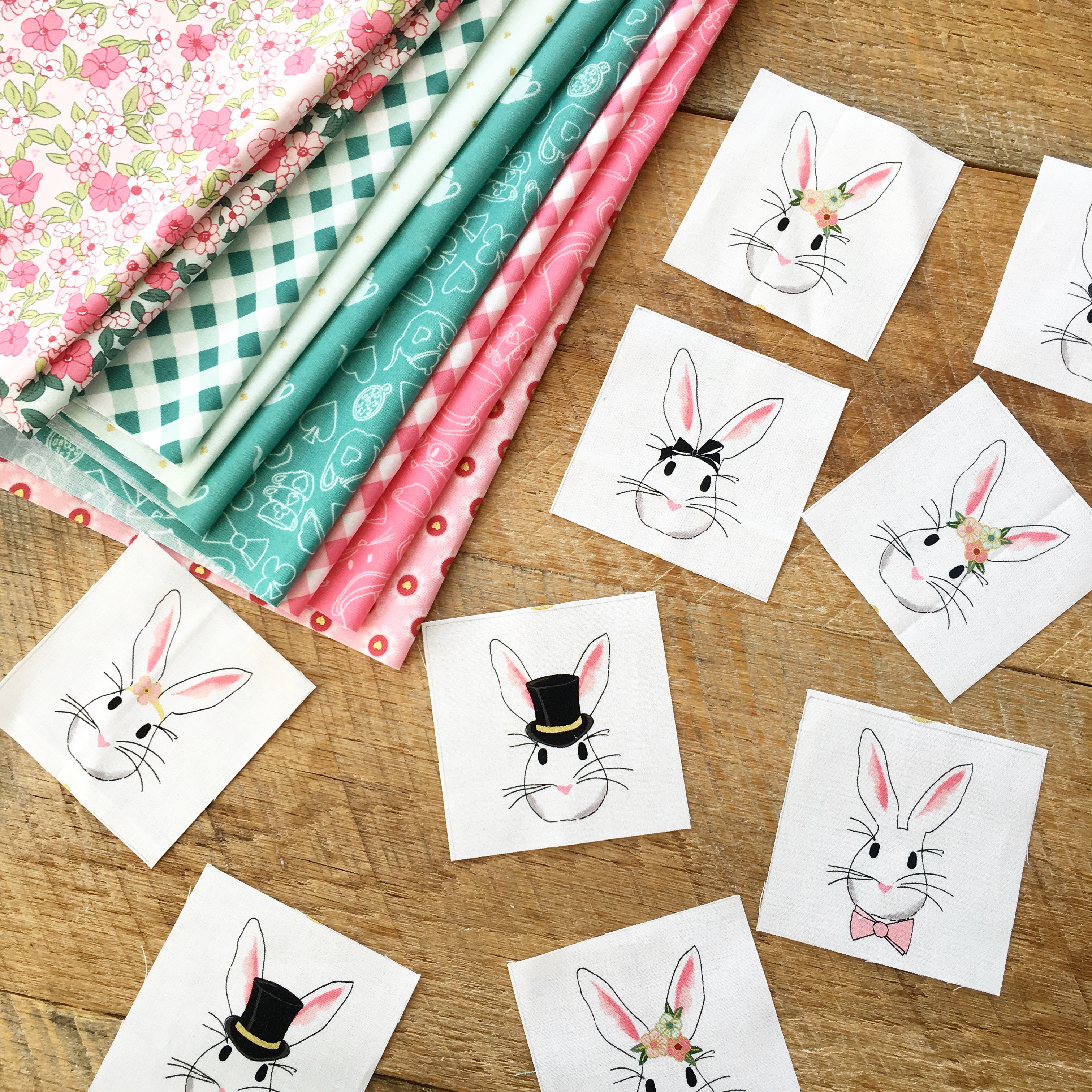 They are so cute!
Half Square Triangles
I use my Sizzix machine for making half square triangles (HSTs).  You can also use your preferred method to make the HSTs.  They need to measure 3 1/2″ .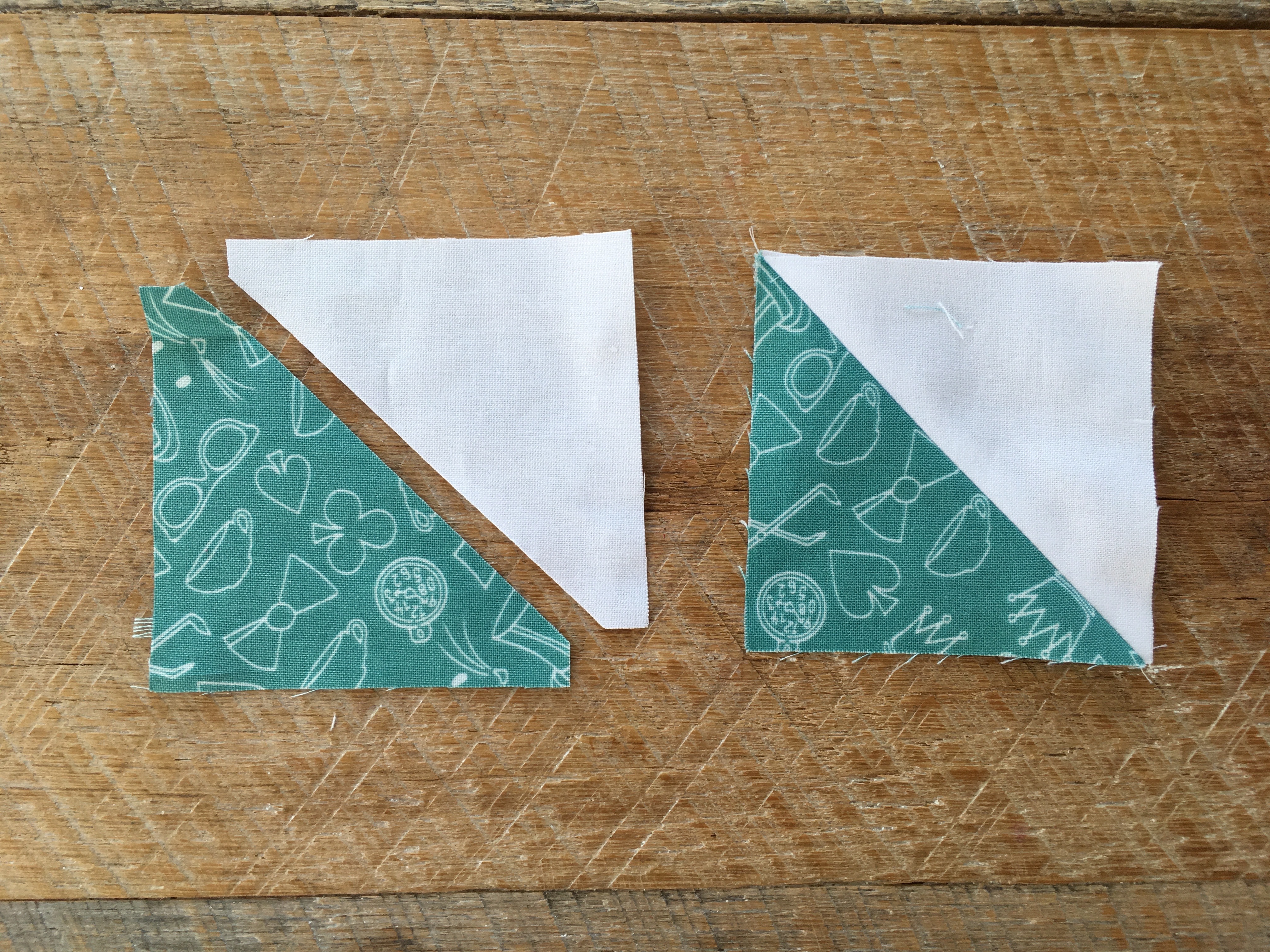 Press seams open.
For each block make (8) HSTs and one center rabbit.  You will need to make 9 blocks.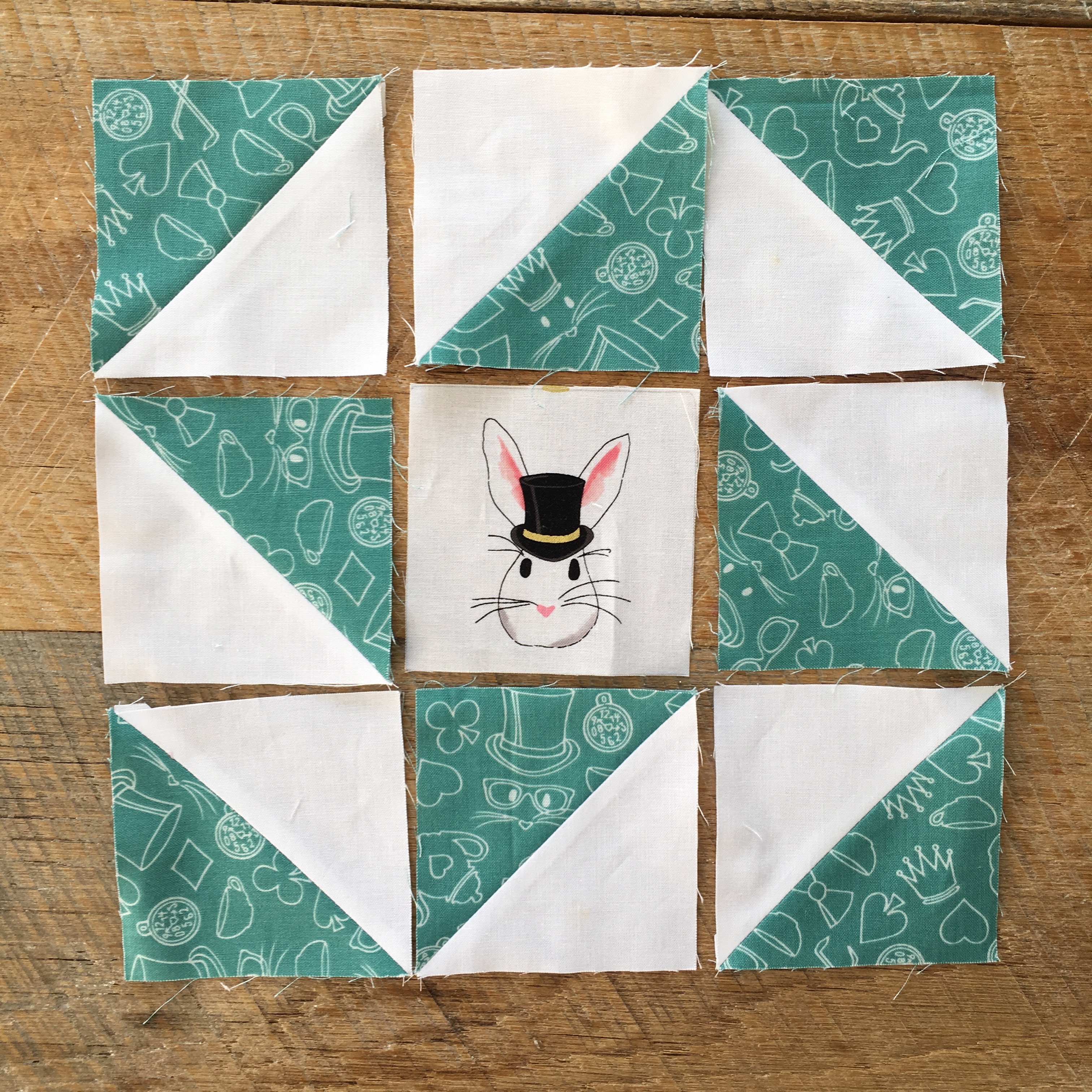 Sew together in rows and press seams open.  Pin rows together matching intersections.  Sew and press open.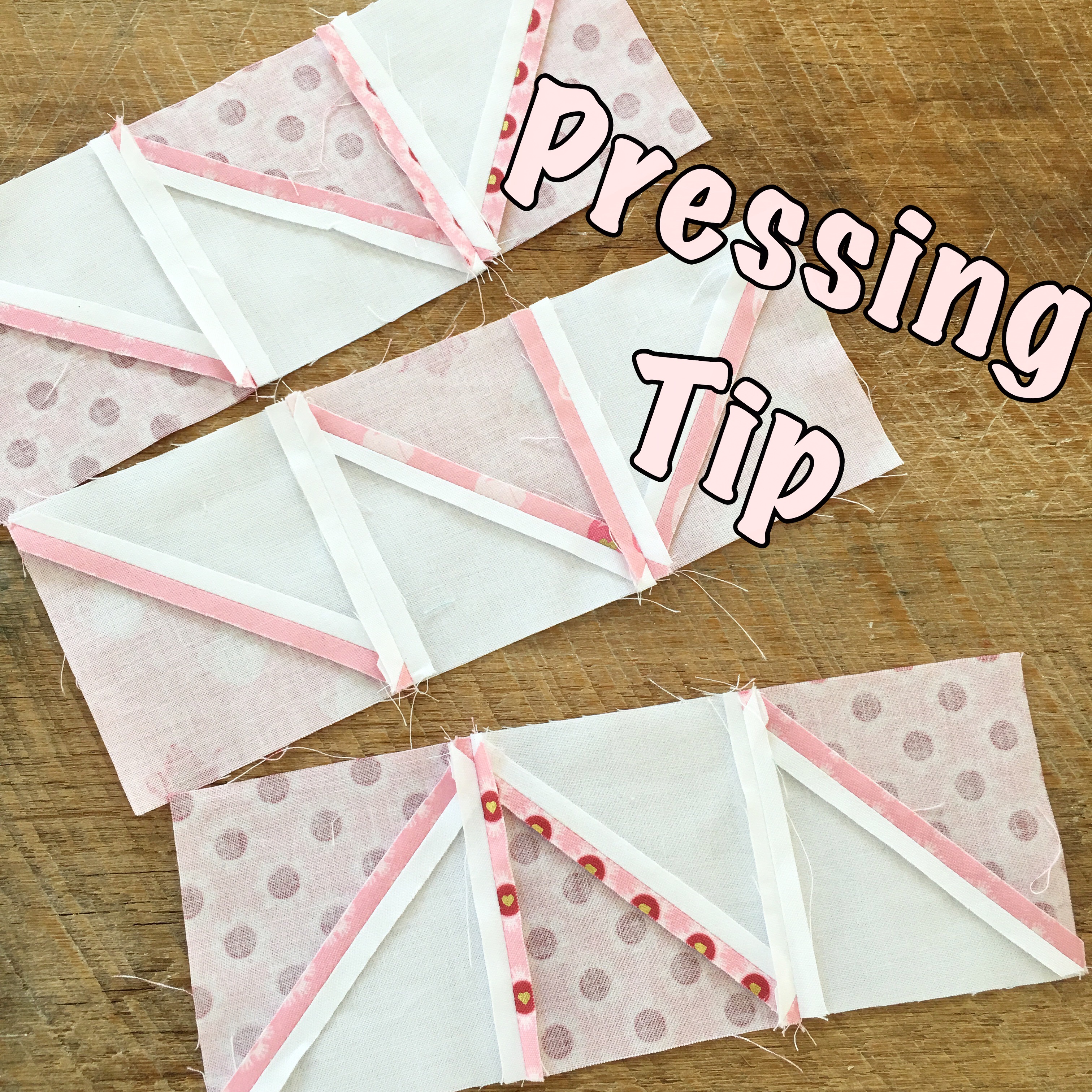 For easier open seam pressing, press seams to one side and then press open.  It saves you from burning your fingers.  Quilt block should measure 9 1/2″ at this point.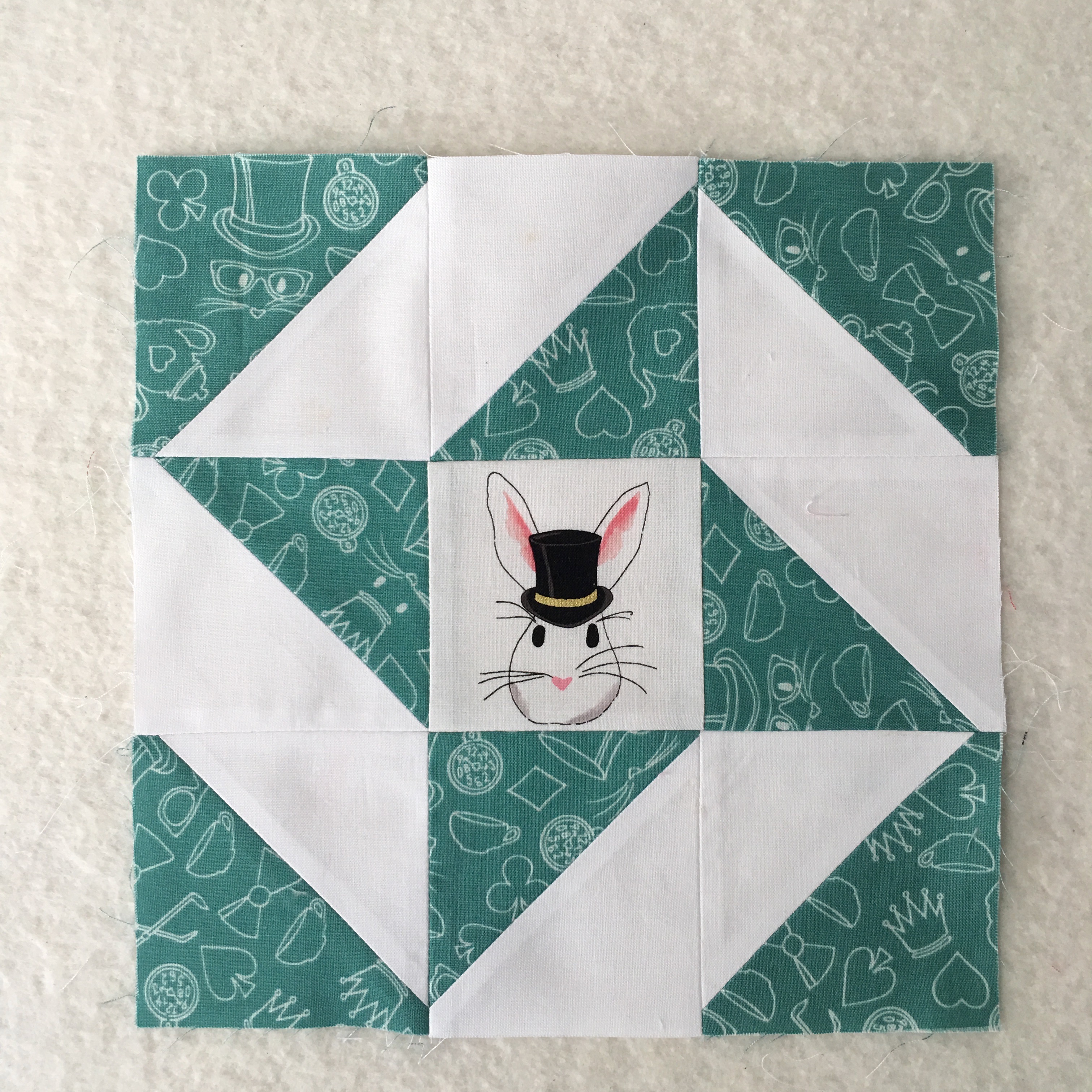 Ta Da!  Continue until you have made 9 blocks.  I made 4 pink and 5 teal.
Quilt Sashing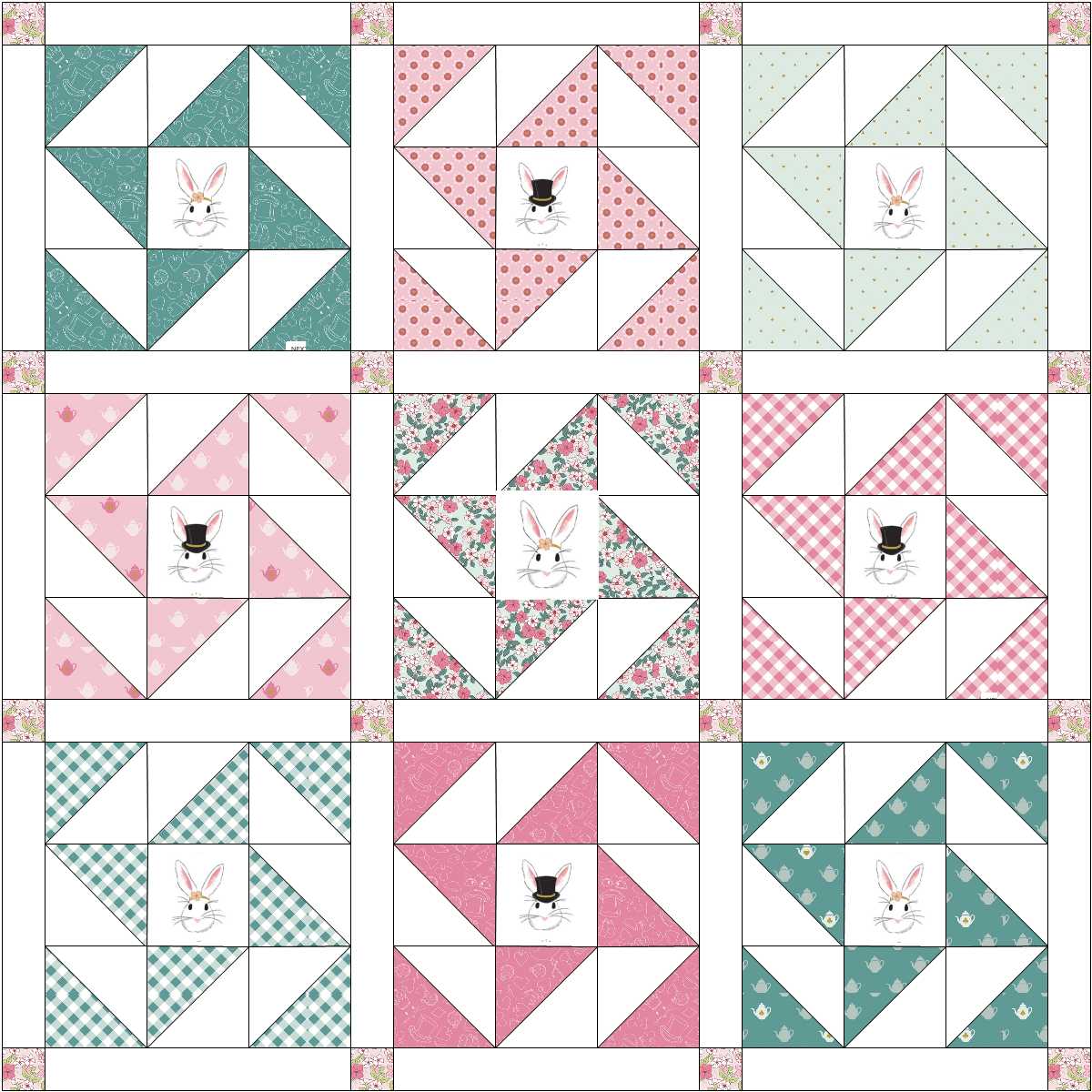 Each of the 9 blocks are sashed.
Cut (24) 2″ x 9 1/2″ background rectangles
Cut (16) 2″ x 2″ floral setting squares
Lay the quilt out as pictured above.  Sew the sashing strips and setting squares together and press toward the sashing.
Sew the blocks with the white sashing strips and press toward the sashing.
Pin the rows together, matching seams and sew.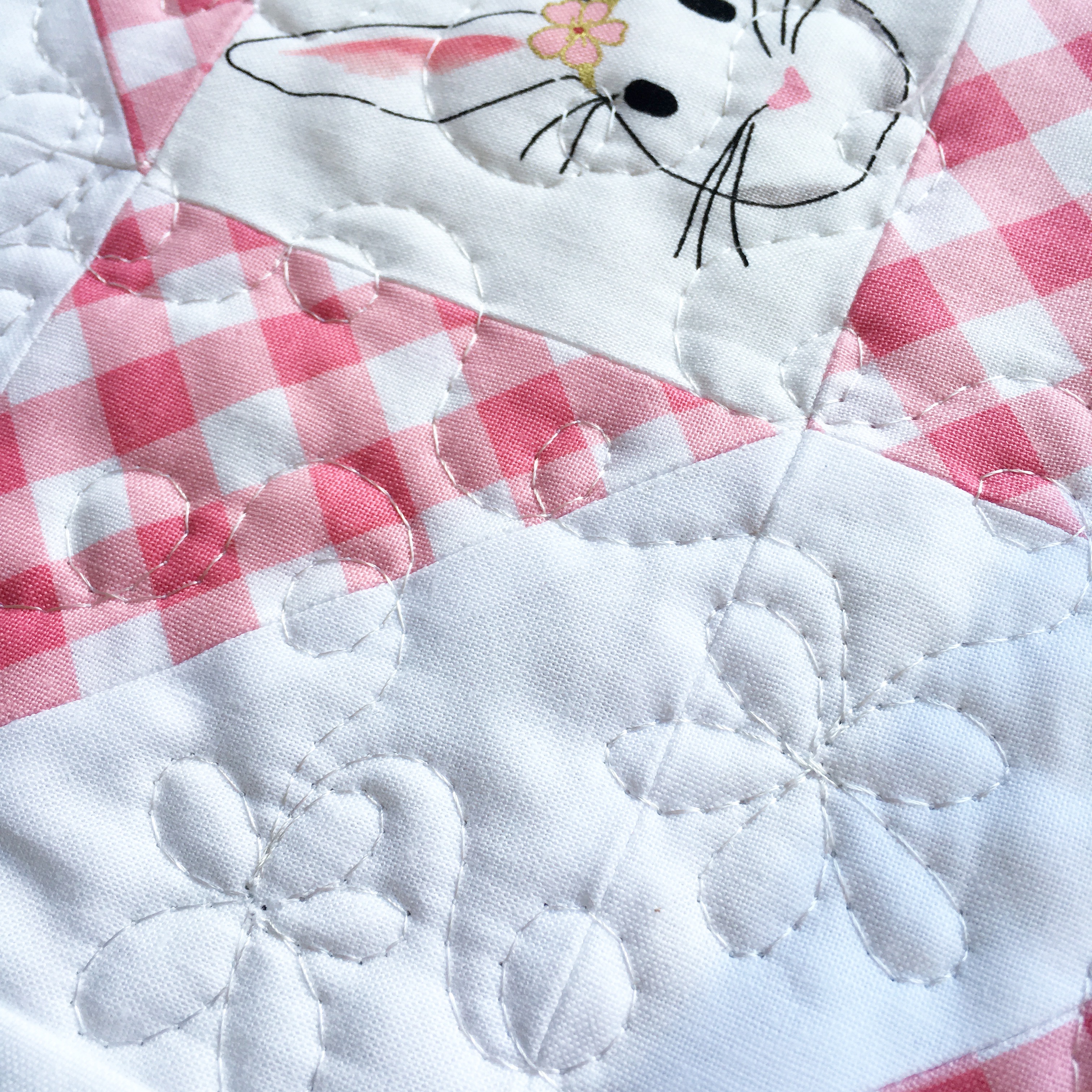 Time to quilt!  I quilted loops and small 5 petal flowers in an all-over pattern. Mufasa supervised.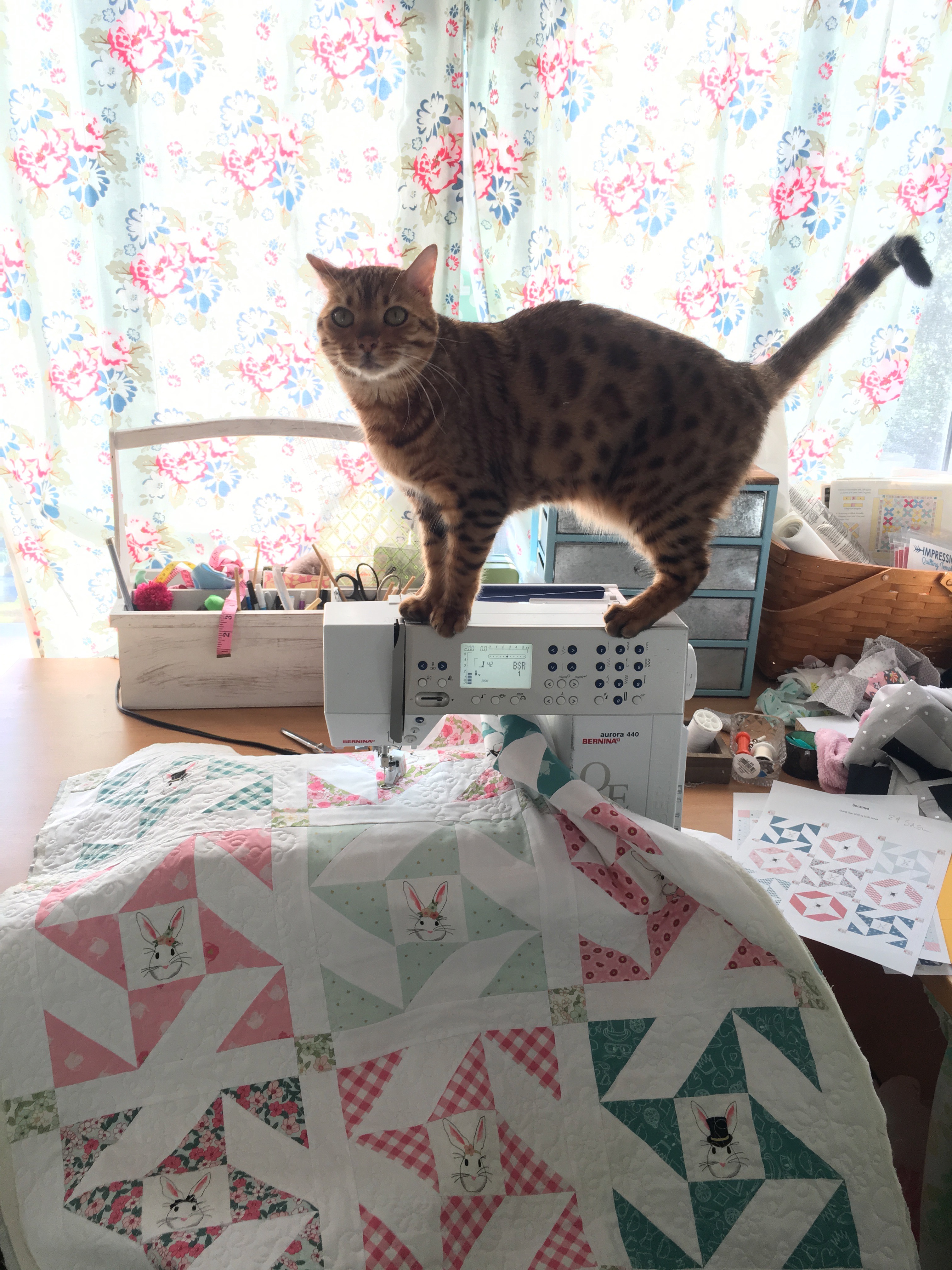 Once it's quilted, add the gingham binding.  I love that the gingham is printed on the bias because it makes for easy cutting!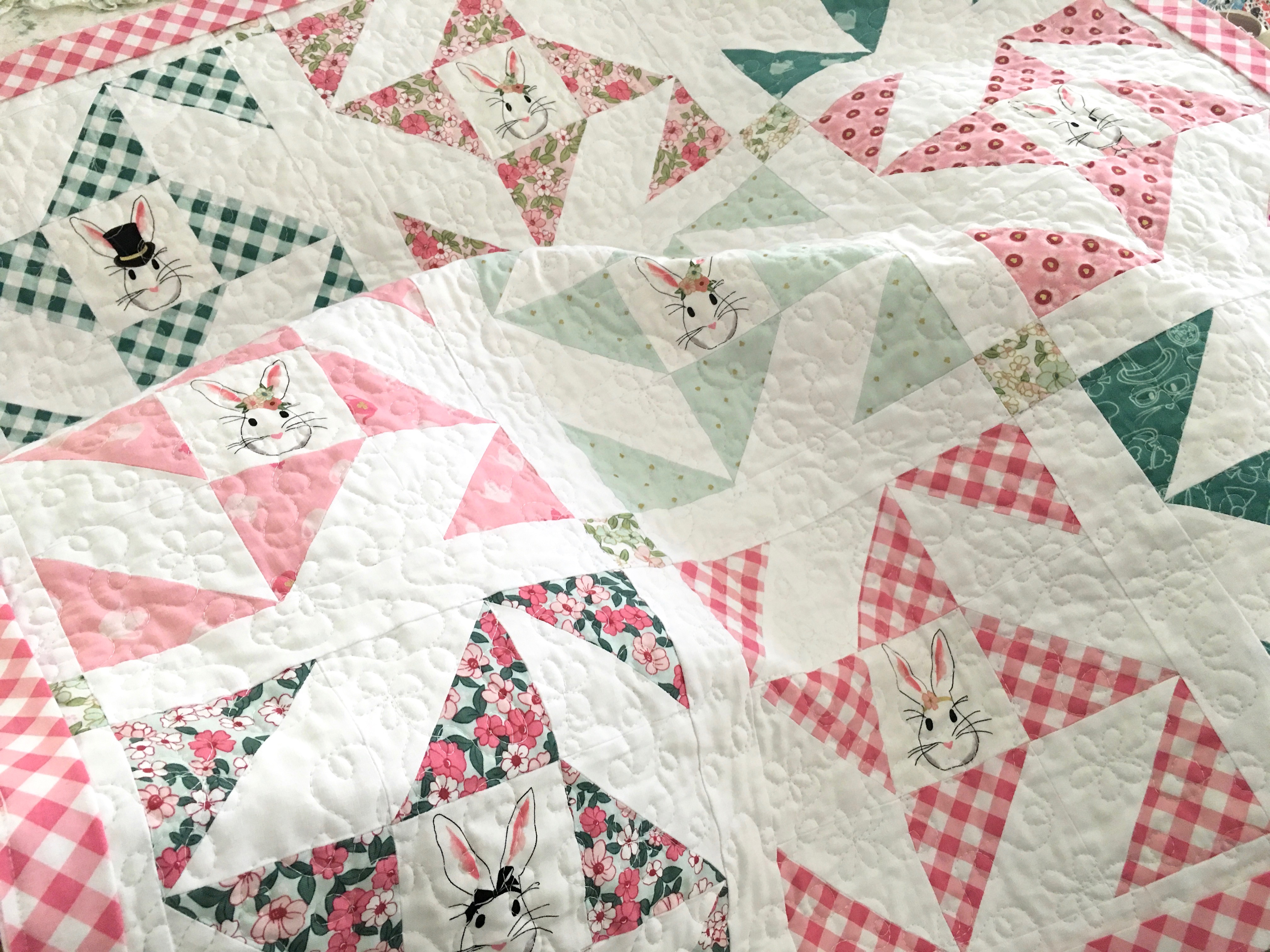 I love how this little quilt turned out!  It is so precious!  I can't wait to sew something else with this fabric!!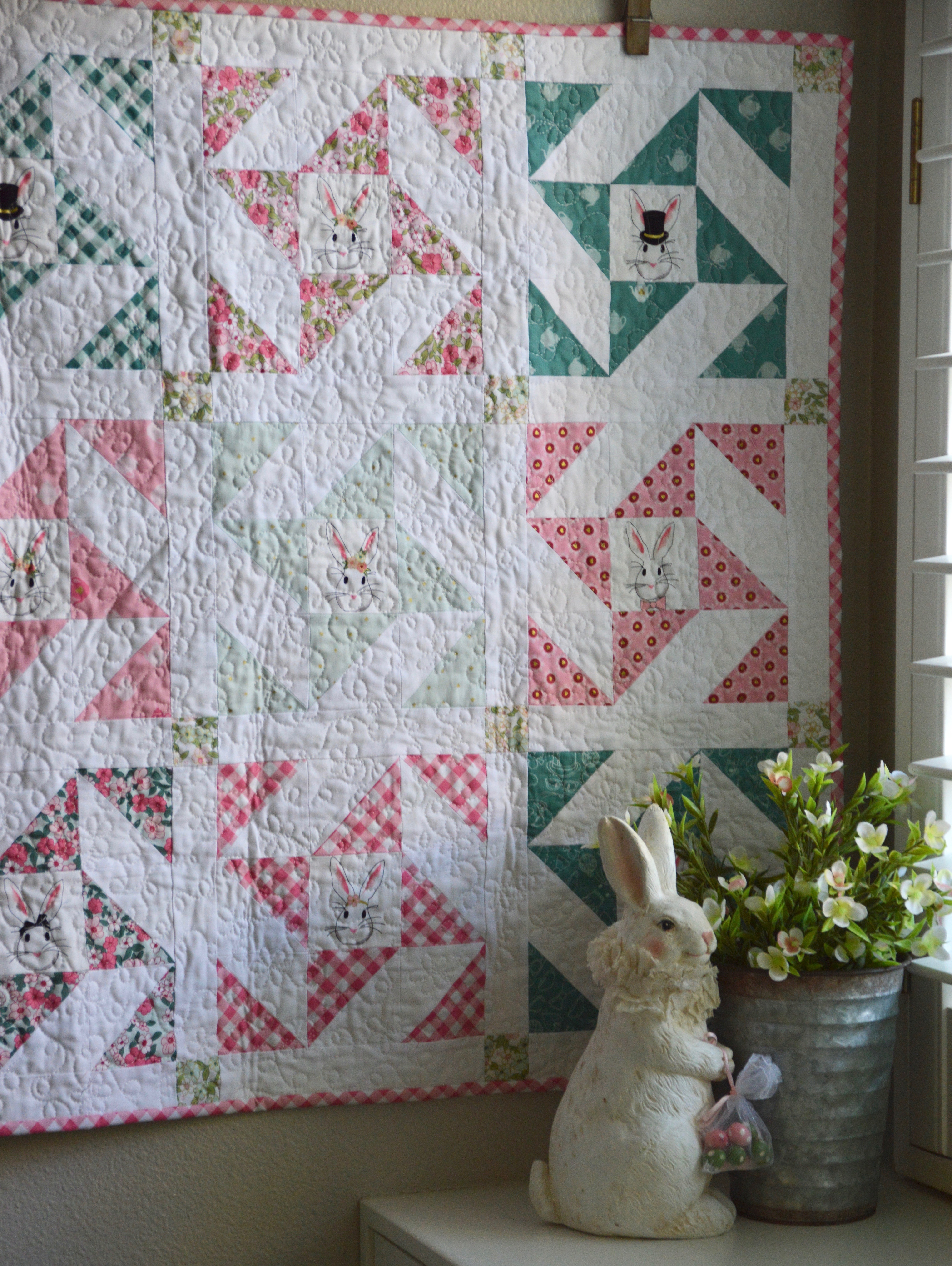 And now for all the baby bunny photos!!!!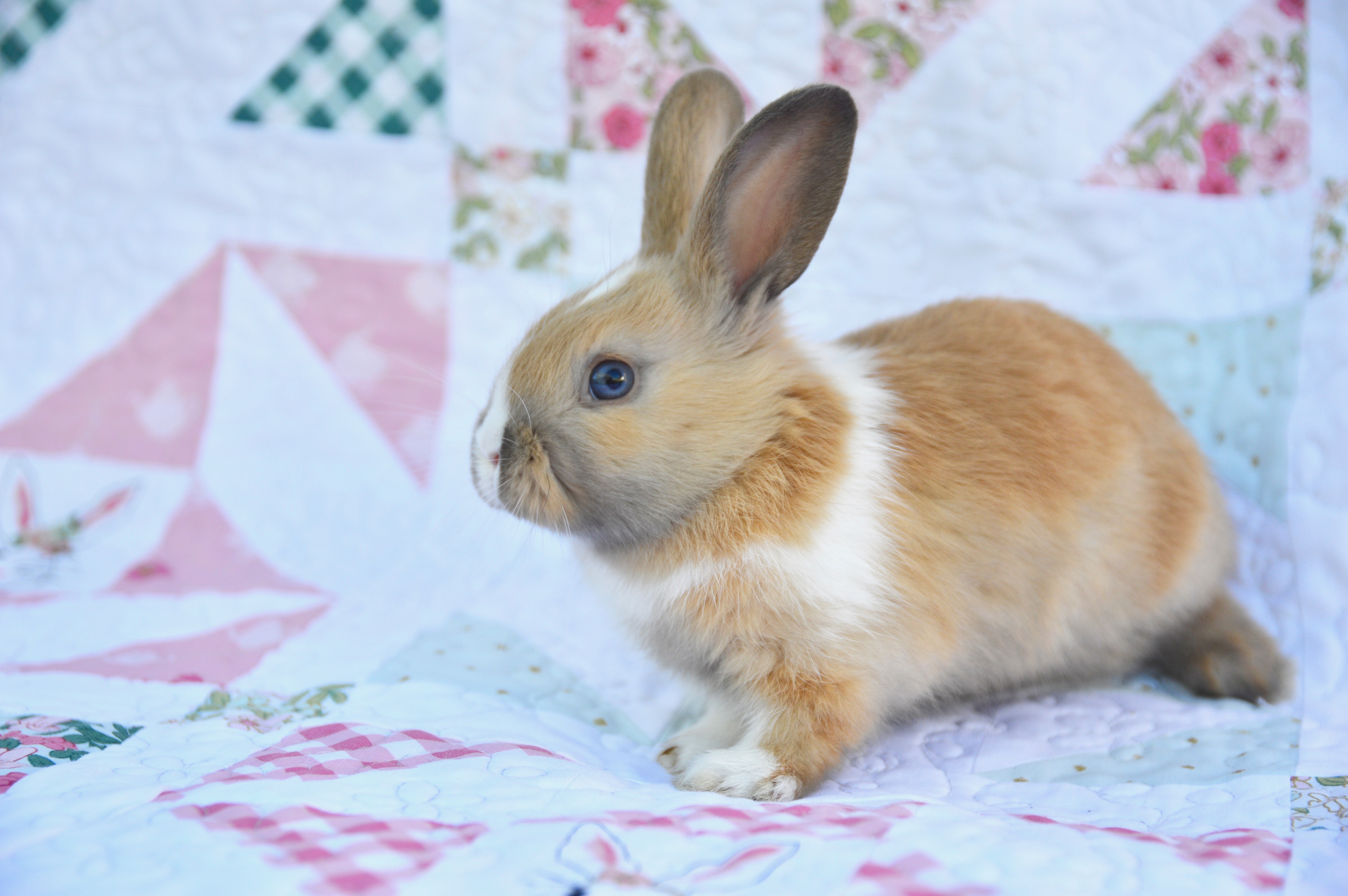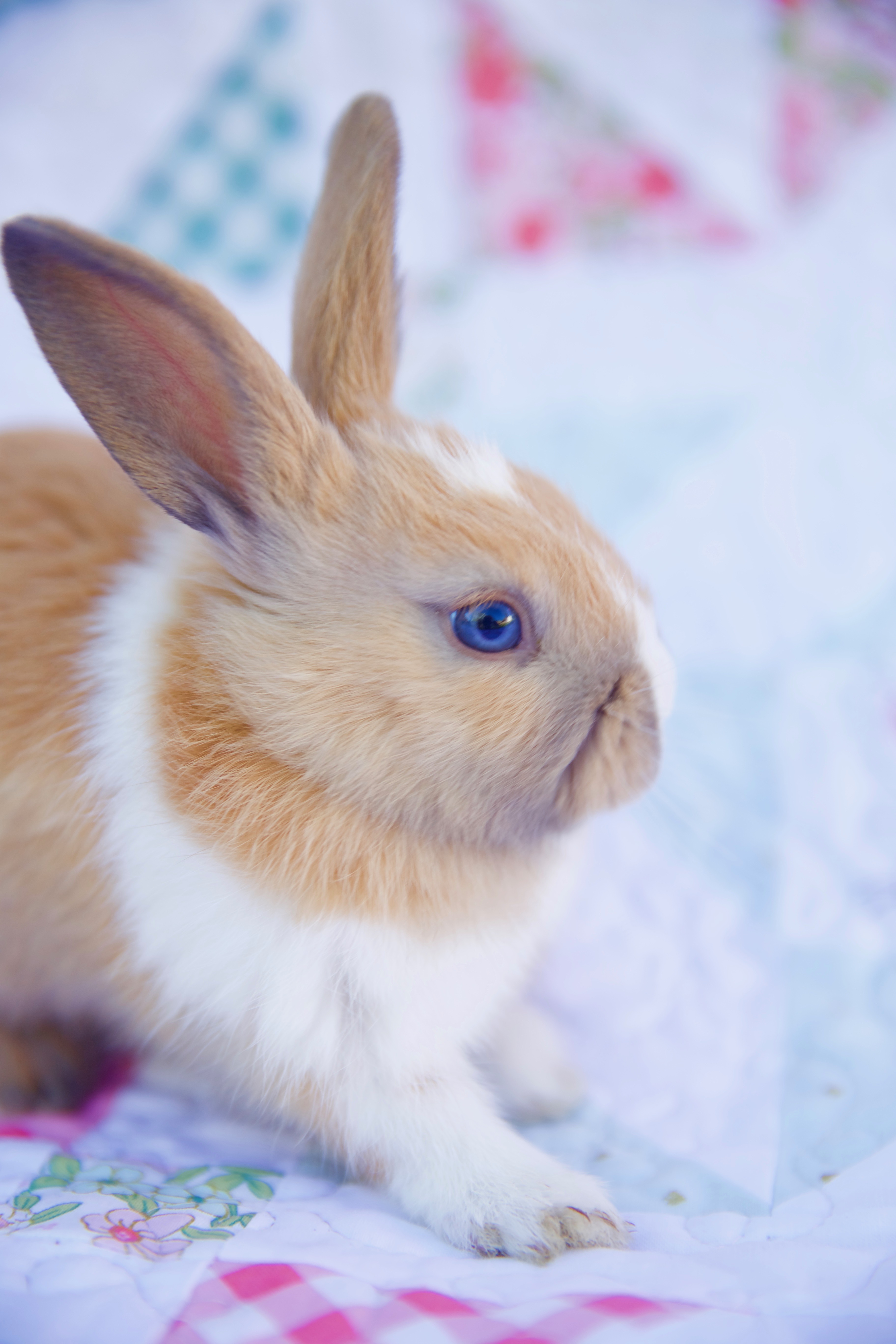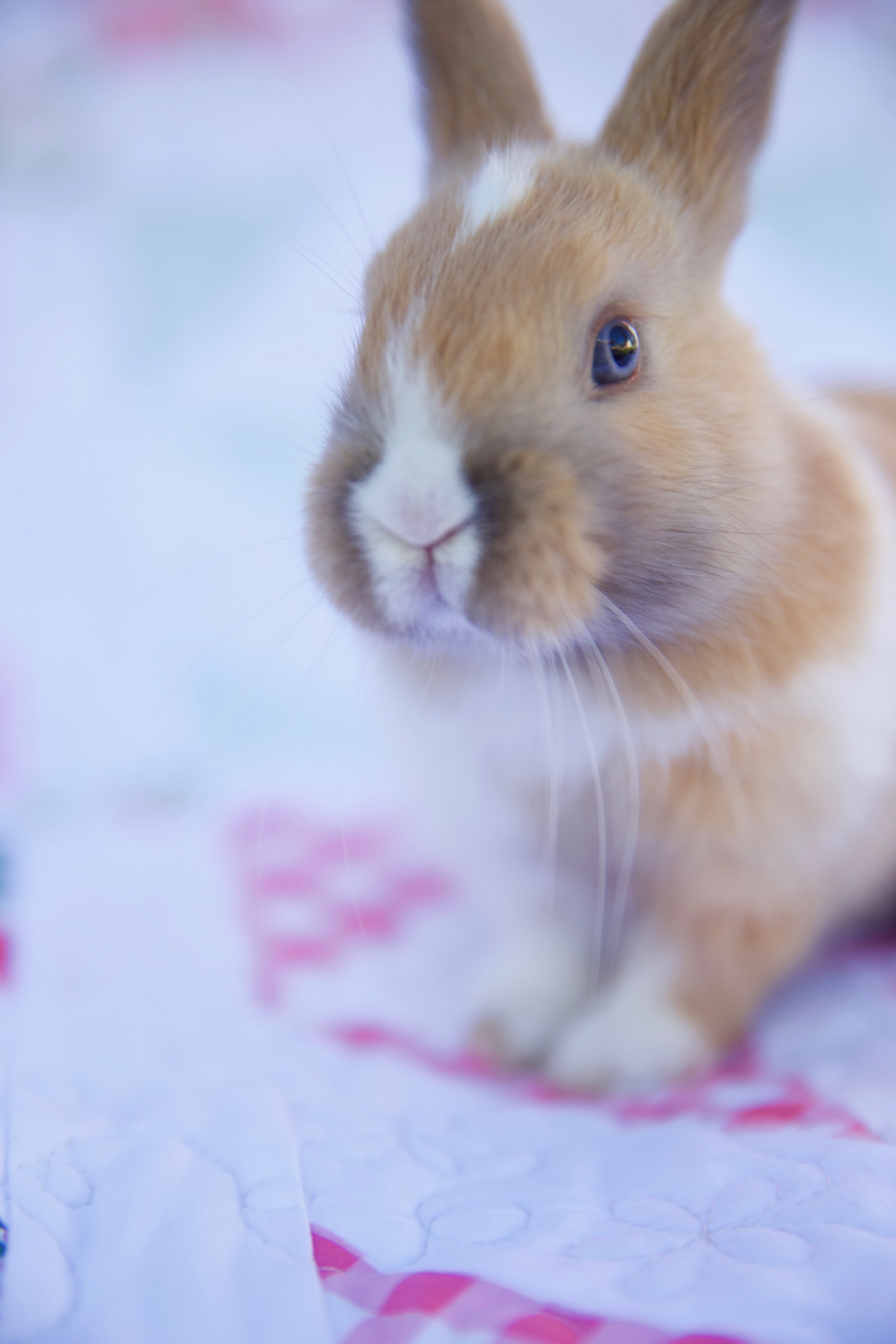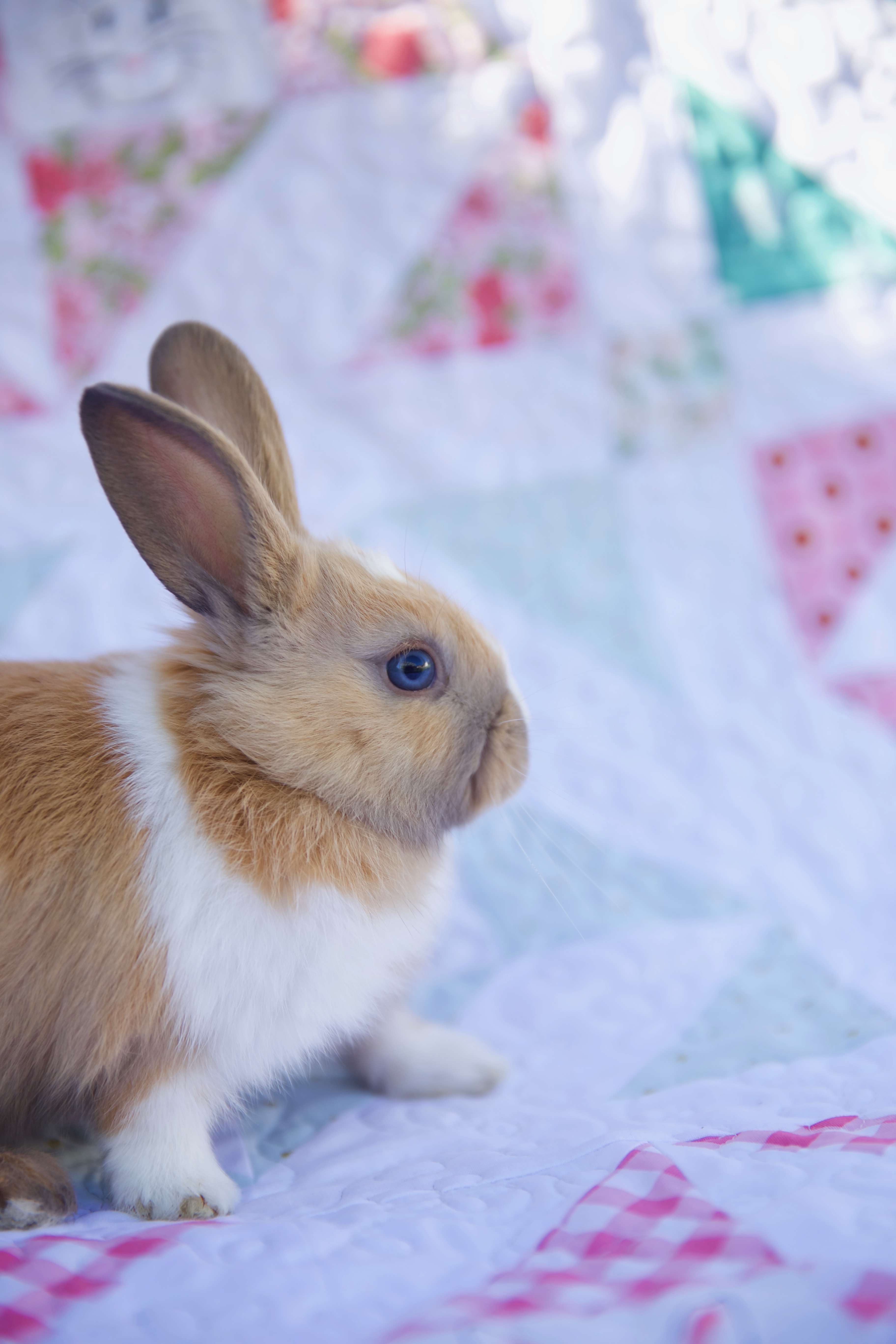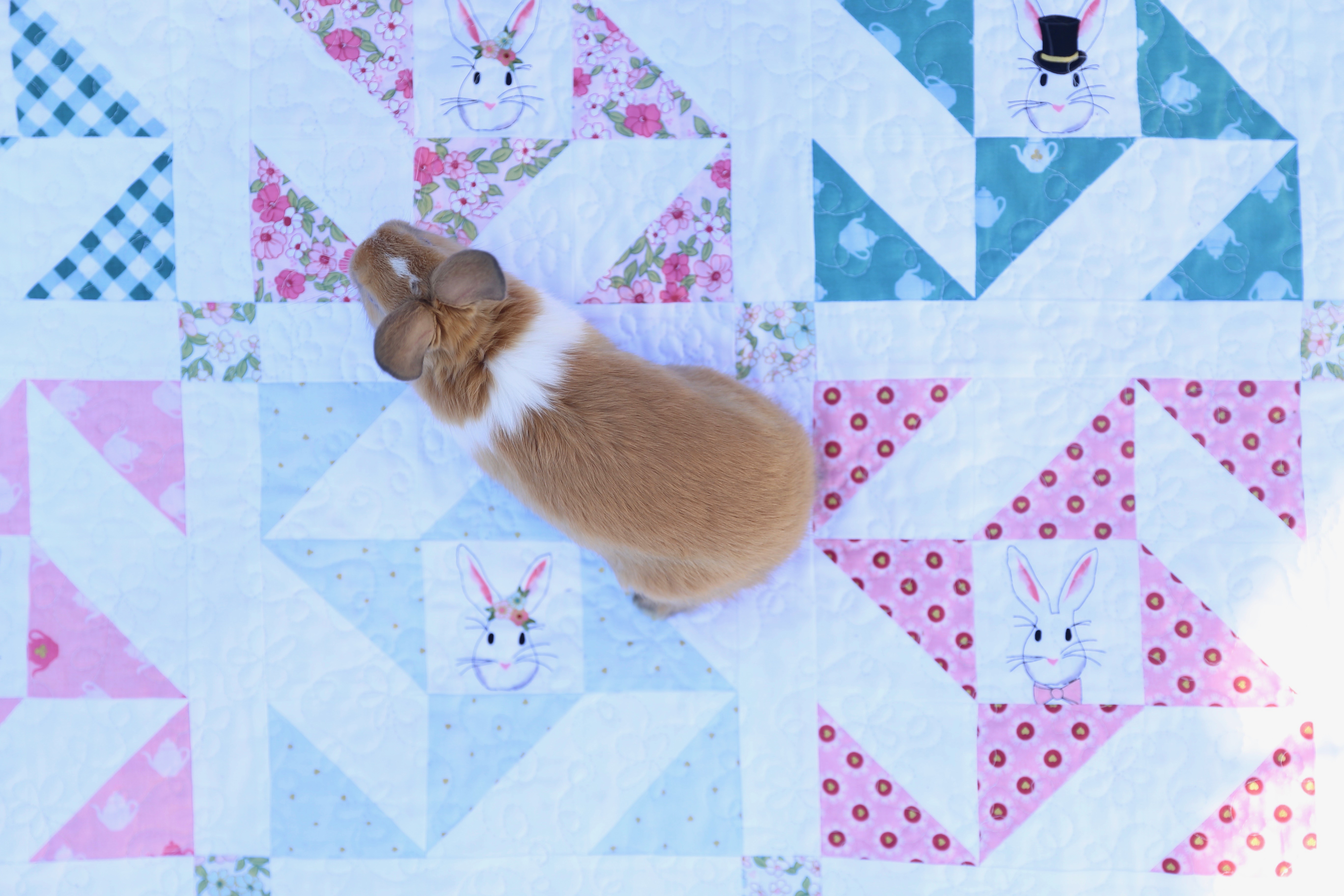 Thanks for stopping by!!!