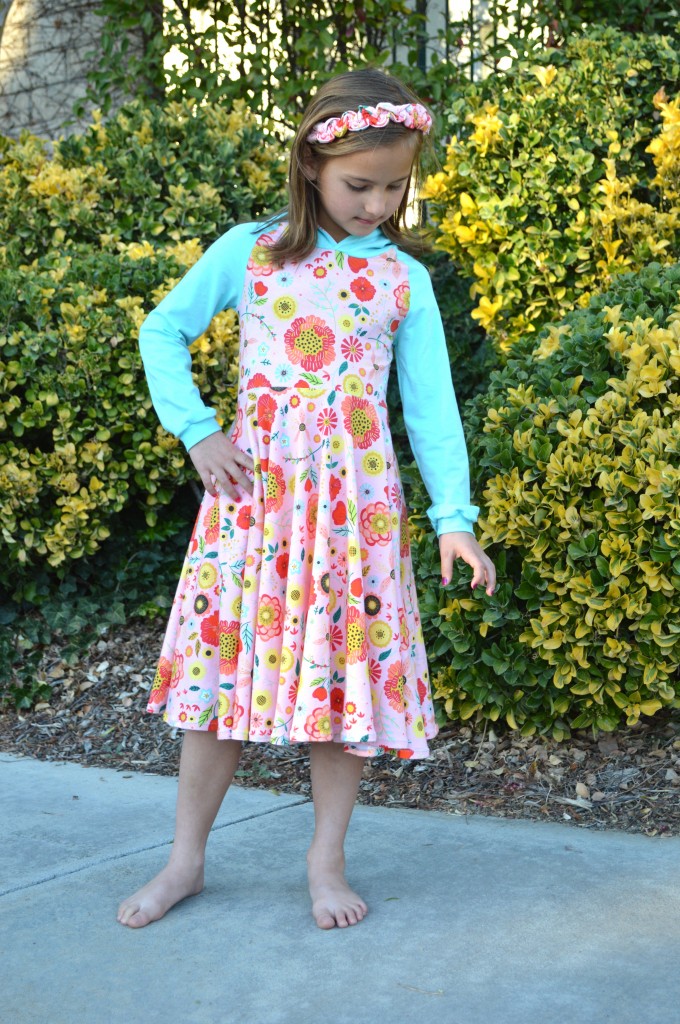 I am so excited to share my thoughts about this new dress pattern called The Lucky Dress designed by Lucy Blaire.  Lucy is super talented and has created so many awesome patterns, contributed to books and magazines.  You can read more about her and her patterns and designs on her website.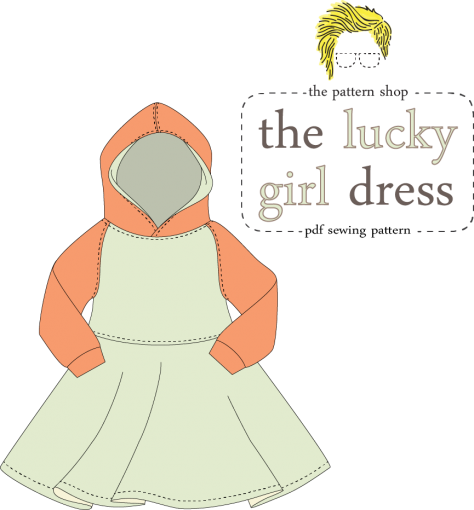 The Lucky Dress is sized from 12 months to 6T.  It is a wonderful fitting dress sewn out of knit fabric; it has sleeves with a cuff, a hood, and a twirly skirt.  As full as this dress is, there is no gathering which saves a lot of time.  I agreed to do this pattern review as a way to force myself out of my quilty comfort zone 🙂  I have never sewn a dress out of knit before and I don't own a serger – I was pretty intimidated at the thought of putting this dress together.  I choose this darling print from Riley Blake Designs called Roots & Wings.  This dress can totally be made on a home sewing machine and a serger is not necessary.  It took me a few minutes to wrap my head around the PDF pattern assembly, but once I studied it over and read through the instructions, the pattern came together easily.  I cut out the size 6T.  It was clear how to lay out the pattern pieces and the fold lines and grain lines were marked nicely.  The instructions were easy to understand the the illustrations were helpful.  Bottom line: If I can make it, anyone can make it!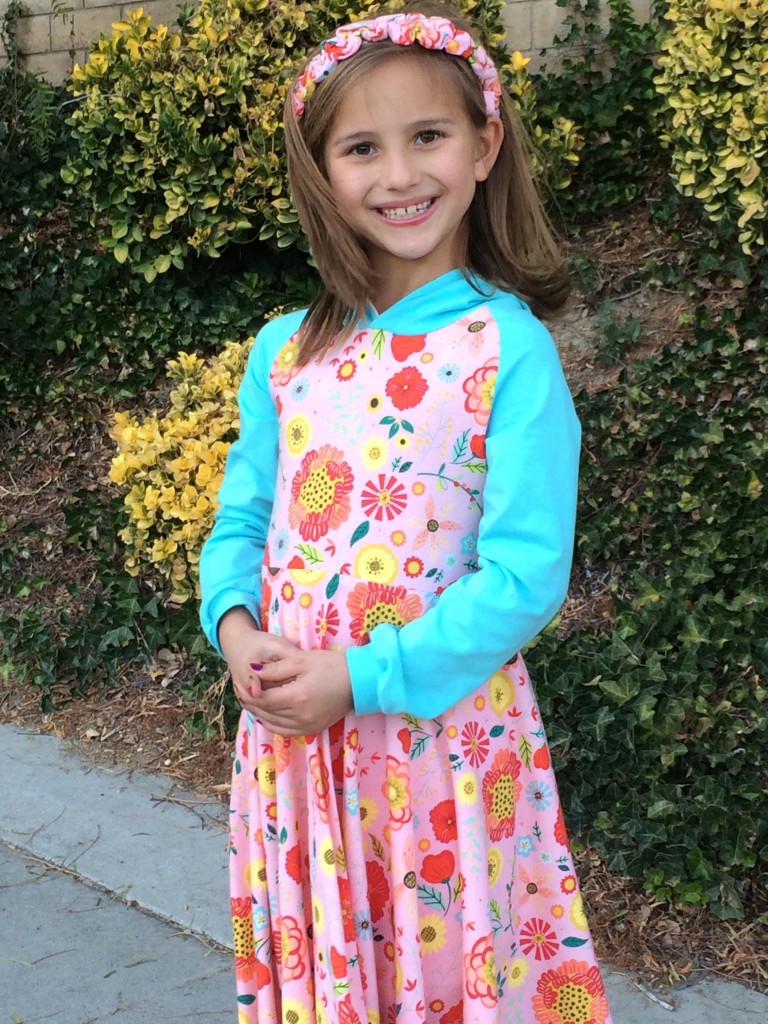 The kitten wanted in on all the steps of making the dress – especially chasing the scissors 🙂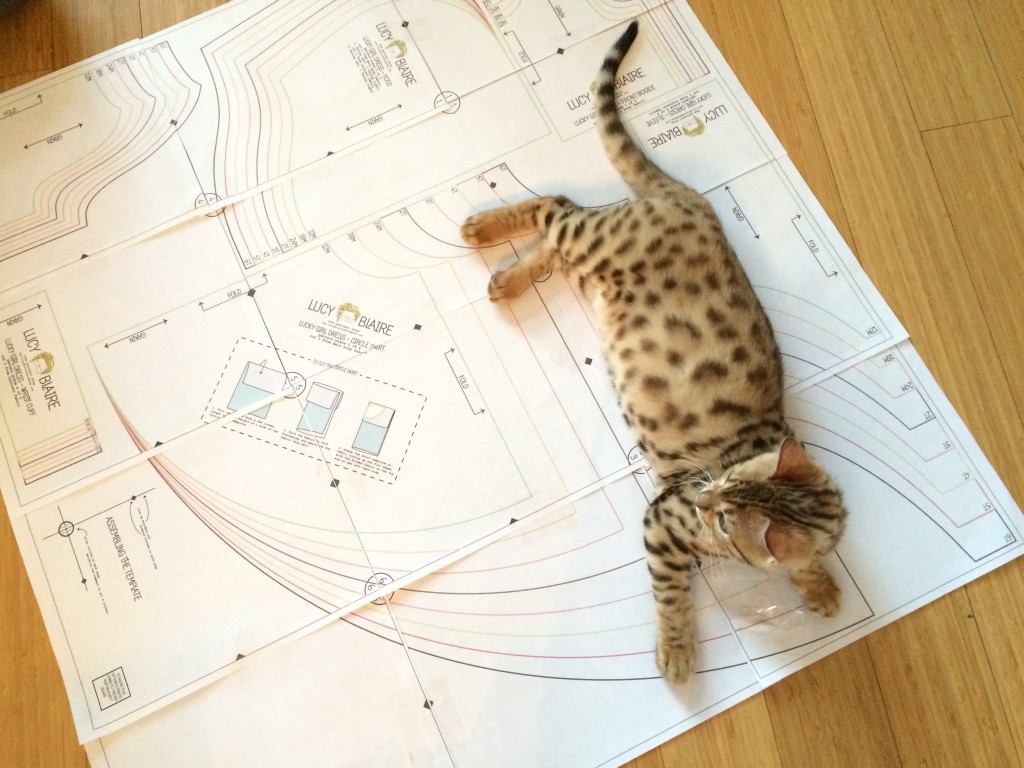 Here are a few tips and minor changes I made:
1. If you don't sew with knit very often, familiarize yourself with the stitches on your sewing machine recommended for knits.  Then practice on some scraps to make sure tension is right and you like the stitch width and length.  I did not do this, I jumped right in – I should have done this!!
2. I think the sizes are generous – which was exactly what I was hoping for.  My daughter is 7 and she wears a size 8 or 10 and she is tall.  I figured since we were working with knit it would stretch.  I added 4″ to the length so it wouldn't be too short on her.  It fit my daughter perfect.
3.  The pattern says to fold the hem under 1/4″ and press, then fold again 1/4″ and press.  MAKE SURE YOU DO THIS.  The skirt is full, round, and stretches.
4.  This dress was so much fun to make!  From start to finish it took 2 hours – not bad!  I can't wait to make another one!  I might try a shorter sleeves version because we live in California and my kids hate sleeves, pants and socks 🙂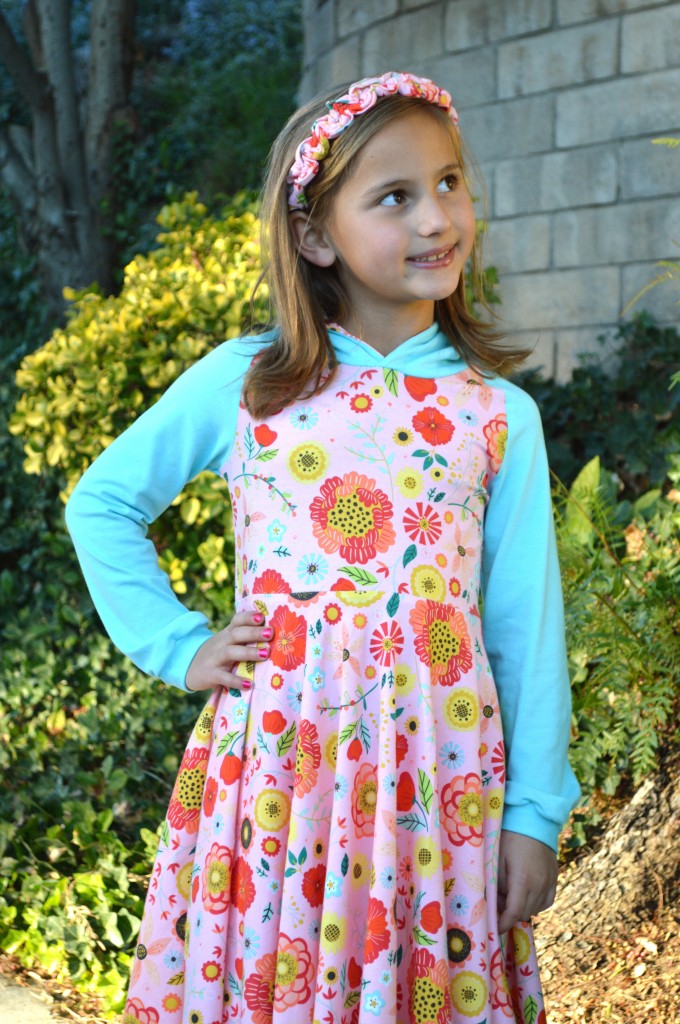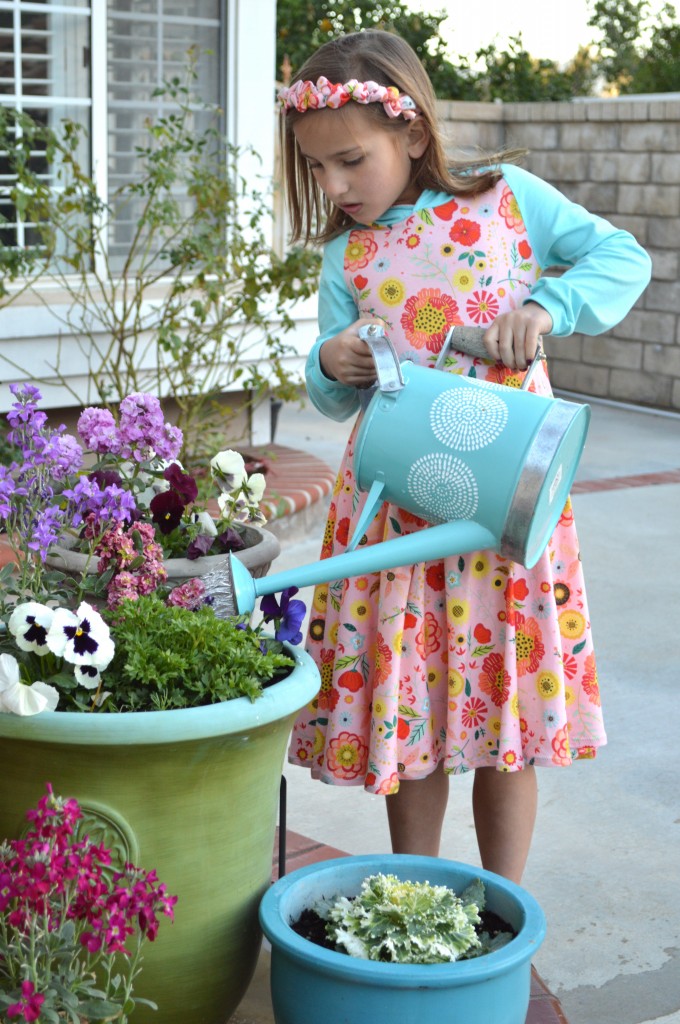 I also made a matching headband out of the left over knit fabric.  Cut a 5″ x 24″ strip and fold in half lengthwise, right sides together.  Sew a 1/4″ seam and turn the tube right side out.  With the seam centered on the back, adjust the stitch length to a gathering stitch and sew a serpentine/wavy seam down the center.  I tried first to zig zag back and forth but the thread and the knit kept catching at the corners.  The curvy line worked better.  Then gather the threads to form a wavy type of ruffle.  I was in a hurry so I hot glued it to an existing headband.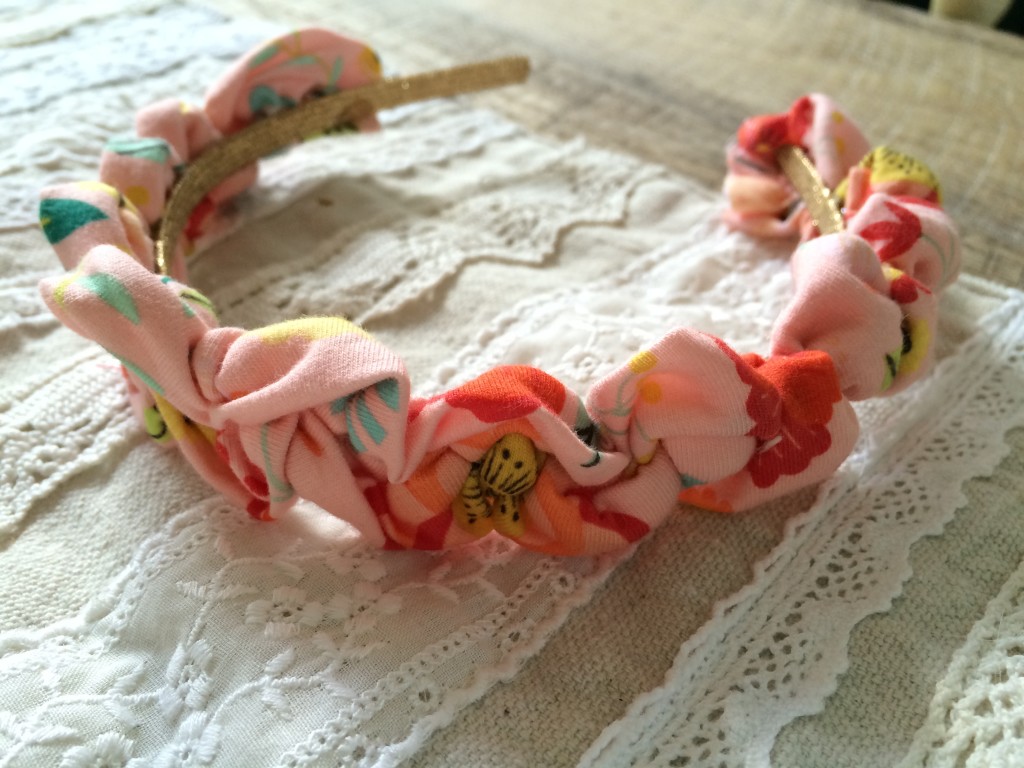 I think adding 4 inches to the skirt worked great for my tall 7 year- the hem hits right below the knee.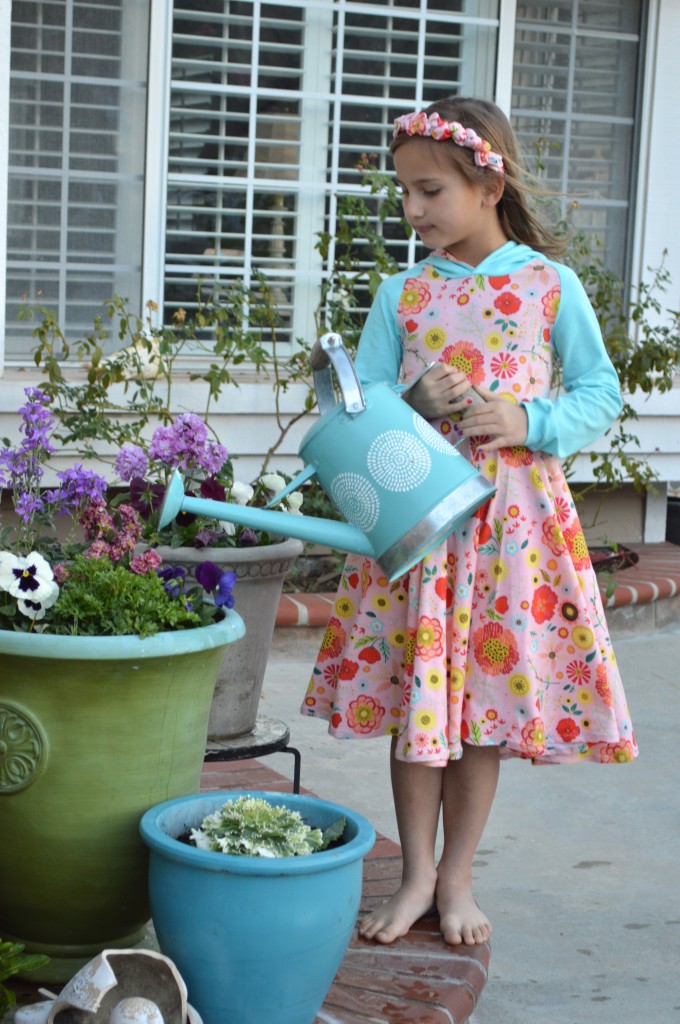 It was hard taking the pictures because all Sally wanted to do was make faces and play with a bug she found 🙂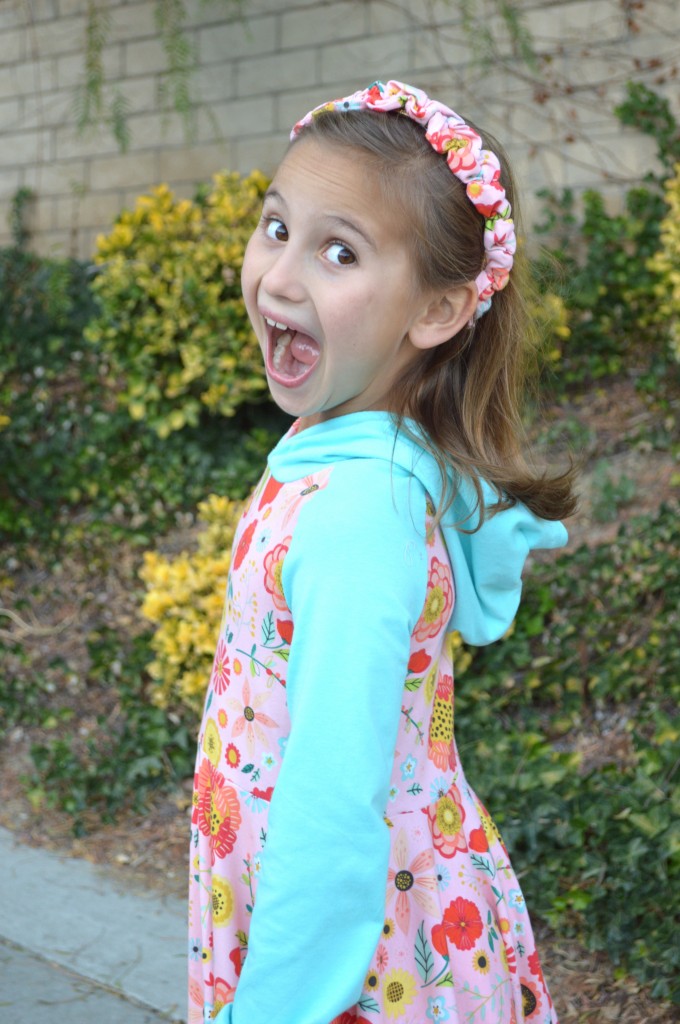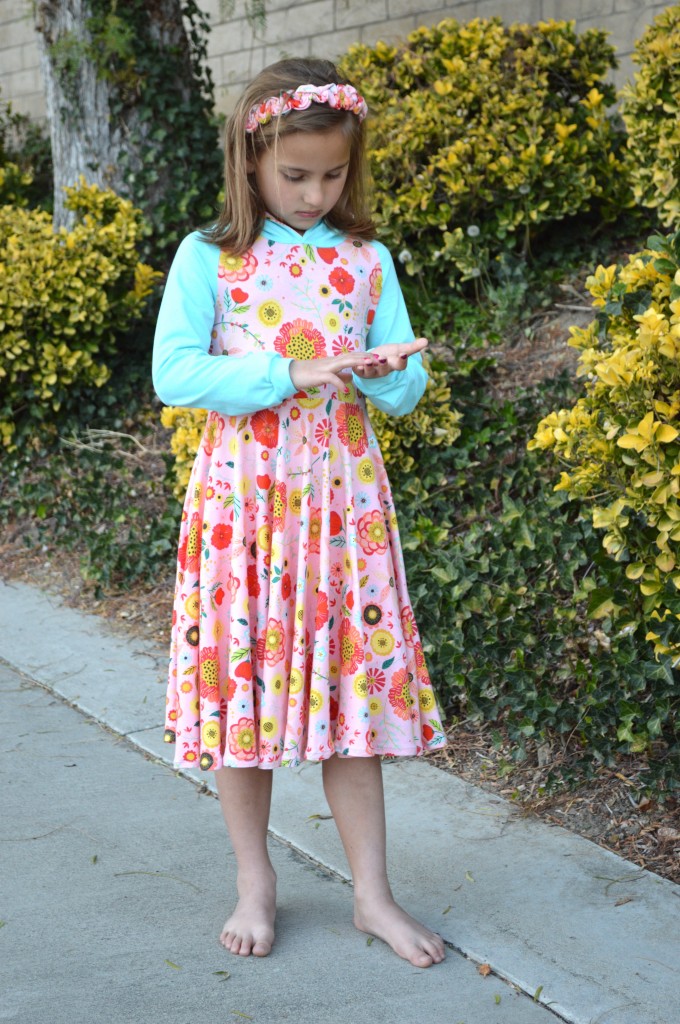 I had to sneak the kitten in here somehow!!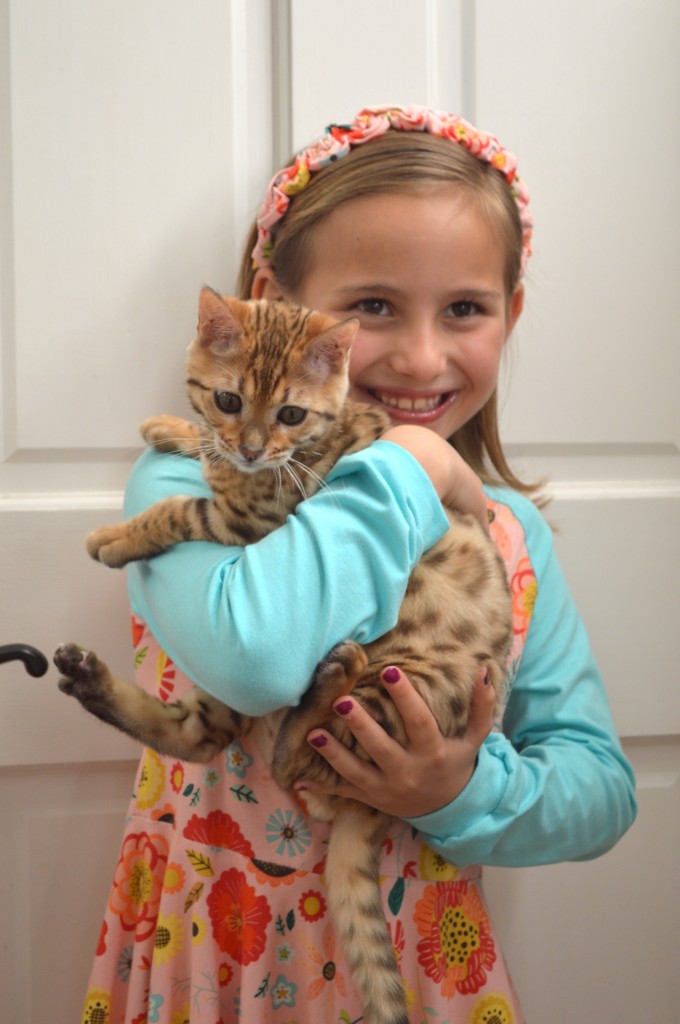 Make sure to check out these other fabulous bloggers to see their version of the Lucky Dress!
5th: Melissa (Sew Like MyMom)
6th: Remona (The StitchingScientist)
12th: Amanda (Jedi CraftGirl)
13th: Becca Duval (BeccaDuval Photography)
19th: Ren Murphy (TheInspired Wren)
20th: Maryam (Hi and Hello)
25th: Jen (Lea and Lars)
26th: Julia Frazier (Riley Blake)
27th: Lucy Blaire