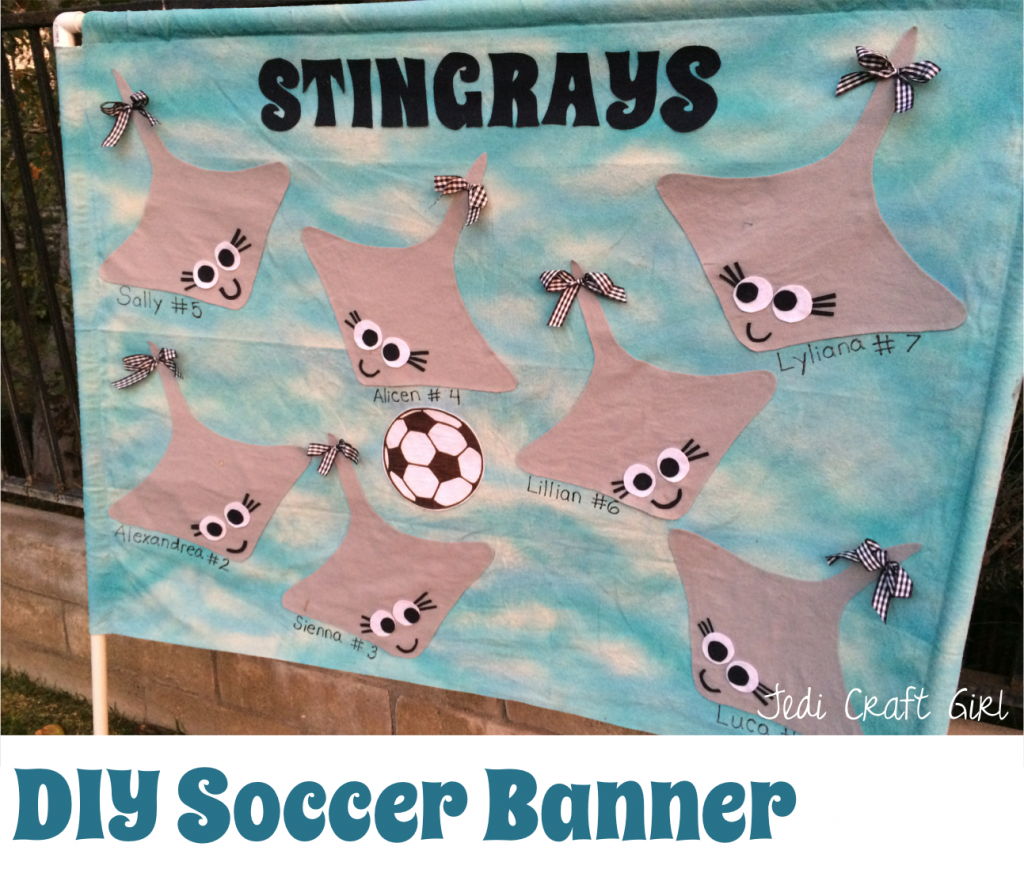 With spring soccer beginning I thought I would share our last season soccer banner.  We were the Stingrays and we had an awesome season!  In our town, most teams pay over $100 for a custom airbrushed soccer banner.  With a team of only 7 players, this seems to be a lot of cost per family.  This homemade version was much more cost-effective and it was cuter than any airbrushed banner I've seen.  We received compliments on it all season long.  You can use canvas or a heavy duty drop cloth as the background fabric.  Click HERE for step by step instructions.  There is not a predetermined or set banner size.  I usually use the width of the fabric as my guide.  Cut the desired size of the banner.  Notch the top 2 corners about 4″ and then fold the sides and the top in and sew a seam.  This leaves a space open in the corners for the PVC elbows.  It's not fancy at all.  Then we cut the PVC pipe to fit the measurements of the banner.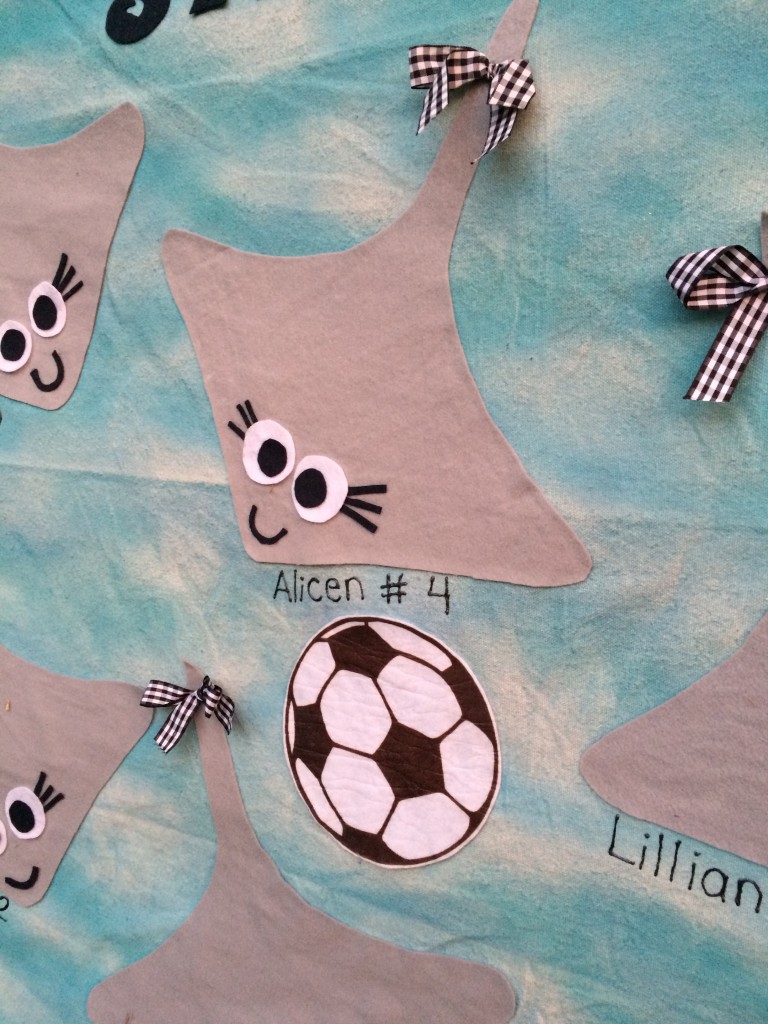 I spray painted several blue paints on the canvas to give it a watery look.  I drew the stingray shape on some tissue paper and then cut them out of felt.  I used a combination of Fabric Fuse and hot glue to adhere the stingrays.  I added a little bow on the tail.  The eyes, eyelashes and mouth are cut out of felt.  I printed the letters out on Heat n Bond EZ Print sheets.  I cut out the letters and used fabric fuse and hot glue to attach the letters.  (normally you can just iron the letters but the paint makes it difficult.)  The names are written with black metallic puffy paint.  It was fun to use puffy paint, it always reminds me of high school cheerleading days 🙂  I found a soccer ball image from an internet search and printed it on Heat n Bond transfer sheets.  I then ironed the soccer ball to a piece of felt and glued it to the banner.
I painted stingrays on the coaches T-shirts so they matched.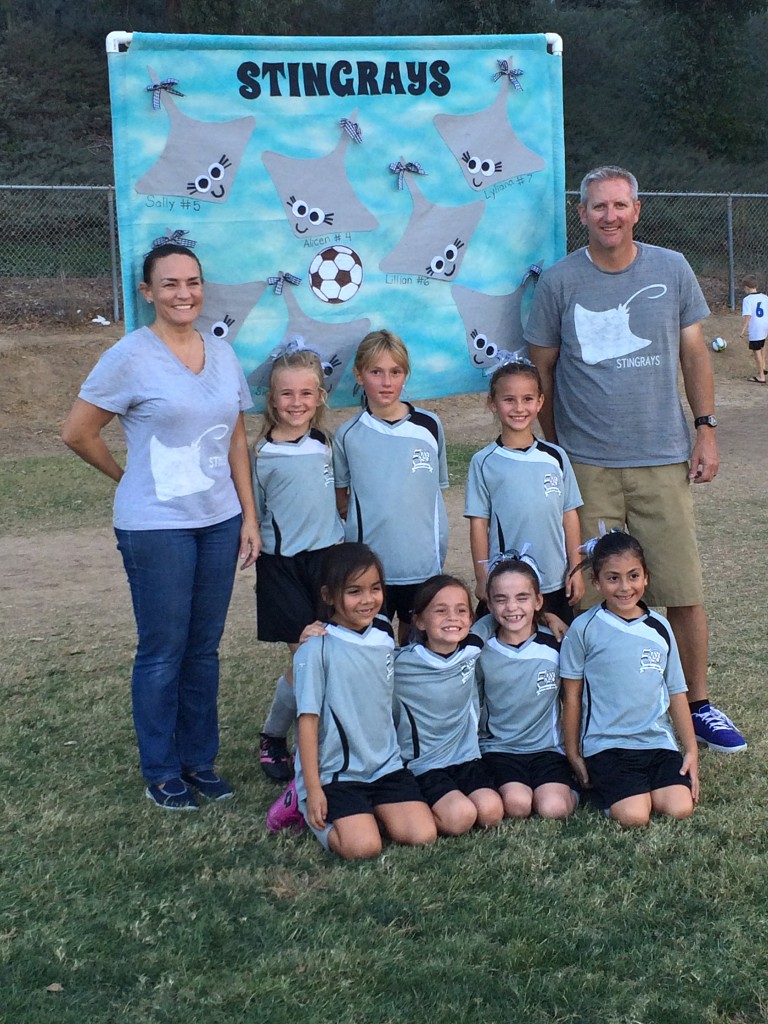 Whats fun about this banner is at the end of the season, during our team party, we cut the banner up and each girl got to take her stingray home.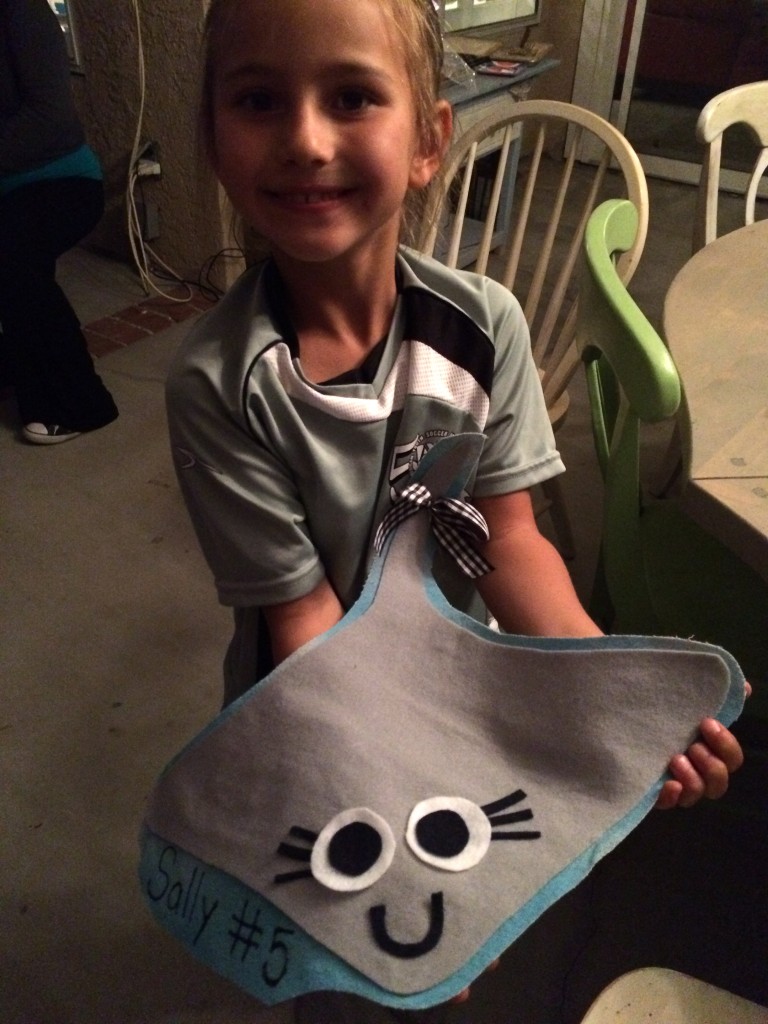 This year we are the Bengals.  I better get working on the banner!!!