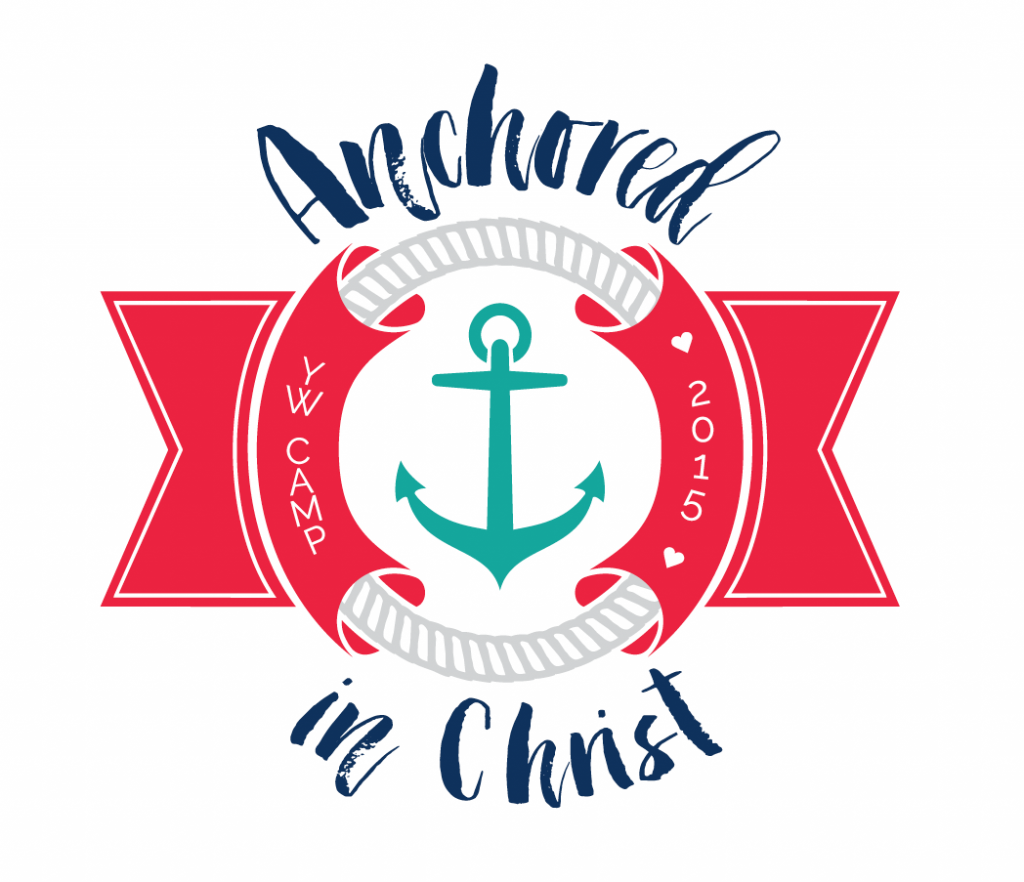 Get ready for the worlds longest blog post!  I didn't know how else to get all the information in, so here goes!  I am our Stake YW Camp Director.  We have stake camp every year and we have about 85 girls who attend.  Our camp is Tuesday through Saturday.  We camp in cabins.  The 4th year girls go on Monday, hike 10 miles and camp in tents the entire week.  I have uploaded a file to dropbox to share with you – it has pretty much every file I printed for camp: itinerary, song book, packing list, etc.  CLICK HERE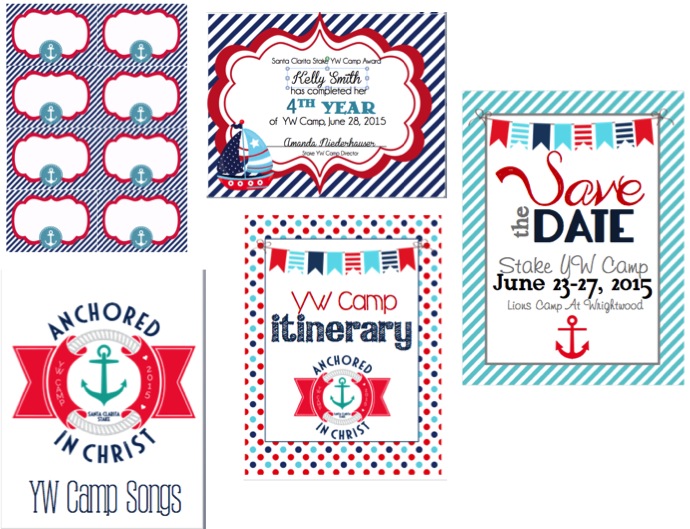 LEADER TRAINING
We begin planning camp as soon as camp is over – so 1 year our.  We begin having meetings with our Level Leaders and YCLs in January and meet each month to plan and train.  Our camp is in June.   Here are some of the things we go over: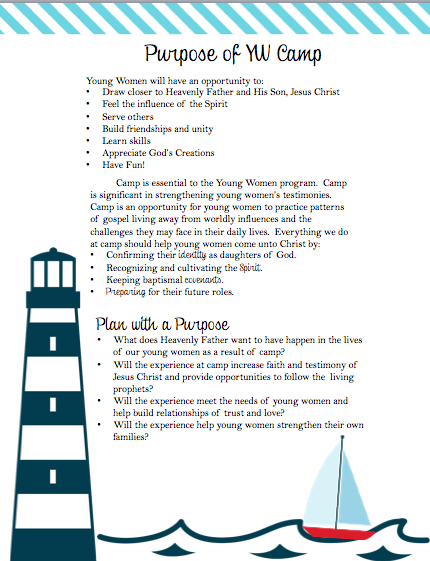 The purpose of camp.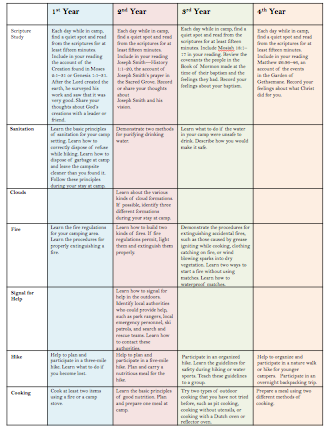 Certification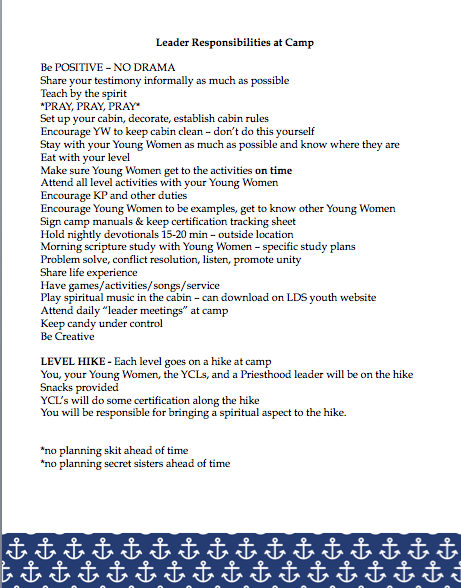 Responsibilities
BACK TO CAMP NIGHT
Each year we have a "Back to Camp" night which happens sometime in the spring.  This is when all the girls and leaders come together.  We have treats, skits (from the Stake Leaders and YCLs) and we break up into levels so the YW can meet their level leaders.  They play get to know you activities and decide when to have their Pre-Camp level party.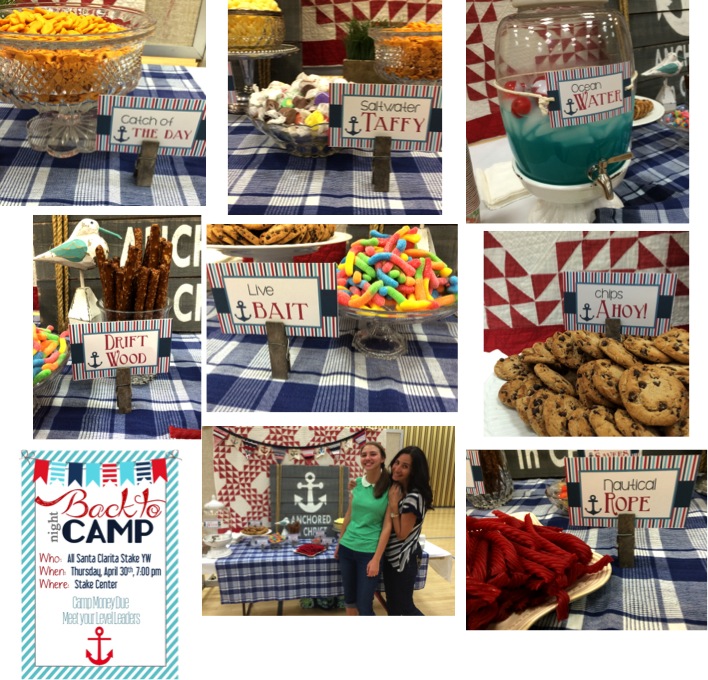 Our theme was nautical and we took every opportunity to have fun with this!  In the dropbox file you can find our leader skit "The Love Boat".  We wrote a saga that we kicked off at this meeting and then carried it on every night at camp.  Each of the Stake Leaders had a "character" and we had nightly drama that would get resolved.  It was so much fun and the girls LOVED it!!!  We also taught them a short dance to "Sea Cruise".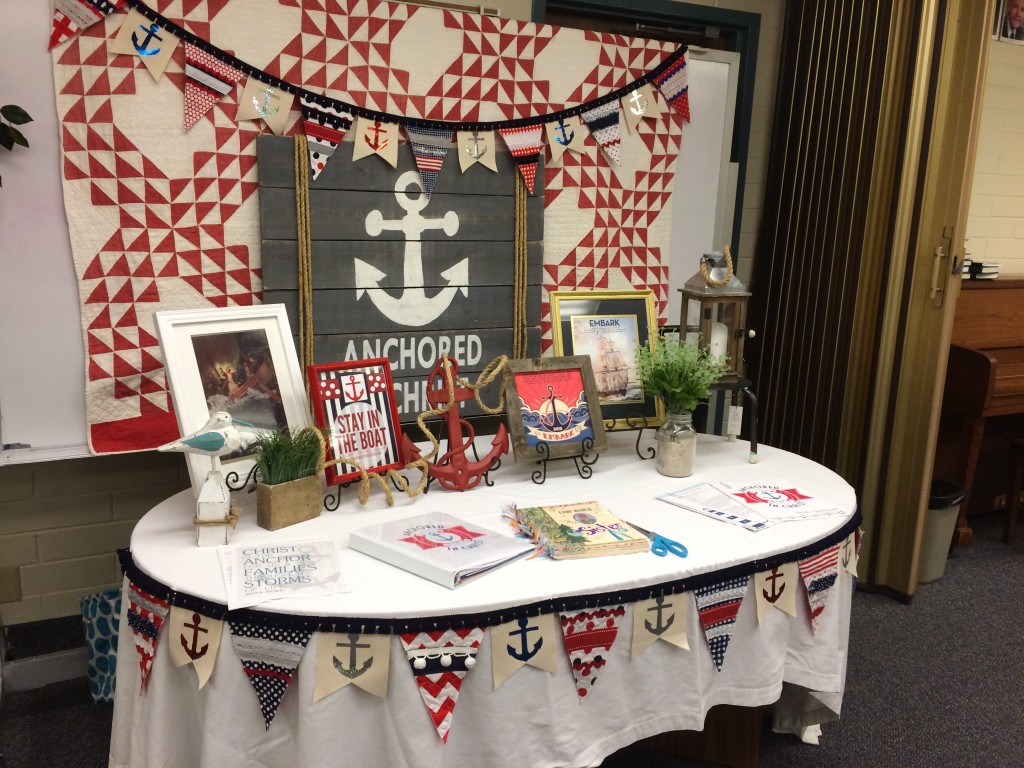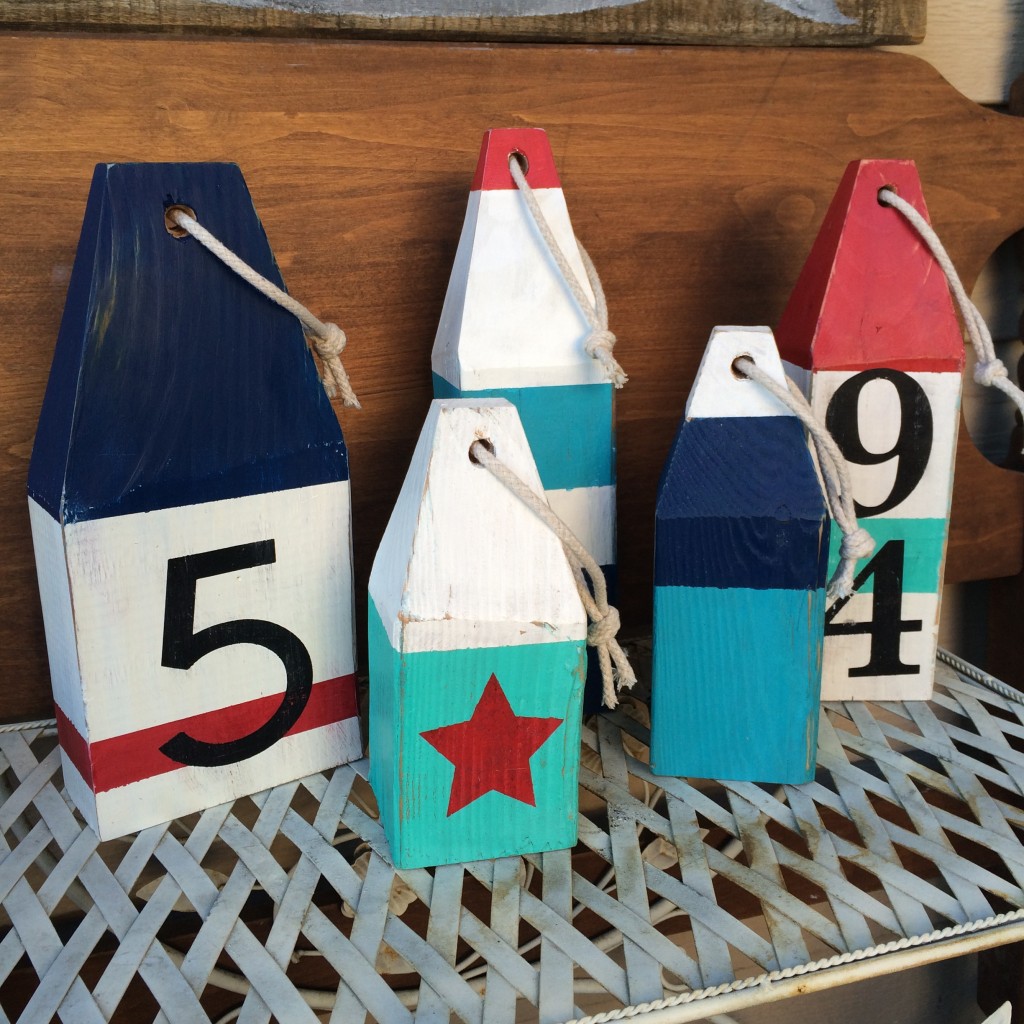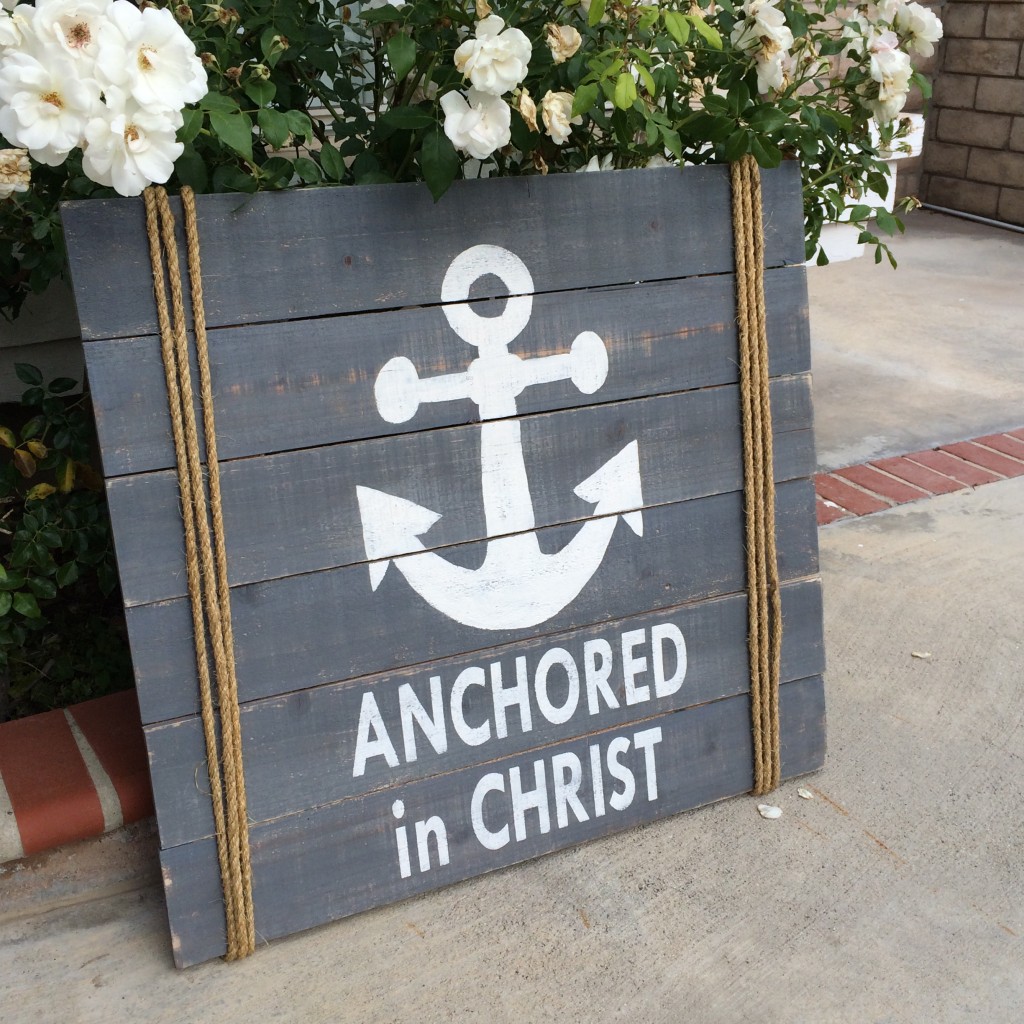 At the Back to Camp Night we had all the crafts on display so the girls could get excited.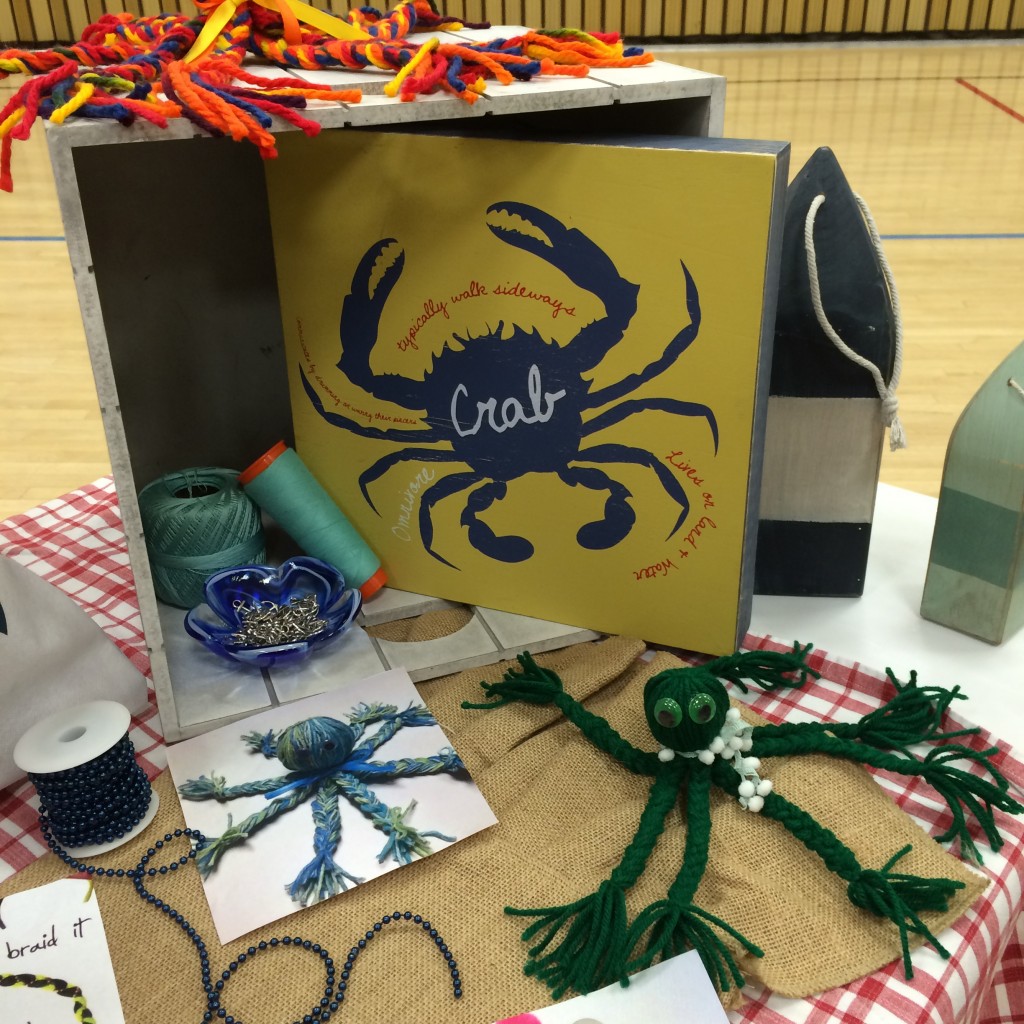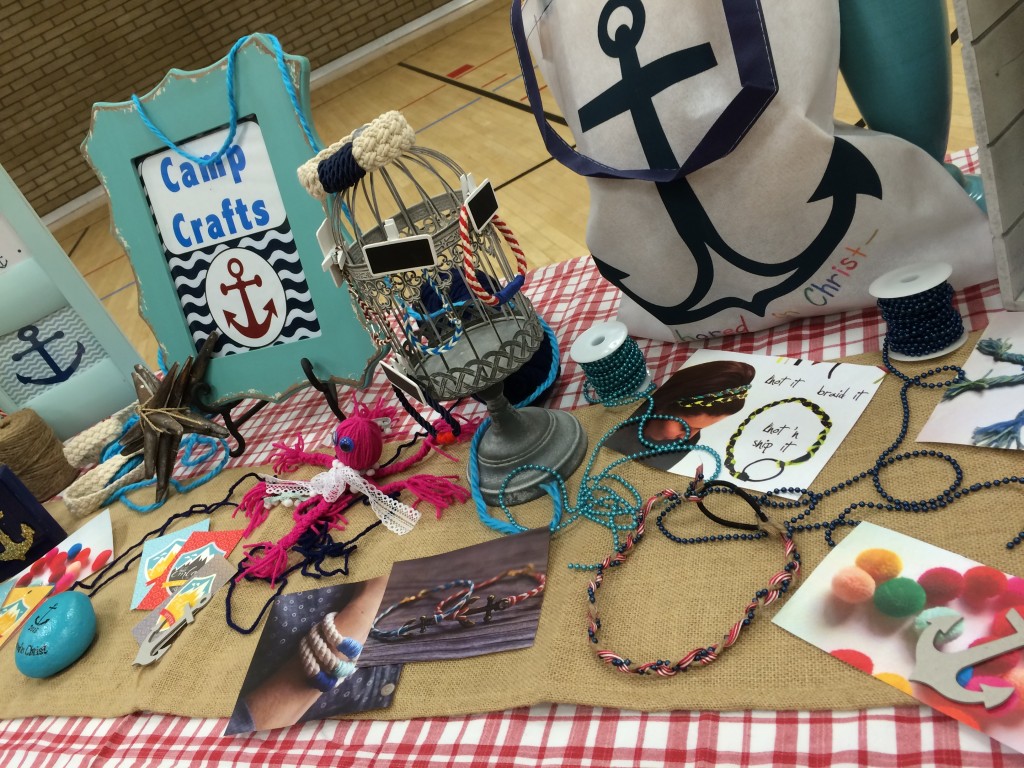 PRE CAMP PREPARATIONS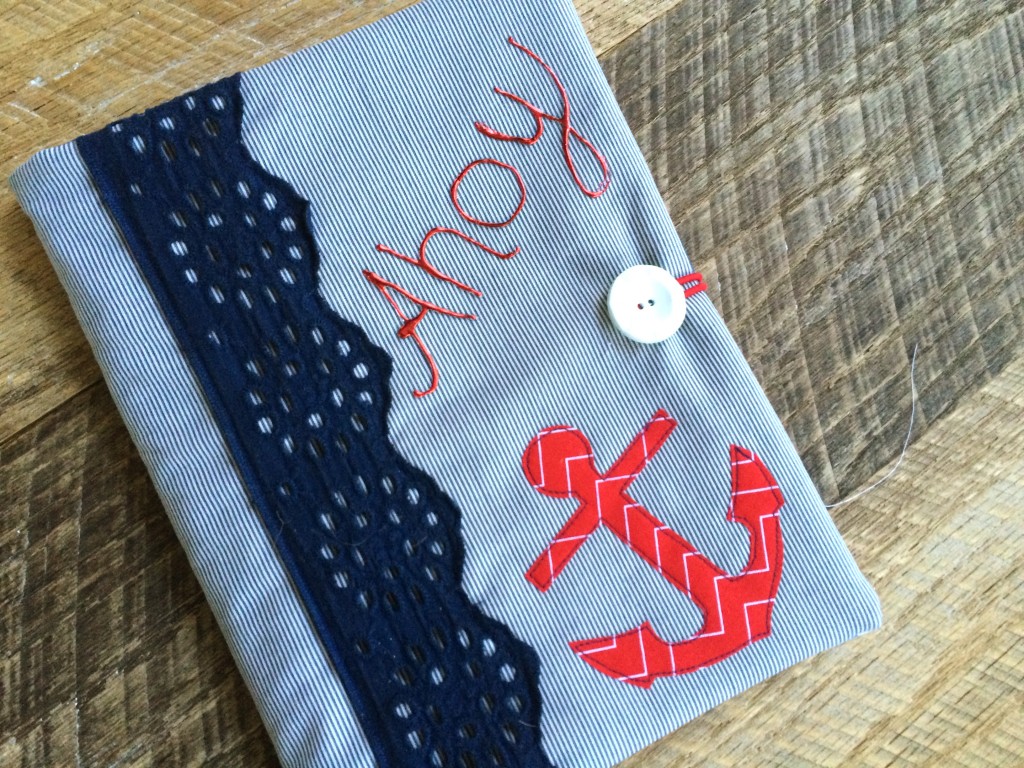 I made each of the Stake Leaders a covered composition notebook to use throughout the planning process to keep track of camp stuff.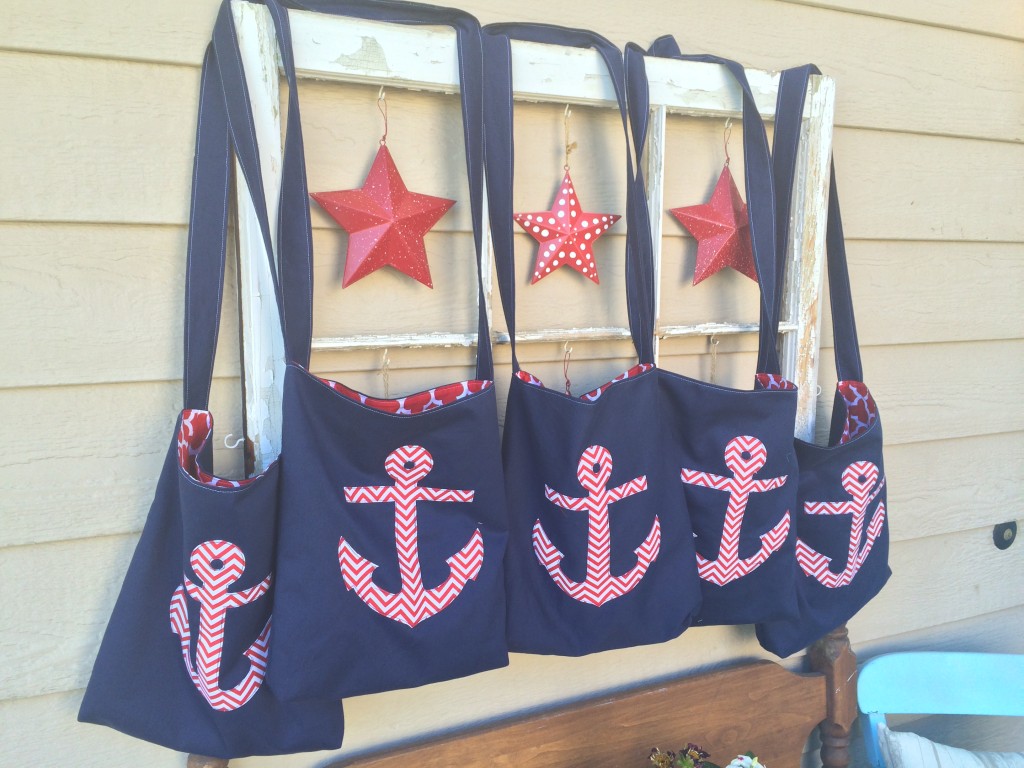 I made each of the Stake Leaders a messanger style bag so we could keep our clip board and other items handy.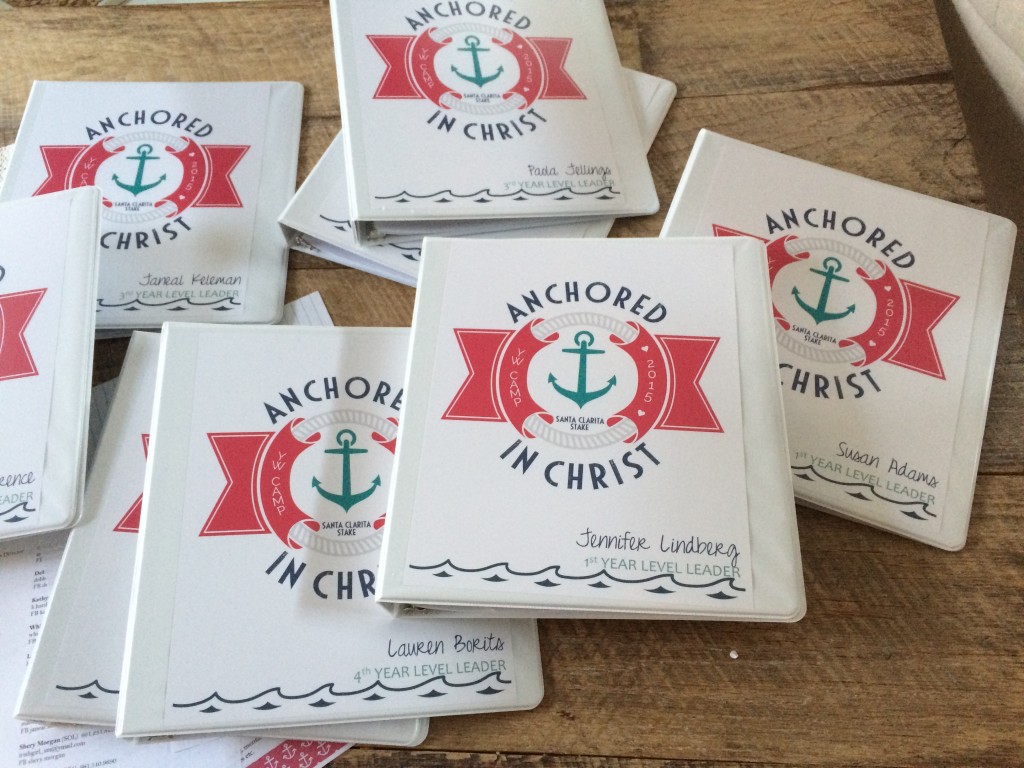 Each leader going to camp received a notebook with all the camp information in it.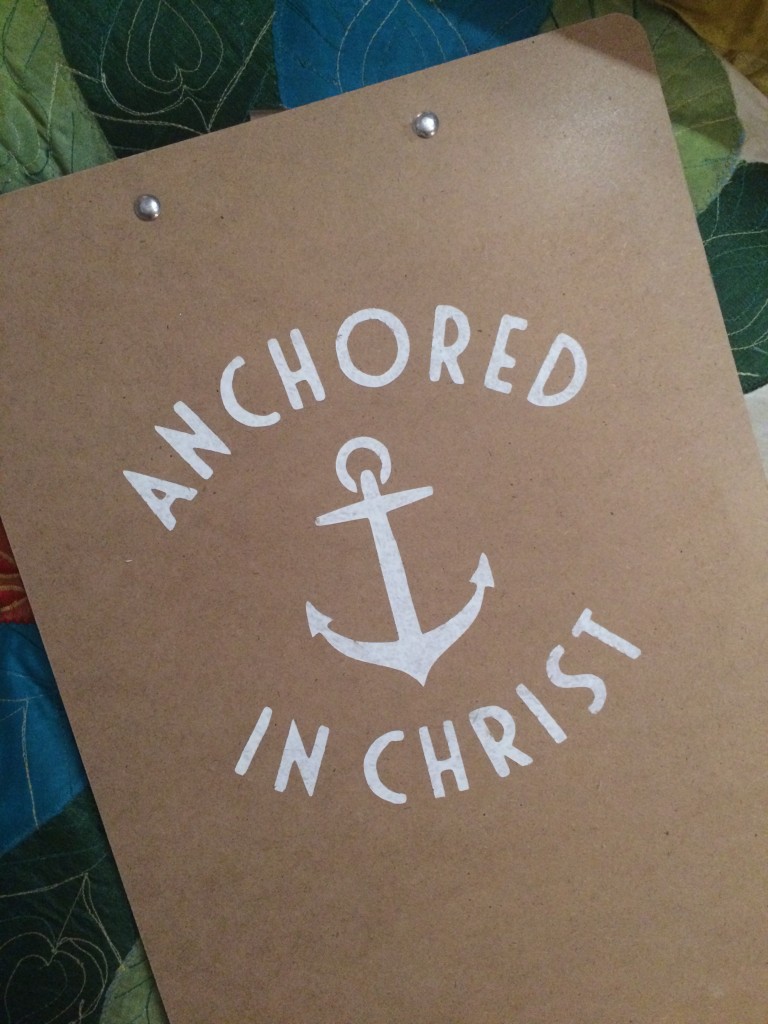 All cruise ship staff need a logo clipboard!  I stenciled the logo on with craft paint.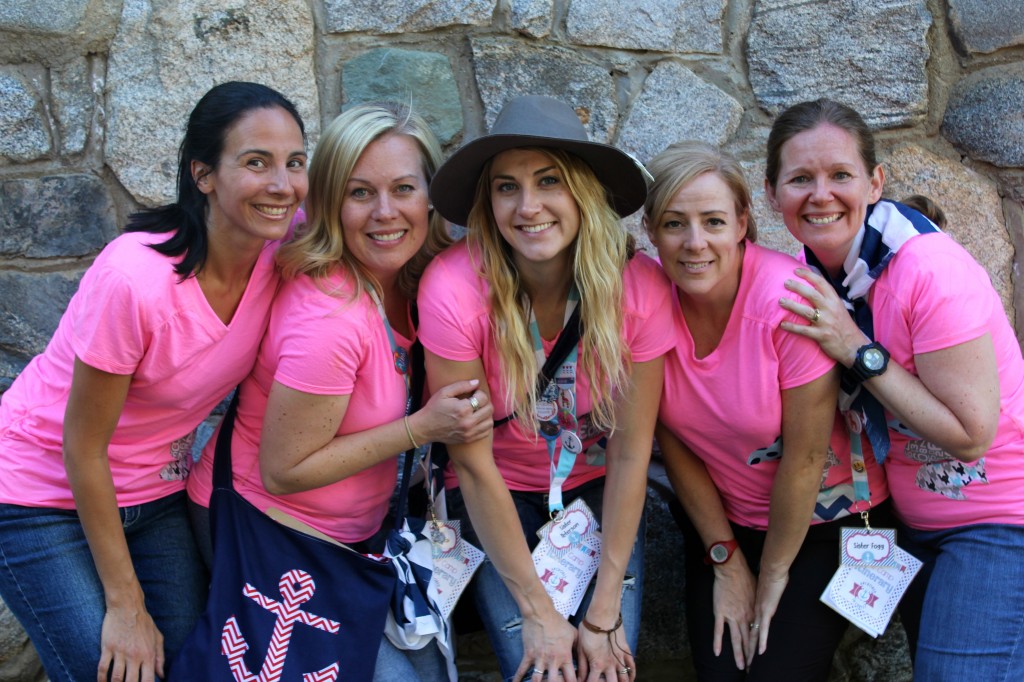 The Stake leaders had matching shirts for each day.  This totally helps the girls locate us and for us to locate each other.  I suggest bright colors!!
THE LANYARDS AND BUTTONS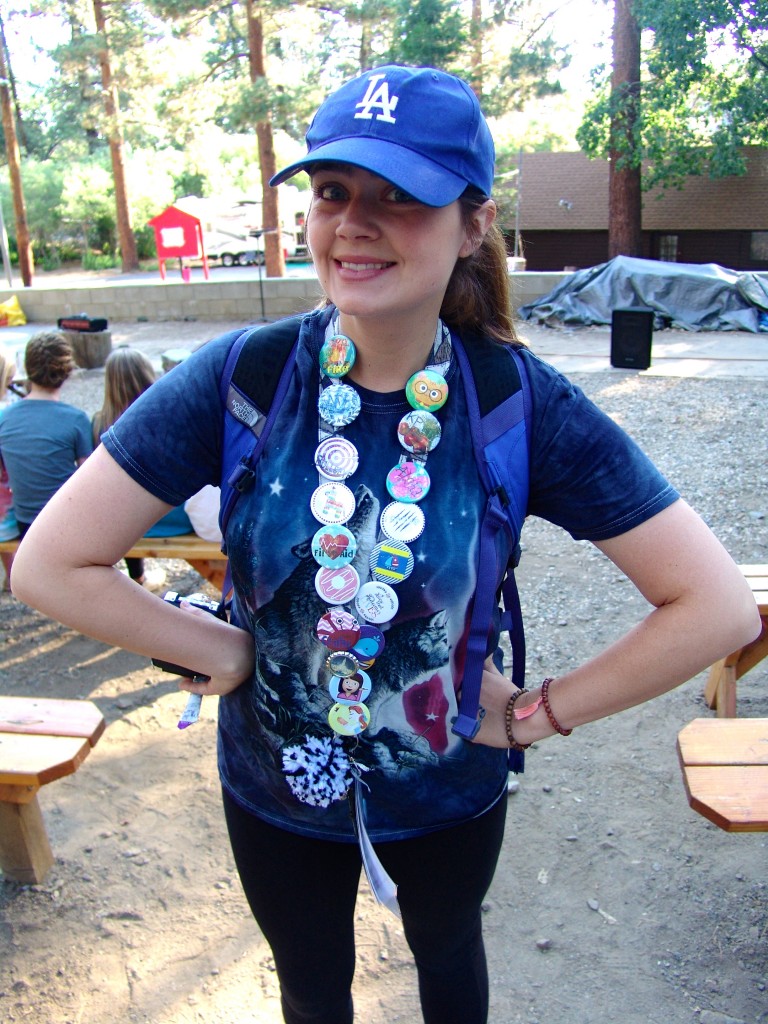 We decided instead of giving out random handouts and toys and candy that we would focus our money and efforts on lanyards.  The stake leaders each helped sew 100 lanyards.  The colors coordinated to what each level's theme was.  And each lanyard had a laminated name tag.  Then the button making began.  I ordered 2000 button kits and began busily designing graphics for each one.  My friend Brittany helped me out big time.  Together, along with our kids, we got all 2000 buttons made!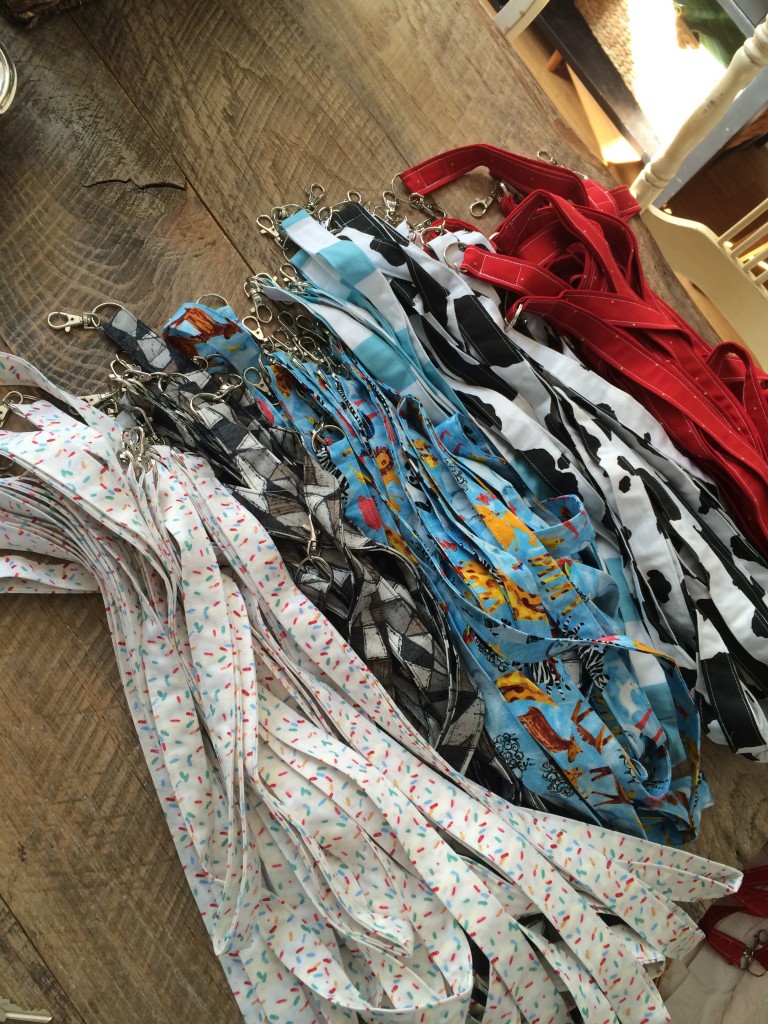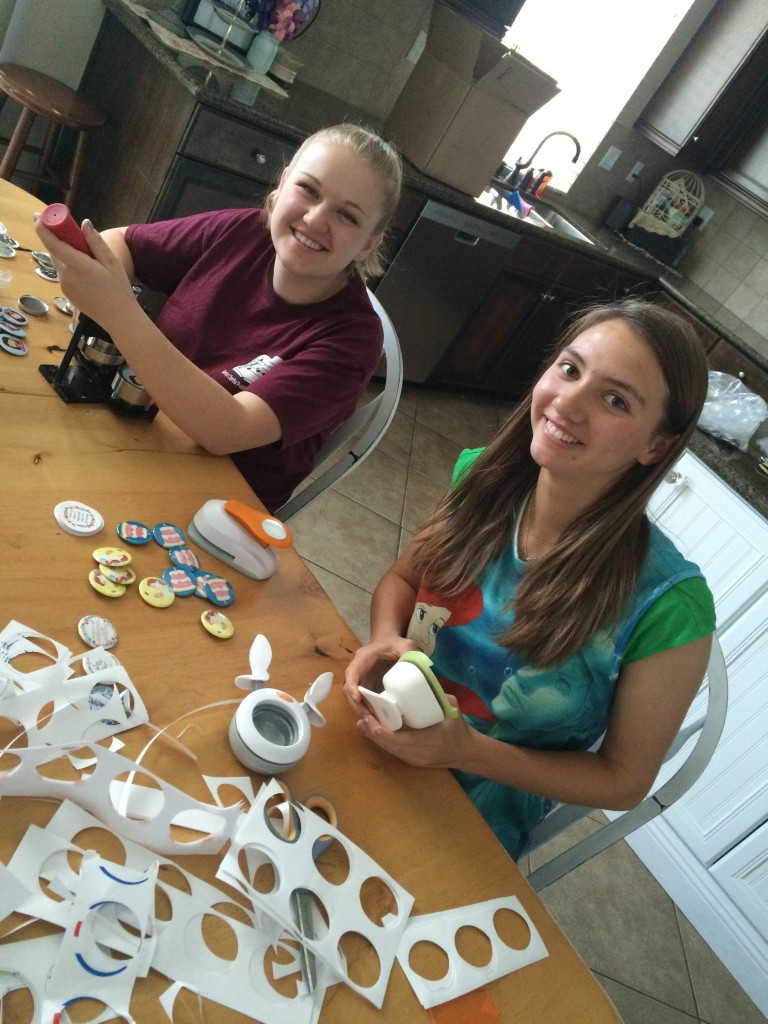 We gave out buttons for Everything!  KP, fire starting, mini classes, nightly themes, nurse, the 4th year hike, etc.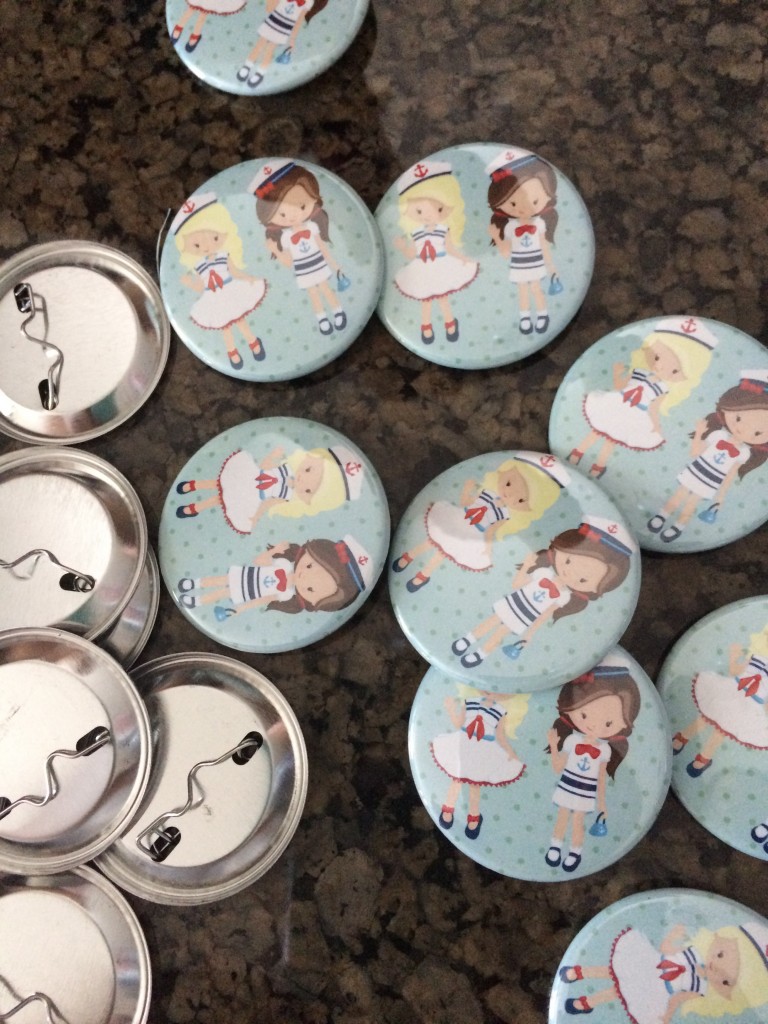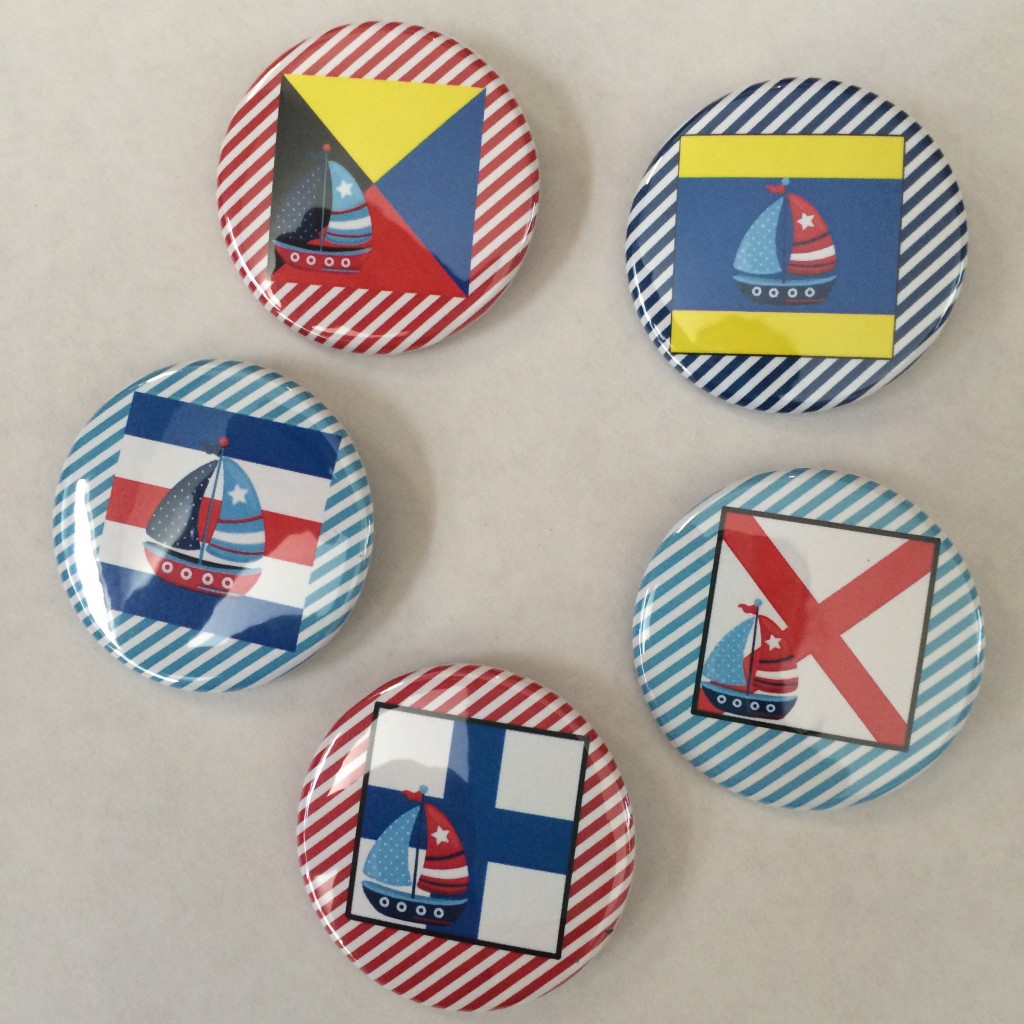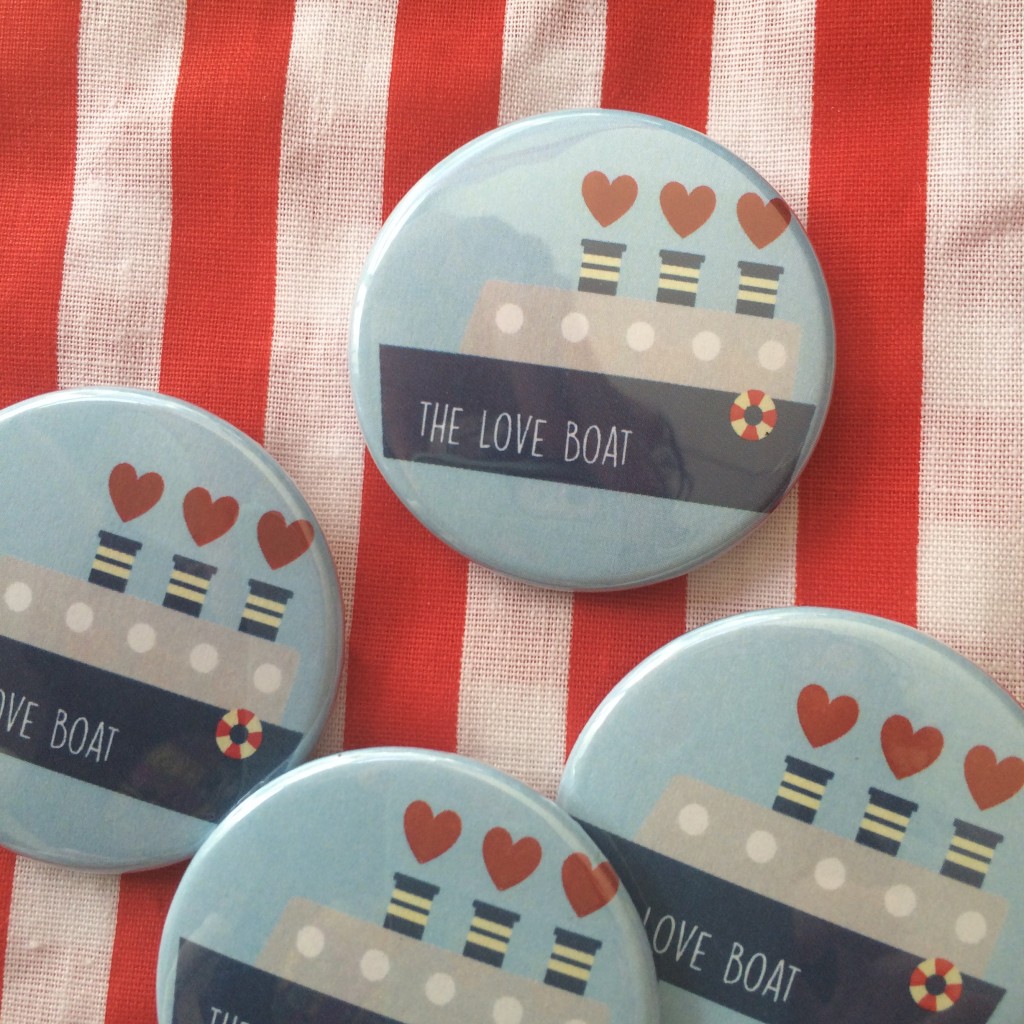 The girls went crazy for these buttons and by the end of the week their lanyards were completely full!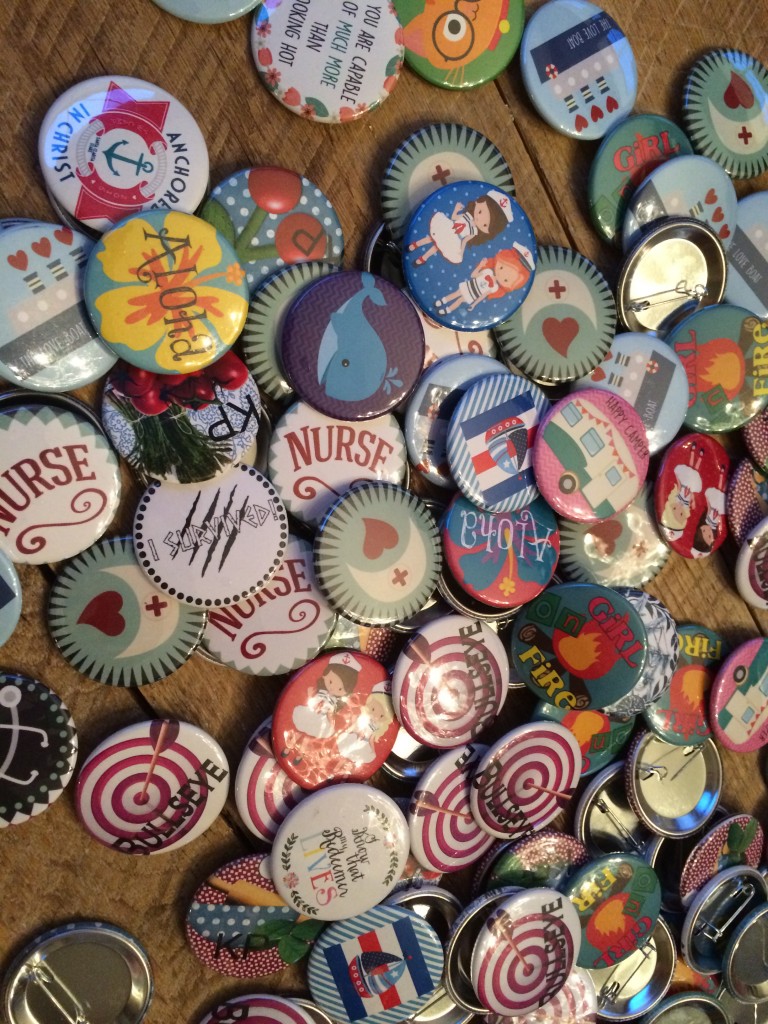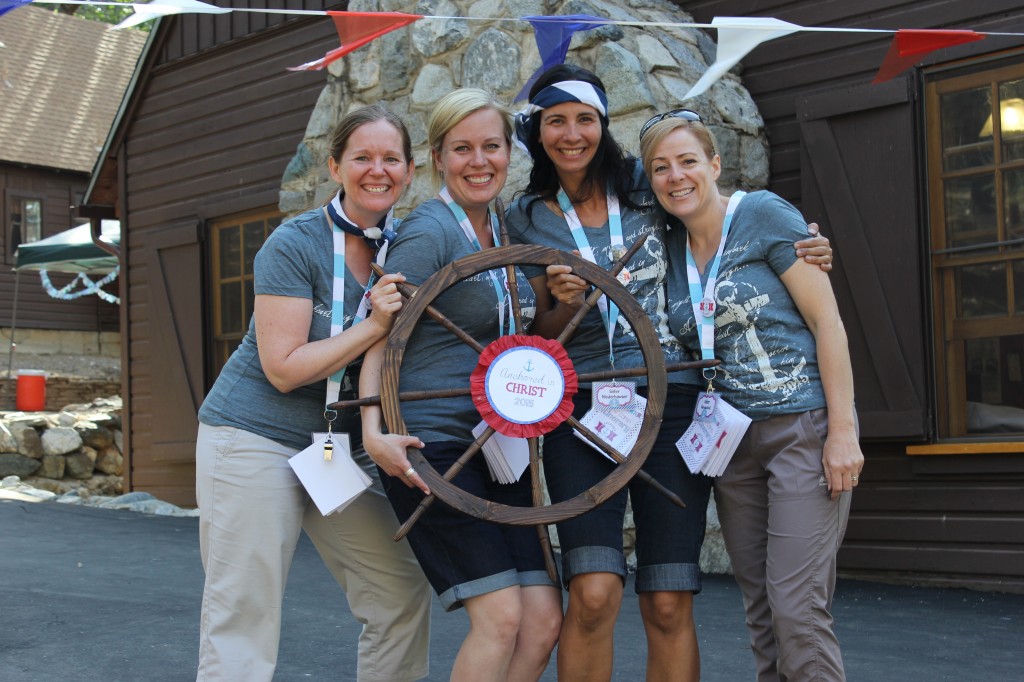 Our camp shirts were amazing!  One of our counselors is a fashion designer in LA!  She rocked it on the design!!
WELCOME ABOARD!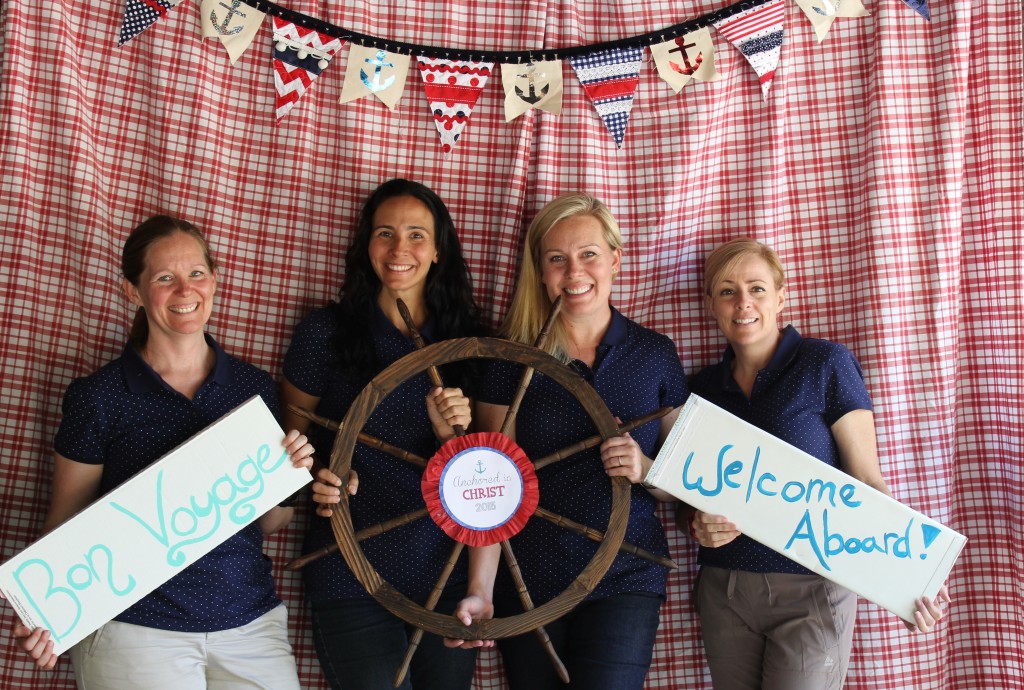 AT CAMP
You can download our camp itinerary if you want to know how everything plays out.  I will touch on the highlights here.
Upon check-in each girl received her lanyard, camp shirt, and a banana.  Here is a list of the themes for each level – they were all to choose a theme based on a ship/
1st year – The Good Ship Lollipop
2nd year – Noah's Ark
3rd year – Sea Cows
4th year – the Black Pearls
YCL – the SS Minnow
Each lanyard and banana coordinated with the theme.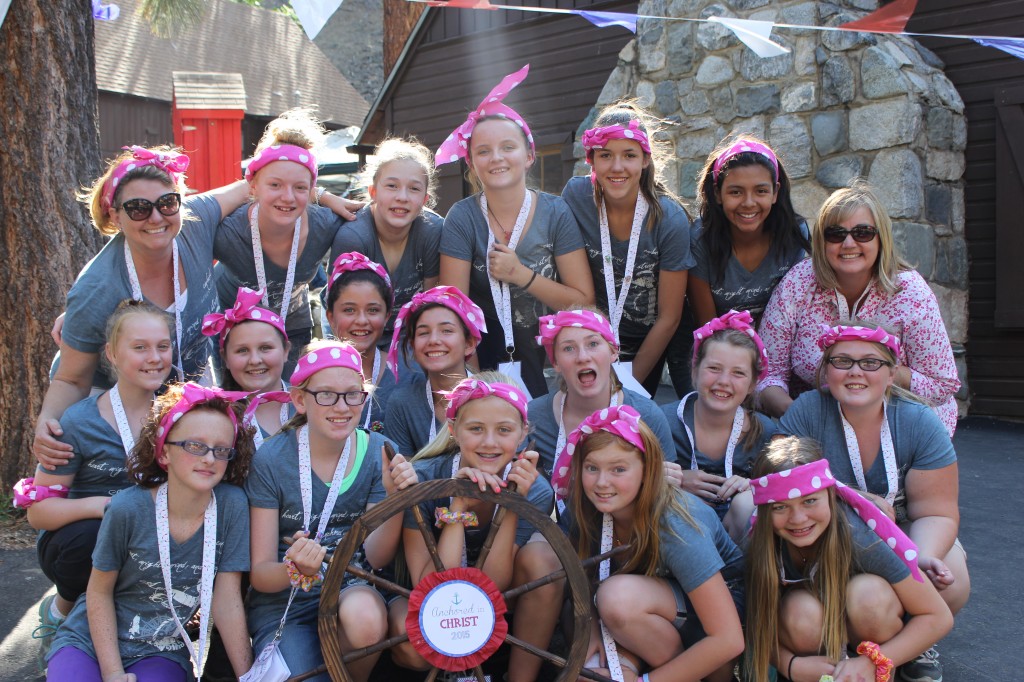 Every morning, we would meet for flag and have breakfast.  After breakfast each level would have scripture time where their leader would give them assigned scriptures to read.  We found this was more productive than just having the girls read at random.  After, the YCLs assigned to each level would share a 15 minute spiritual message.  This was a great opportunity for the YCLs to connect with their levels.  During this time the level leaders would meet in the lodge for a "Staff Meeting"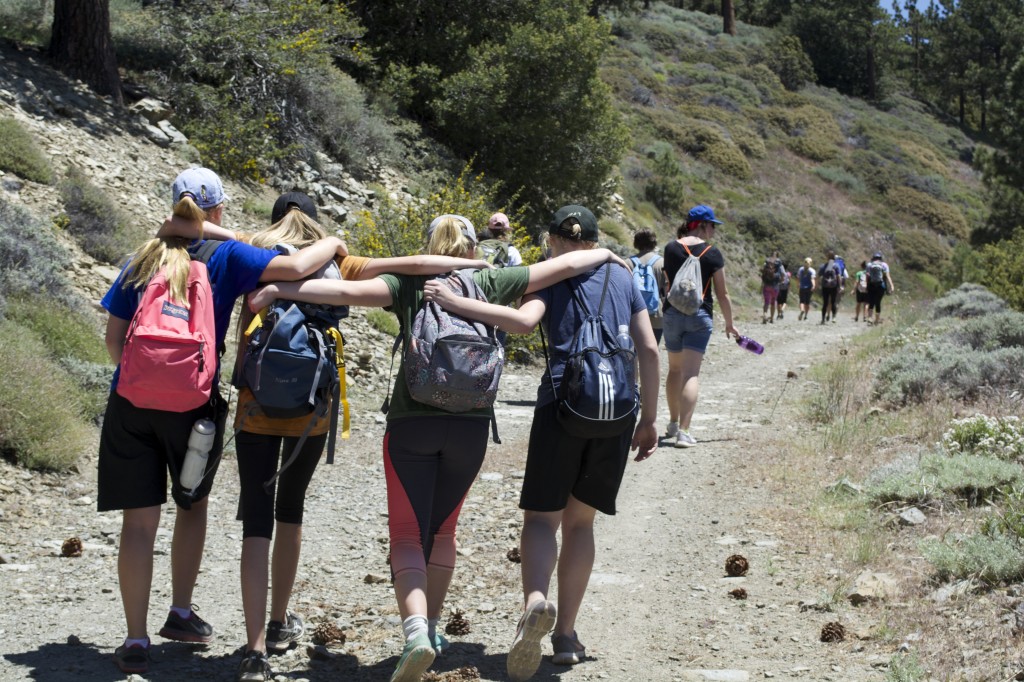 From there the day would progress: hikes, first aid, certification, swimming, rock wall, canoes, crafts, archery, and BB guns were all in the rotations.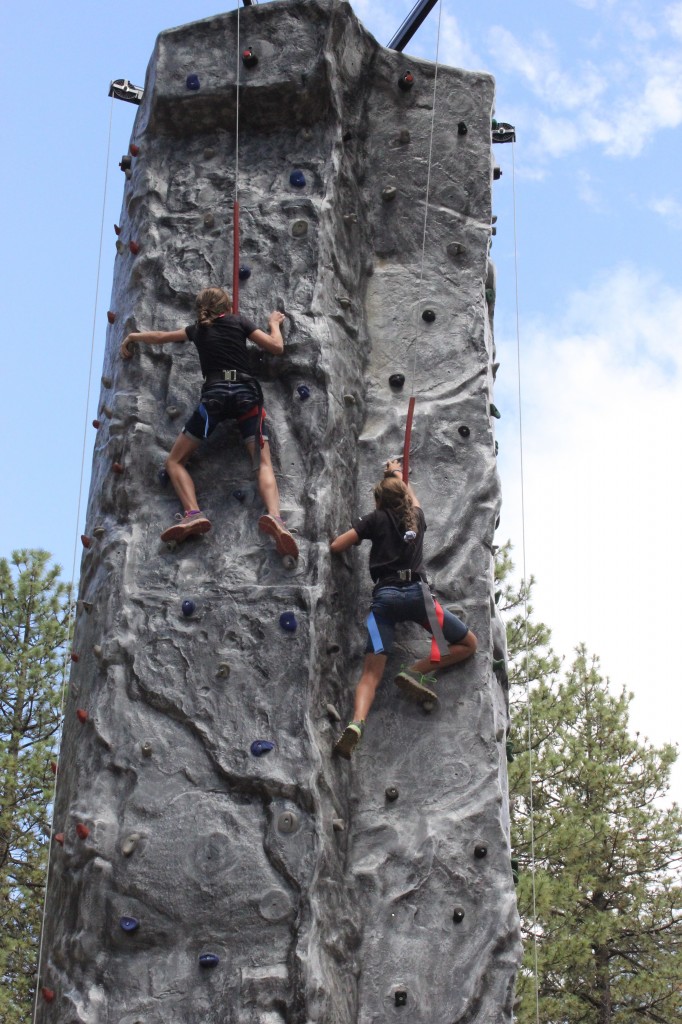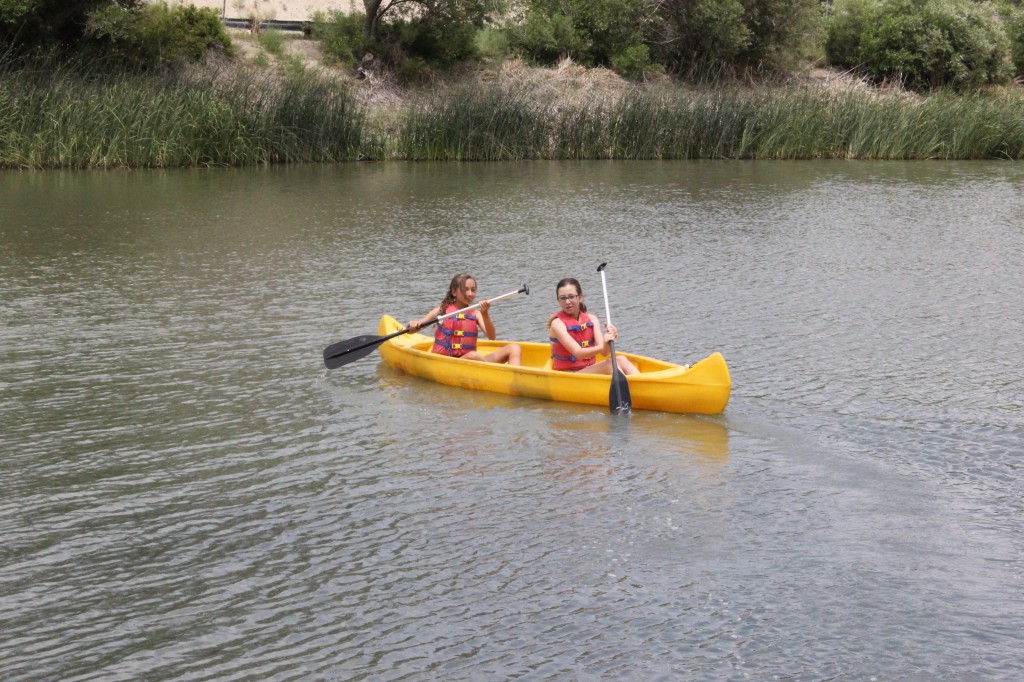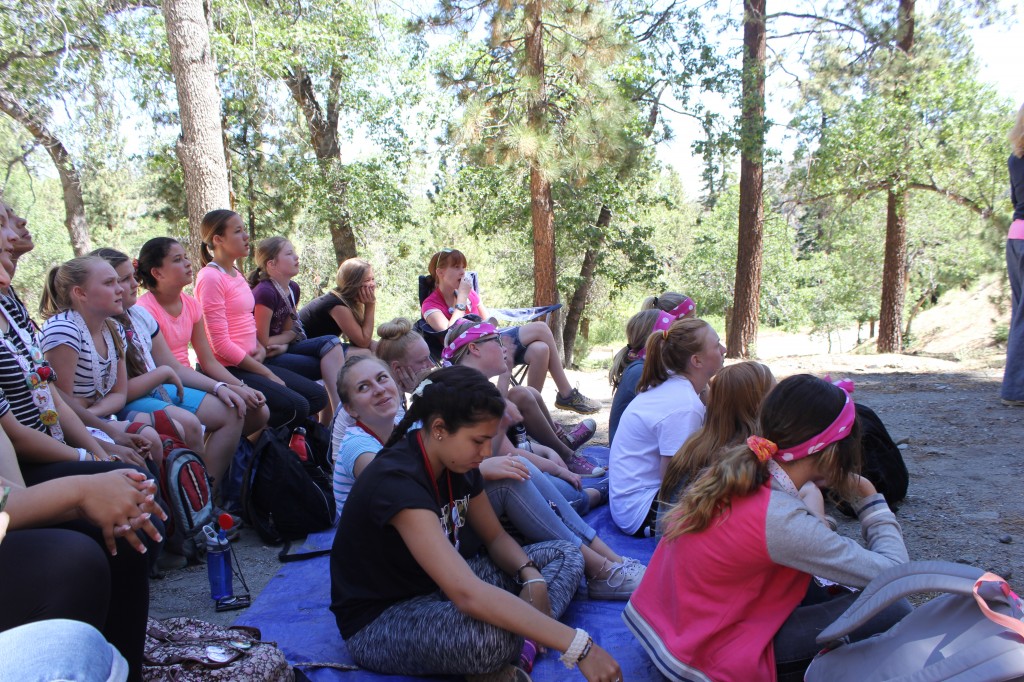 SHIPS & ANCHORS
We take very seriously the #1 purpose of YW camp, "to draw closer to Heavenly Father and His son Jesus Christ."  During the day we had what we called "Ships & Anchors".  These were mini classes taught by the Stake YW Presidency.  Each class was taught 4 times and the girls would rotate.  These were amazing!  It's hard to put it into words.  When you are up in the mountains, talking about spiritual things in a small group miracles happen and testimonies are strengthened.   Of course each girl received a pin that related to each class.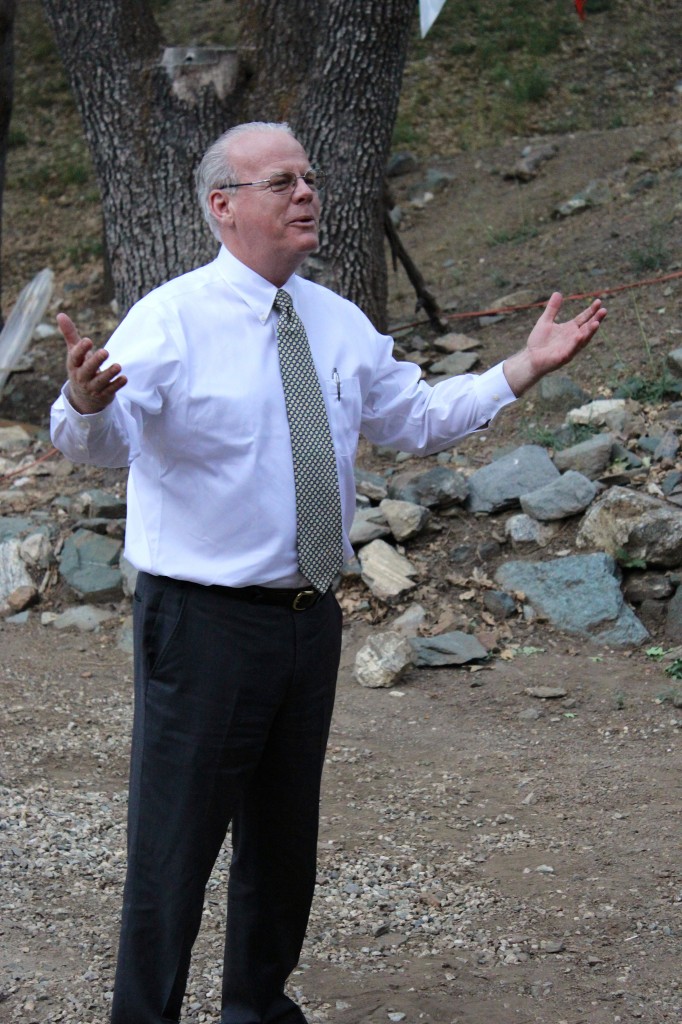 CAMPFIRE
Our campfires start out fun and silly with LOTS of singing and our Love Boat Saga Skit.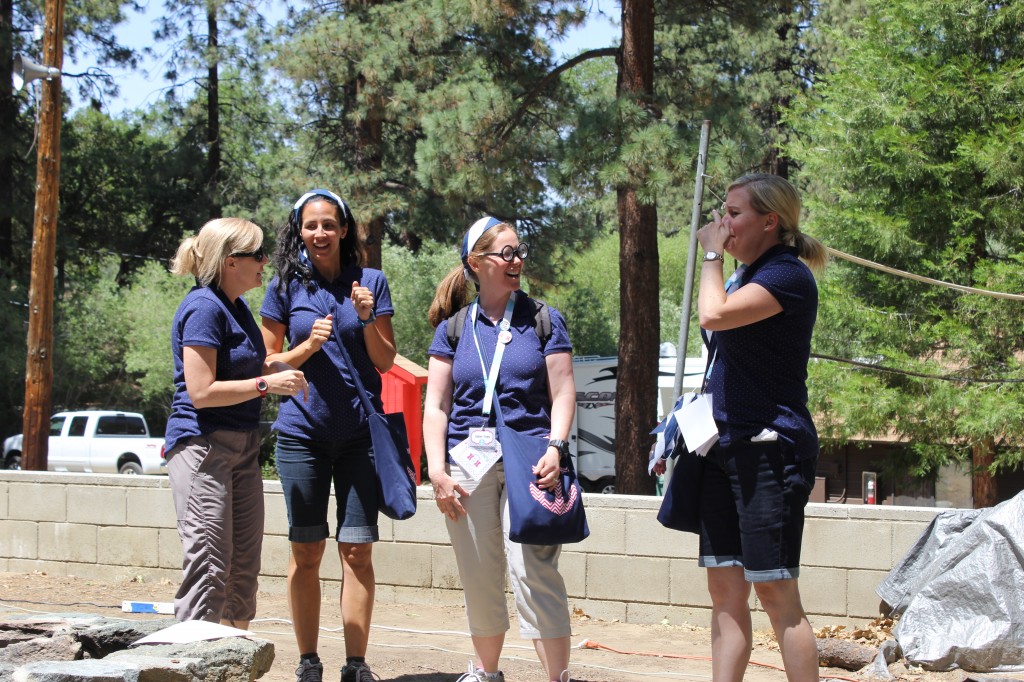 We pretty much wrote each nights skit during dinner.  I loved our characters!  I was Destiny, the girl who was on the cruse to find LOVE!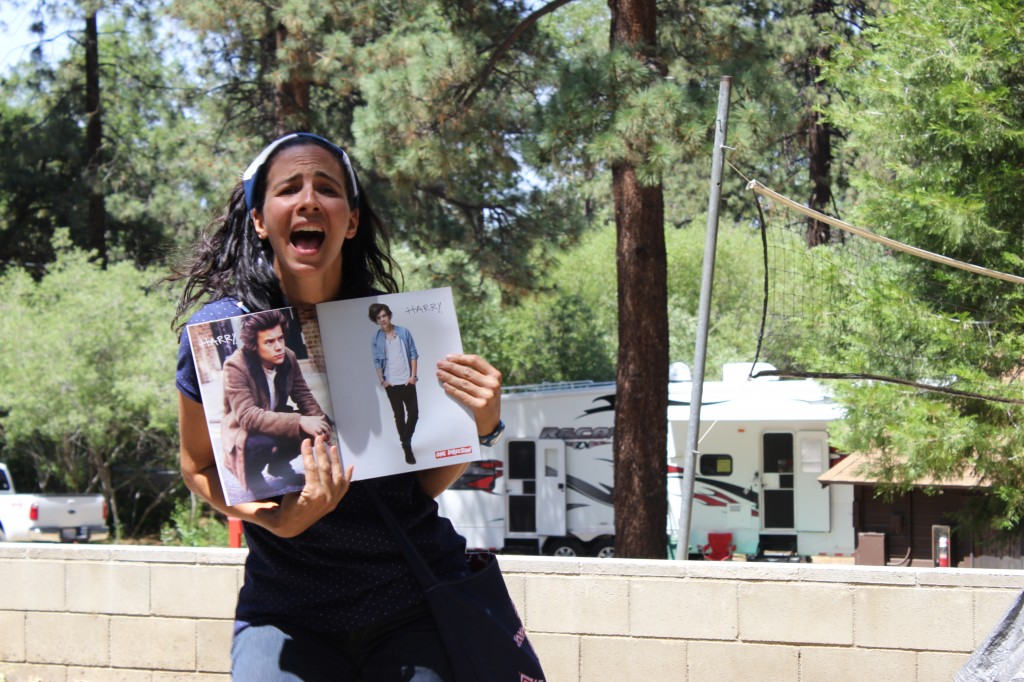 Then we sing our theme song as a transition into getting spiritual.   Each night we plan a different spiritual presentation.  The first night we kicked off our 1 year campaign to memorize The Living Christ.  Each of the stake leaders memorized a portion of The Living Christ and recited it.  In between sections we had musical numbers that coordinated.  Next year at camp we will all stand and recite The Living Christ together.  The following night we had 3 speakers talk about a scripture story that pertained to water/boats.  They were all amazing!  Another campfire activity was that we handed out envelopes with questions inside.  Each girl was to go a little ways off and read the question and write some answers – these were pondering questions.  At the bottom of the paper it directed the girls to go to one of 5 groups.  Each stake leader was assigned a group and we went to a location and had a discussion.  We each were assigned a nautical flag.  Have you ever read the meanint of nautical flags?  Total gospel parallels.  We came back to the campfire and each level sang a song they had prepared.  The final night is testimony meeting.
DEVOTIONALS
Following campfire each level goes with thier leader and has a devotional lead by their leaders.  These can be some of the most impactful moments of camp.
EVENING ACTIVITY
Because no one is ready to go to bed at 9:00 pm and they are all a little spiritually drained, we host activities in the lodge every night.  Since this years theme was nautical, we treated these activities as ports of call.  Each night we stopped somewhere new!  Here are all the places we visited:
Tuesday night – Hawaii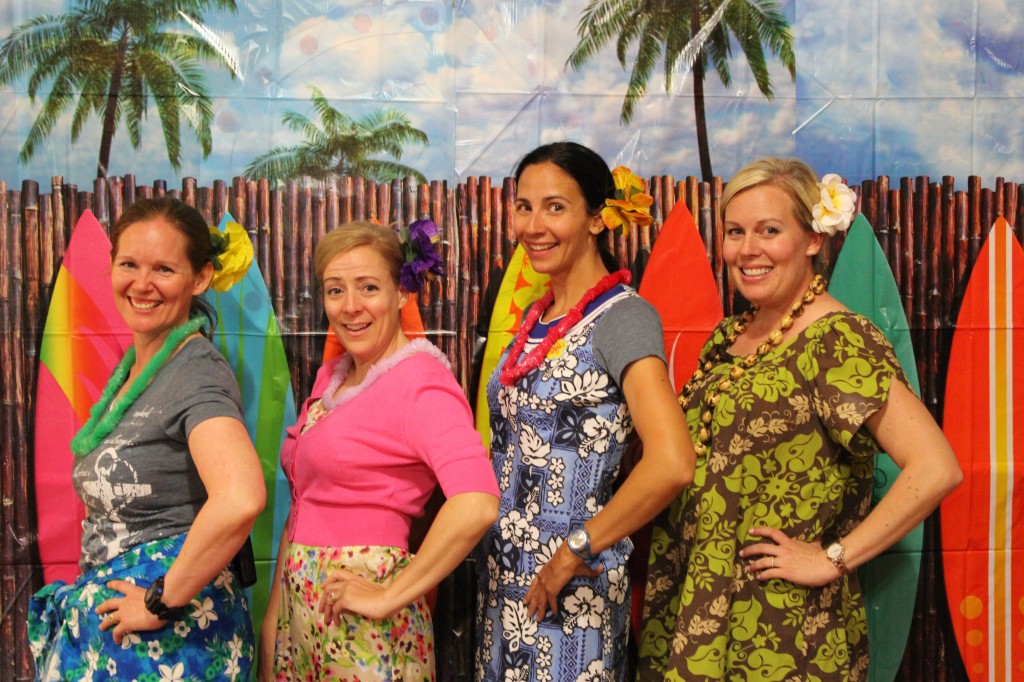 We decorated the lodge like a luau.  We welcomed each girl with a lei.  We had fresh pineapple juice and coconut cookies for refreshment.  We had a few YW who hula perform and teach everyone some dances.  We had a "friendship" dance where at the end, you would partner up, exchange leis and that would be your SOS sister for the week.  We change our secret sisters up each year.  This year we didn't want them secret, we wanted the girls to get to know each other.  So we created SERVE OUR SISTERS.  The YW were encouraged to make things at camp and give their sister.  This is such a nice change from buying lots of junk and bringing it to camp.
Wednesday night – Mexico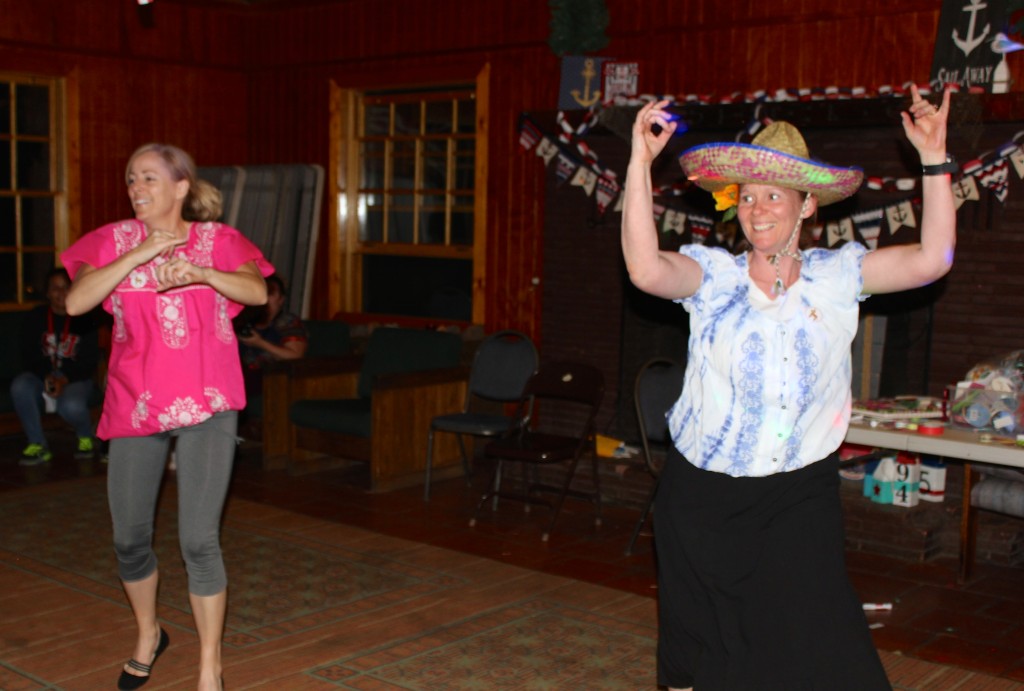 We decorated the lodge to look like a Fiesta.  We all wore Mexican dresses and we had 2 pinatas, churros and chips and salasa.  One of our counselors is a Zumba instructor and she taught the girls some fun zumba dances.
Thursday night – Florida, Disneyworld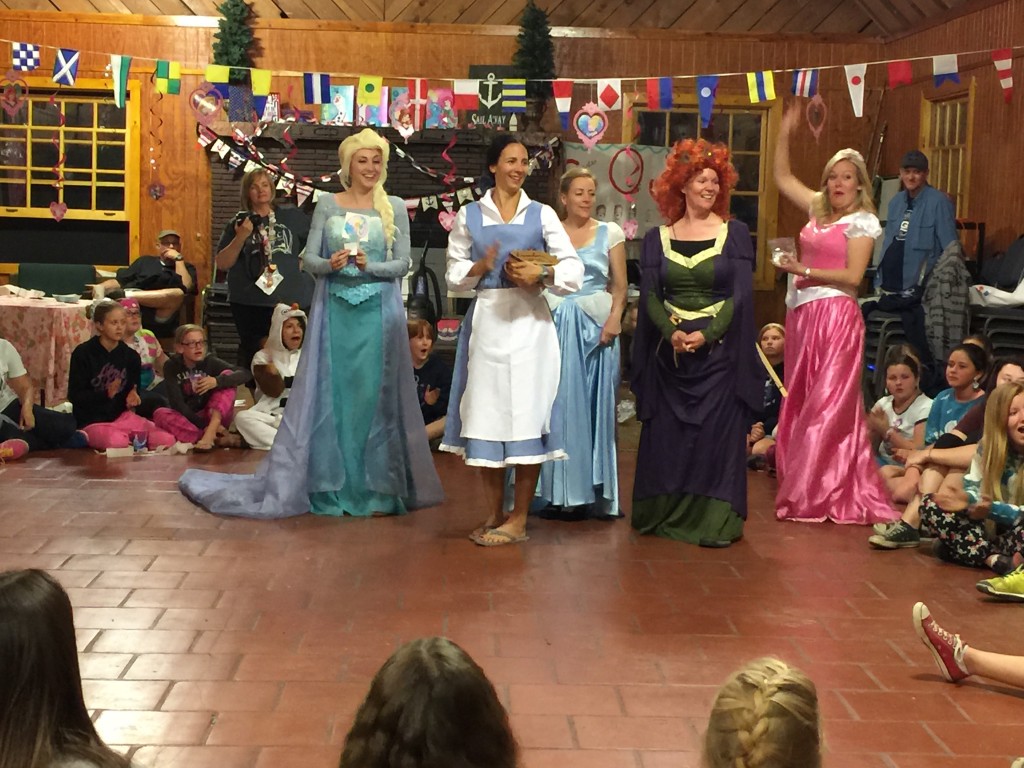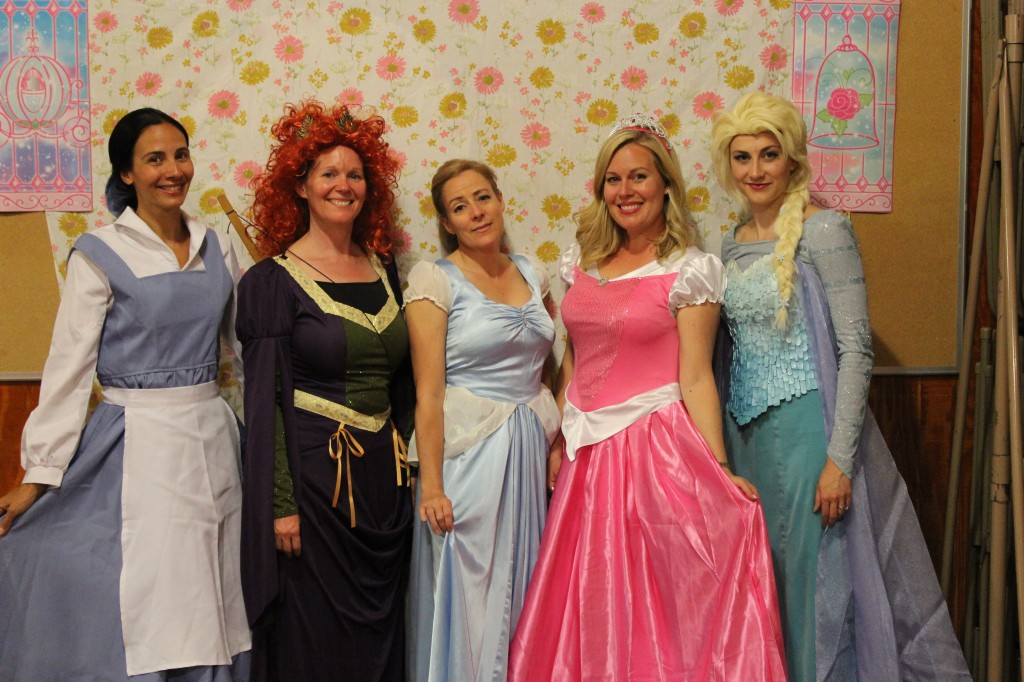 This night each of the stake leaders dressed up like Disney Princesses.  We had each girl choose a princess and we broke into groups and practiced a little routine to the song that goes with the princess.  Then we made a big circle and performed in the center.  The girls love Disney music!  We had made buttons of each of the princesses with origional artwork and each girl got a button from her princess.
Friday night – party
Friday night is kind of a free-for-all.
BEDTIME ROUTINE
Each night the stake leaders hike up and down the camp to sing good night songs to the girls.  This year we created a newsletter to hand out, much like you would receive on a real cruise.  Here is a sample of one of the editions: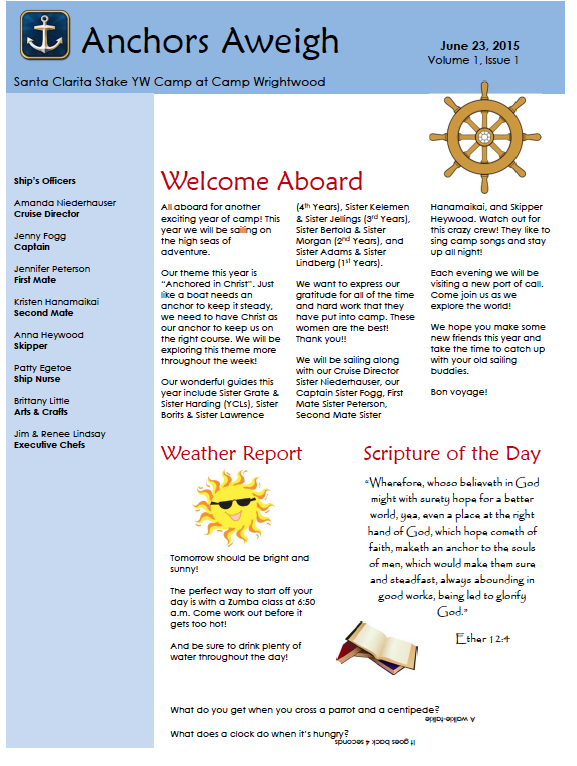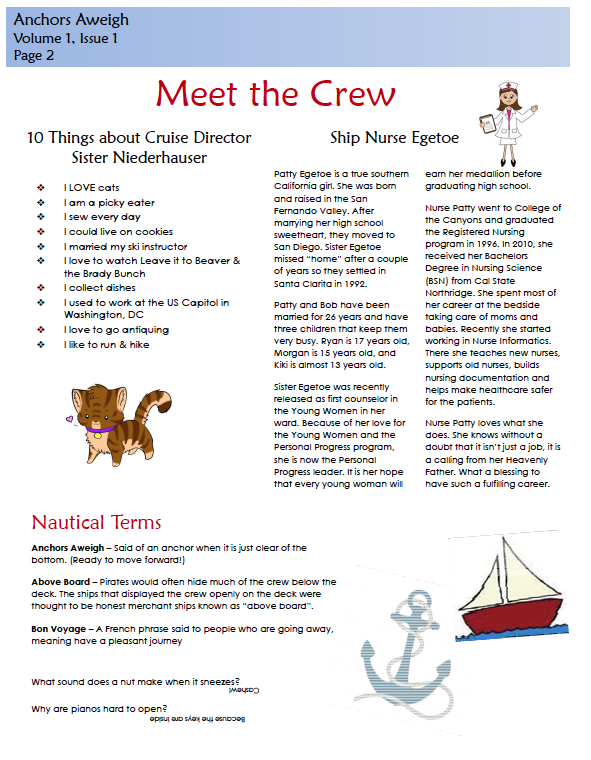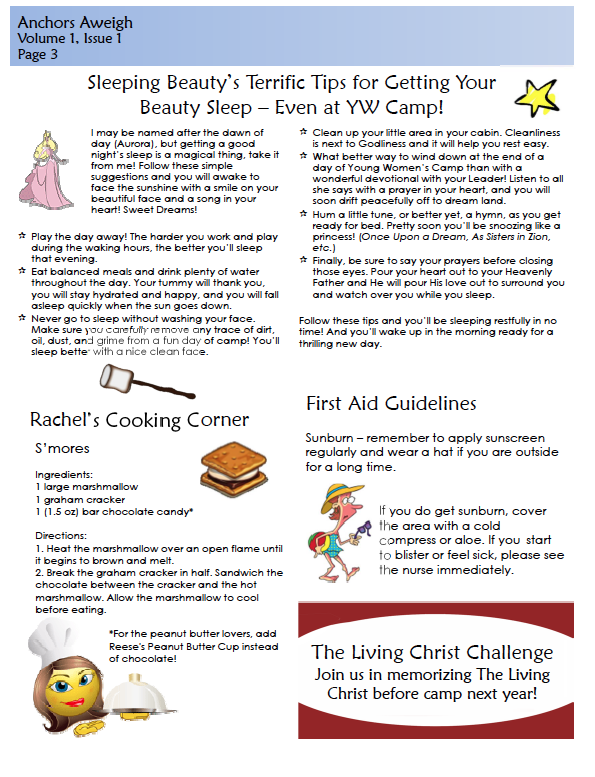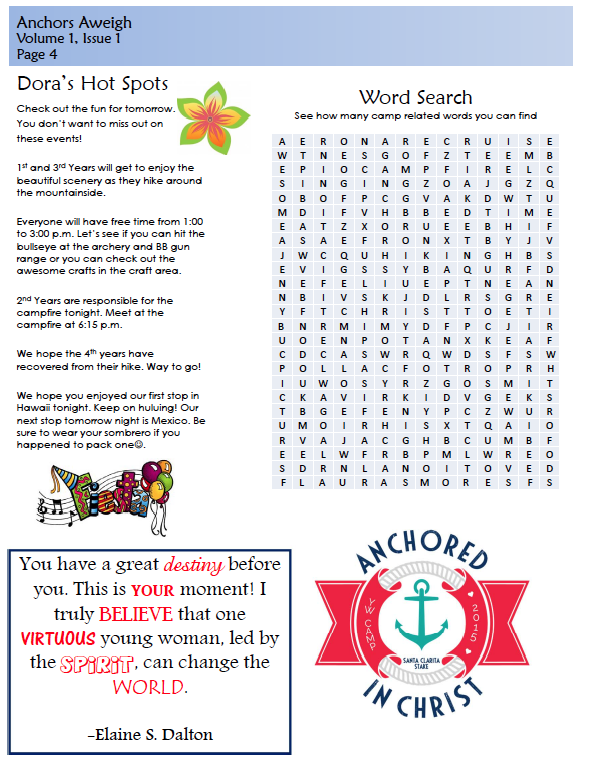 POST-CAMP
Sunday night following camp we all meet together at the church and we present each girl her level award.  The church used to have actual certificates.  Now, I just create them.  They also receive a charm that coordinates with our overall theme and with their level.  We watch the slide show and have refreshments.
Conclusion
Camp is such an amazing experience for all who participate.  I hope some of our ideas help inspire you to plan a meaningful experience for the Young Women you serve.  I love hearing from you so feel free to comment or email me 🙂