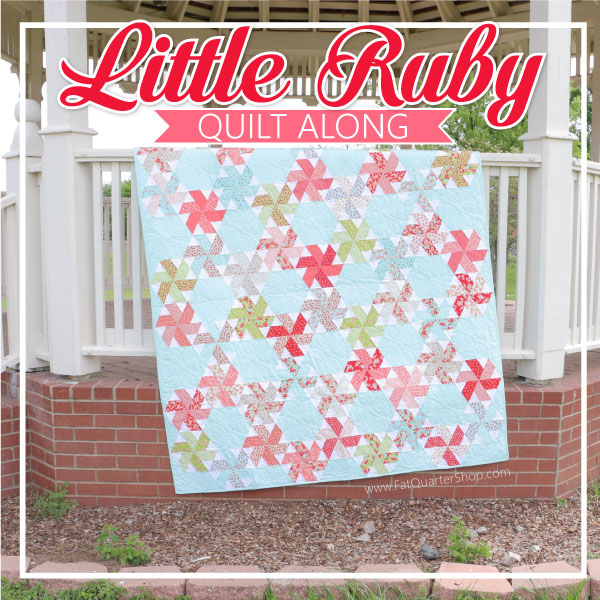 This has been such a fun quilt along from Fat Quarter Shop!  You're not too late if you want to make this quilt!  I've attached each of the videos below if you would like to make one.  If I'm being honest, this kind of quilt (one that requires special rulers and templates) is so NOT my style.  BUT I have to say I have TOTALLY LOVED making this quilt!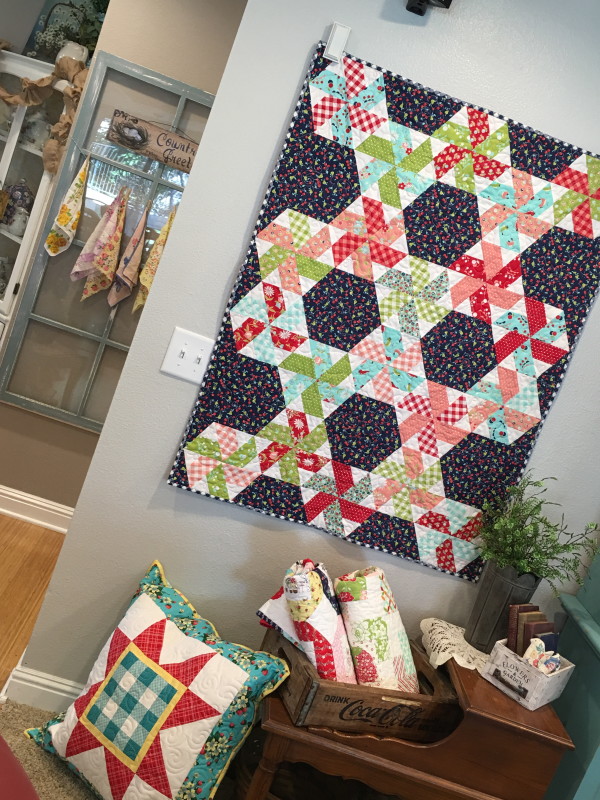 It's so good to jump out of your comfort zone and try something totally new!  You will love how fun this quilt is – the templates make everything fit together perfectly.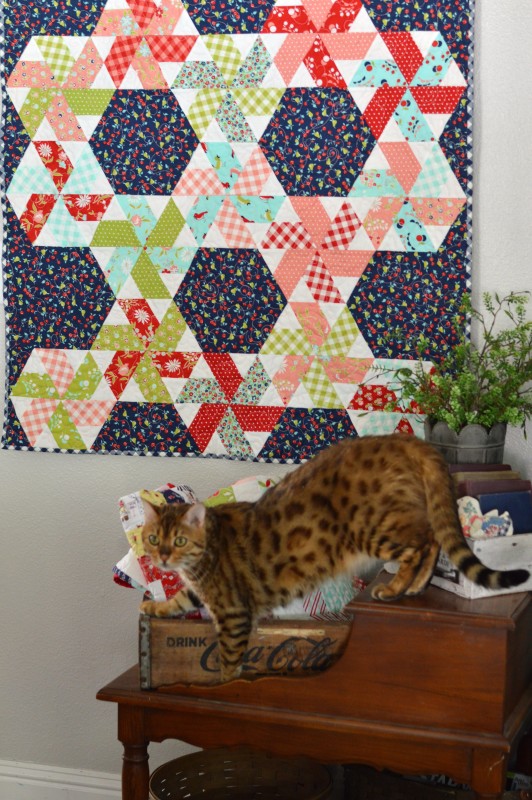 Click for Fabric requirements 🙂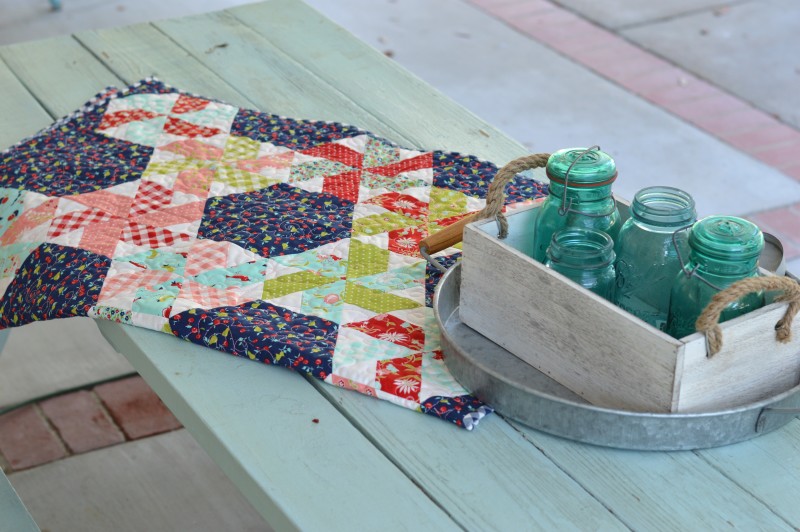 Here's a little overview of the pattern.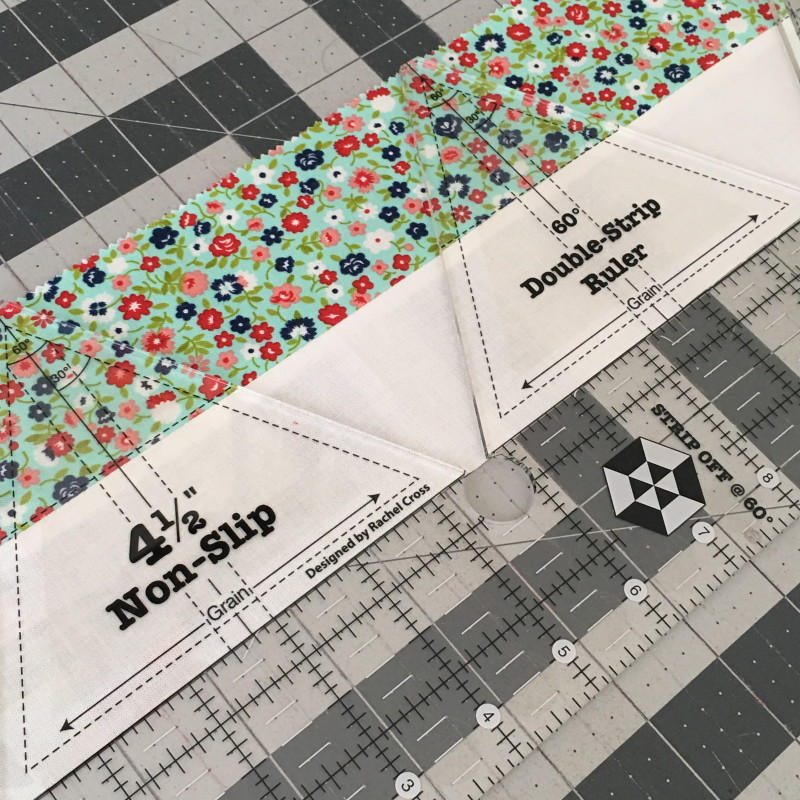 The pattern calls for 2 1/2″ strips.  You sew them together and use this cook ruler to cut the exact size triangle.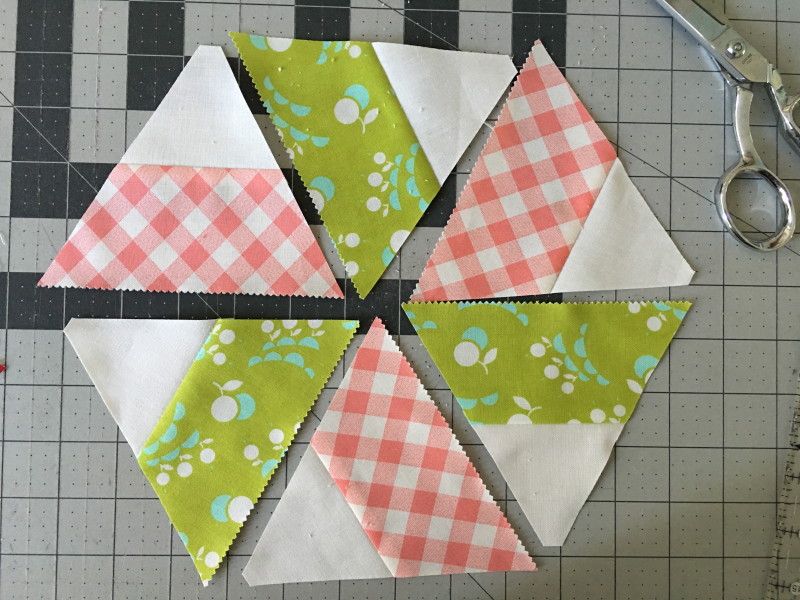 The triangles spin around to form a pinwheel type pattern – cool huh 🙂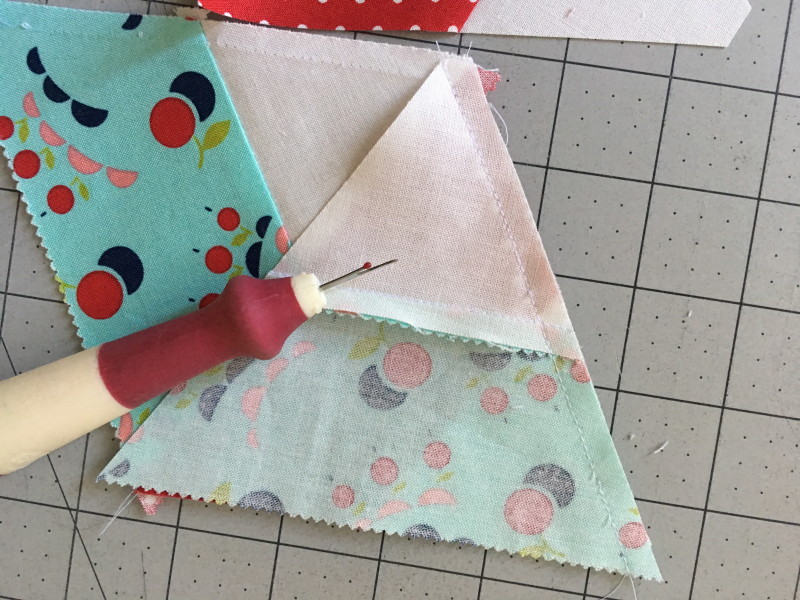 I read all the instructions and watched the videos and still managed to sew my first 2 triangles together the wrong way – 3 times – YIKES!  Once I got that out of my system it was smooth sailing!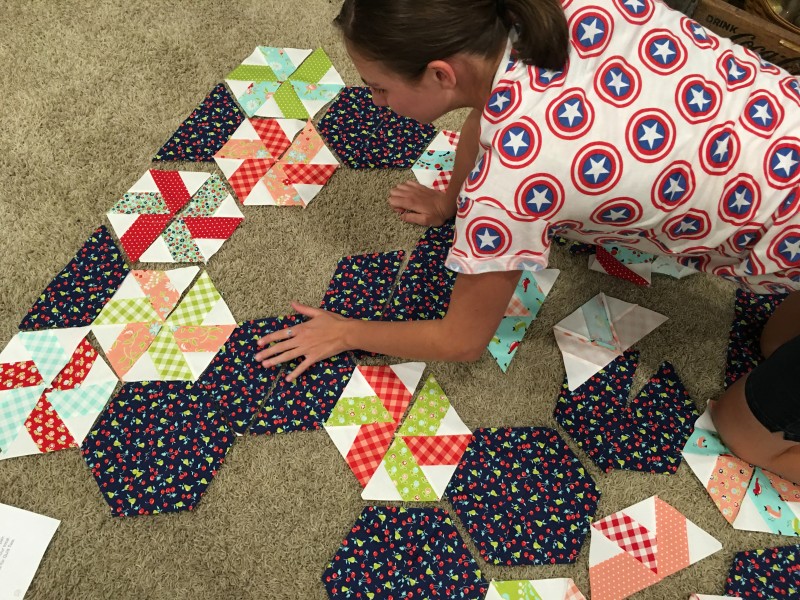 I love having Ella around because I hand her a stack of blocks and she puts them together for me.  We did a little experimenting with the pattern for fun.
The blocks sewed together like a dream.  I just love this fabric!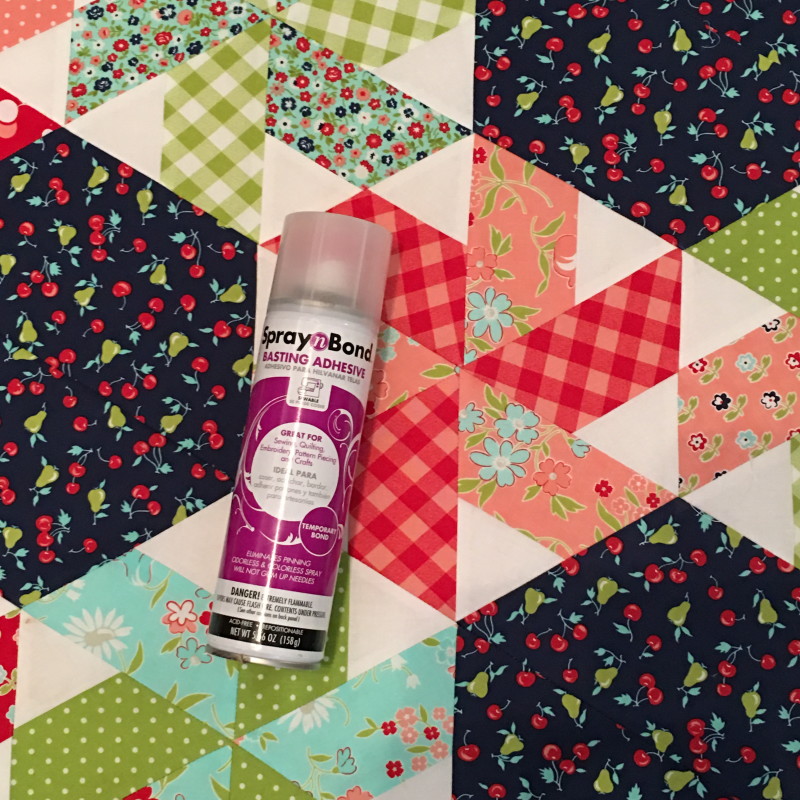 I used my Spray n Bond basting spray to baste the quilt and then machine quilted myself using a loopy floral design.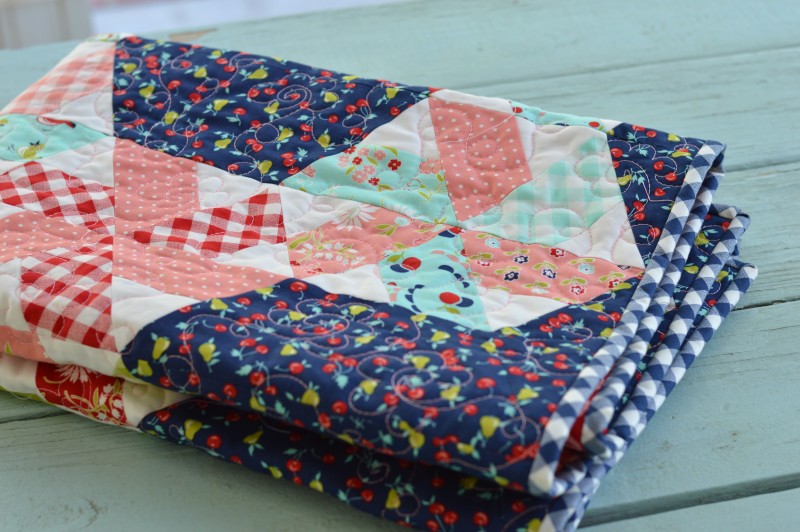 I love bias gingham binding!  The great thing about Vintage Picnic is that the gingham is printed on the bias so it saves fabric and is easy to cut!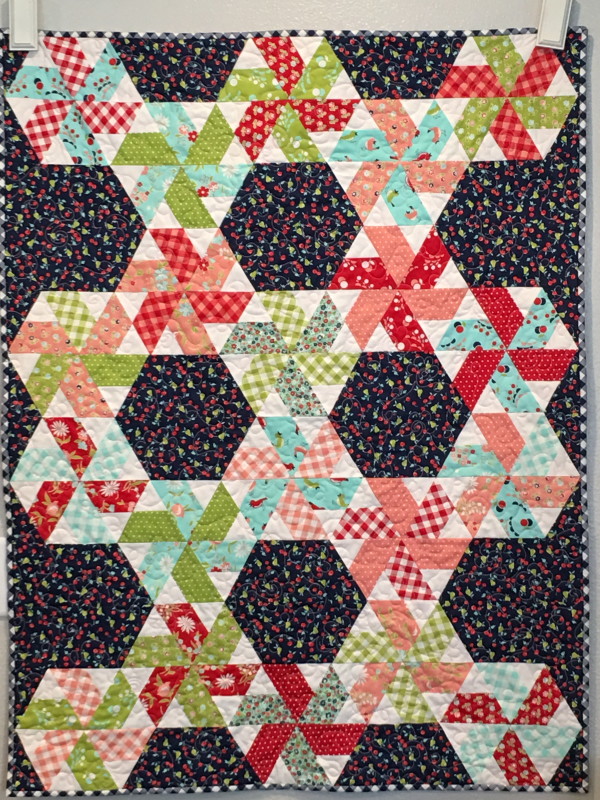 I am thrilled with my Vintage Picnic fabric choice.  I will be keeping this quilt out all summer long!  I did modify my quilt slightly in that I made it a touch smaller.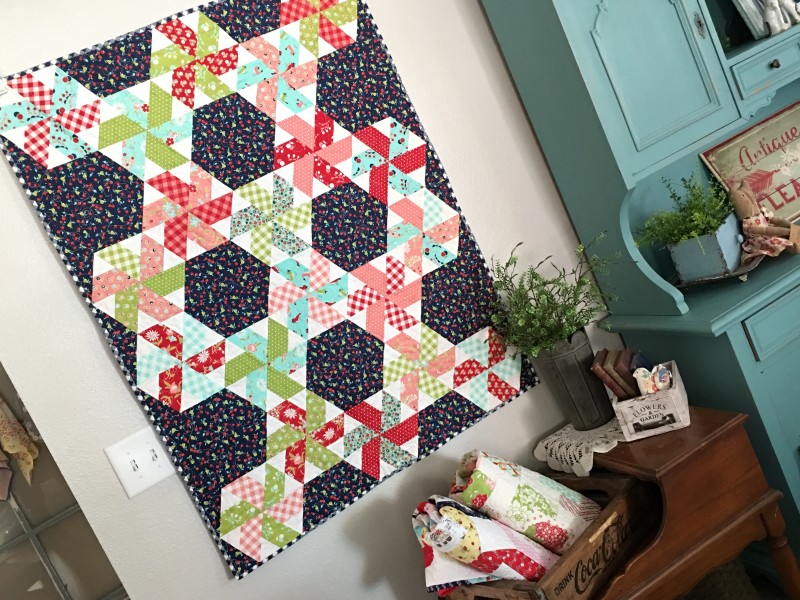 Mufasa seems pretty comfy on the new quilt!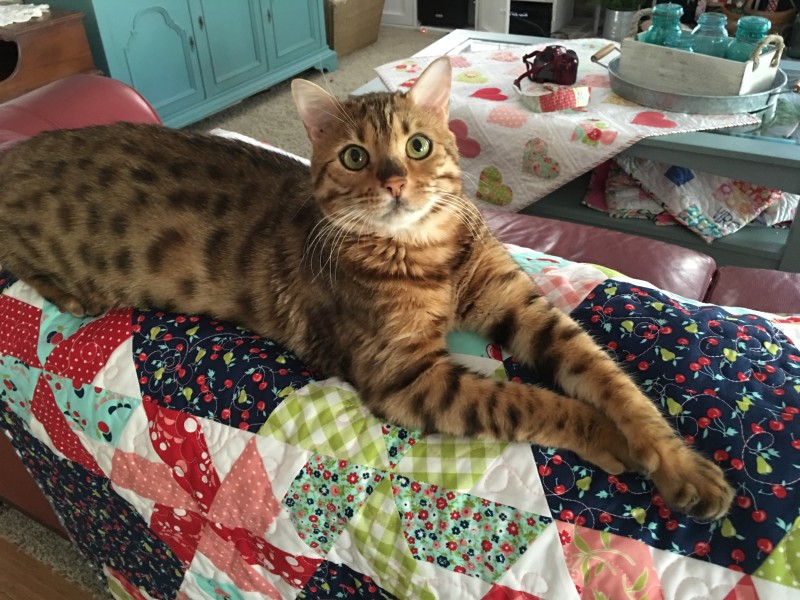 Be sure to check out the completed quilts from these amazing bloggers!
Melissa from Happy Quilting
Angie from Gnome Angel
Erin Cox from Why Not Sew
Andy from A Bright Corner
Heidi from Buttons & Butterflies
Pat from Pat Sloan
Peta from She Quilts a Lot
Heather from Quilt Story
Megan from Quilt Story
Amanda from Jedi Craft Girl
Gerri from Planted Seed Designs
Sherri from A Quilting Life
Rebecca from Bryan House Quilts
Sherri from This & That Patterns
Jemima from Tied with a Ribbon
Alyce from Blossom Heart Quilts
Stephanie from Modern Sewciety
Brooke from Silly Mama Quilts
Carrie from Moda's United Notions