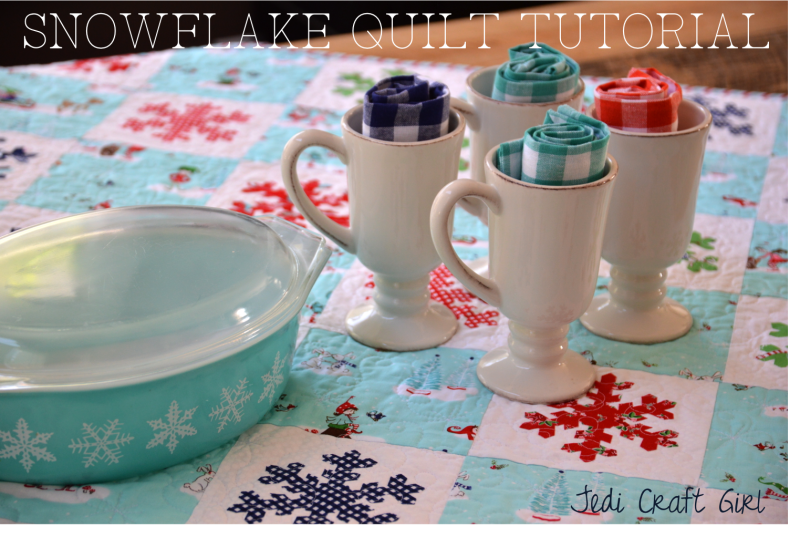 It's my turn on the Pixie Noel Blog Tour!  Yay!  I have been in love with this fabric as soon as I saw Tasha Noel post a few sneak peeks months and months ago!  I love how whimsical her art is and I love her choice of colors!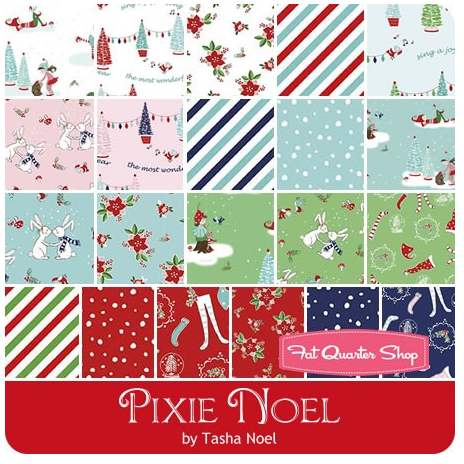 It was a little bit challenging to sew with winter fabric when the temperatures here in Southern California have been in the 110's and our town is literally ablaze!   I decided to beat the heat by creating this whimsical snowflake quilt.
I don't know about you, but cutting snowflakes and sewing snowflakes is not on my top 10 list of favorite things to do.  Super time consuming!  This quilt has 2 amazing shortcuts that will have you whipping one up in an afternoon.
First, all the snowflakes were die cut on my Sizzix Fabi – 3 at a time!
Second, the snowflakes are appliqued using Heat n Bond Ultra which means no tedious applique top stitching necessary!  Heat n Bond Ultra is heavier than Heat n Bond Lite which I normally use for applique.  The Ultra requires no sewing.   Just cut, press, and go!  The snowflakes get sewn over during the quilting process – which helps incorporate them into the quilt and makes it even more durable.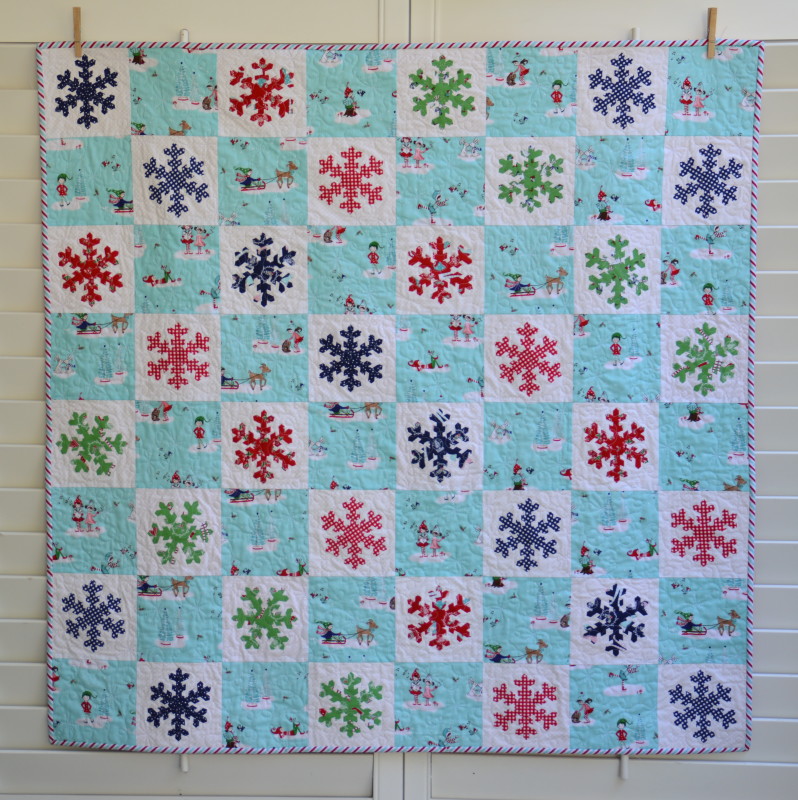 Here's how you can make one:
Supplies:
1 yard white fabric
1 yard aqua main fabric (or additional if you want to fussy cut)
fat quarters for applique, red, navy, green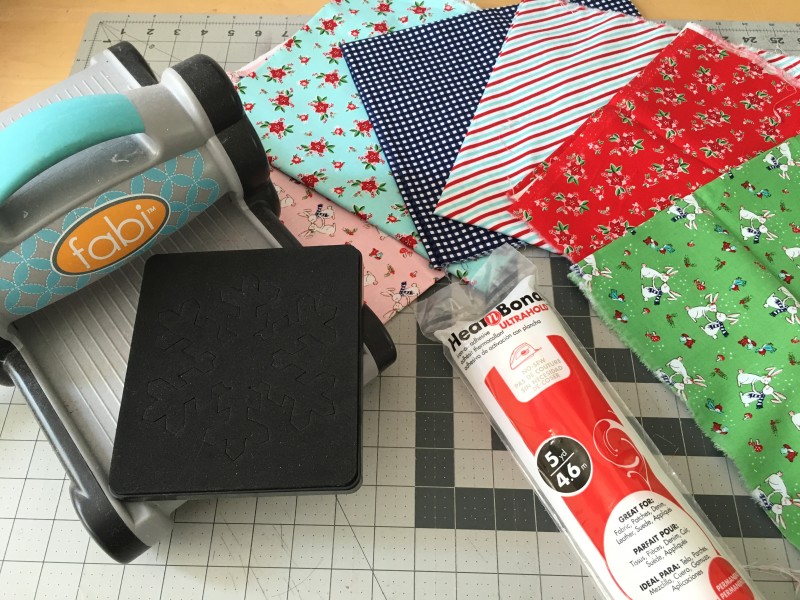 Instructions:
Cut (32) 6.5″ squares of white fabric
Cut (32) 6.5″ squares of the aqua Pixie Noel theme print
Cut the Heat n Bond Ultra into 5″ strips.  Fuse to the wrong side of the snowflake fat quarters.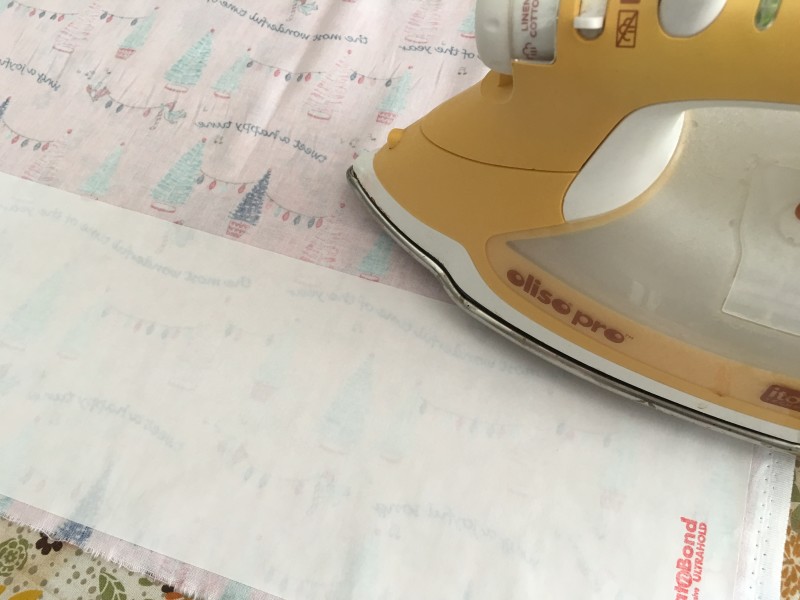 Make sure your cat helps you die cut the snowflakes.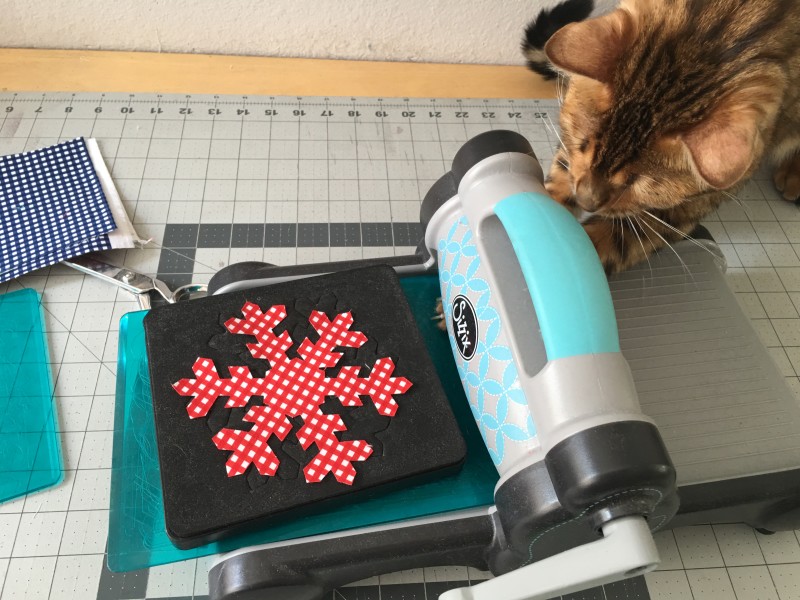 We cut 3 at a time.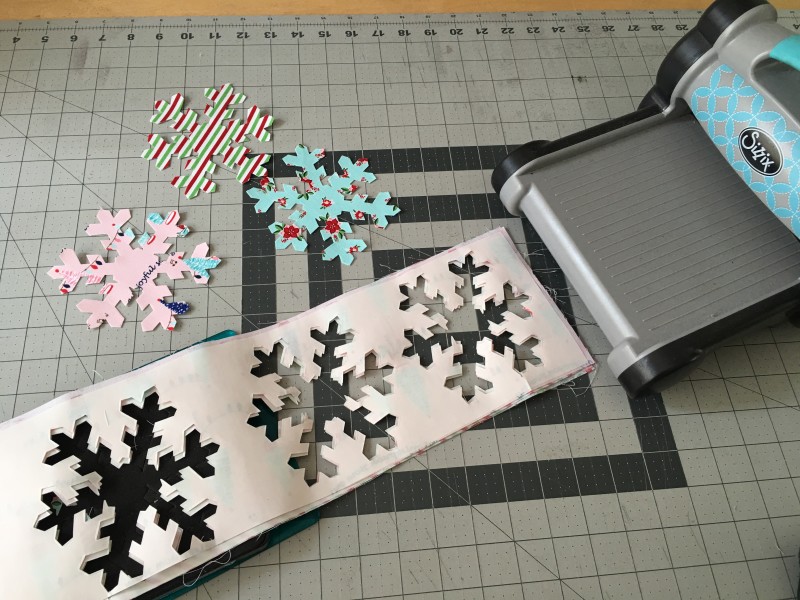 Peel off the backing.
Center the snowflakes on the white squares and heat set with hot dry iron.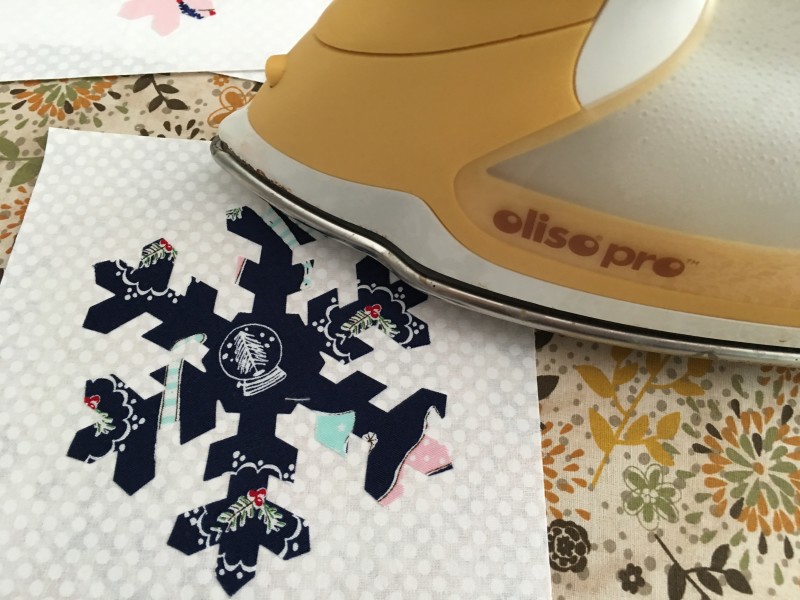 Die cut 6 green snowflakes, 12 navy snowflakes, and 12 red snowflakes.
Lay out the quilt according to the diagram below: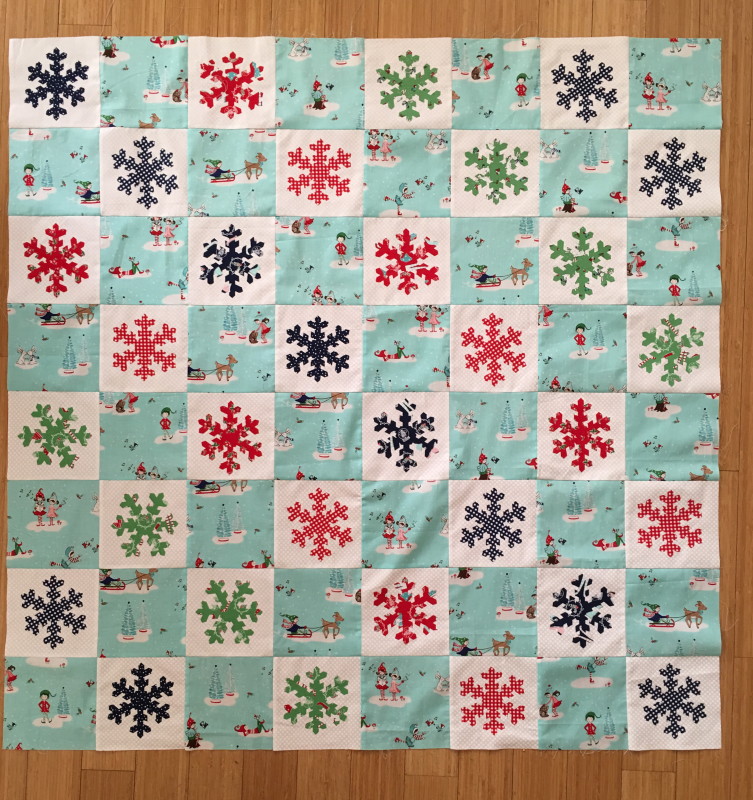 Sew the squares together in rows using 1/4″ seams.  Press each row alternately.  Sew rows together pinning at each intersection.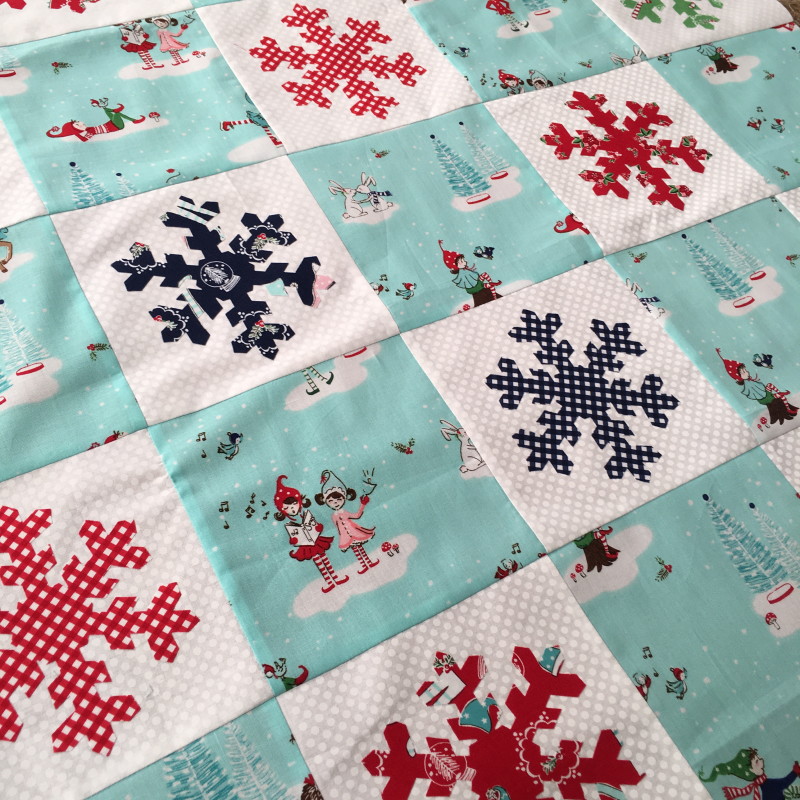 I always use Spray n Bond to baste my quilts – its fast, secure, and no pinning!  Seriously this quilt can be made in a matter of hours!!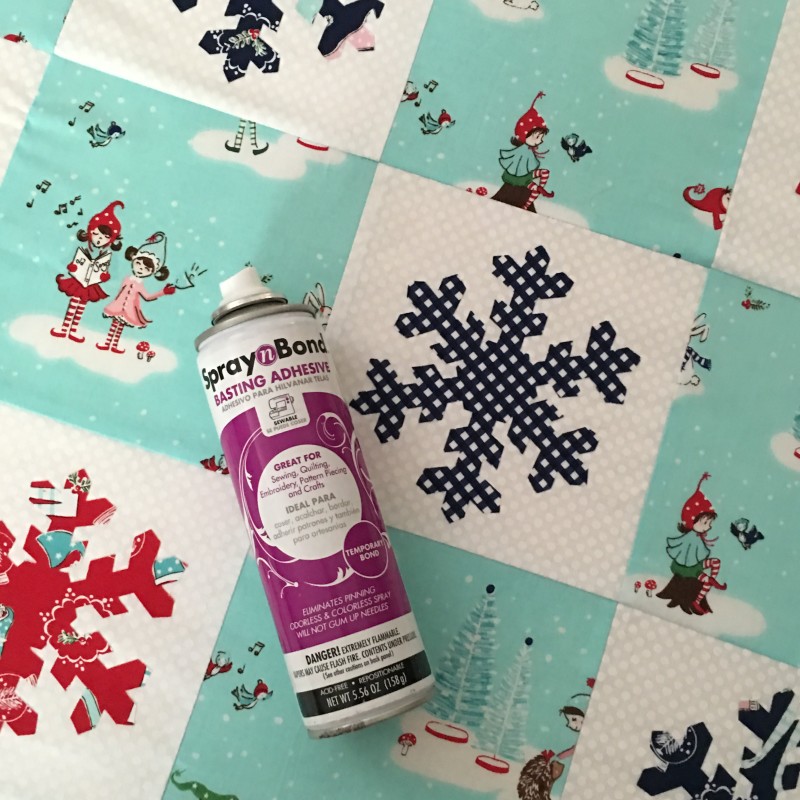 I quilted loops and stars.  I sewed right over the snowflakes.  It helps to make them feel like part of the quilt and not puff out.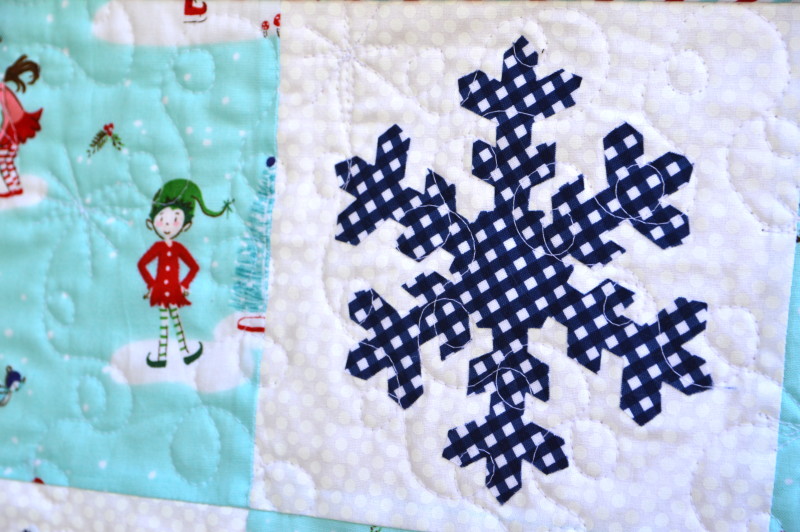 I love that there are 3 stripe colors to choose from in Pixie Noel.  Even better, they are printed on the bias which makes cutting bias striped binding a snap!!!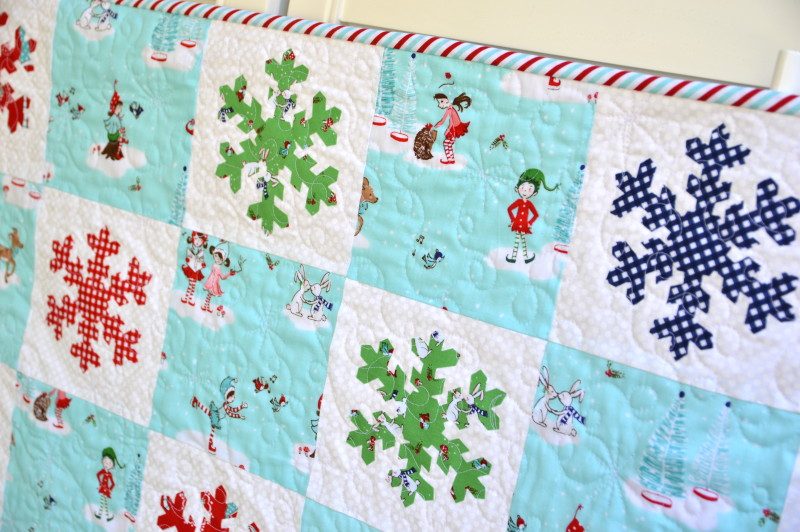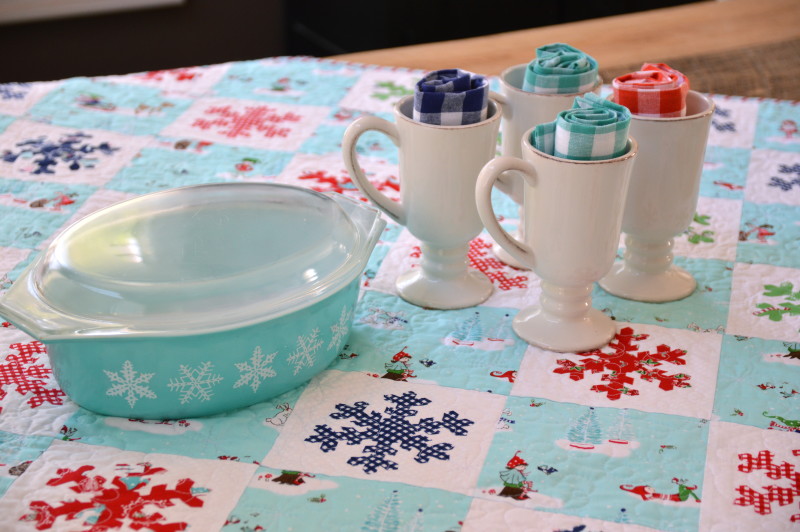 Mufasa loves the quilt!  Don't tell him it's not for him 🙂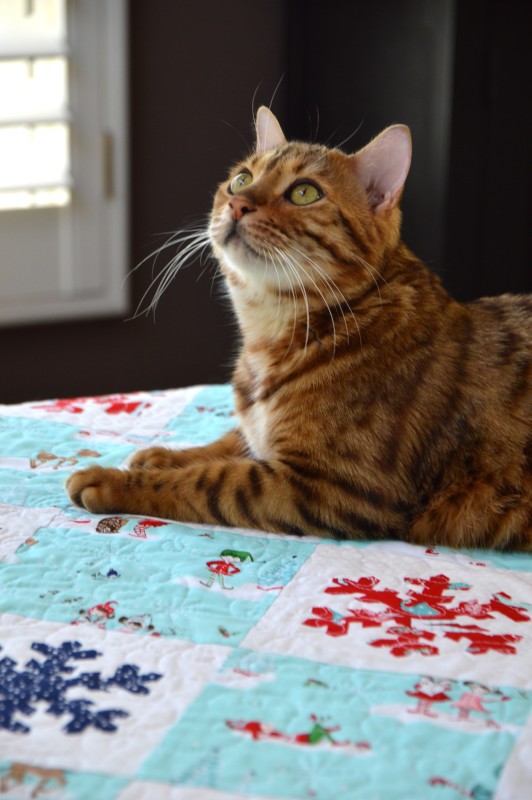 Thanks for stopping by!!!!  Happy Christmas in July 🙂