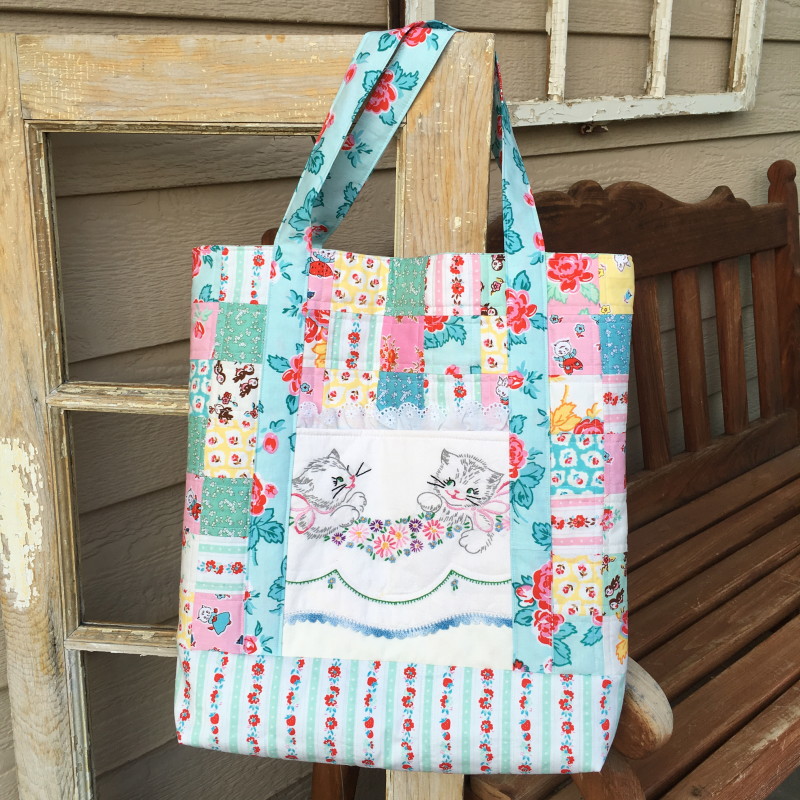 I'm super excited to be a part of Kerri Horsley's Lovely Little Patchwork Blog Tour!  Her book is so adorable with creative projects ranging from quilts to pillows to aprons!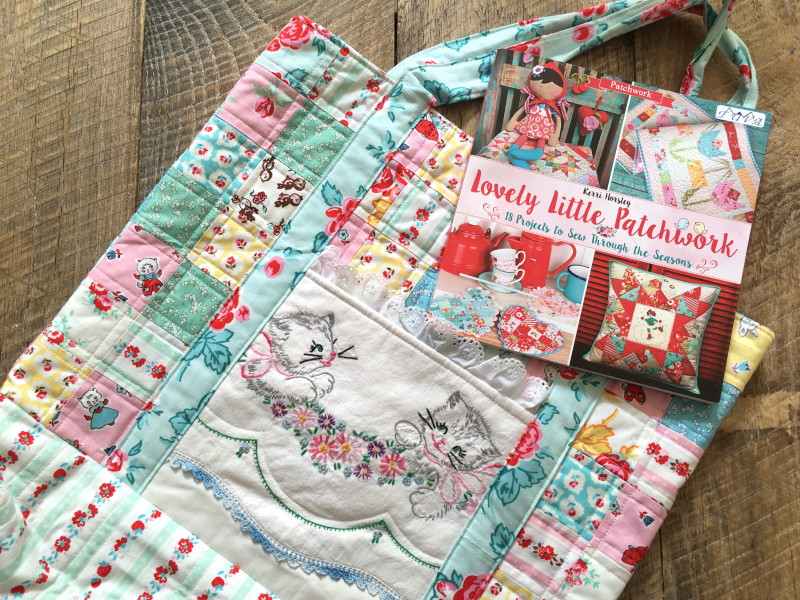 What I love about this book is that not only are the projects inspiring but the book is also fun to read and so pretty to thumb through! I choose to make her Patchwork Market Tote.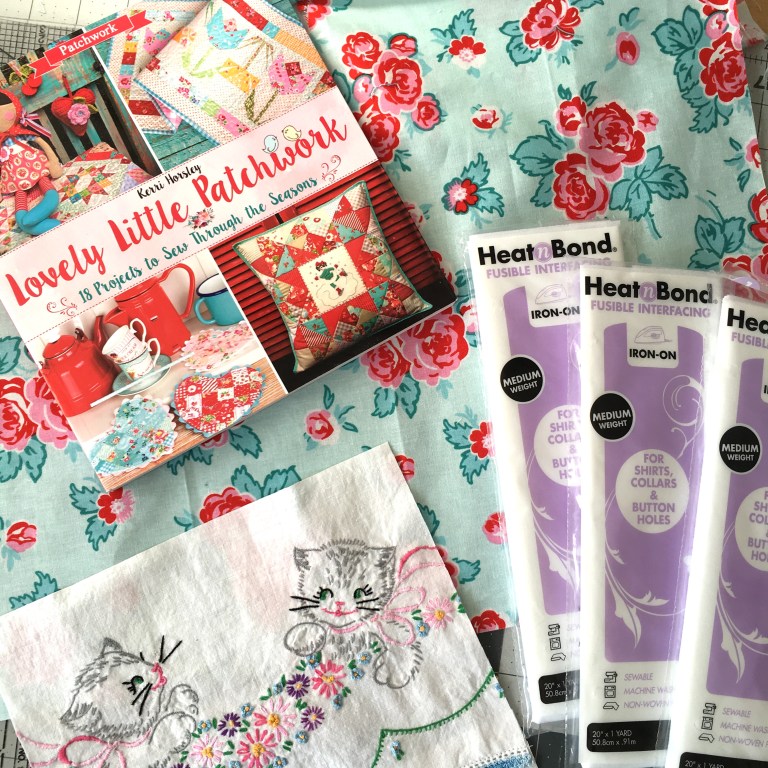 For my fabrics I selected Milk, Sugar, Flour by Elea Lutz for Penny Rose Fabrics – one of my all time favorite fabric lines!  The pattern calls for an embroidered pocket.  I found this vintage pillow case with cats and flowers and knew it would be purrrrfect for this project.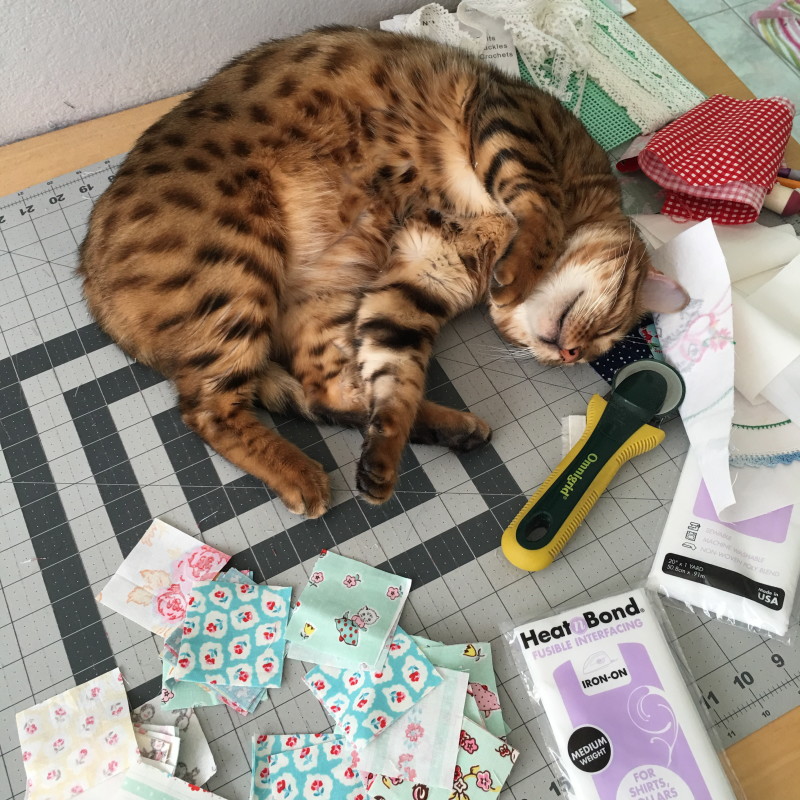 I gathered all my supplies and began cutting and Mufasa decided this would be the perfect place for a catnap 🙂
I followed the cutting instructions exactly.  I am a lover of totebags and so I stabilized my bag a little differently.   My favorite method is cotton batting + HeatnBond medium weight fusible stabilizer!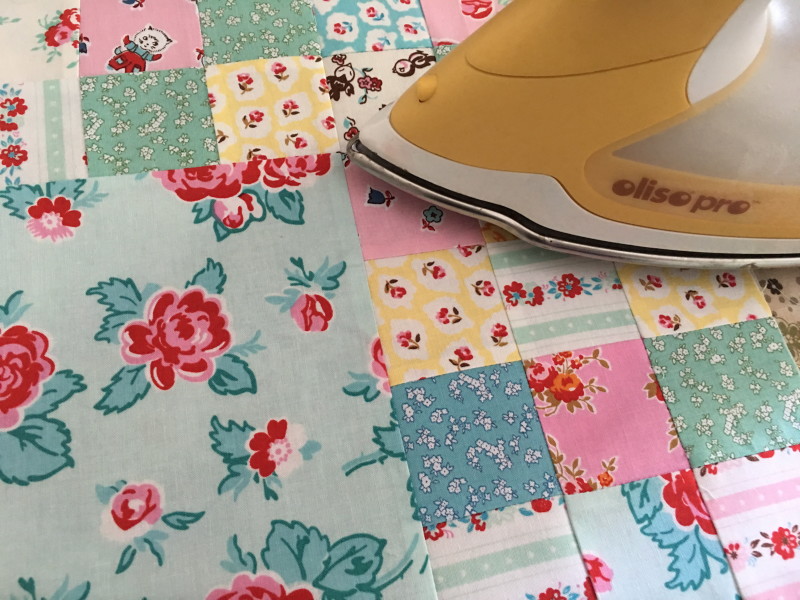 Once I had the outer portions of the tote bag completed  I fused the Heat n Bond® medium weight stabilizer to the wrong side of the outer bag pieces.
Next, I used  Spray n Bond to baste the fused outer bag pieces to cotton quilt batting and then quilted. The addition of the stabilizer gives the bag more strength and substance while the batting keeps it feeling soft!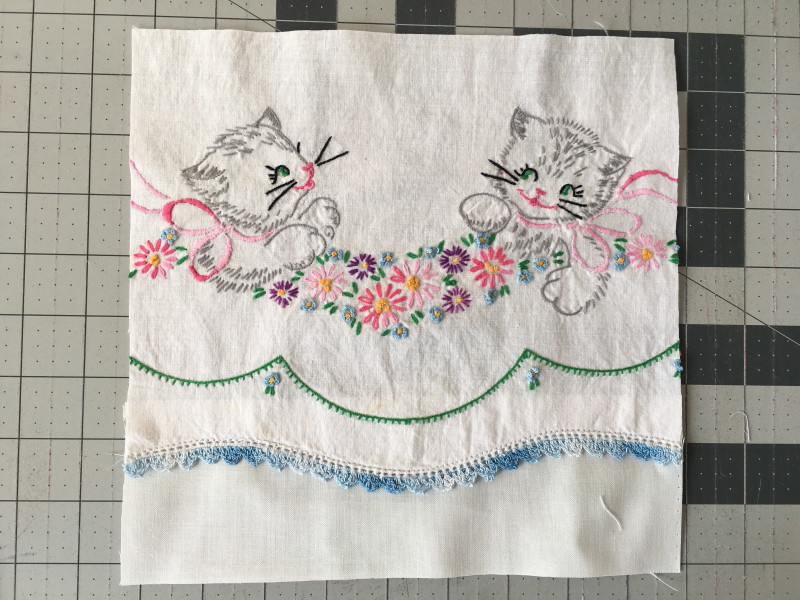 I cut my pillowcase to the measurements indicated in the pattern.
  I used this same method to create the pocket, first ironing on stabilizer to the wrong side of the embroidery piece, followed by quilt batting.
I quilted the entire bag with straight line stitching along each of the seams.
I didn't have webbing for the straps so I created my own using the same length measurements as in the pattern.
To create a 1″ wide handle, cut a 4″ x desired length piece of fabric.   Press the entire length in half.
Open the strap and press both long edges in to meet the center crease.
Now comes the fun part, cut a 2″ x desired length piece of stabilizer and slip it inside the folded handle.  Press to fuse.  Then fold the 2″ piece in half again lengthwise to result in a 1″ wide strap.  Top stitch both sides to secure.  There are 4 layers of fabric and 2 layers of stabilizer in the handle!  It's perfect!  I topstitched along the handles and then continued following the pattern.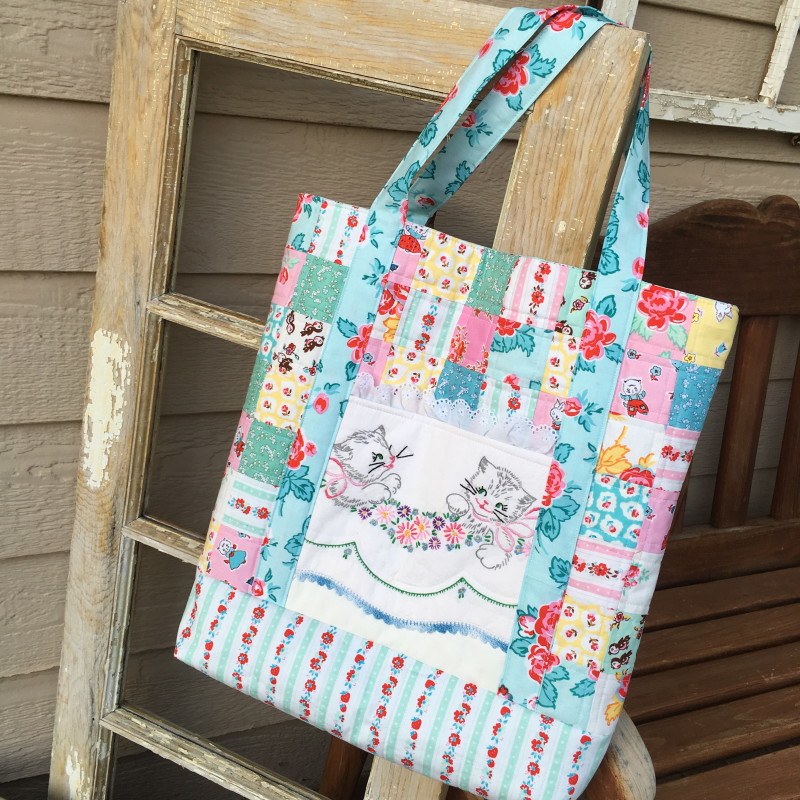 I love it so much!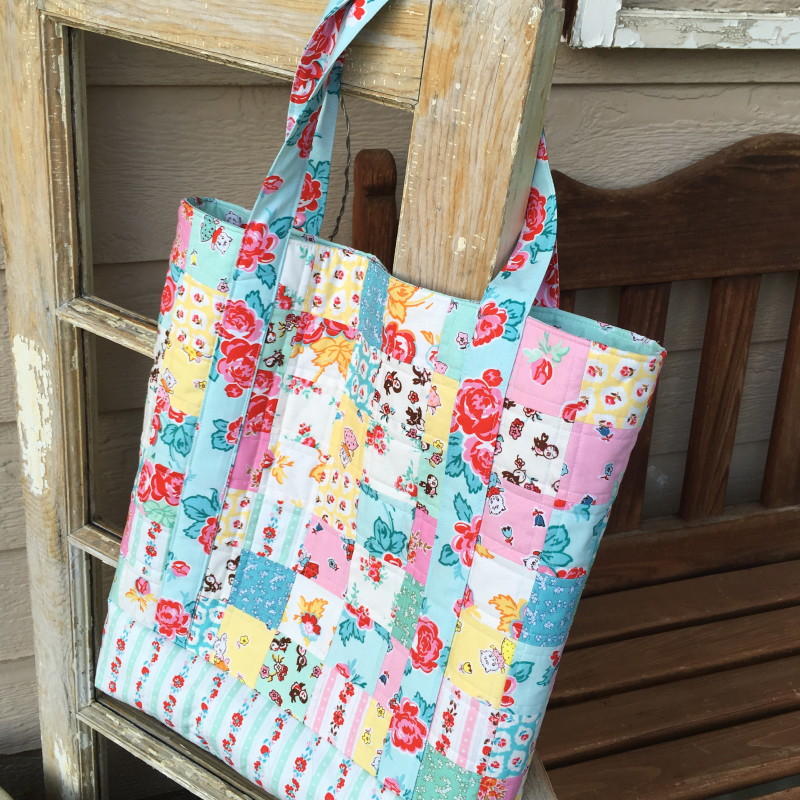 I took this bag to quilt market in May and I was thrilled to show it to Elea who absolutely loved it!!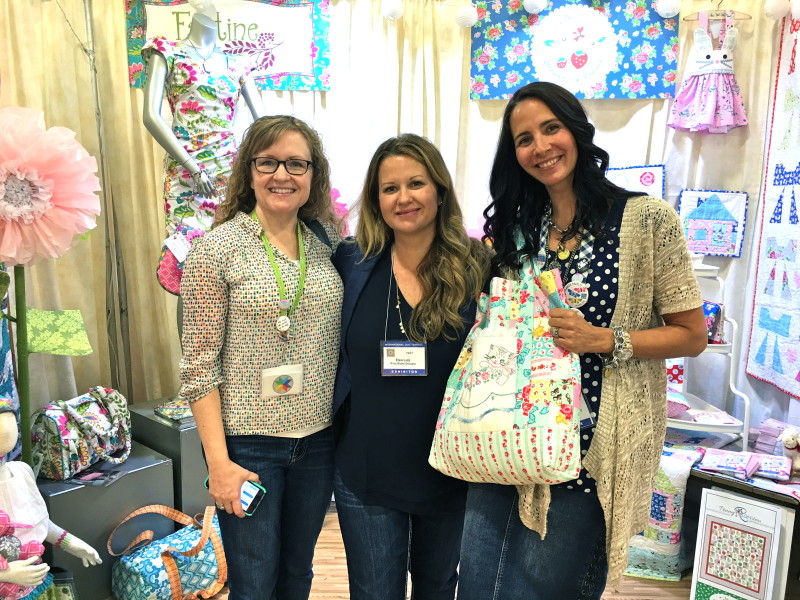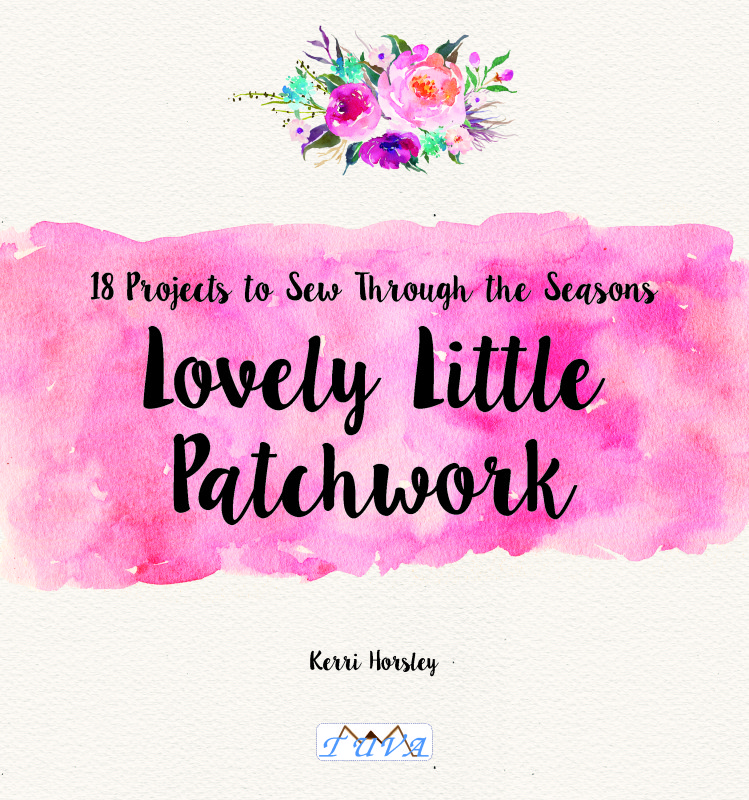 For more inspiration stop by each of these designers' blogs to see what fun projects they have made from Kerri's book!!