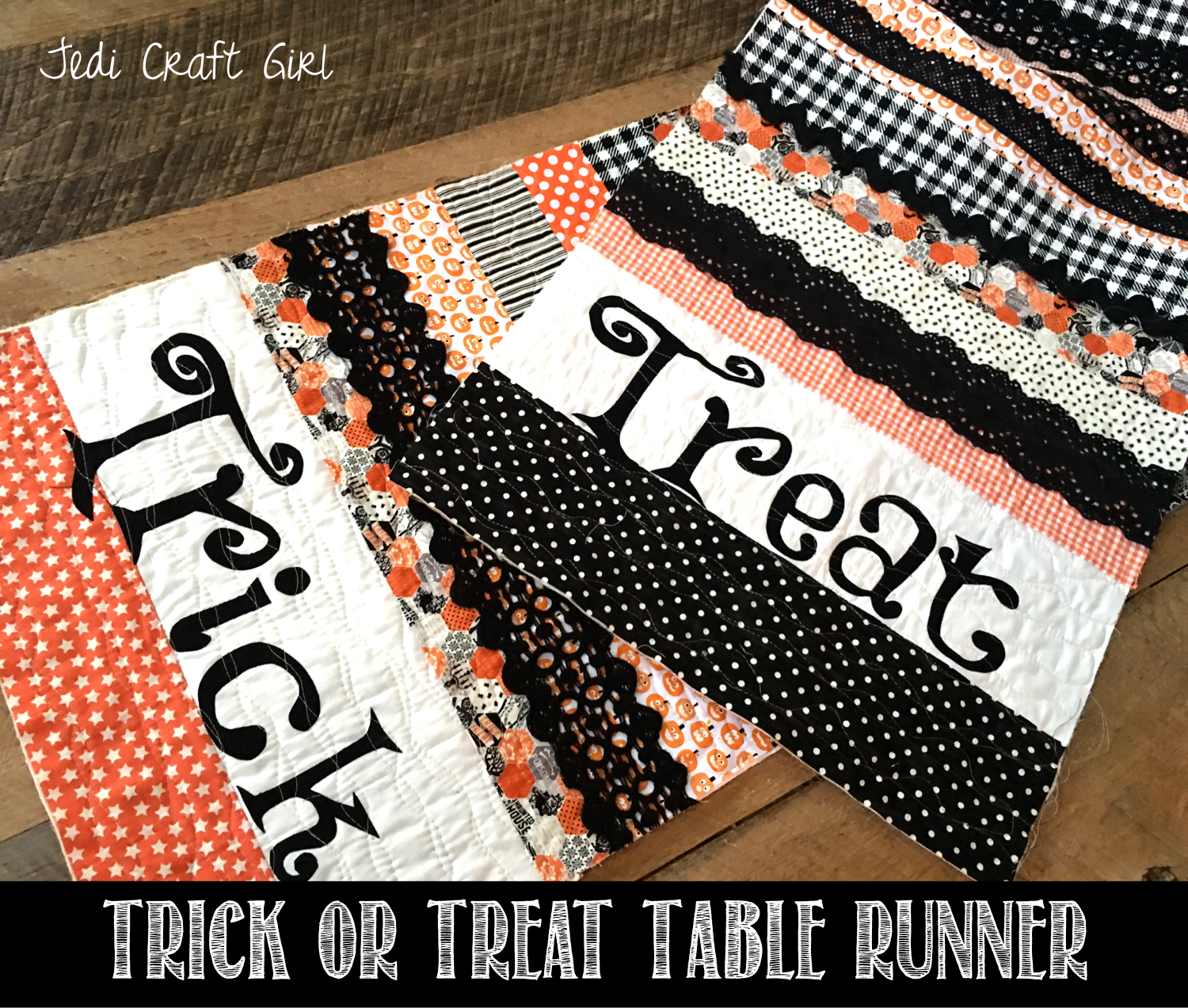 Just when I thought Halloween sewing was over, these cute fabrics jumped into my cart at Michael Levine!  I got out all my scraps of Halloween fabric and started cutting!  Before I knew it I had made this super fun table runner!  I added a variety of black lace and ric rac trim to give it more interest!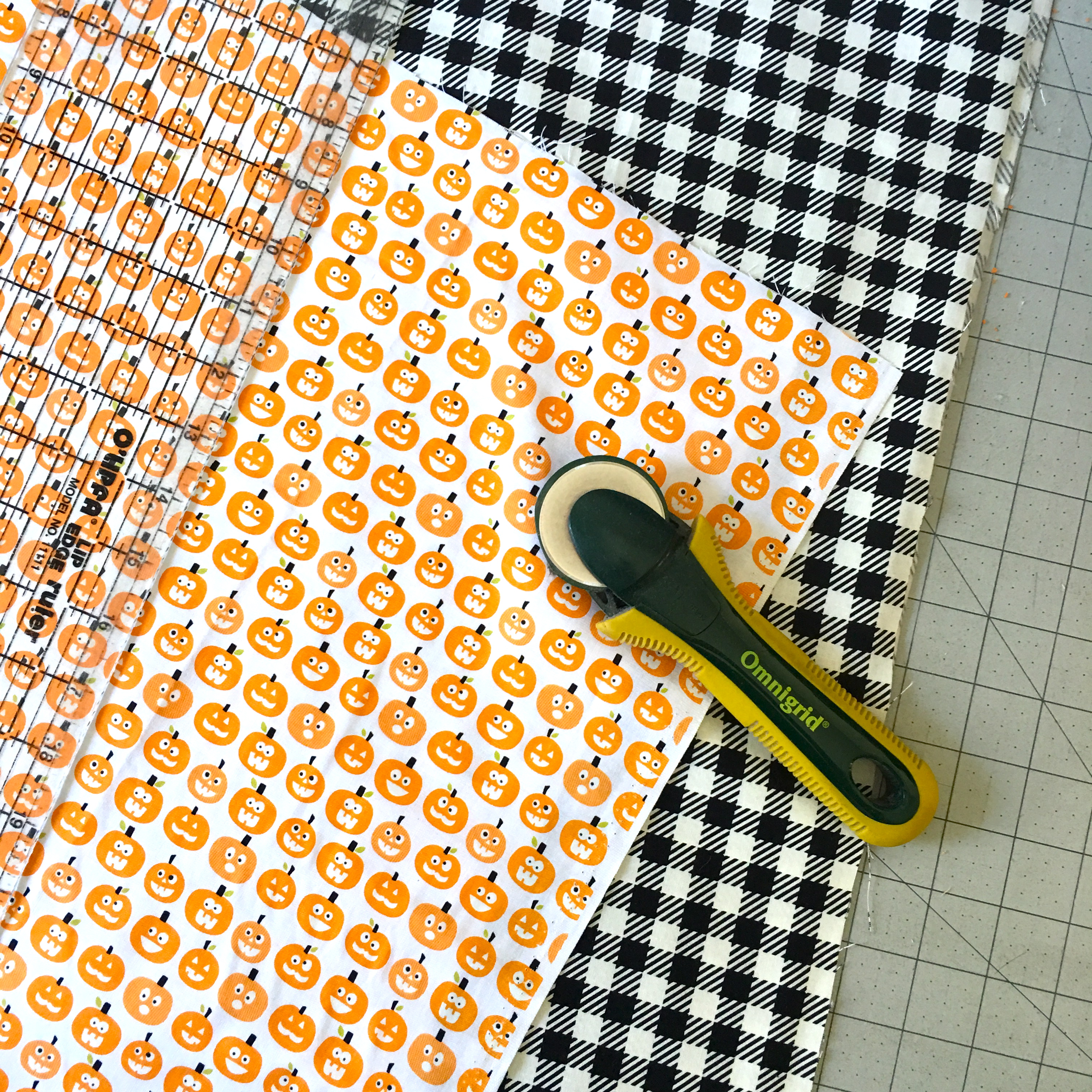 Project Supplies:
Scraps of orange prints and black prints – at least 20″ long
Black fabric for applique
Scraps of black trim, ric rac, and lace
1 1/2 yards backing
1/2 yard black fabric for binding
batting
Begin by cutting your strips into random widths: 2″, 2.5″, 3″, 4″, 5″, etc.  No need to plan – they are all going to get sewn together.  Once you have a nice assortment of fabrics, cut them all to be 20″ long.  (If you prefer a narrower runner, you can adjust this measurement.)
Begin sewing the strips together – I didn't plan it out – I just did the grab and go method – which makes this project super fast.  Keep sewing strips until you are happy with the length.  I have a super long farm table so mine measures 92″ long!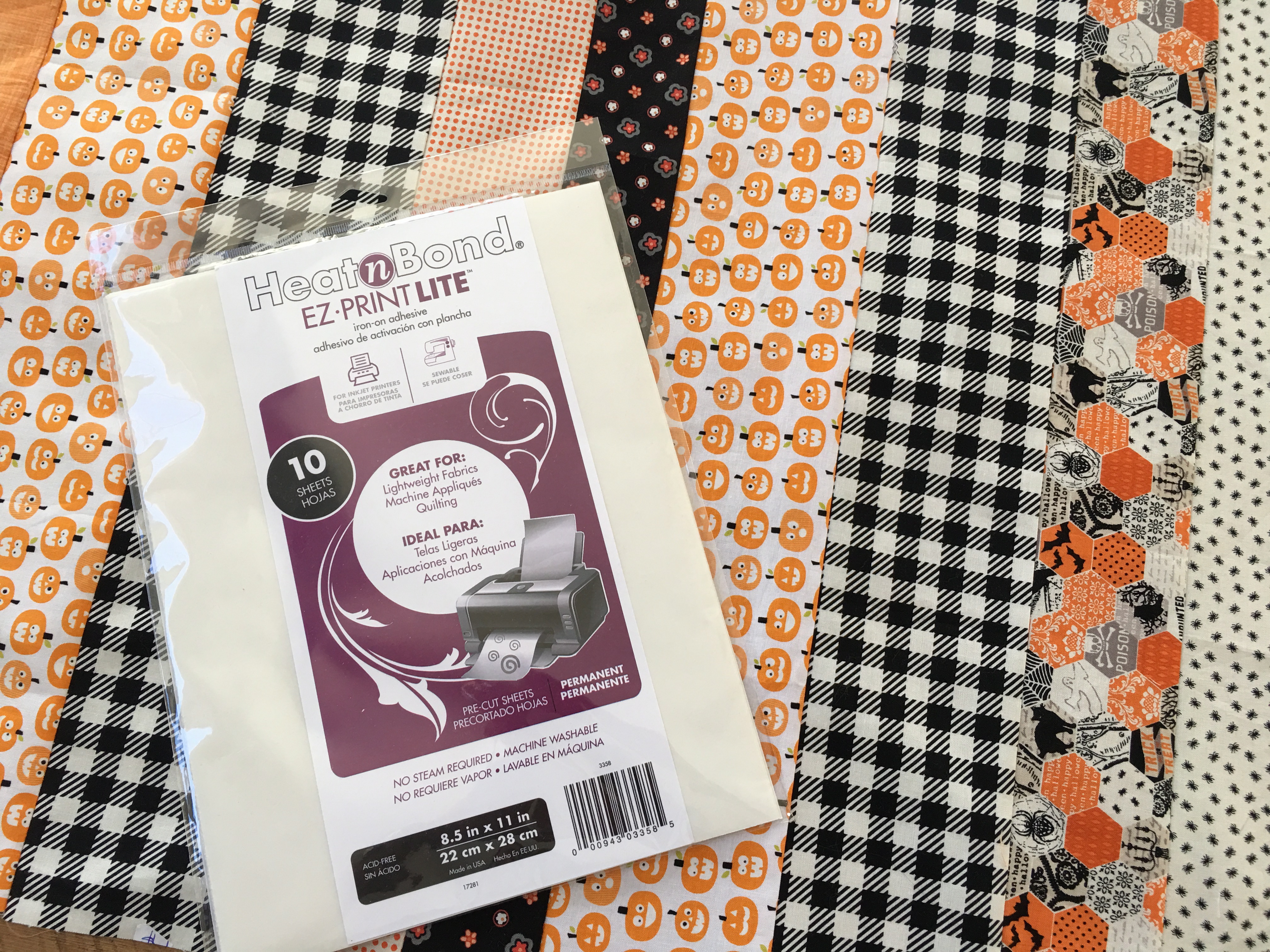 For the applique section…..
Cut (2) 6.5″ x 20″ white or off-white rectangles.
Sew an orange or black 20″ strip to each white rectangle.
Print out the letters onto the HeatnBond® EZ print sheets.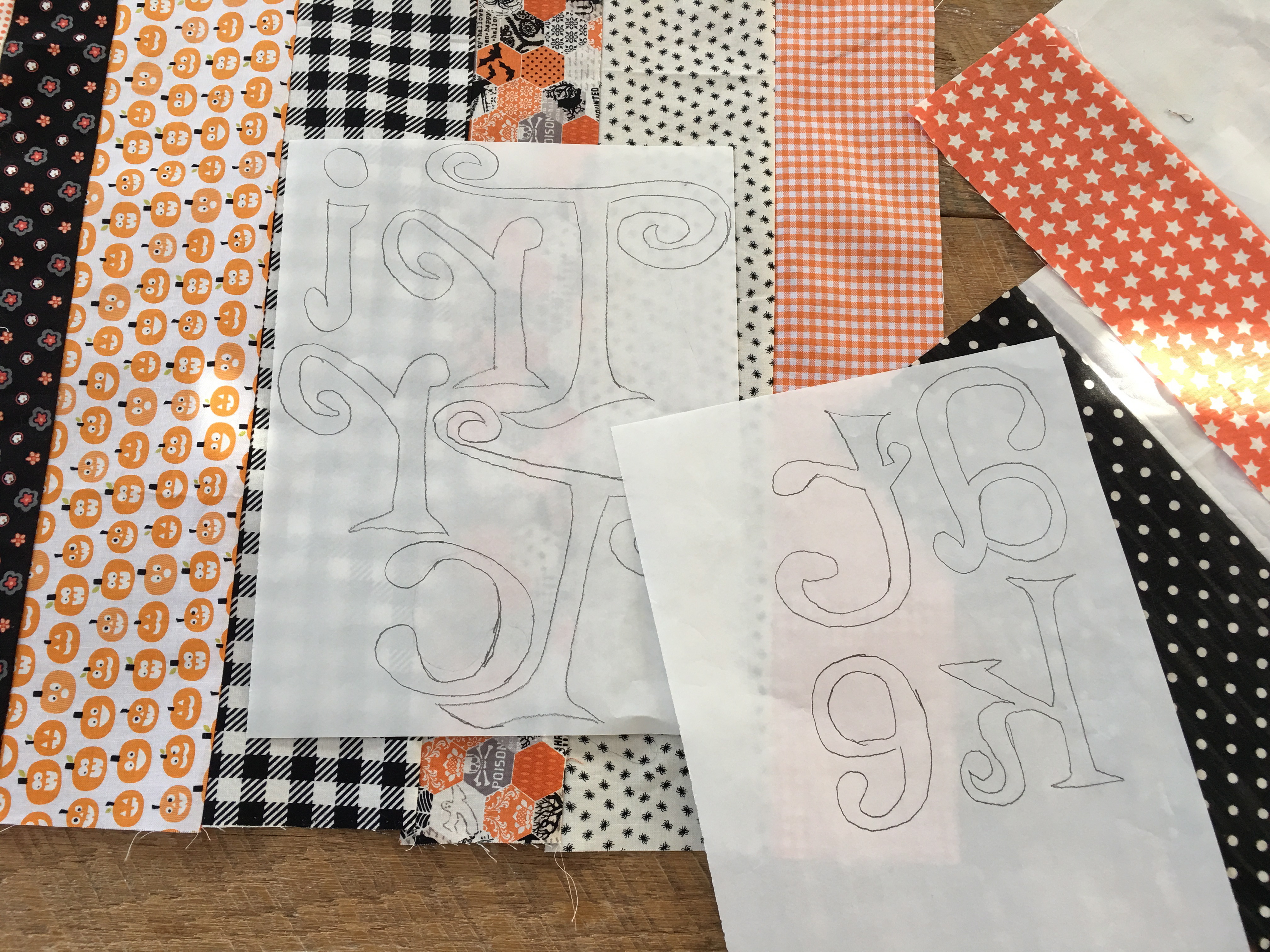 Iron the letters to the wrong side of the black fabric.  (The letters will be reverse)
Cut out each letter, peel off the backing paper.  Position the letters like this and heat set in place: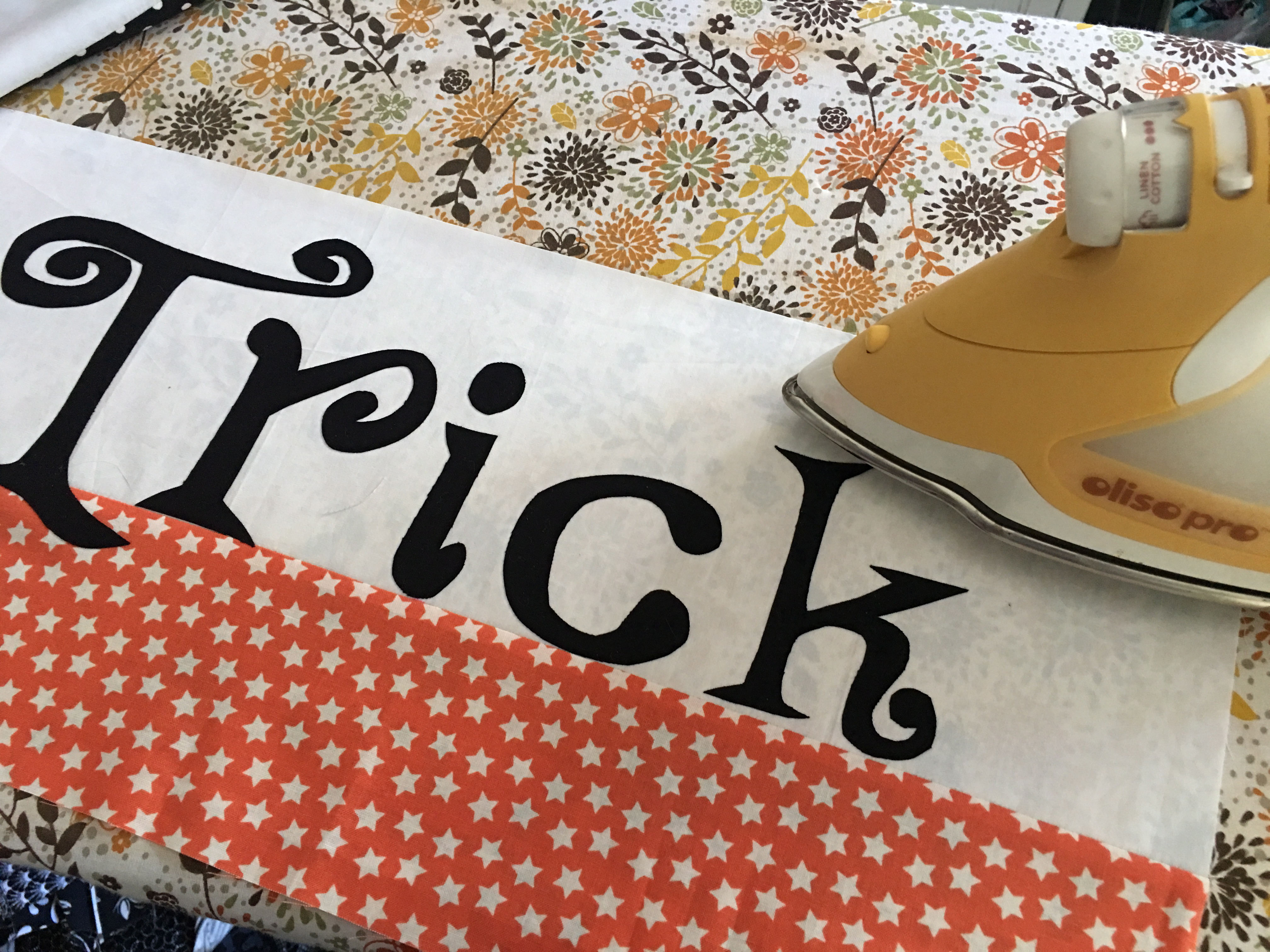 Sew around each letter in black thread. Confession: I didn't sew around each letter – I quilted over the letters pretty good and caught most of the edges.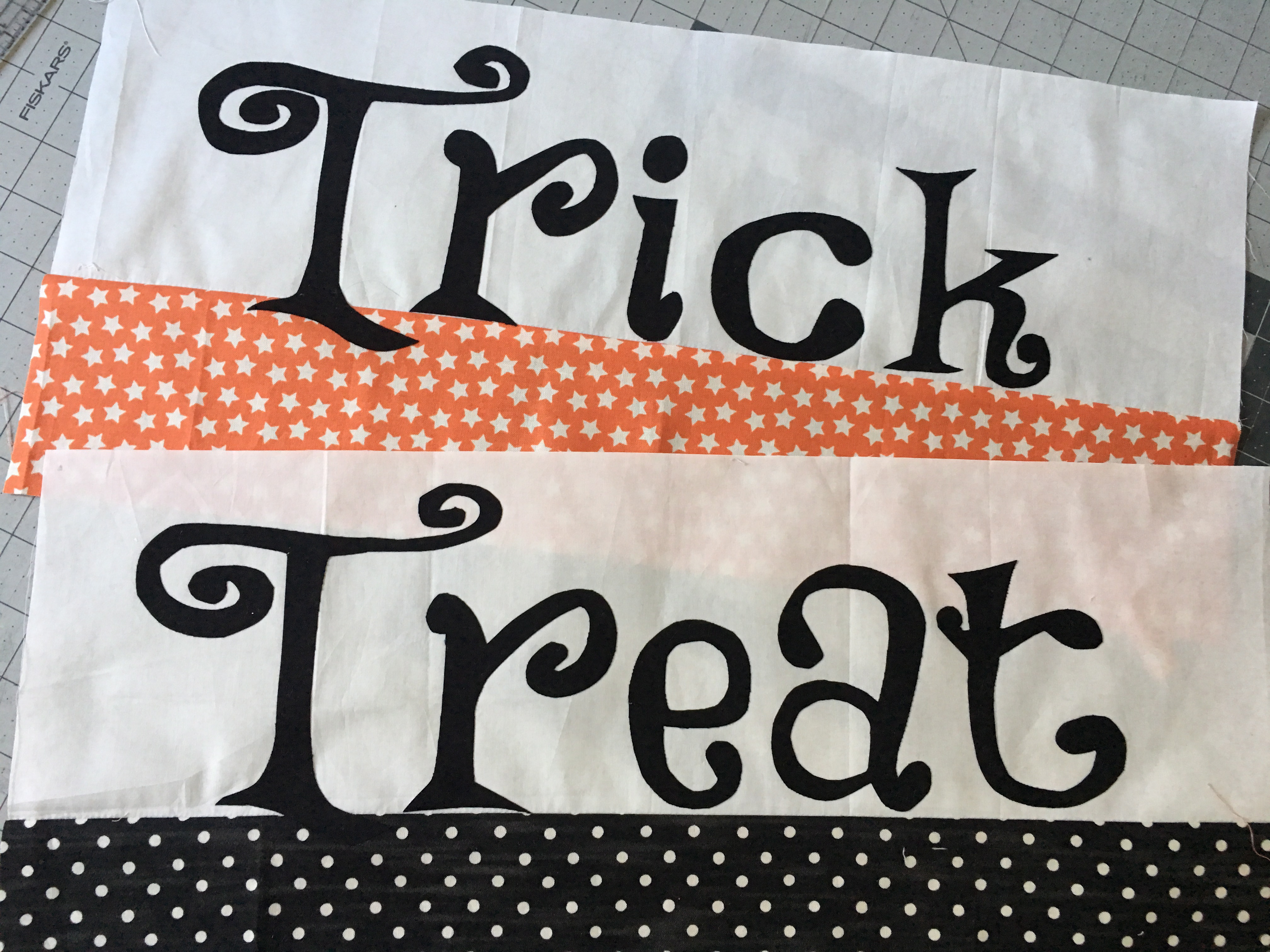 Sew the "trick" section and the "treat" section to opposite ends of the table runner.  Press all seams in one direction.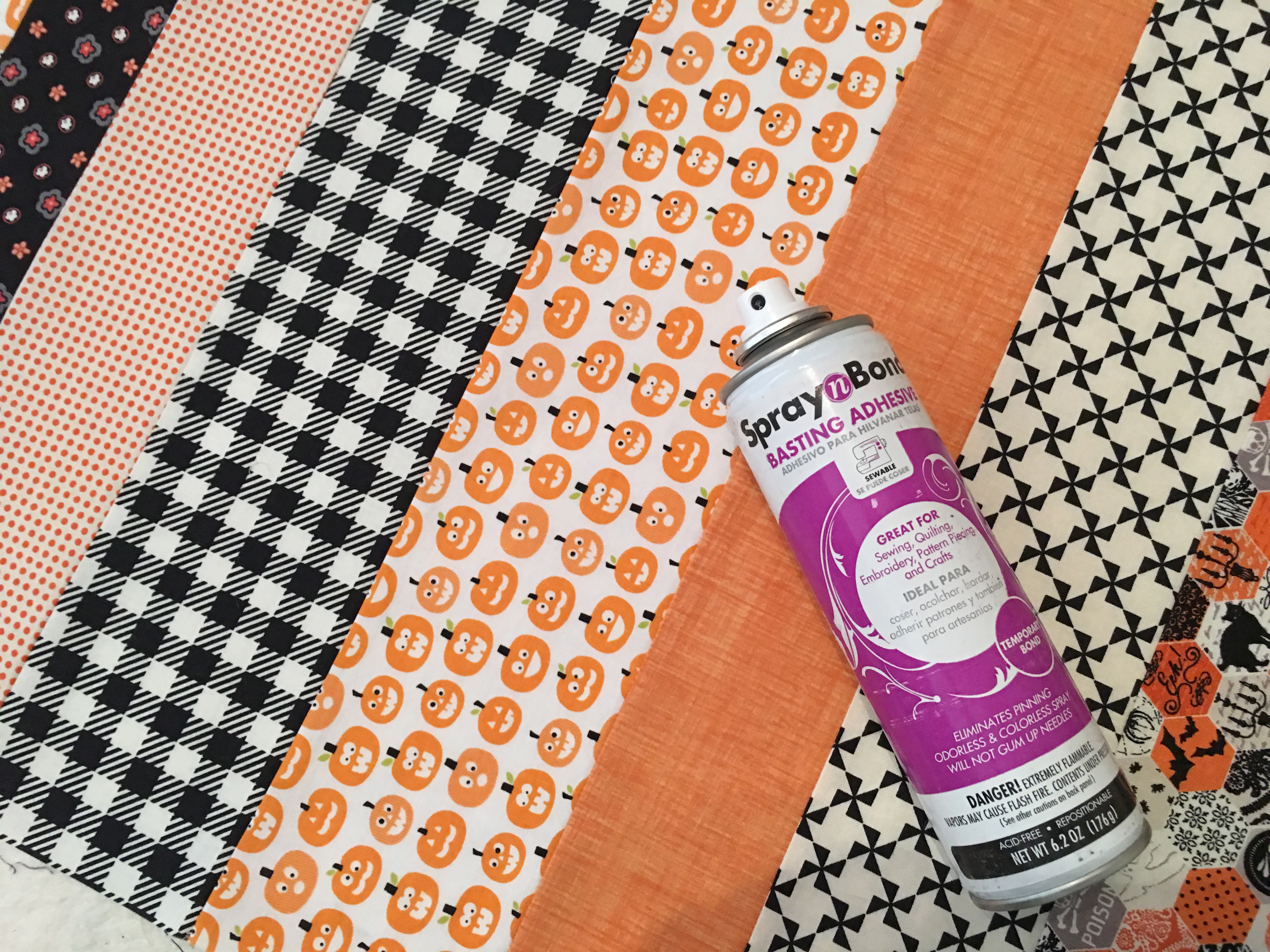 Once the runner top is complete, use Spray n Bond® Basting Spray to baste the top, batting, and back, just like you would a quilt.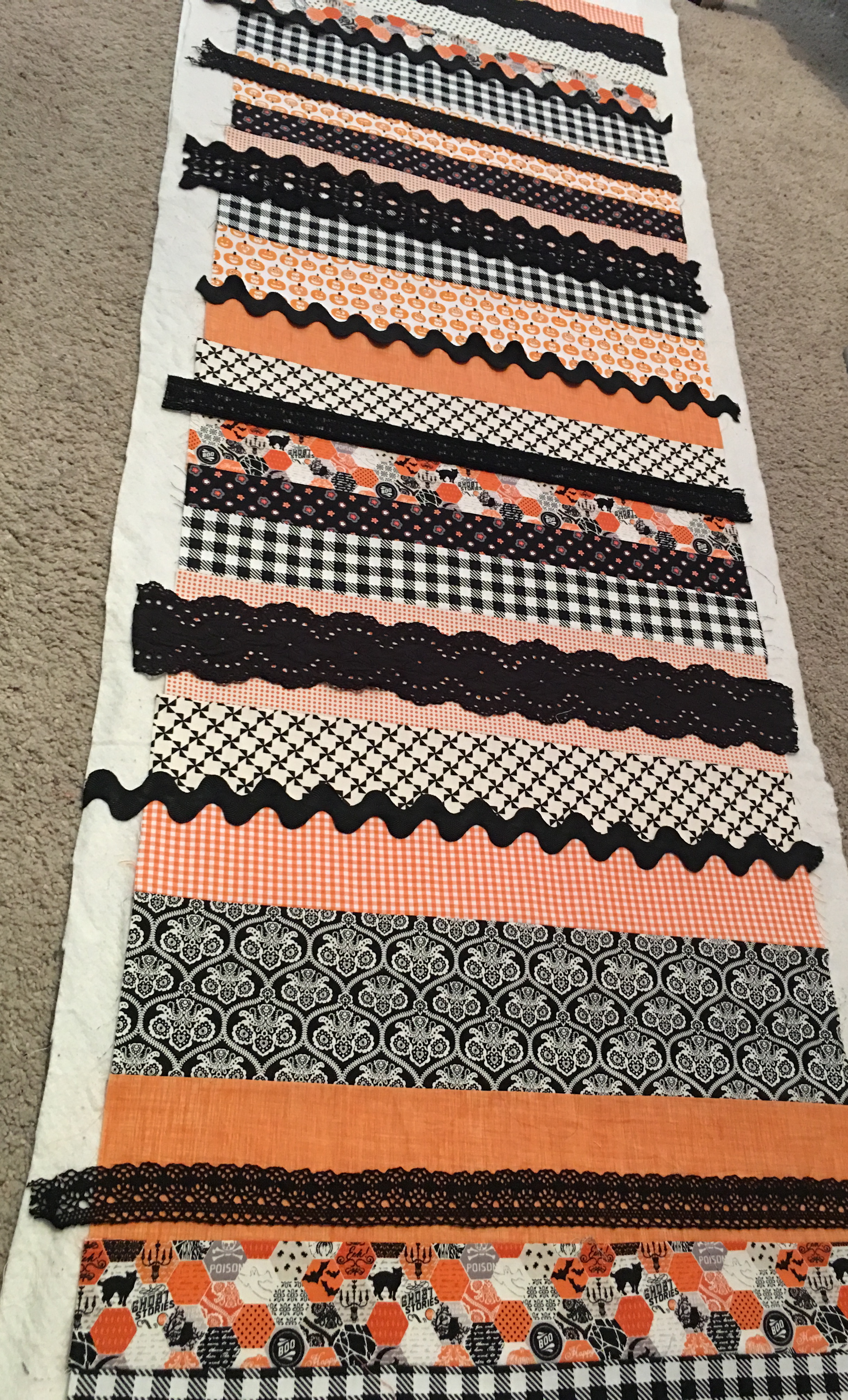 Next measure your desired trims 20″ and cut.  Position them throughout the table runner.  Some I placed over the seams and others I placed on the fabric.  I used different widths of lace and large ric rac.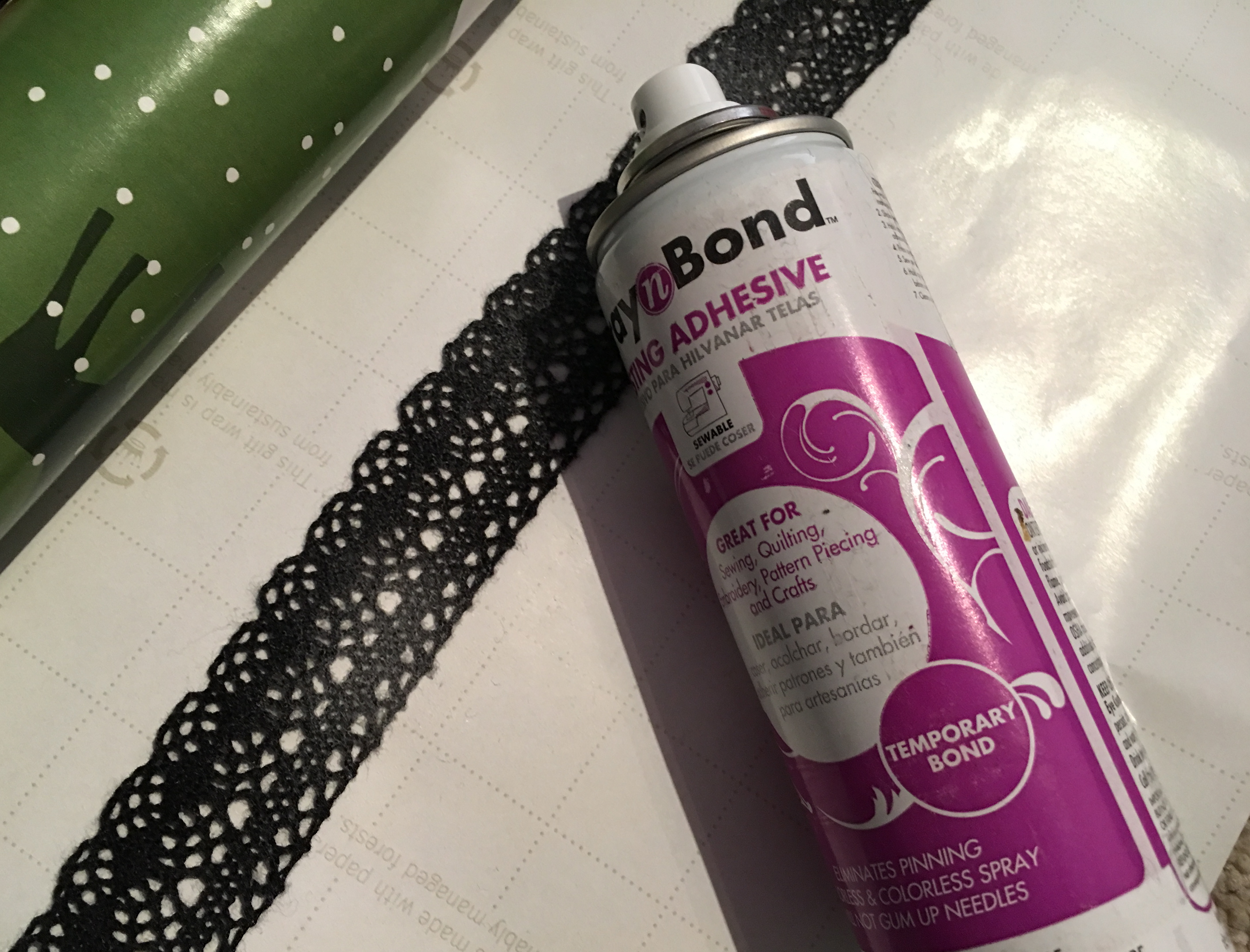 Once you have the trim how you like it, use the Spray n Bond® and spray the back of each piece of trim and re-position it.  This will hold it in place while you sew.
Tip: I like to use old wrapping paper to spray my lace on.  You need something behind the lace or the spray will go through onto your work surface.  The wrapping paper works great because it it large and then easy to throw away!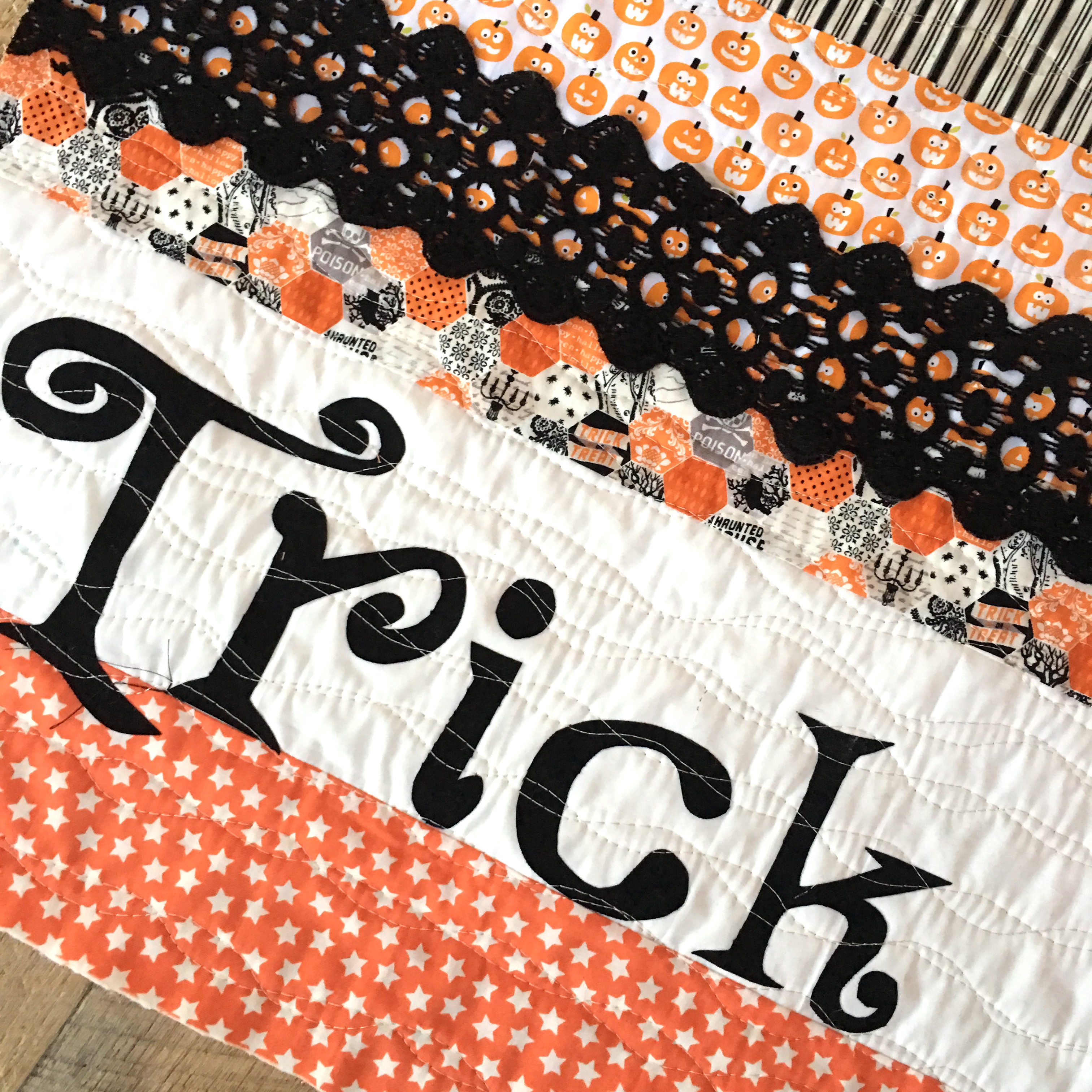 Once the trim is in place, use a walking foot and sew with black thread along the edges of the trim to secure.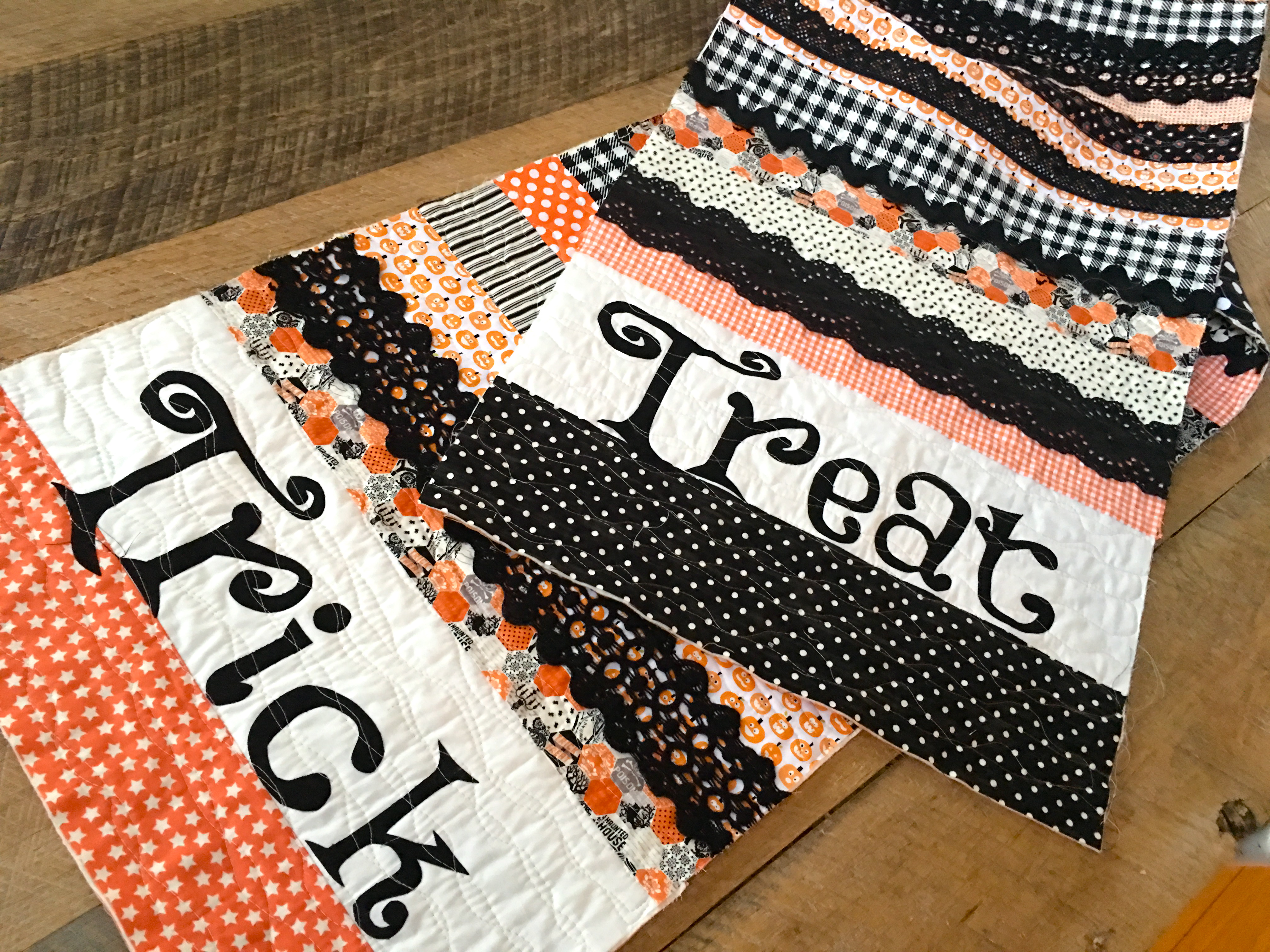 I switched to cream thread and quilted random wavy lines throughout the quilt, even over the letters.  Square up the runner after you've quilted it to get it nice and even.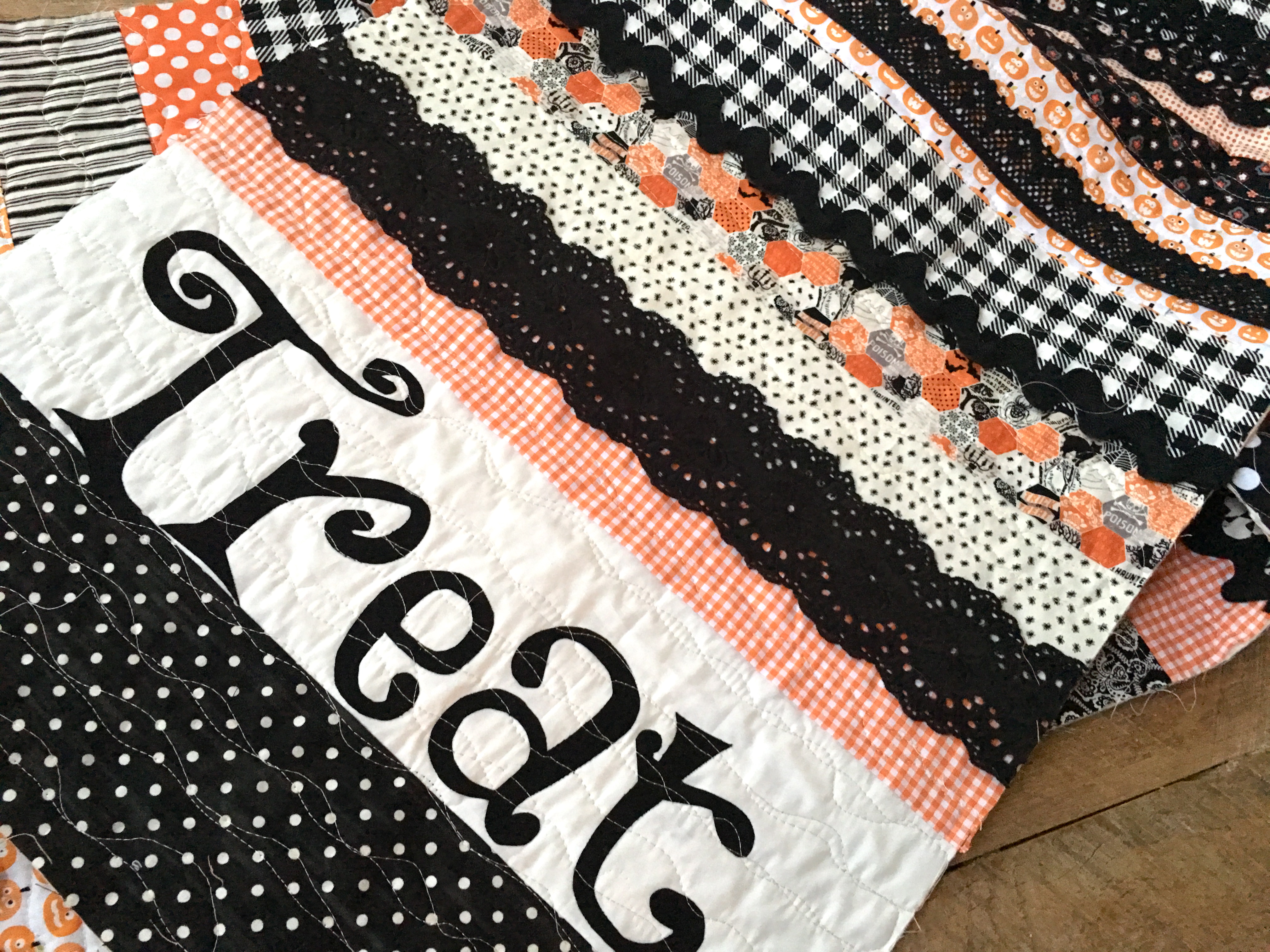 Once the quilting is finished you can bind the runner as you would a quilt.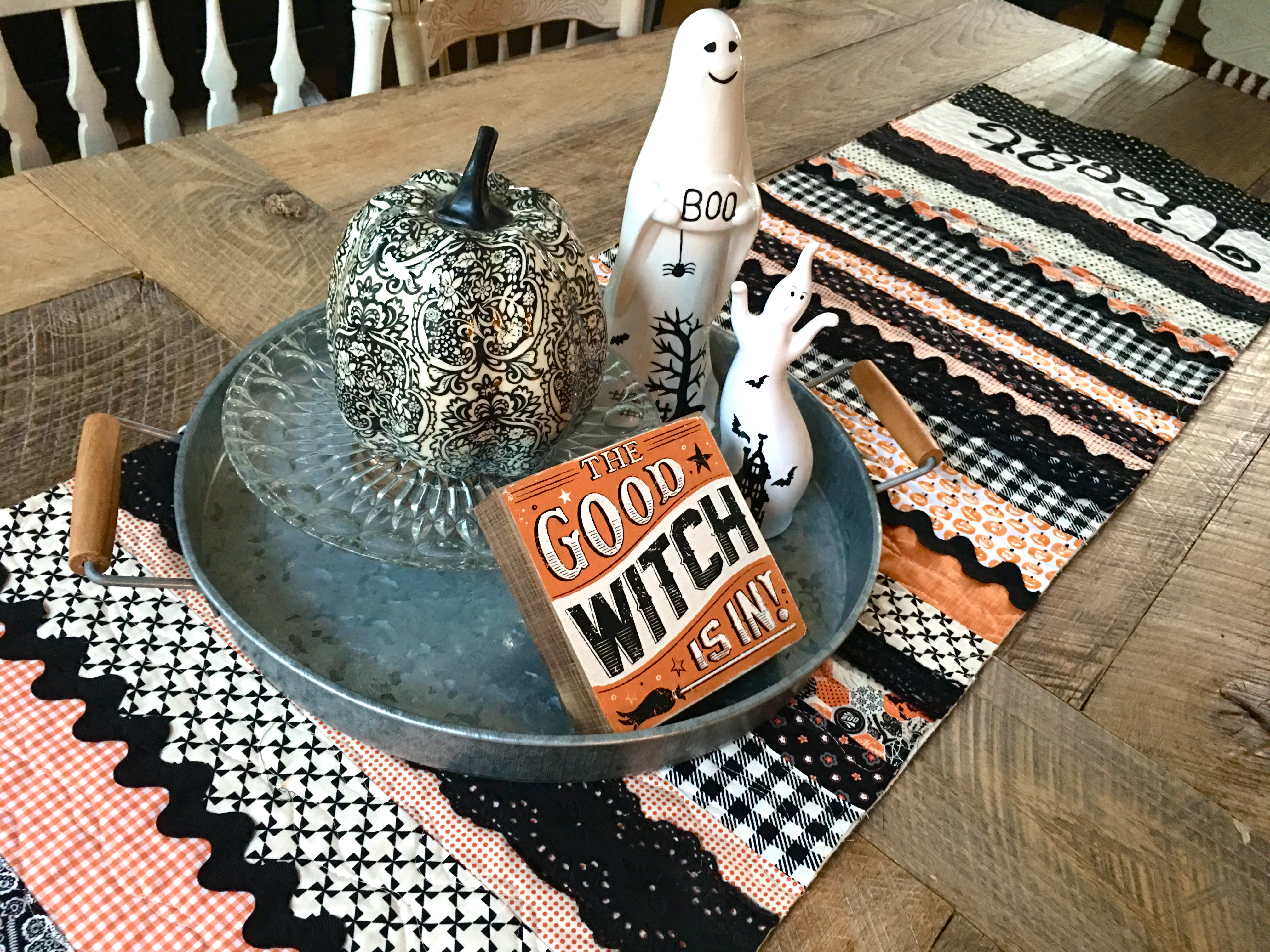 I am so in love with this little project!  And it was a quick too!
Save