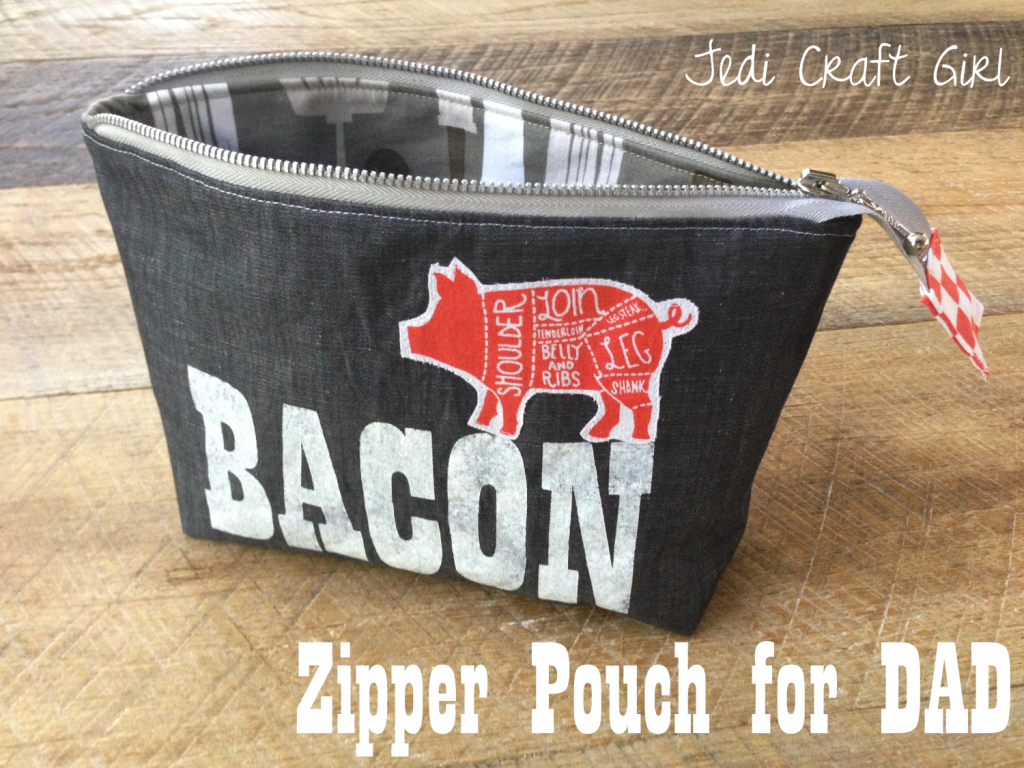 Do the men in your life LOVE bacon?  The ones in my life do 🙂  Bacon themed items are super popular and what I love most about the bacon trend is Jim Gaffigan's comedy bit about bacon – if you haven't heard it -click HERE … you will laugh so hard!!  This week at Jedi Craft Girl has been all about the fabric line Ribs & Bibs and Father's Day
.  I love this zipper pouch because it is "manly".  I used a light weight black denim on the outside, a chunky metal zipper, and the taupe utensil fabric on the inside.  I used white house paint to stencil the word "Bacon" on the bag.  Therm o Web fusible stabilizer gives the bag more stability.  This zipper pouch is my new FAVORITE!!!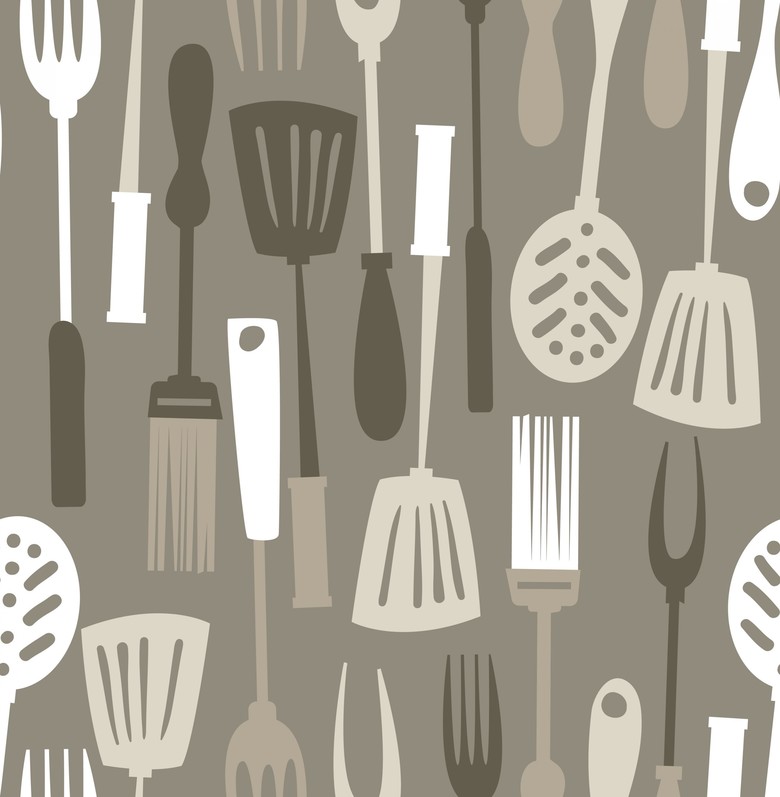 Here's how you can make one:
Supplies
fat quarters of outer lightweight denim fabric
fat quarters of lining – I used taupe "grill master"
fat quarter "open pit" for pig motif
Therm O Web Fusible interfacing, medium weight
Heat n Bond Lite fusible applique
White paint
Zipper
Letter stencils or cutting machine
Cut (2) lining pieces (2) denim pieces and (4) interfacing pieces 8″ x 11″
Begin by preparing the stencil  I used some extra vinyl I had laying around (that's why it's pink) and ran it through my Cricut.  I used the font "Playbill", weed the letters to leave the outline.

Using a masking strip to adhere the stencil, place the Bacon word on the center of the denim piece.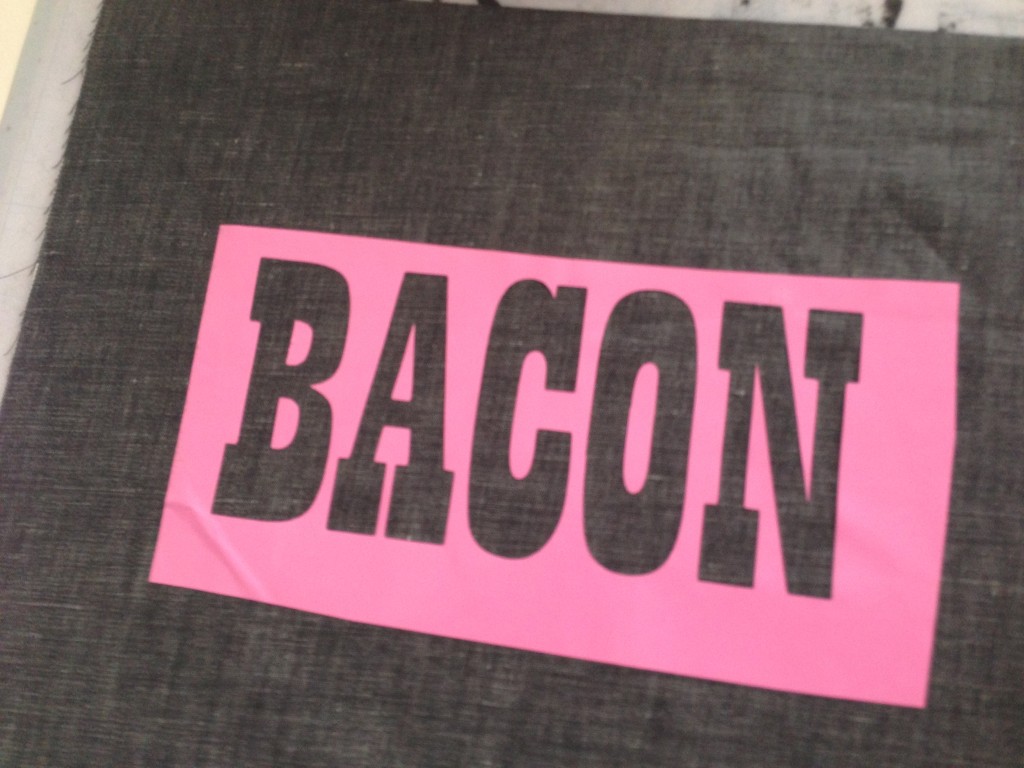 Using a stencil brush, stencil with white paint.  I literally used the trim paint from my house.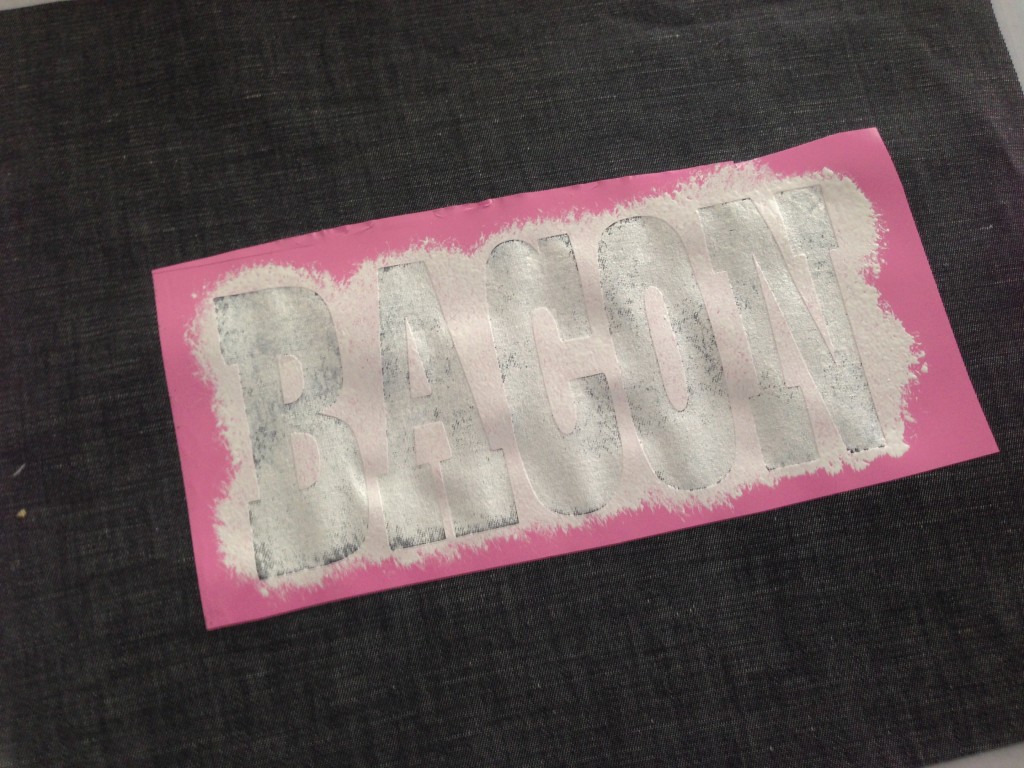 Let it dry then peel off the stencil.  I love how it turned out!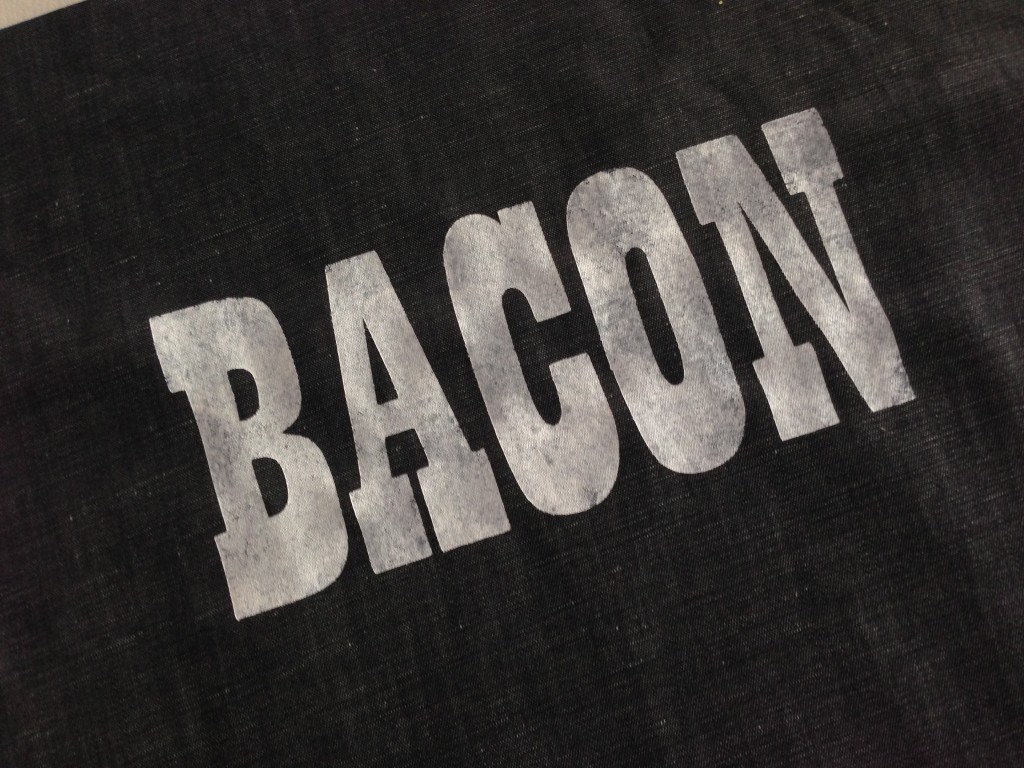 Here are the pieces you should have cut 8″ x 11″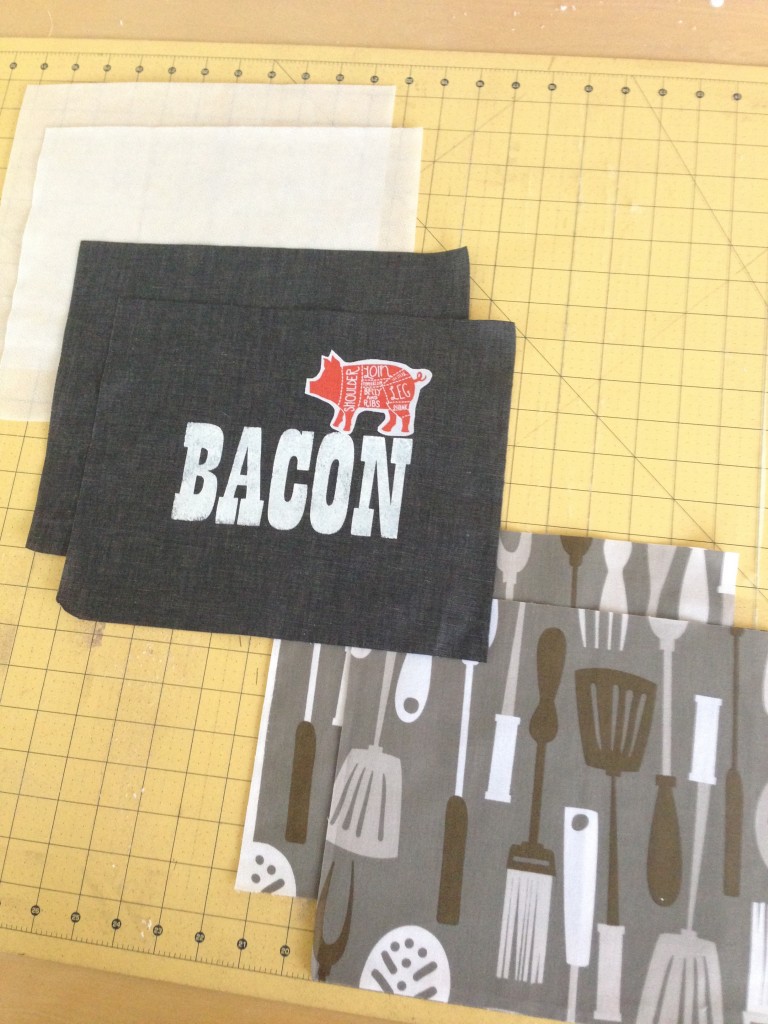 Iron the interfacing to the wrong side of both the lining pieces and both the outer bag pieces – 4 total.  Iron a piece of Heat n Bond to the wrong side of the pig fabric.  I liked the red pig the best.  Cut out around the pig leaving a little white boarder.  Stitch around the pig in white thread.  Press the front of the bag, heat setting the painted letters.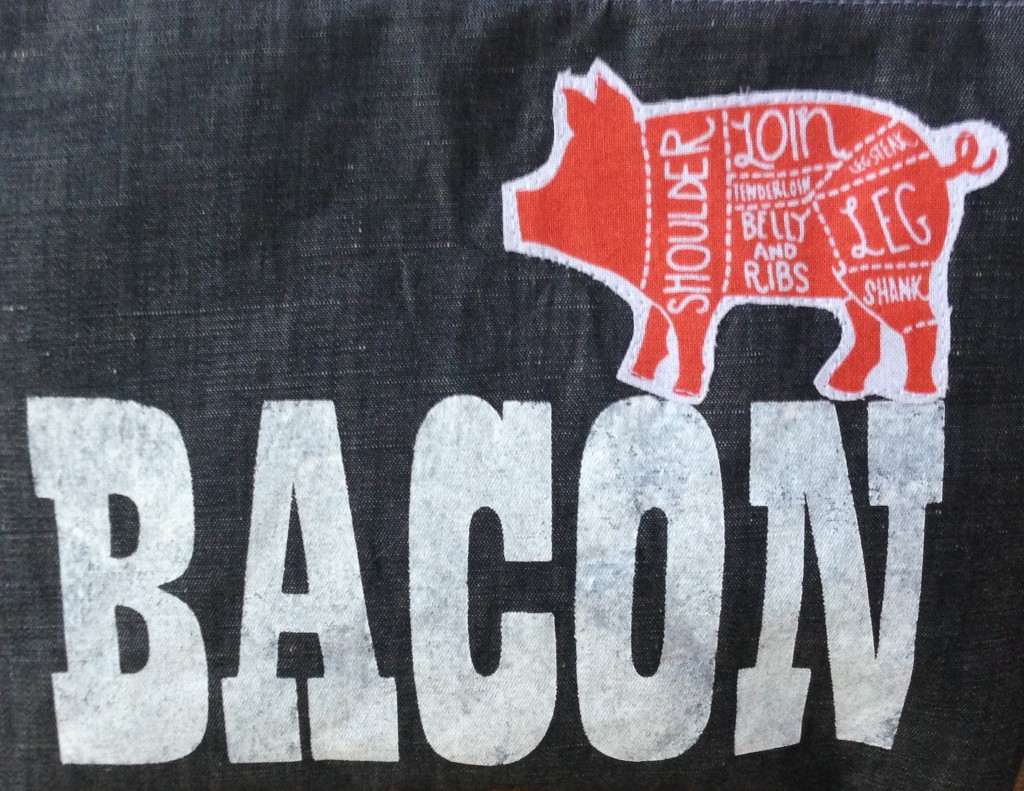 Now you are ready to construct the bag.  Follow this tutorial here.   A word of advice if you are using a chunky metal zipper…..It was my goal to not break my needle.  I was super careful to hand move the needle when near the zipper – that way the needle can find it's way around the zipper teeth.  I thought I was in the clear and then resumed with the pedal and snap – the needle broke – darn!  I bet you can do it without breaking the needle 🙂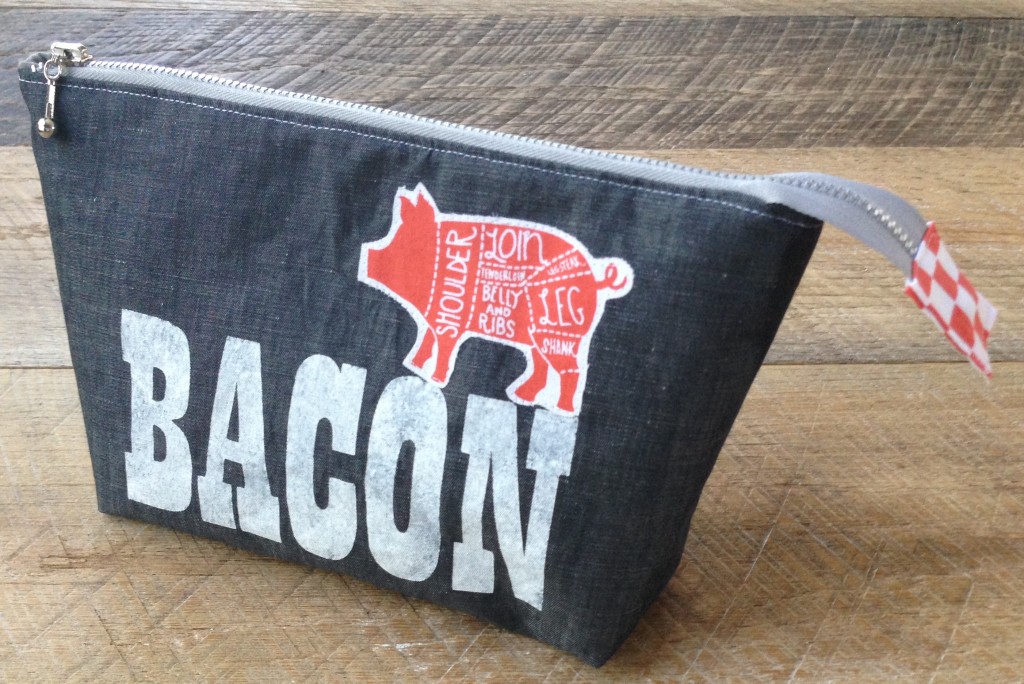 I just love this project to pieces!  I might need one for myself – my kids all want one too!!