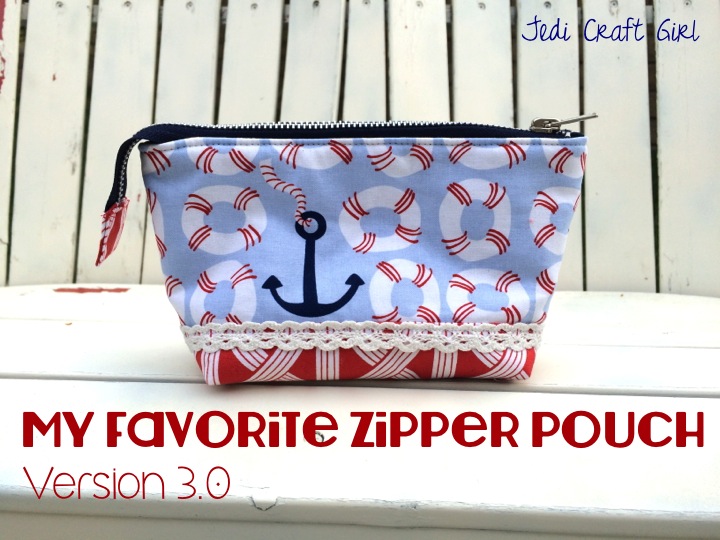 You knew it was coming!  Of course I need a Nautical Zipper pouch to go along with my Sailboat skirt!!  I love these fabrics and I am down to only scraps in my stash.  It's called True Blue by Blend Fabrics.
This is a modified version of my original My Favorite Zipper Pouch Pattern version 1.0 and version 2.0.  If you would like to make your own zipper pouches here are the instructions:
CUT:
Outer bag anchor print (2) 4″ x 9″
Outer bag red accent (2) 3″ x 9″
Lining (2) 6.5″ x 9″
Heat n Bond Fusible Fleece (2) 6.5″ x 9″
(2) pieces of lace 9″ each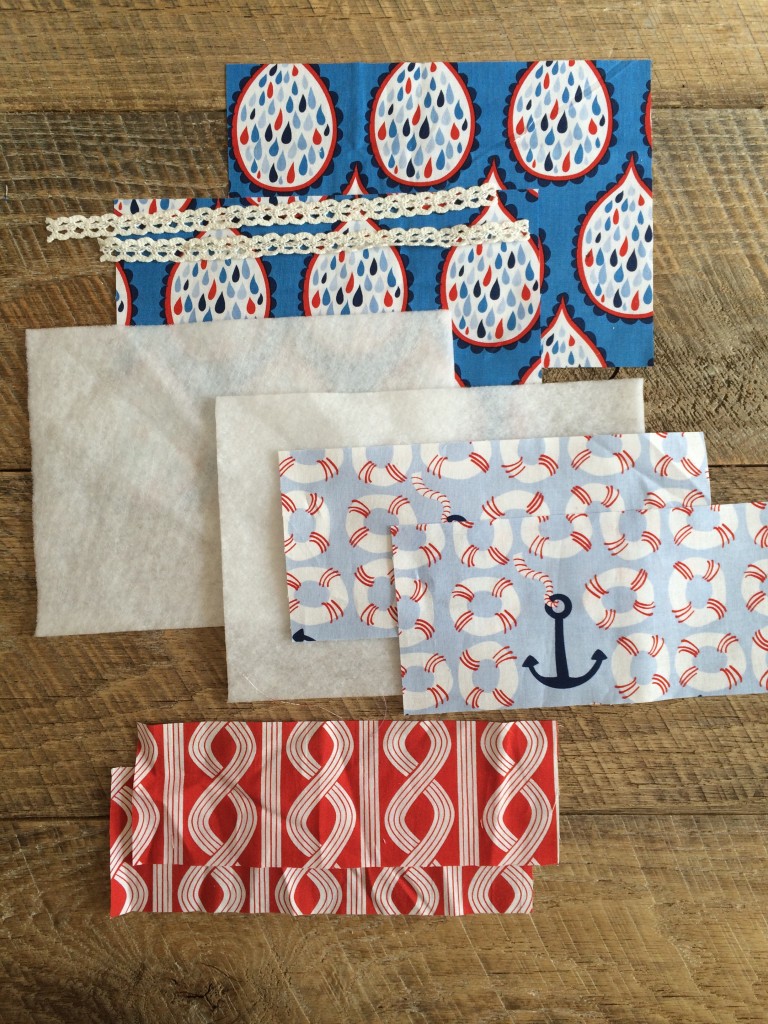 Sew the red fabric to the anchor fabric using 1/4″ seams.  Press toward the red.  Press these two units to the Heat n Bond Fusible Fleece.  Then sew the lace on.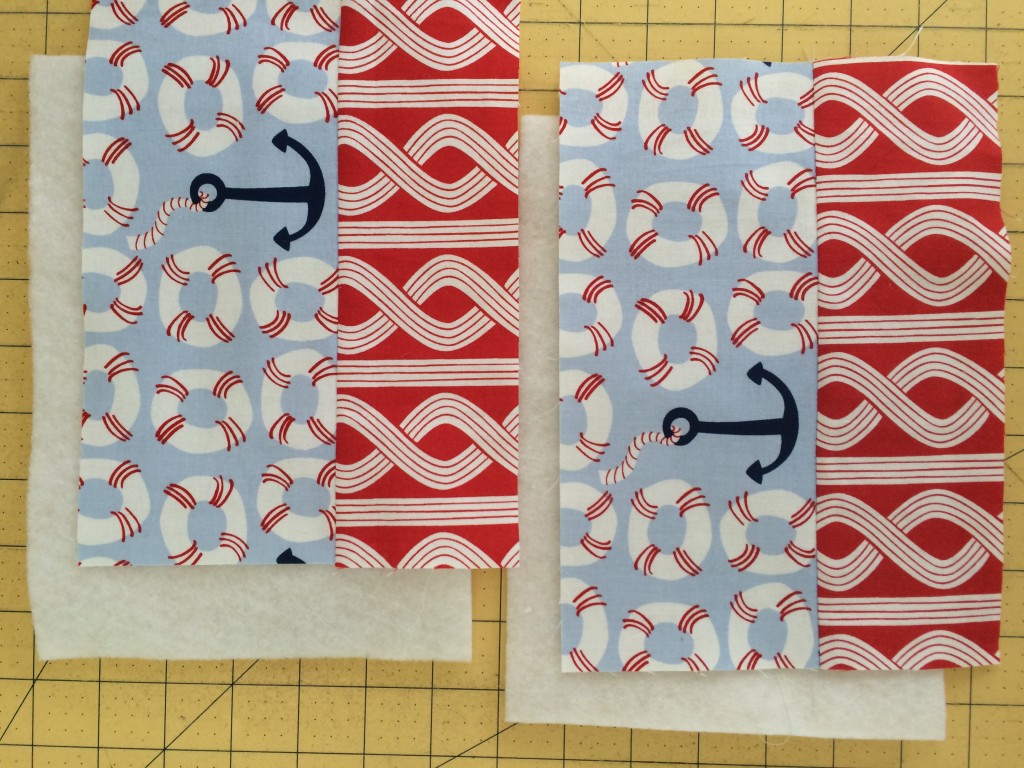 To insert the zipper, follow THIS tutorial.  It is from my friend Jennifer.  I keep thinking I should write my own, but hers is so perfect.  I go to it every time I sew an "open wide" zipper pouch because I can never remember the measurements!  Insert the zipper just like she instructs.  Once you're done, it should look like this: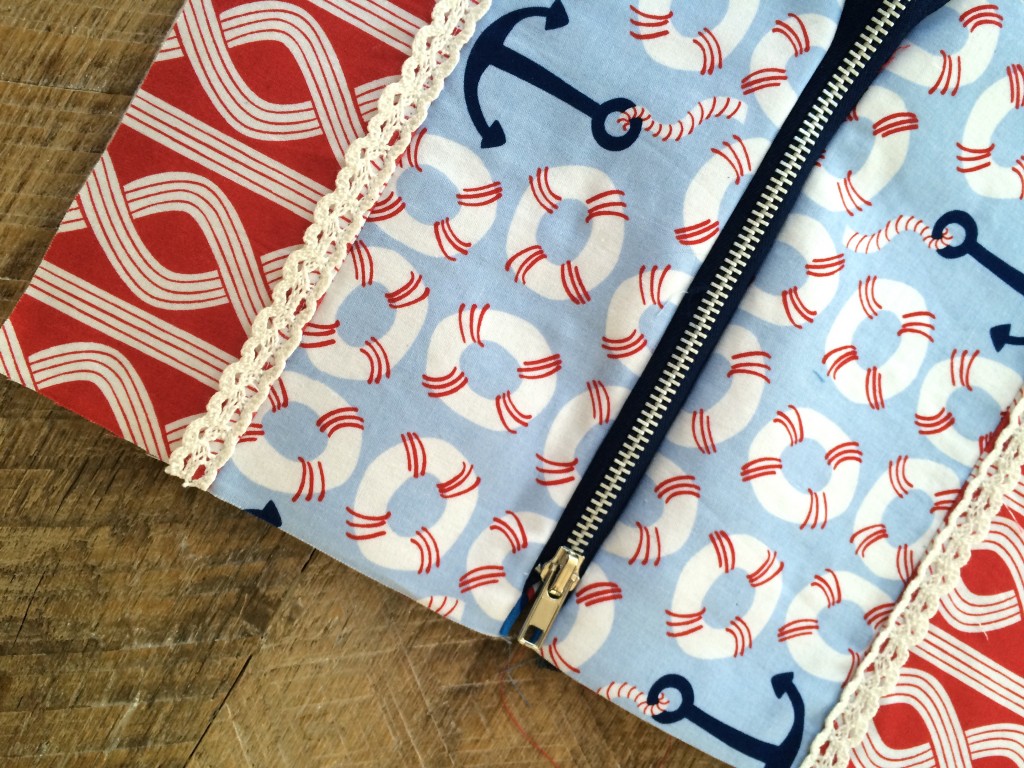 Open the zipper, and place right sides of the outer bag together, and right sides of the lining together, make sure to tuck the end of the zipper in.  Match the side seams.  Pin all the way around.  Sew all the way around using 1/4″ seams, leaving a 3″ opening at the bottom of the lining.  Notch all the corners with a 1.5″ square: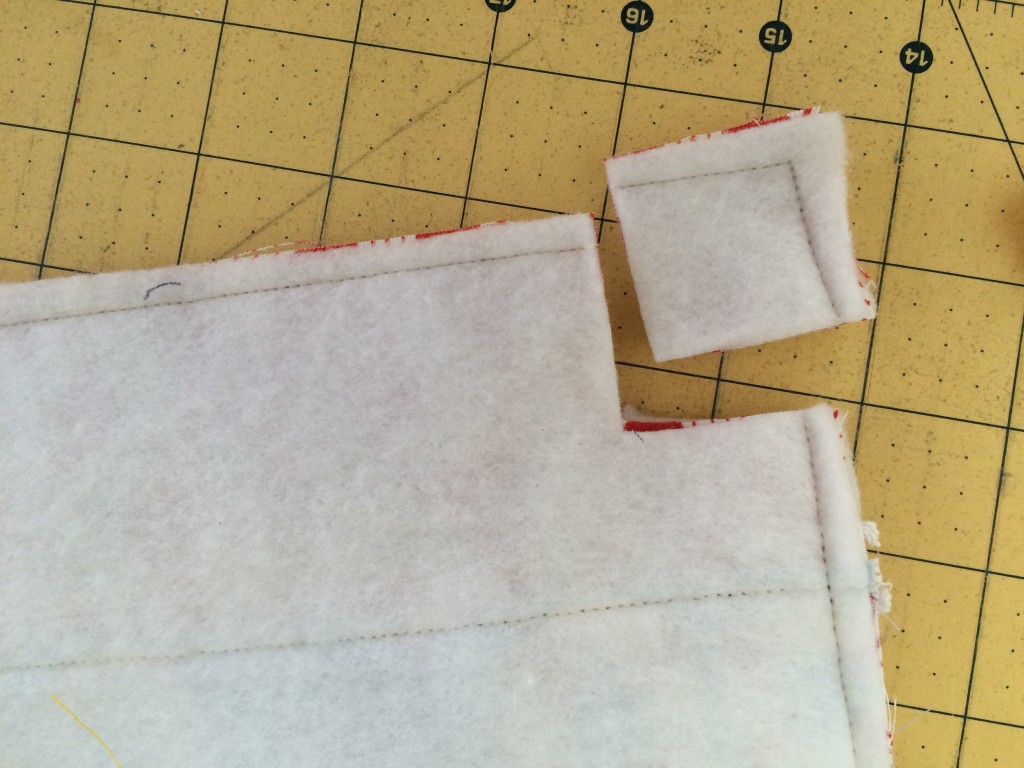 Fold out the corners and match the seams.  Sew using a scant 1/4″ seam.  For more details, visit my post here.  Then turn right side out, and top stitch the opening closed.  Top stitch all the way around the zipper pouch 1/8″ away from the zipper.  To finish the zipper end, cut it at the desired length.  Cut a piece of accent fabric 2.5″ x 3″.  Fold it like this and press: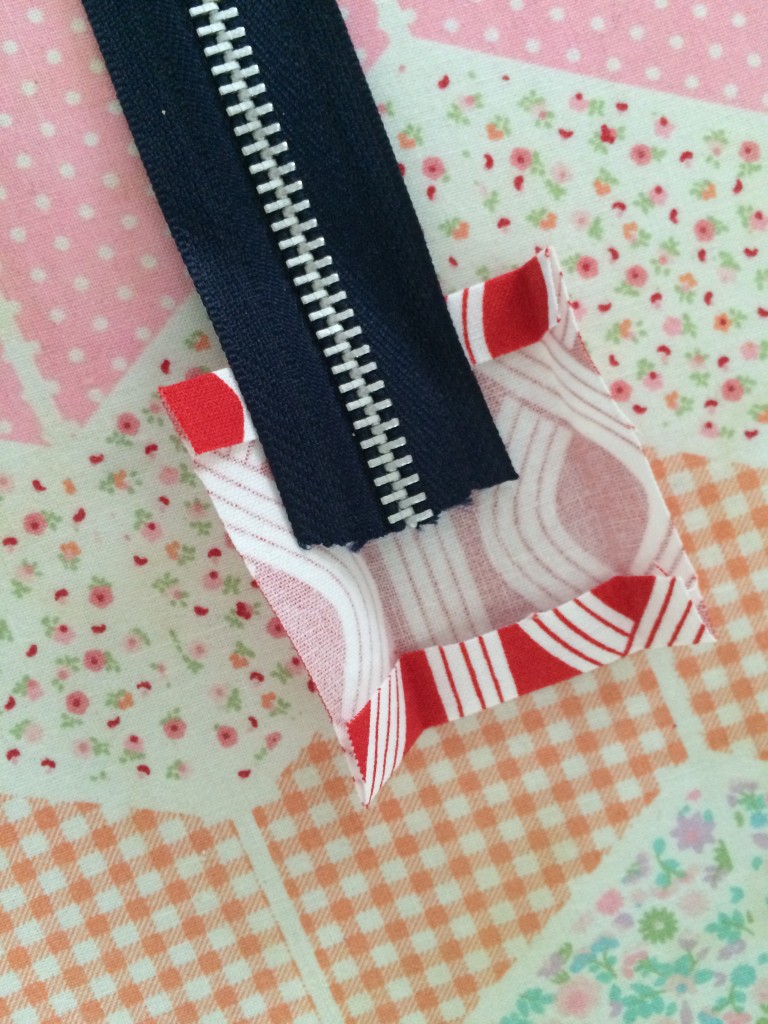 You kind of fold it around the zipper and press.  Then insert the zipper in and sew around the seams.  Careful on the metal zipper!!  Here you can see what it looks like.  I added a little compass zipper pull.  My anchor charms haven't arrived in the mail yet 🙁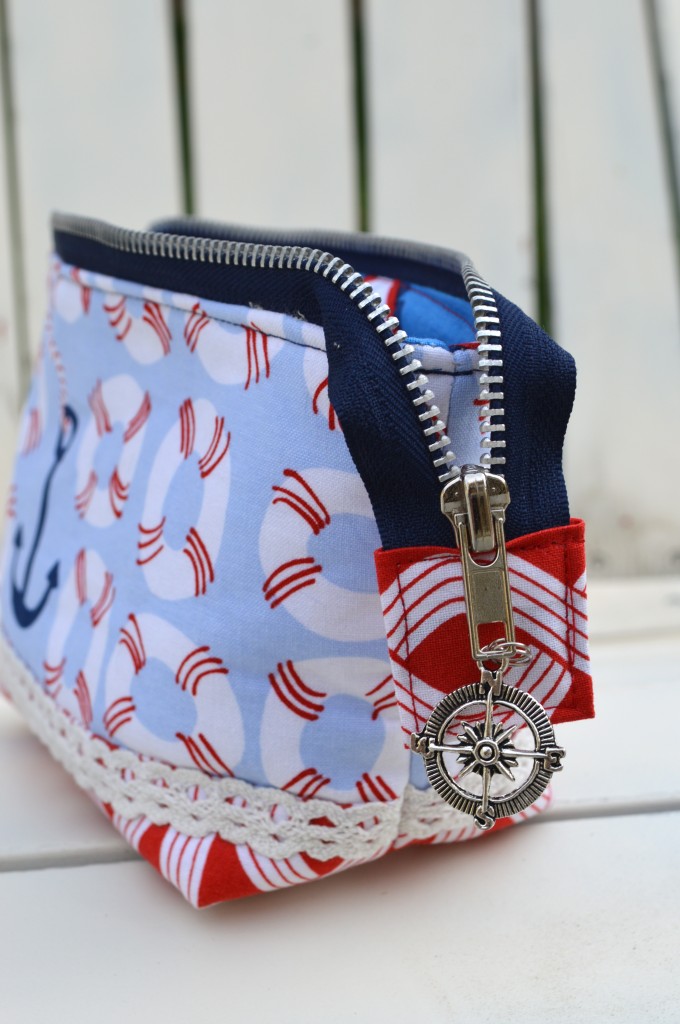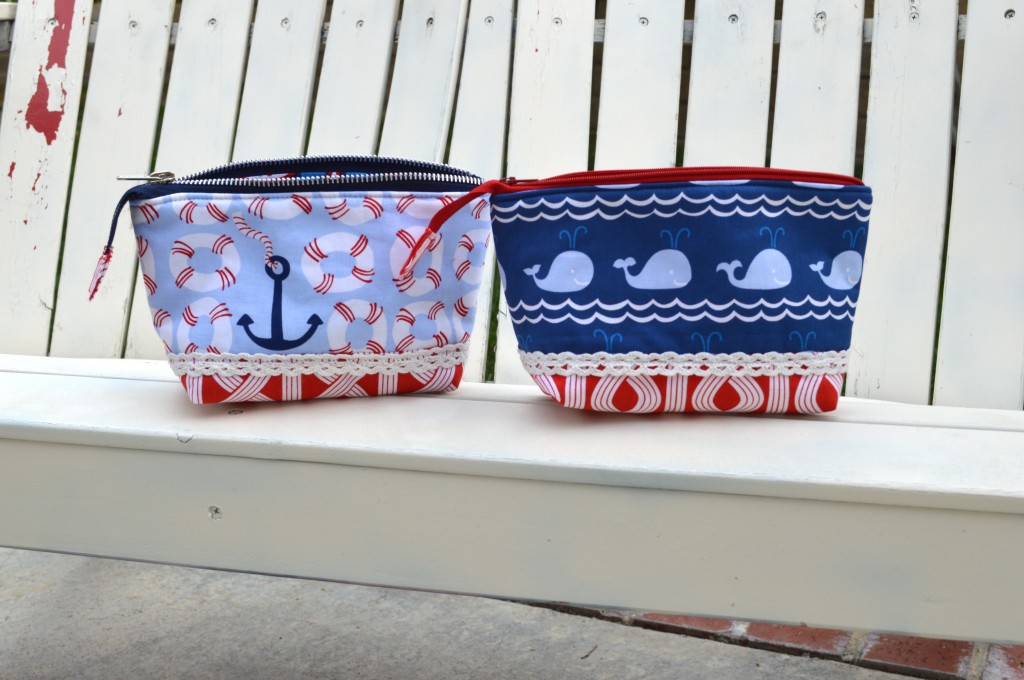 I just love them!!!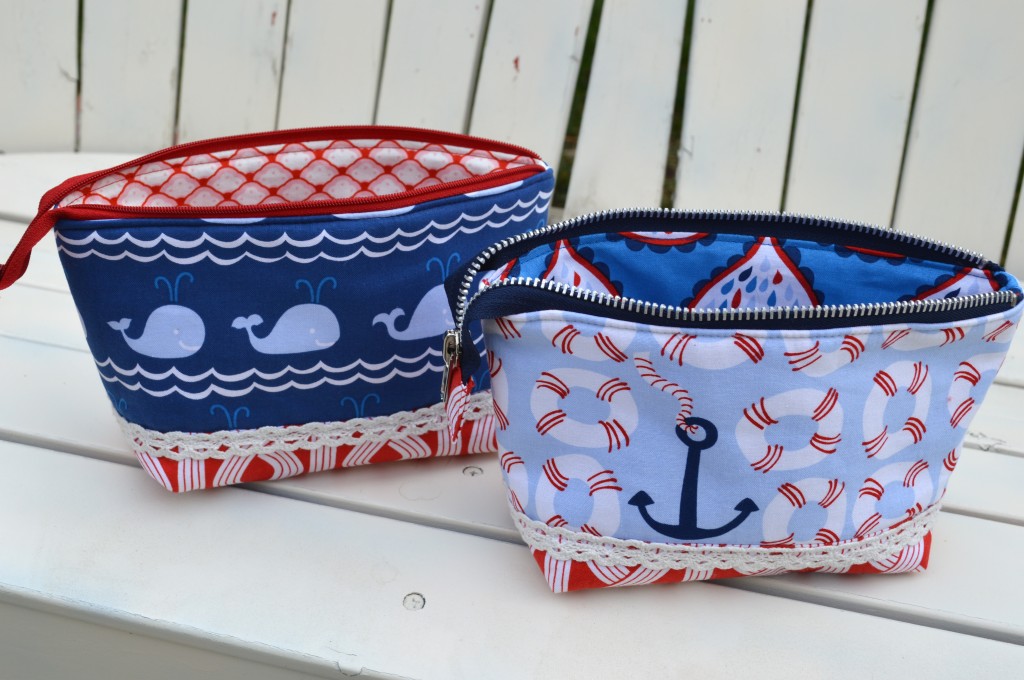 Here are a few other of my True Blue Projects: